With consumers spending an average of two hours a week looking for opportunities to save money online and 90% of us admitting to making a purchase just because we were presented with a discount, digital coupons have become an incredibly powerful marketing tool.
Similarly to print coupons, these digital versions are used by companies to offer existing and prospective customers discounts, offers and promotions. Thanks to improved technology however, businesses can now offer them in a number of ways including via text message, email, social media, push notifications and even from their very own website.
One of the biggest benefits of this is that it gives you greater access to your target audience because rather than relying on someone picking up a newspaper or magazine or opening their junk mail, you can target them via a medium you know they're going to access.
If you send out a special offer via email for example, you can use analytics to track exactly who opened your email and whether or not they clicked on the link or used the code you provided. Links on text messages and social media posts can also be tracked which means that you can measure the success of individual campaigns – something which just isn't possible with print coupons.
Aside from giving you greater access to your target audience, what are the other benefits SMEs can gain by adding coupons to their marketing activities?
They're easy to implement which is ideal if you're looking to get a new marketing campaign up and running as soon as possible
By giving customers a code they need to access the discount, you can track the success and return on investment of the campaign very easily
They help to increase conversions on your website. If someone is looking for a dress for example and you offer them a discount, they're more likely to use your site
Coupons are a great way to entice people back who changed their mind at the last minute (cart abandonment). According to moosend.com, the top reason (60%) for cart abandonments is extra costs such as shipping being too high. By resolving this problem with a coupon, people are more likely to go ahead with the purchase
They can encourage people to become regular shoppers. A recent study has found that even affluent shoppers are becoming increasingly price sensitive and will actively look out for discounts when shopping for goods.
You can connect with a younger customer base via the different online channels (such as social media)
Digital coupons are incredibly convenient from a customer standpoint which means they're more likely to use them. Say the Body Shop sends you a coupon which entitles you to 10% off everything but in-store only, there's a greater possibility you will never use it. You might not live near a store or have plans to go into town or by the time you are near a Body Shop, you may have forgotten the coupon. By giving customers 10% off online however, they're more likely to head straight to the website and make an impulse buy
Because they're delivered digitally, you don't have to worry about print costs, thus making them incredibly cost-effective
You can demonstrate to customers how much you value them by rewarding them with a discount
Coupons are great for slow-selling inventory. If you have a particular product or service that isn't selling well for example, offering a discount is a great way to encourage people to give it a try
They improve customer loyalty and retention. An impressive 50% of all millennials do in fact say that limited time offers are something they find very enticing.
They're great at attracting new customers who typically don't buy from you
They help with the trial and promotion of a new product or service – offering a good deal on something new encourages people to try it and then recommend it to others
They help companies to spread the word about their brand
How can my SME use digital coupons?
Coupons are a concept which have been around for decades – the only difference is that they're no longer limited to just print. Today's consumers can now access great deals across a variety of channels including:
Text messages
Emails
Social media
Push notifications
Websites
What are some of the best ways your company can utilise these promotional opportunities?
Use your website to offer promotions
Allowing customers to access coupons directly from your website can give them the push they need to make a purchase. This method often yields great success because you're reaching out to people who have already expressed an interest in your brand.
This coupon from moo.co.uk pops up as soon as you land on their website. Not only is this a great way to incentivise visitors to buy something, they're also capturing people's data so they can continue to market to them.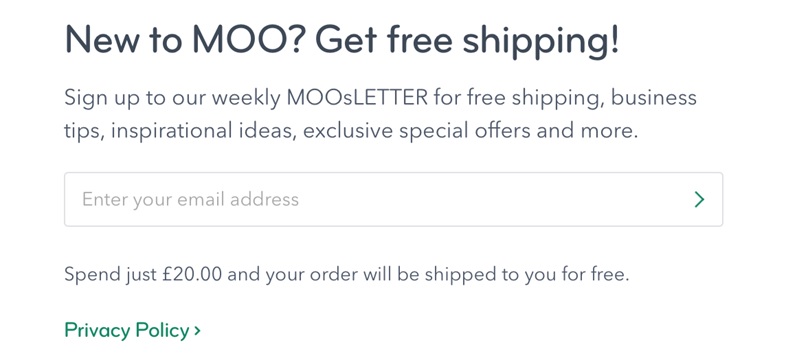 Always ensure your coupons are accessible from both a desktop and mobile devices so you can reach out to all audiences.
Coupon codes
Thanks to the likes of VoucherCloud, coupon codes have become increasingly popular in recent years. The great thing about using a code is that you can use them on your website, in emails, text messages and even printed marketing materials. People then simply type the code into the checkout when buying online or they can quote it over the phone.
Having a code also allows you to monitor the success of particular campaigns so you can monitor the return on investment. This email from AX Paris for example requires the shopper to enter a code in order to access their discount. This means that AX Paris will be able to track every purchase which came from this code so they will know exactly how successful this particular email campaign was.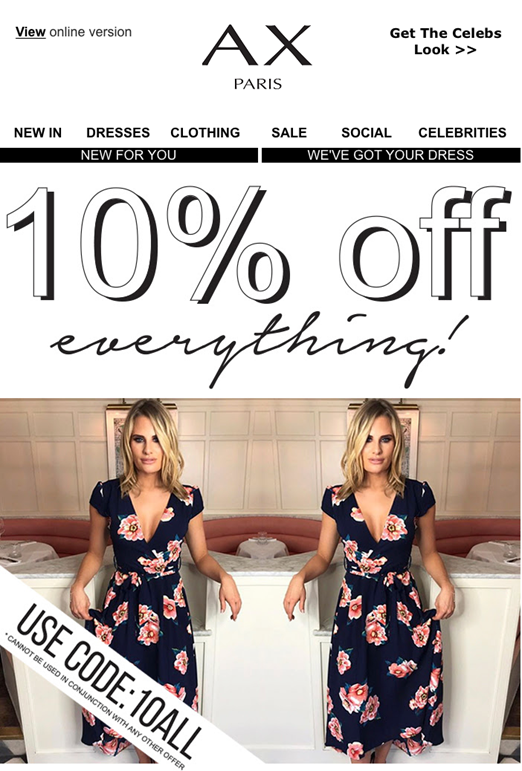 Text messages
There are a lot of benefits of SMS marketing including:
It's highly effective – sending out an SMS allows you to reach out to a large number of people at the same time. Because it's instant, you also know that you're getting your message into the hands of the right people, exactly when you want to. If you send an email for example, it could be days before the recipient opens it or it could even go into their junk folder. Most people tend to have their mobile phone on them at all times however and we usually read text messages as soon as they come through.
Improves communication – SMS marketing is a quick, easy and reliable way to communicate with your customers. A text can act as a personal message from you to your audience. Let them in on a secret sale, send them a thank-you after making a purchase and keep them informed of any sales or promotional offers.
You're forced to get straight to the point – text messages tend to be short and sweet which means that your message is clear and concise.
This text message from Amazon Prime is a perfect example of how effective SMS coupons can be. It's very short, it tempts the recipient with television shows they think they might be interested in, it encourages people to act with a free 30-day trial and a link is provided which means that it couldn't be easier for people to take advantage of the offer.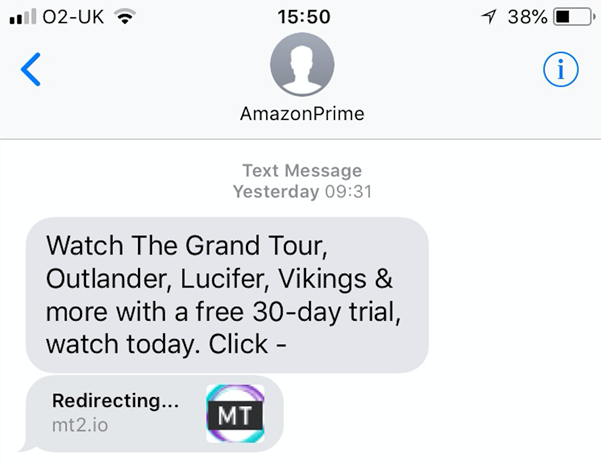 Social Media
Putting coupons on social media also has its benefits:
Increases brand awareness
It's a great way to direct traffic straight to your website (which is great for SEO)
With increased visibility, your business gains more opportunities for conversions
When consumers see your company posting on social media, it makes you appear more credible
People spend a lot of time on social media, which means that it's highly likely your ad will be seen
You can target your ad to the exact audience you're trying to sell to. You can for example select who sees your post based on age, gender, location, job title or interests. This dramatically improves the chances of success because you can target people who typically buy from you.
The Instagram ad below gives people an incentive to make a purchase and creates a sense of urgency by saying 'offer ends soon.' What's more, with the 'shop now' button, companies can direct their audience to the exact page they want them to go to. The less effort it takes to make a purchase, the more likely people are to do so.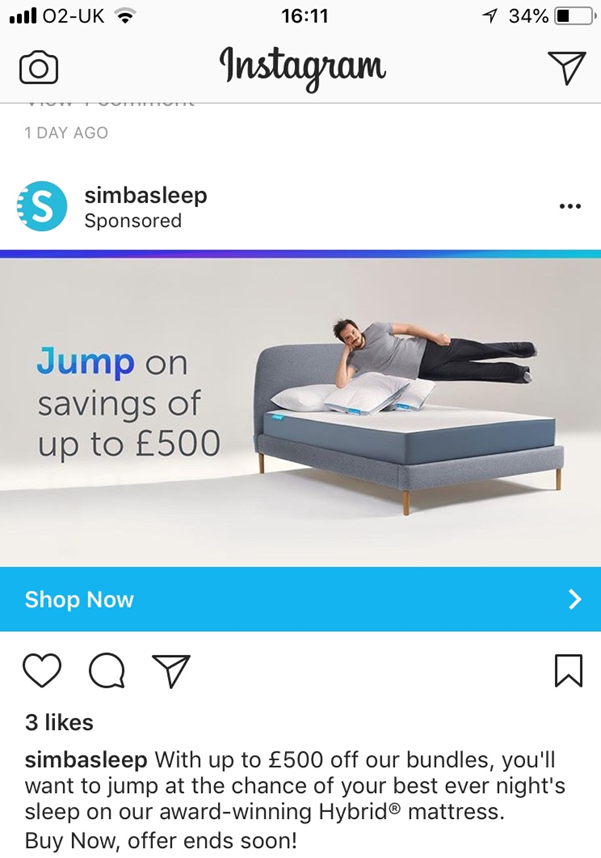 How SMEs can save money with coupons themselves
It's not just customers who can benefit from coupons. If you want to save your business money, there are a number of ways you can utilise the many discounts that are on offer.
Search engine advertising
Advertising on Google is a great way to reach out to new customers and the search engine giant always offers great deals to new customers. At the moment, simply signing up to their tips and promotions will get you a £75 coupon to spend when it comes to running your ad campaigns.
Similarly to Google, Bing is offering customers £100 worth of search advertising when they spend £20 on Bing Ads.
Don't forget to look out for promotions for products and software you need before committing to anything. This coupon from Sage offers new customers 50% off for the first three months and there are many other companies out there who are usually happy to offer new customers special discounts to get them on board. 
When coupons don't work
The decision to hand out money-off coupons can be a tough call, especially for small businesses.
Not all coupons and coupon campaigns are created equal and not all of them will generate the desired results. It's important to understand that this type of marketing isn't always a piece of cake and can require a lot of planning and strategic thinking. Sometimes, there may even be occasions when it's not appropriate.
Any discount you offer will mean less money in your pocket so if your business relies on every penny that comes through, coupons might not be for you. The key is to calculate whether the discount you're offering will make a difference to your profit margin by introducing new customers to your store or bringing back old customers who may have gone elsewhere.
You're running promotions too often. If people know you offer discounts on a regular basis, they will always wait for this. Consider when and how often you should offer coupons to avoid impacting your regular customer base and the income that's already being generated without the need for coupons.
Another risk with coupons is that it can have an impact on your general price structure. Customers won by huge discounts could get used to those prices and expect rebates all the time. By offering discounts all the time, you also risk devaluing your brand. If you want to run promotions on a more regular basis, rather than discounting actual products or services, use other incentives such as free delivery or a free gift when they spend a certain amount of money. This offer from Clarins for example is a great way to get people to spend £70 without discounting any products.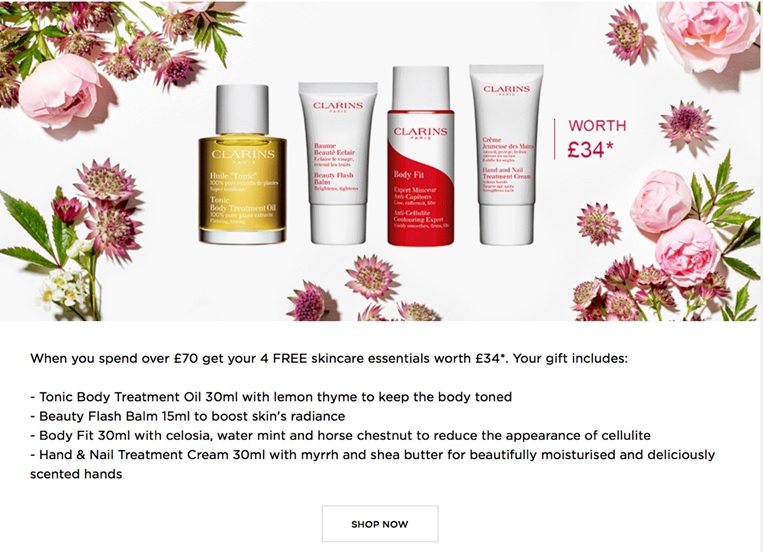 If you're going to run a coupon campaign, make sure you have the infrastructure in place to ensure the promotion runs smoothly. Advertising a discount to people only for them to find the code doesn't work when they get to the checkout is bound to annoy them and make them unlikely to return to your site again. It could also damage your reputation because people may think it was a ploy to get them to your website in the hope that they might go ahead with the purchase even though the discount code doesn't work.
When utilised correctly, coupons can work wonders for your business. By placing them in strategic locations such as the social media pages of your target audience and in well thought-out email campaigns, not only can you increase customer loyalty, you can also draw in new audiences that wouldn't otherwise buy from you. What's more, with customers walking away happy because they've made a saving, it's a win for everyone involved.