Social media has become a valuable tool for many small businesses, offering an online platform to engage with customers, sell products, reach new audiences and offer customer service.
But did you know social media can also offer a wealth of helpful insights into product performance, industry trends, brand reputation and content and advertising approaches?
That's where social listening comes in. Social listening involves monitoring, analysing and using information social media can offer on your brand, products and competitors to help improve your business.
In today's article, we're going to take a closer look at social listening including the benefits for small businesses and five tools which can help you get started.
What is social listening?
As we mentioned above, social listening is the process of monitoring social media channels for mentions of things such as your brand, products/services and competitors, and then analysing and understanding these insights to influence future growth.
The first part of social listening is not dissimilar to social media monitoring, but instead of collecting metrics such as number of followers and cost-per-click rates, you're collecting data on what people are saying about your brand, the industry as a whole and your competitors.
The second part of social listening, and what makes it different to monitoring, is the action you take in response to the insights and data you've collected. It's about understanding how people feel, where, why and how they're having these conversations across social media and how you can track and respond to them.
These insights can then be used to help connect with audiences, offer high-quality customer service, improve product offerings and optimise marketing decisions.
Let's take a closer look at a couple of examples of social media listening.
1. Responding to customer enquiries and complaints
Knowing when someone has tagged your business or asked a question regarding your products and services allows you to respond to them quickly. You can also monitor trends to see whether a particular issue or theme is mentioned more often and create a response to this. This insight can then help to influence how you approach dealing with similar situations in the future.
For example, when TalkTalk received some complaints about network issues, they reacted quickly and pinned a tweet with more detail on the issue for all their customers to see.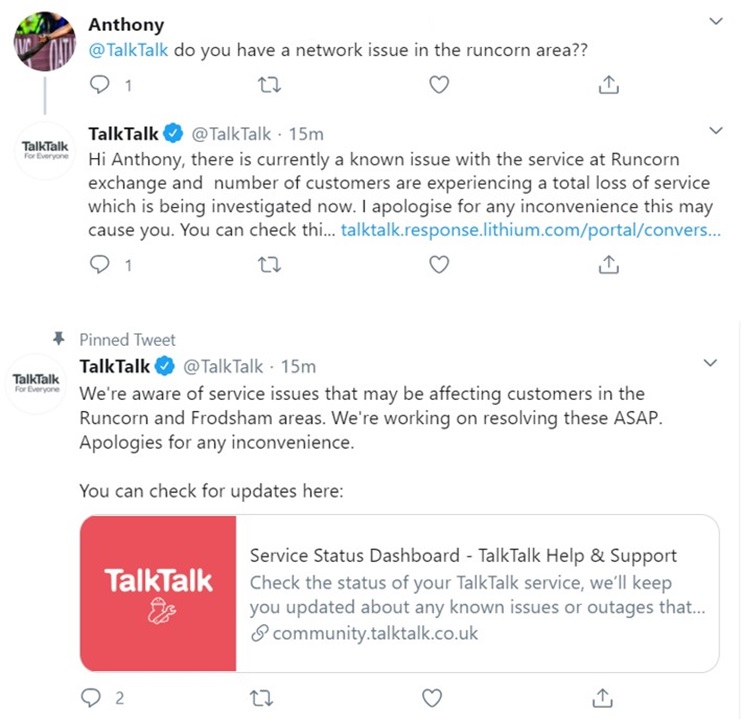 2. Keep an eye on industry trends and conversations
Say you run a business which works in events, social listening could help you tap into conversations that are happening in the industry. Perhaps you could get some helpful insights into what people are saying about virtual events and if there are any improvements you could make to differentiate your offering.
3. Monitor what other businesses are saying about you
Whether it's support from your partners or a mention by another business or organisation, social listening can allow you to monitor where and how your brand is being mentioned by others and the response from customers.
For example, ASOS has been mentioned by one of their suppliers in the tweet below supporting Clean Air Day. Not only is there an opportunity for ASOS to share this mention but they can monitor the reactions of consumers on social media.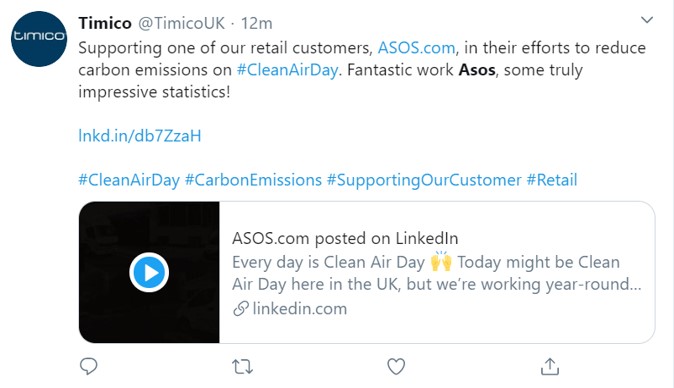 What are the benefits for small businesses?
The question is, with so many other things to think about, why should small businesses consider investing resource into social listening?
Let's explore some of the benefits for SMEs:
You could be missing out on valuable insights from the people who matter the most to your business – your customers
By knowing when someone has said something about your brand, product, competitor or industry on social media, you have an opportunity to connect with them and potentially encourage them to become a customer. With 80% of customers expecting brands to respond to them on social media within 24 hours, a speedy response could be a deal maker
Social media is becoming more of a customer service channel with many consumers heading to their social feeds to contact businesses. With fewer than 30% of social media mentions of a brand including their actual social handle, social listening can help you offer high-quality customer service wherever your business is mentioned
Social listening can help you take advantage of any PR mentions or coverage that is mentioned on social media
On the other hand, it can also help you quickly address and keep an eye on any negative comments, complaints or PR situations that may need attention
You could learn some valuable insights for product development, from what customers love about it to what could be improved and what may potentially be missing from your industry
With 60% of Instagram users saying they find new products on the platform, social listening could help you explore how products within your industry are performing on social and whether it could become a potential sales channel (if you're not using it already)
You can keep an eye on what your competitors are up to
Social listening can help you identify influencers in your industry
You're probably now wondering how much time and resource social listening requires. Thankfully, there are online tools which can do the hard work for you, so you don't have to spend hours manually trawling social feeds for mentions of your brand or products. In this next section, we're going to take a look at five online tools which are suited to SMEs.
Five social listening tools
There's a wide selection of tools out there, from more basic and affordable packages to sophisticated and more pricy options. While it's a good idea to be doing some form of social listening, how much you invest will be unique to your business and how important social media is to your overall marketing strategy.
It's also important to think about what you want to listen to, as this varies between different businesses and industries. For example, new businesses may be more focused on brand health and finding out what customers and other parties are saying about their latest product. More established businesses might be looking for industry insight to stand out against their competition or exploring influencer marketing. Sprout Social has a good guide to the top five social listening strategies.
Let's take a look at what this selection of online tools could offer your small business.
1. Sprout Social
Sprout Social is a social media management tool which offers social listening alongside scheduling and monitoring.

Key features:
Identify influencers and thought leaders
Track conversations about your brand
Access audience demographics such as age, gender and location
Learn about your audience's feelings and opinions
Campaign analysis
Competitor comparisons
Sprout's 'standard' account starts at $99 per user per month and includes profiles, keywords and location monitoring. More suited to businesses who are looking for an all-in-one social management tool rather than a platform that focuses on social listening, this package includes other features such as scheduling, content calendars and inboxes.
2. BuzzSumo
BuzzSumo is a platform designed to help monitor, research and amplify online content. Alongside analysing keyword performance and trending topics, BuzzSumo offers some insightful social listening tools.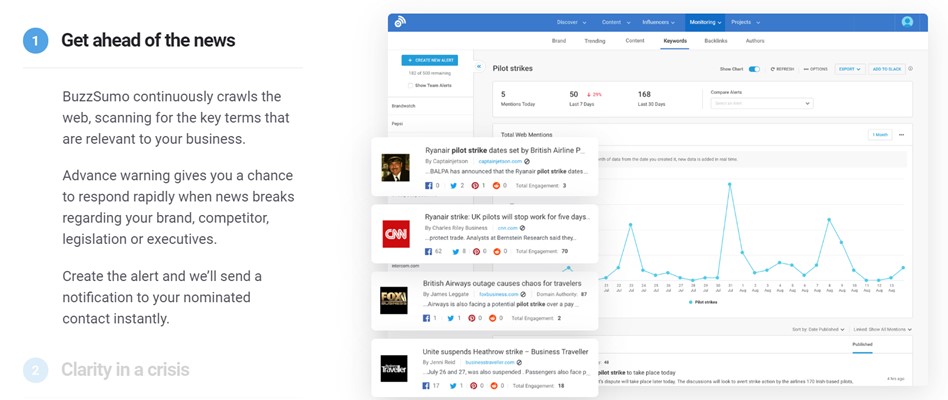 Key features:
Create alerts for brand mentions, products and topics with the 'Crisis Alerting' function
Monitor and track competitors
See key metrics on industry influencers and content creators
Dashboards
You can try BuzzSumo for free for 30 days. The 'Pro' account is $99 a month (or $79 per month if paid yearly) and includes unlimited monthly searches, one year of data, five users, 10 trending feeds and five alerts. Other packages range from $179 – $499+ per month so can be an expensive choice for small businesses.
3. Awario
Awario is a tool that is solely focused on social listening, offering a range of insights into customers, markets and competitors.

Key features:
Constant monitoring for keyword mentions
Track growth rates in mentions, including insights into reach and sentiment
Access posts that could be used for lead generation or social selling
Email alerts and daily/weekly summaries
The 'Starter' package is more reasonably priced for small businesses at £29 per month and includes one team member, three topics, 30,000 mentions and 5,000 stored mentions per topic.
4. Mention
Mention is a media and social media monitoring platform, designed to help businesses increase brand awareness by tracking, comparing and analysing online conversations and topics.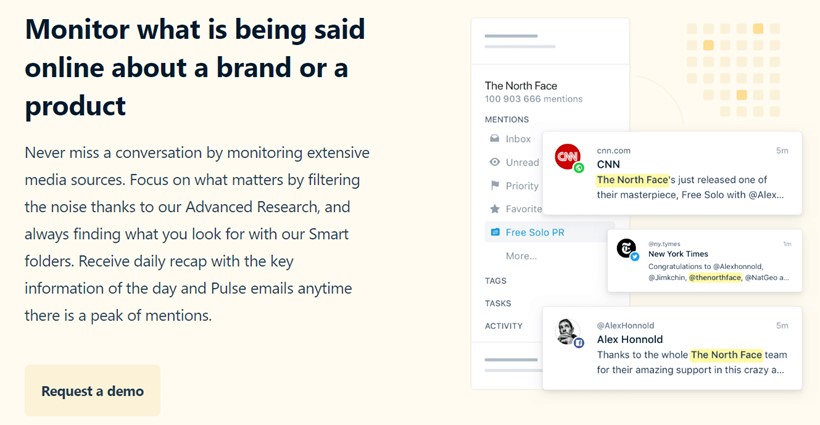 Key features:
Track mentions with daily email alerts
Understand the sentiment of your target audience
Analyse and compare trends
Develop reports and dashboards
Mention has a free account which includes one alert and 1000 mentions a month across three social accounts. For $25 a month you can get two alerts and 5000 mentions across five social accounts.
5. Brandwatch
Brandwatch is a platform dedicated to social listening, using AI technology to follow conversations online and offering access to both historical and real-time data.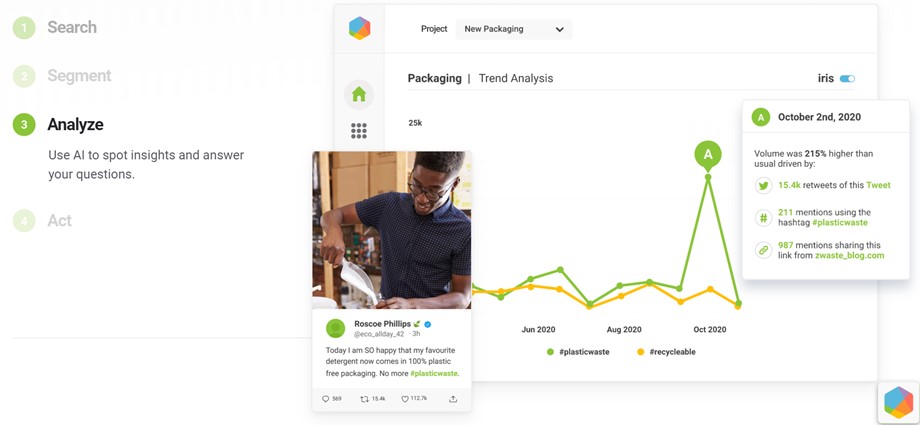 Key features:
Track and monitor online posts, comments and conversations
Categorise conversations by feedback
Utilise AI to spot insights
Setup alerts and live reports
Access historical data and conversations from 2010 onwards
You have to book a meeting with the platform to discuss pricing options so it could be quite an expensive option for smaller businesses.
Summary
Adopting some level of social listening can help you to keep on top of conversations that are happening on social media which revolve around your business, industry and competitors. Whether it's responding quickly to a customer enquiry or trying to spot a gap in the market, paying closer attention to the conversations happening online can be very valuable.
As we've mentioned throughout the article, while it's advisable to be doing some level of social listening, how much time and money you invest depends on your business' resources and how important social media is to your overall business plan.
Some of the free accounts on the tools we've mentioned can be a good starting point if you're new to the concept or you may decide to invest in some of the more advanced options if you're already seeing value from social listening.