If you've ever seen a business upload a blurry, badly cropped photo to their latest social media post, you'll know just how off-putting that can be for their customers.
It makes them look technically inept – or worse, it makes them look sloppy in their efforts online.
But behind the scenes, there is actually some method to how each social media platform processes and displays the images you upload.
Here are some of the best guidelines to follow for a few of the biggest social platforms: from profile pictures and banners to the individual posts you share every day.
Facebook
It might not be seen as the most professional social media space. But with billions of users logging on each month, it's still the biggest social platform on the planet.
Here are the sizes you need to make your profile look smart and your content look its best:
Facebook profile pictures
For personal profiles, your photo will show up as a square that's 170 x 170 pixels.
For a business page, your profile picture will display at 180 x 180 pixels.
And when people see your profile picture on their smartphones, they'll see it at 128 x 128 pixels.
So what does all of that mean?
It means you need to use a square photo (a 1:1 ratio) – and it definitely needs to be bigger than 180 x 180.
Aim for a large, high-quality, square photo (such as 720 x 720 pixels).
But watch out:
Facebook likes to crop square profile images into circles when they appear on the newsfeed. So you may need to experiment with your photo until you get one that looks right in a circular format.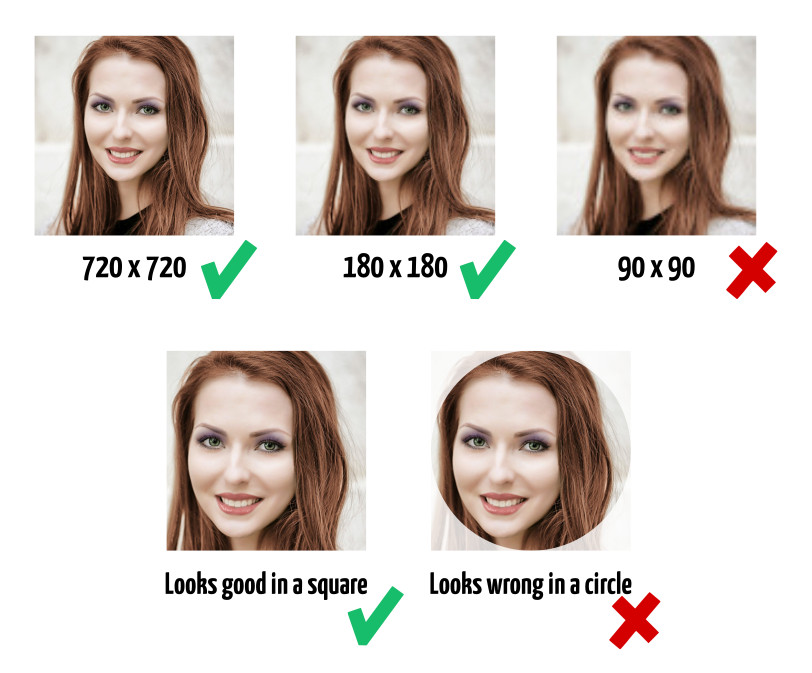 Facebook cover photos
Luckily, Facebook cover photos are relatively straightforward. But depending on the image you choose and the information inside, you'll need to be a little careful about the space you use on the far left and far right.
Aim for a cover photo that's 820 x 312 pixels (but be sure to leave a healthy margin on each side).
When Facebook displays cover photos on desktops, it shows the full width of 820 pixels.
But when it displays that same image on mobile devices, it crops a good chunk from each side of the image. So make sure you keep anything important (like a logo or text) away from the sides:

Facebook posts and links
When Facebook displays an image in either a post or a link preview (like when you link to your blog or a web page), it always scales the width of the image to fit into the newsfeed.
But when it comes to the height, there's a difference between images in posts and images in link previews:
When you create a post with an image, Facebook scales the image normally to fit the width of the newsfeed. No problem there.
But when you create a link with a preview, Facebook crops the height instead of resizing it.
And if the image associated with your link is a particularly tall one, it could end up looking like it's been chopped in half.
So what's the solution?
Use the image ratio that Facebook wants to crop to.
For both image posts and link previews (like the 'featured image' or 'hero image' on your blog post), aim for an image that's 1200 x 630 pixels.
LinkedIn
LinkedIn is seen as a more professional space. But that doesn't make it any less visual.
In fact, research suggests that LinkedIn profiles with photos get more than 20 times as many views – and LinkedIn posts with images can generate nearly twice the amount of discussion.
Here's how to make the most out of the images you use on LinkedIn:
LinkedIn profile pictures
Just like with Facebook, you'll need a high-quality, square (1:1) photo for your profile picture. But unlike Facebook, you're able to upload photos as large as 8MB if you want to – which means you can upload your professional headshots without having to compress them.
Aim for a LinkedIn profile picture that's at least 400 x 400 pixels.
But again, you'll need to remember that your square photo will probably be cropped into a circle – so have a play around until you get the framing just right.
LinkedIn cover photos
LinkedIn has two slightly different sizes for its cover photos, depending on whether you're uploading it for a personal profile or a business page.
But either way, you're going to lose a tiny portion of your cover photo in the bottom-left corner where your profile picture or company logo sits on top.
So if you want your cover photos to include any contact details or important information, make sure you keep it away from that bottom-left corner.

For a personal LinkedIn cover photo, aim for an image that's 1584 x 396 pixels.
And for a business page cover photo, you'll need an image that's 1536 x 768.
LinkedIn posts and links
When it comes to posting an image on LinkedIn, there seems to be some controversy.
Hootsuite recommends a square image of 1200 x 1200 pixels, while Buffer recommends an image that's 1104 x 736.
Where they all seem to agree, however, is in the case of a link with an associated image.
For posts with links (like a featured image or hero image from your blog), aim for a photo that's 1200 x 628 pixels.
And luckily for you, that's effectively the same scale you'd use for your blog's featured images, and for your Facebook image posts – so sticking to these dimensions can make your life a whole lot easier.
Twitter
Twitter is supposed to be all about words: short, snappy messages crammed into a 280 character limit.
But ironically, this character limit makes images on Twitter even more important. No matter how many ideas you squeeze into your short message, any image you attach will always dominate your post.
Here are the sizes you need to get the most out of your Twitter content:
Twitter profile pictures
Just like every other social media platform, you'll need a square (1:1) image for your profile picture. And just like most other platforms, you'll need to choose one that still looks good when it's cut into a circle.
For a Twitter profile picture, choose a square image that's at least 400 x 400 pixels.
Twitter header images
Luckily, there's only one set of dimensions to choose from for a Twitter header image: you won't need to worry about different pages for business or personal use.
For a Twitter header image, choose a photo that's 1500 x 500 pixels.
But just like your LinkedIn cover photo, you're going to lose a significant chunk of your cover photo when your profile picture is laid over the top. And in the case of Twitter, it seems that you lose a lot more space than you do with LinkedIn:

Twitter posts and links
Again, there's some controversy about choosing the right size for an image attached to a post on Twitter.
While some places recommend the classic 1024 x 512 scaling, Buffer recommends a slightly different ratio to allow for better viewing on both desktop and mobile:
For an image in a Twitter post, aim for an image that's 1200 x 675 pixels.
And for an image that's attached to a link preview, use a photo that's 800 x 418 pixels.
However, you might have noticed that both of these ratios are quite close to the standard 1200 x 630 that's used on your Facebook and LinkedIn posts – and your blog featured image and hero images.
So if you want to cheat and use 1200 x 630 to make things simple, you can probably get away with it. Just make sure you leave a healthy margin around the edges in case your image gets a little cropped.
And if you want an easy way to check whether your link previews will work correctly, you can try this useful official Validator Tool by Twitter. You can plug in the URL you want to link to, and it'll show you how your preview post and image will look before you actually post it live on Twitter.
Instagram
Instagram is all about imagery – so it's the one social platform where you really need to get your photos right.
Here are the dimensions you need to know:
Instagram profile picture
Since Instagram is mostly intended for mobile users, your profile picture will usually be displayed at 110 x 110 pixels.
But since Instagram stores these photos at a higher resolution (320 x 320), you ought to upload a photo that's at least as big as that – just in case the platform increases the display size of its profile pictures in the future.
For an Instagram profile picture, use a high-quality, square (1:1) image that's at least 320 x 320 – and preferably larger.
Instagram posts
Every image that appears on an Instagram feed is designed for mobile devices. And that means that, no matter what size or shape your image is, the width should always be 1080 pixels if you want it to look its best.
Following on from that, you should try to stick to:
Square images that are 1080 x 1080 pixels
Landscape images that are 1080 x 566
Portrait images that are 1080 x 1350.
You can experiment with widths of less than 1080, but watch out:
Once you go below a width of 320 pixels, Instagram will automatically resize your image to a width of 320 – which means it will probably start to look pixelated or blurry.
Instagram stories
This is an easy one.
Instagram stories are specifically designed to take up the entire screen of a smartphone. And since there are so many different screens out there, the simplest solution is to stick to one common resolution.
For images that appear on an Instagram story, aim for an image that's 1080 x 1920.
Or if you want to make things really simple, you can use this handy Stories Creator Tool from Buffer.
Looking for more?
Getting the size right is only half the battle. Before you start posting to your social platforms, you'll probably need to touch up your photos and work on your messages.
So be sure to check out this guide to the best free image editing tools, as well as heading over to these articles on Content to get more useful tips and advice about what you post online.