Social media is an essential element of any small business marketing, being a key driver for 74% of consumers' purchasing decisions.
Sprout Social estimates that 73.4% of consumers follow brands because of their interest in their product or service. However, 46% say they unfollow brands because they post too many promotional messages.
This suggests that a big part of a brand's social media strategy should be to move away from using social to sell, and towards responding to their audience in real-time.
Reactive social media is the marketing task that responds in real-time to current events, viral news, and other "right now" issues.
Although it's proven that proactive social media is more effective when reacting to events as they arise, there is also a case to be made for being ready to deal with issues there and then. Being reactive will help your brand to come across as relevant and on-point and might even help you to show up when issues are trending online. As a result, your reactive posts will see good levels of engagement.
However, social media marketing in the moment isn't quite as simple as the name suggests. It takes forward planning so that you can quickly jump on opportunities as they arise. 
Is reactive social media helpful for your business?
Before you set about your reactive social strategy, it's worth first asking yourself whether it's worth doing at all. Because reactive social takes a lot of time and effort and you need to make sure it's aligned with your overall business goals.
Try asking yourself the following questions:
How will reactive social media help us achieve our online goals?
How will it add value to our customers?
What do our customers want from our social media?
How long can we dedicate to reactive social media?
How will I find the opportunities that add value to both our brand and our audience?
Create a social media calendar
Any serious social media marketer invests in a content calendar. This will help you to plan tasks ahead of time, share responsibilities, and ensure an even distribution of attention across all your social media activities.
And while we're talking about "reactive" social media, in practice, it's not very reactive at all. Rather, it's about anticipating news and events in advance and plotting them in your social media calendar.
Whether it's the obvious holidays like Christmas or Easter, or the Football World Cup Final, or even something that's big for your business like the launch of a new store, these all need to be marked out in your calendar.
For help identifying the calendar events that you might need to mark, here's a guide by HubSpot and a tool by National Day Calendar.
Your content calendar should be a shareable document (say a Google Sheet) that your whole team can contribute to.
Set aside time at the start of each month or, if you can, each week, to plan how you're going to react to the upcoming events. Decide what content you're going to produce, who's responsible, and on what platforms you're going to share your content. You can also plan how you're going to identify what's being said about those events by guessing the kinds of hashtags that might be used.  
Identify the opportunities
The most important part of reactive social media is being able to spot the opportunities as and when they arise.
Start by seeking out the online forums and communities that relate most to your niche. Also, an analysis of your competitors' historical content will give you an idea of what people have been talking about and sharing.
Other than manual tactics, you can use online tools to help you with your research:
1. Social monitoring
Social listening
It's good practice to keep on top of your social media on a day-to-day basis. Platforms like Hootsuite, Sprinklr or Spredfast will let you monitor when and by whom your brand and/or relevant keywords are being mentioned.
Hashtag research
Searching for relevant hashtags will help you to check up on what your audience is talking about. It helps to have a list of hashtags that relate to your niche, brand and audience, so that you can use these as a basis of your hashtag research.
2. Trend watching
Google Trends
To check up on the hot topics people are searching on, use Google Trends. You just type in the keywords that relate to your brand, and see what people are looking up. You can also narrow your search down by location and timeframe.
You'll also be presented with a list of related topics and queries which will give you some ideas for subjects your audience might be searching for online.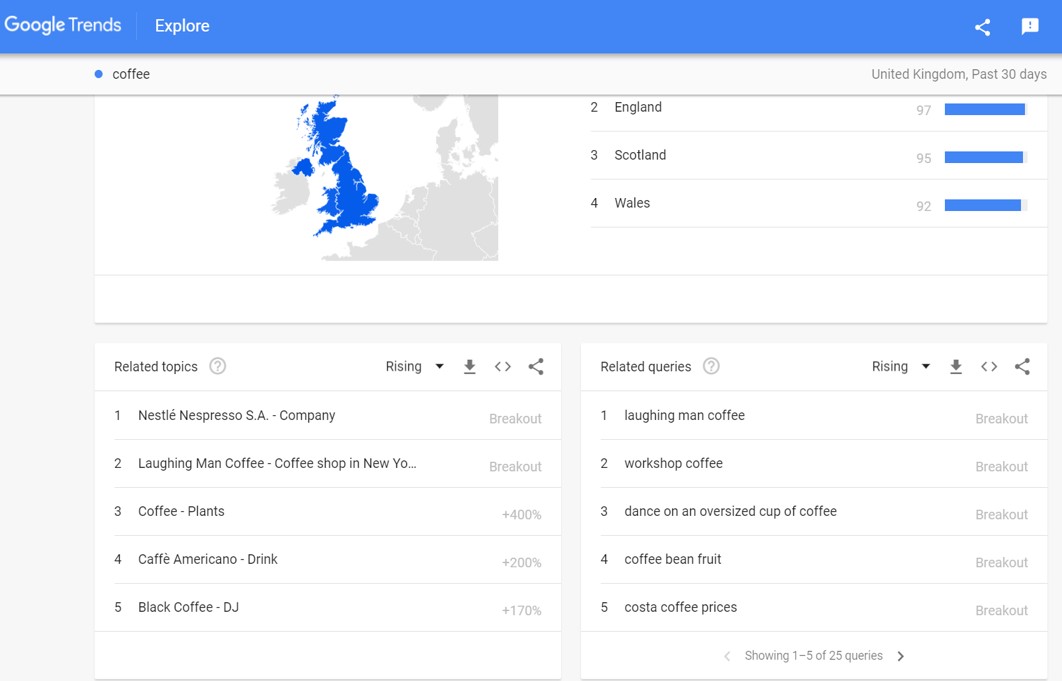 Buzzsumo
Buzzsumo's "Trending Now" feature lets you check in with the news stories that are hitting the headlines in real time. It saves you trawling through news sites and magazines to check in on what's going on, and it'll also help you to contextualise the hashtags that are trending on Twitter.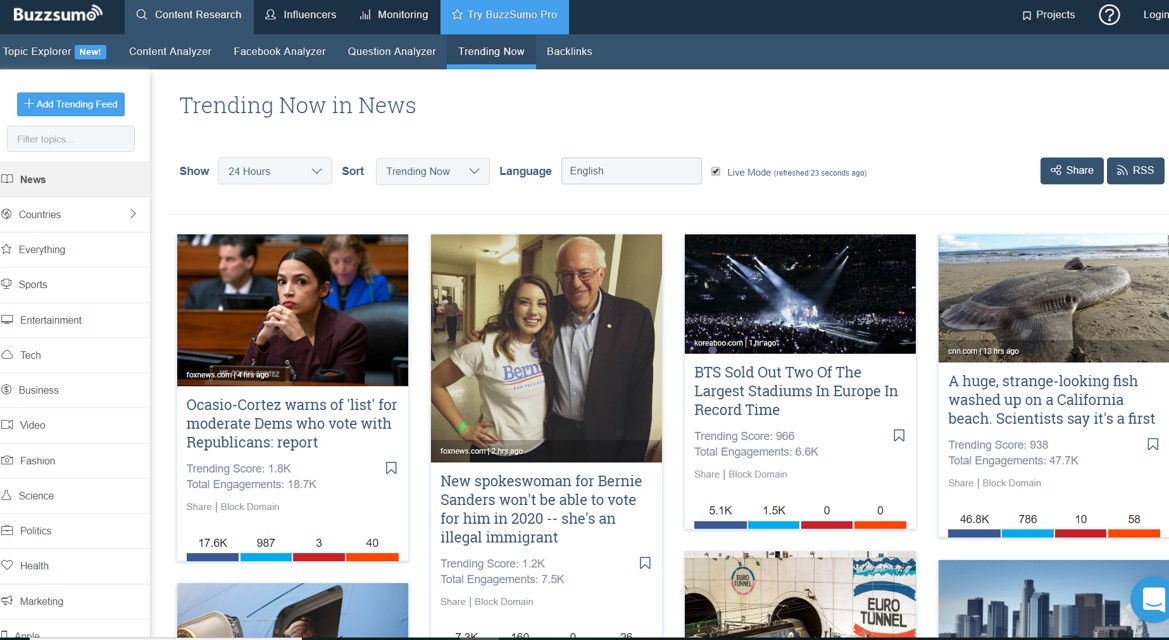 Brandwatch
Narrowing down your trends search, you can use tools like Brandwatch to find out what's being discussed among your target audience. You'll be able to identify the hot topics and jump on them quickly on your social media.
Brandwatch Audiences will let you discover the content that's trending on Twitter audiences based on their interests, bio keywords and locations etc. Check out the following example based on an audience of cyclists: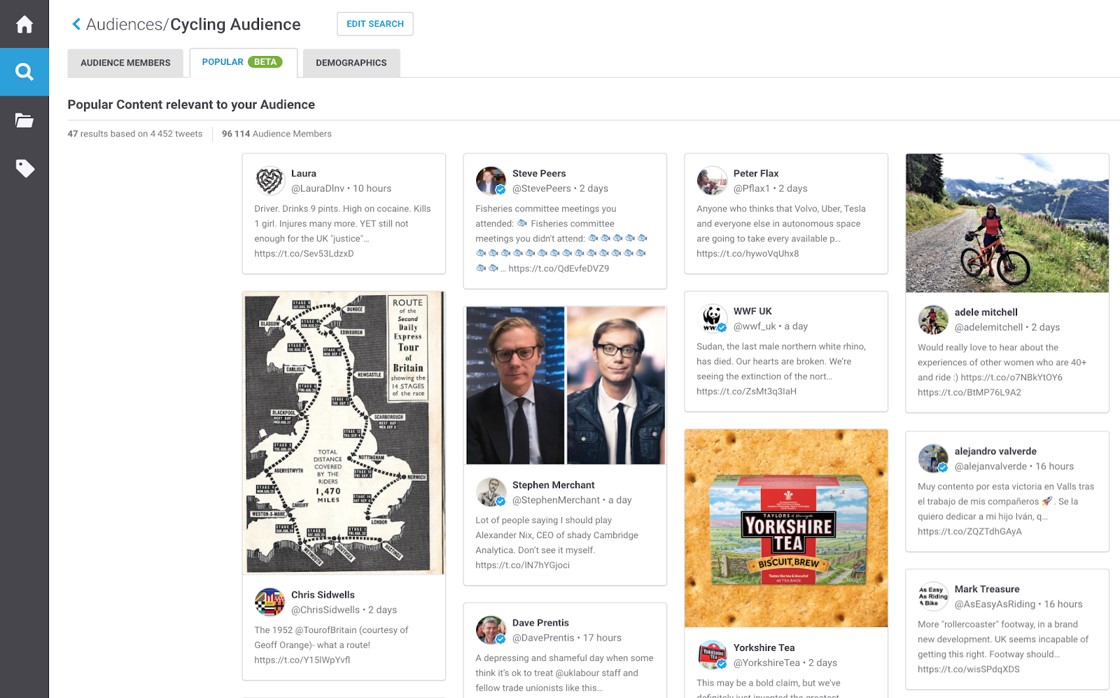 3. Mentions
Google Alerts
To keep in the loop of when your brand or keywords are being mentioned online, you can set up Google Alerts. As soon as those words are mentioned online, you'll be notified by email.
Or you can set up your preferences to determine when you get notified, either "as-it-happens", "at most once a day", or "at most once a week".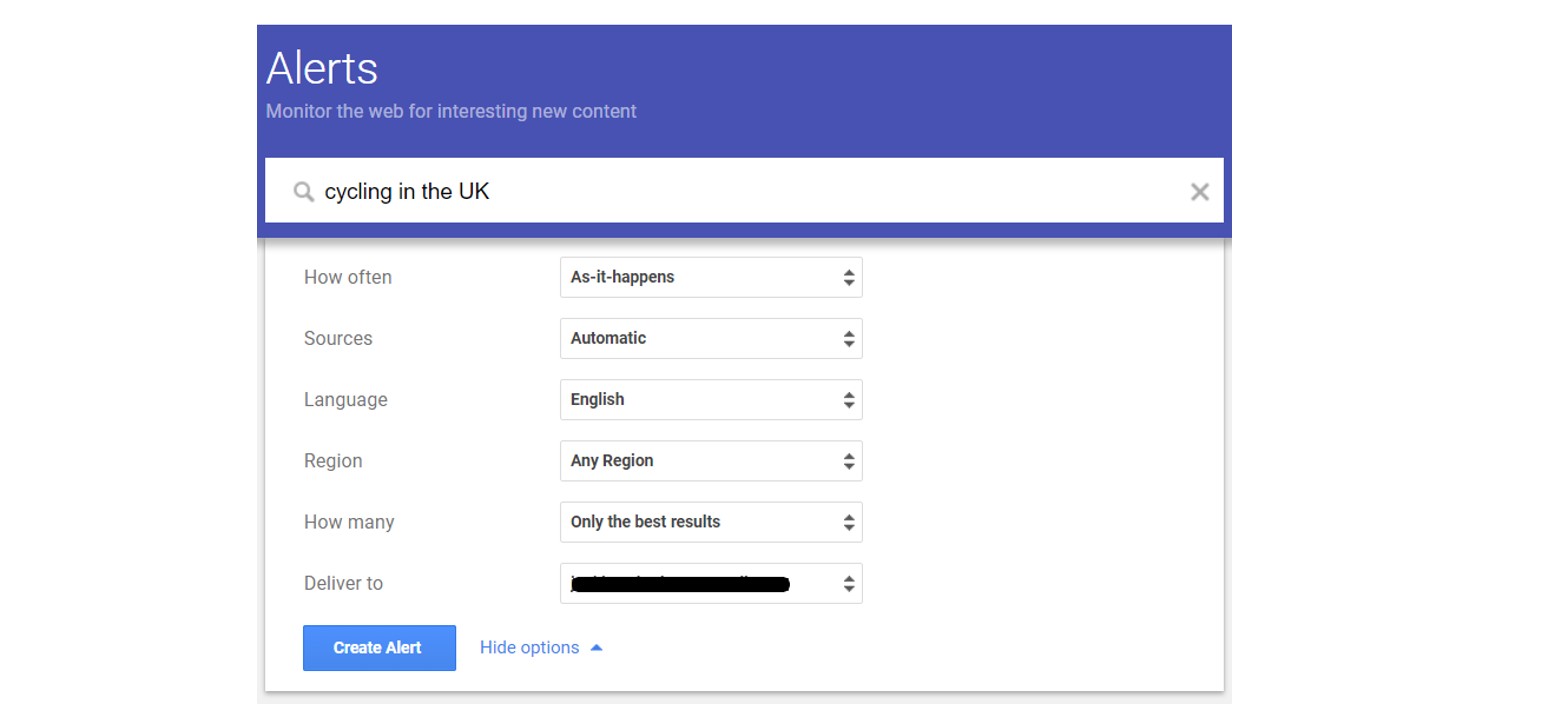 Mention
You can also analyse when your brand is being discussed on social media by signing up to Mention. You type in your brand name or keywords and your dashboard will show you all the social accounts that are mentioning those brand or keywords.
You can also sign up to get daily summary alerts.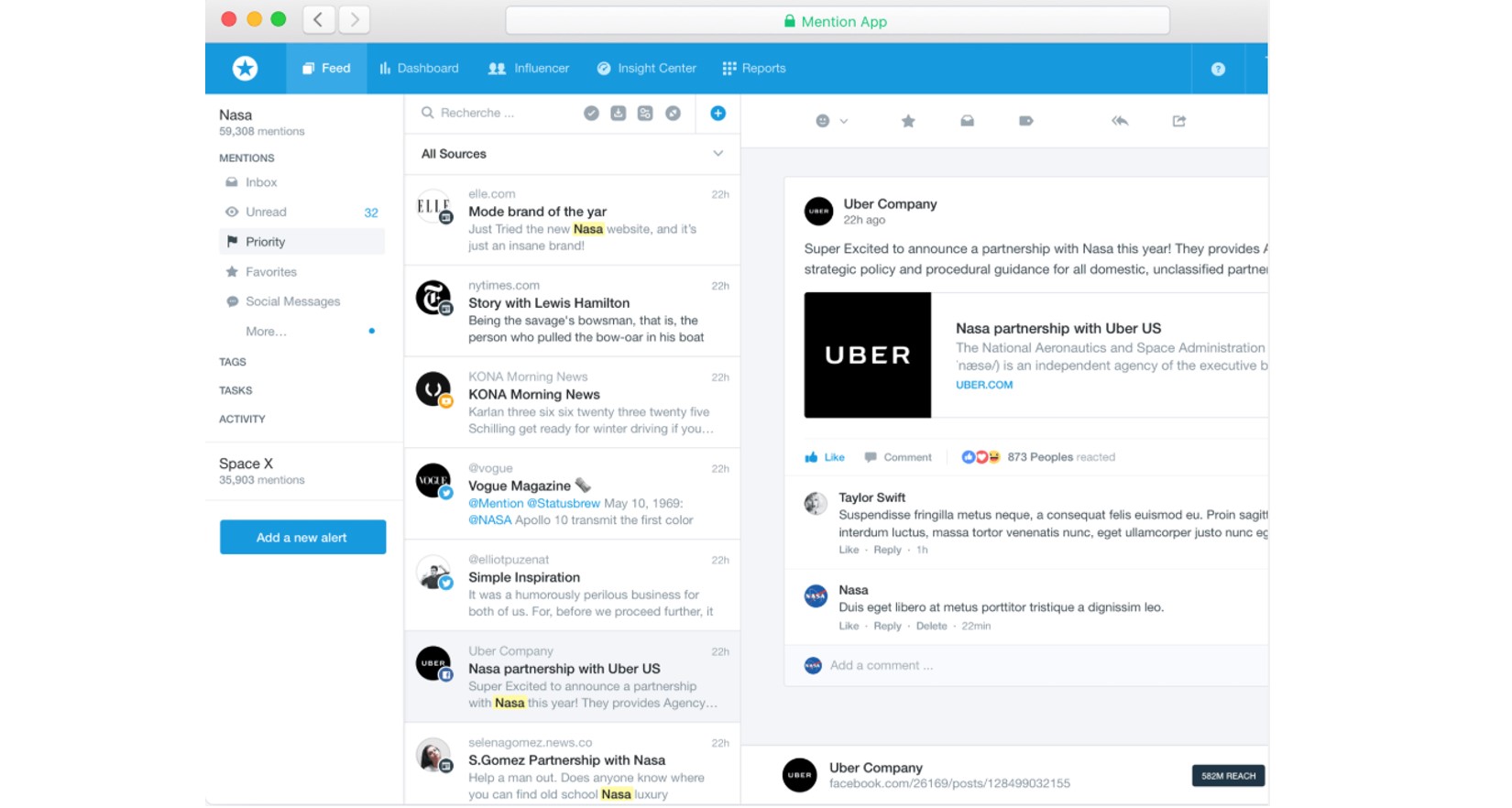 Other unexpected opportunities to humanise your brand
You can also try being open to everyday opportunities to demonstrate your authenticity as a brand. It's been estimated by Reach Solution's latest study "When Trust Falls Down", that 40% of consumers distrust brands, largely because they seem disconnected, pushy with their marketing, and out of touch with their consumers.
Using social media in real-time from behind the scenes in your business can help to restore the "Brand Realism" that consumers are craving.
The opportunities are all around you, all of the time. 
You could, for example, be experiencing a sudden heatwave and have bought everyone in the office some ice-creams to enjoy on the balcony. Rather than let the moment pass, take some pictures and share them on social media, using an inevitably trending hashtag like #sunnysaturday, which could be seen by a huge social media audience.
Other opportunities for sharing content could include:
Unboxing deliveries on 'live' streams
These are a regular feature on Instagram Stories, particularly in small start-ups or individual influencers. Essentially it means, when a package comes through the mail, open it in real-time on film, and share that with your audience. It obviously works best if you're expecting a certain item to arrive, like a new prototype or your latest designs, but it gives your audience the chance to see your reaction in real time.
Employee pets in the office
What better way of humanising your brand than by the power of pets? If you're an animal-loving office, then why not make the most of this. You could even try setting up a social media account for the office dog and regularly update your following on its behalf.
Celebrations or milestones
Many brands already share images and videos of the annual "putting up Christmas decorations" on social media. But there are other occasions too, such as a birthday or an office anniversary, or perhaps even a milestone like reaching 10,000 followers on Instagram.
Prepare content in advance
A big part of being reactive on social media is being prepared in advance. This means creating content for the events you've already identified in advance or producing the templates to let you create relevant content quickly.
Build your templates
Tools like Canva or Placeit will let you build up visually engaging social media templates. Save them to your account so that you can quickly bring them up and customise them at short notice.
Don't forget a call-to-action
Be prepared for your post to go viral or, at least, get some attention. If you fail to put a CTA at the bottom of it, then you'll miss a great opportunity to gain web visitors.
Respond to social media on a daily basis
Consumers are increasingly turning to social media for their customer service. And how you react to your customers on social media will directly impact on your sales.
Sprout Social has found that 50% of customers will purchase from a brand if they have dealt with a query on social media, which means that the other half won't.
Set aside some time every day to respond to customer queries and feedback across your social media. Be helpful and positive, and where necessary refer customers to a phone number or email address to take the query offline.
Keep relevant
It's one thing to respond to viral news when it relates to your industry but get it wrong and it could seriously backfire. Some brands try to jump on any bandwagon to gain exposure regardless of its relevance. This doesn't have to be you.
Choose the events and trends that mean something to your brand and to your audience. It will have a far greater impact if you engage in fewer yet more powerful campaigns.
Nail down your in-the-moment process
The thing about reactive social media is that it has to be of-the-moment. It needs to be produced and posted quickly. Left too late and it'll miss the boat and potentially damage your brand.
The trick is to build a social media process that's agile enough to respond quickly when a social trend chimes with your brand. This means that it's signed off quickly by the powers that be.
Some things you can try to streamline your process:
Clearly identify and agree appropriate sign off person(s).
Reduce the approval window or make special approval windows for reactive social media cases.
Amendments and feedback should be made quickly.
Remove sign off altogether if trust-levels are high enough.
Check out how agile both Lidl UK and John Lewis are in the example below. On the same day, the John Lewis Christmas advert was released in the UK, Lidl were quick to respond with a tongue-in-cheek dig at the department store, including the relevant hashtag. Within hours, John Lewis responded with a pun of their own.
Had their process been protracted, this whole reactive campaign wouldn't have worked. Thankfully, both retailers had the flexibility to pounce on the opportunity for a bit of engagement-raising banter.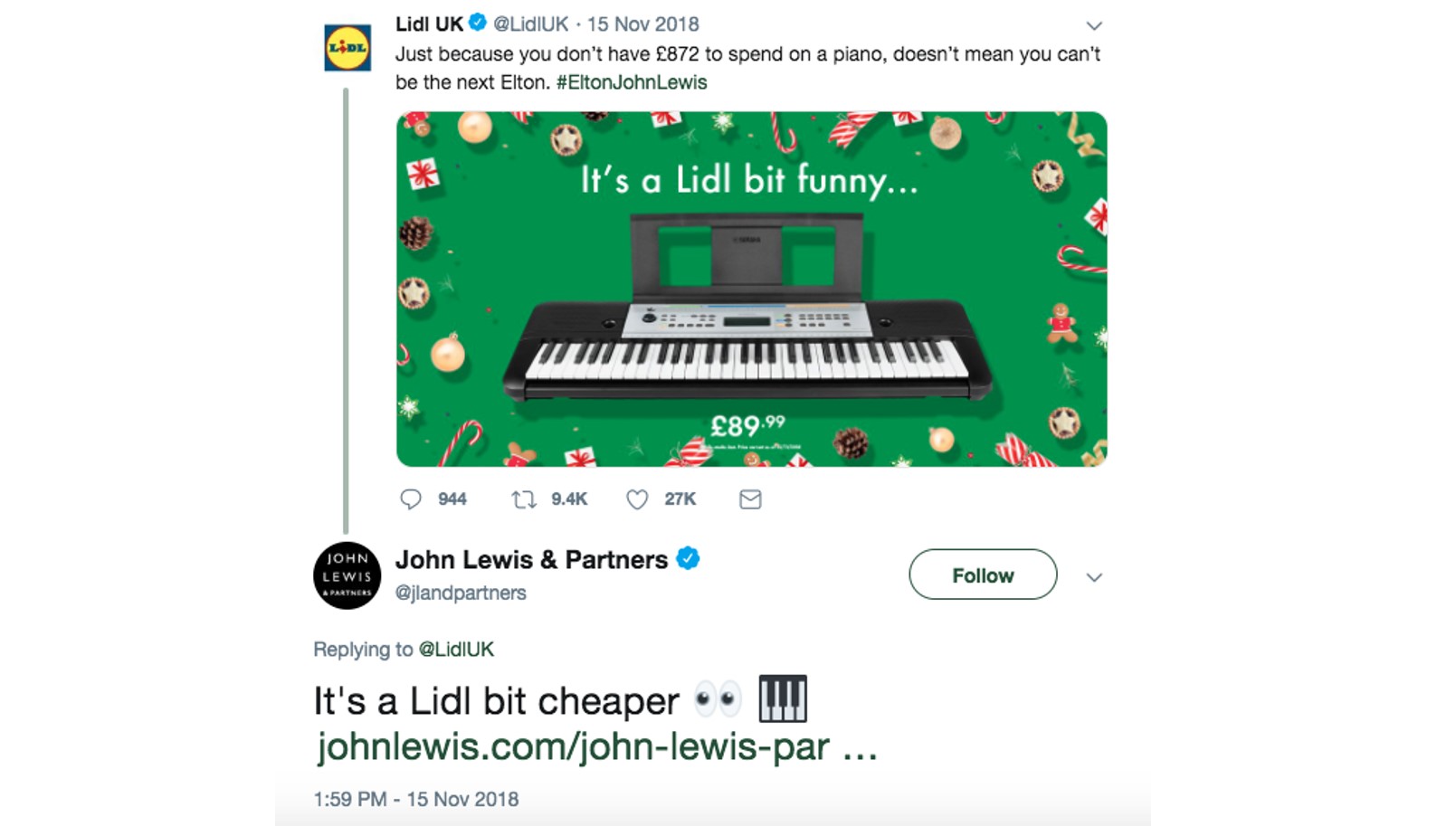 In summary
Your social media, for the most part, should be a proactive part of your online marketing activity. However, with social media increasingly moving towards more immediate real-time interaction between brand and audience, businesses need to be agile enough to respond and react to in-the-moment events and viral news.
This doesn't mean you should take a passive approach, however. Being reactive on social media requires a degree of forward planning, anticipating and online monitoring. You need to identify events in the calendar in advance, and keep in touch daily with what your audience are interested in.
Above all, you need to be ready to produce and share relevant content in response to issues and events. Follow a streamlined process and well-defined strategy and you'll start seeing increased engagement in no time.