We've talked about the theory of creating and following a social media strategy before, but sometimes the best way to understand and be inspired about such topics is to see some real-life examples.
One of the most important parts of a social media strategy is understanding your audience. It impacts the type of content you post, the language you use and the platforms you choose. A key factor to your success on social media is how you talk to, engage with and respond to customers.
Social media can actually give smaller businesses the upper hand, by providing them with a space to create groups and loyal followers who like to feel part of a brand.
In this article, we're going to showcase six small businesses who are each succeeding at connecting with their customers on social media in different ways. We'll explain why we chose them as great social media strategy examples with key takeaways for your very own business.
1. The Willoughby Book Club
Founded in 2012, The Willoughby Book Club specialises in offering personalised book subscriptions. What they excel at on their social channels is engaging with followers and participating in conversations online.
Publishing regularly across their social channels and always finding new creative ways to present and photograph books, Willoughby Books also share content from their customers and fans.
User-generated content (content which is produced by your customers, such as photos using your products) is a great type of content to include in your strategy and social calendar. Not only does it show potential customers how people are benefiting from your product or loving your brand, but it's also a fantastic way to connect with customers and improve brand loyalty.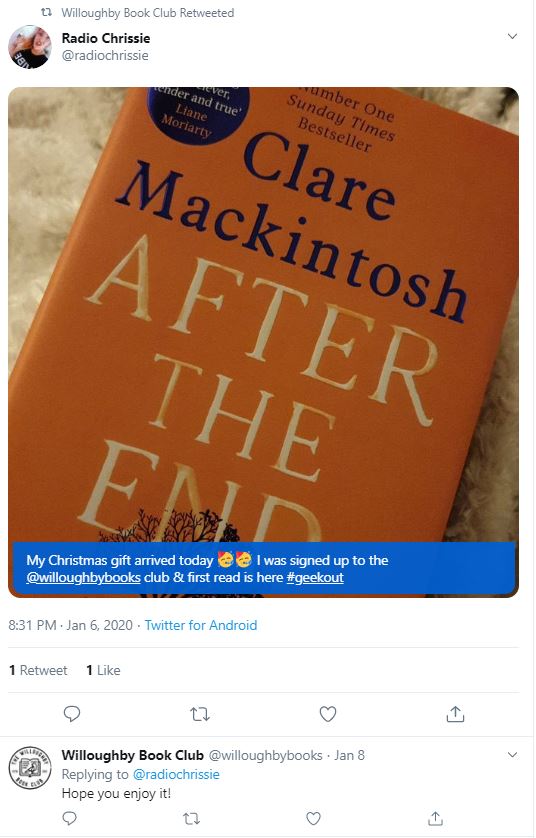 Avid book readers like to share recommendations and talk about their latest reads, and this is something The Willoughby Book Club has taken the time to understand and participate in. Most of their social posts spark recommendations and discussions from their followers and they often pose a question within their caption or post to encourage this. They also take the time to respond to and engage with their followers, joining in discussions and asking more questions.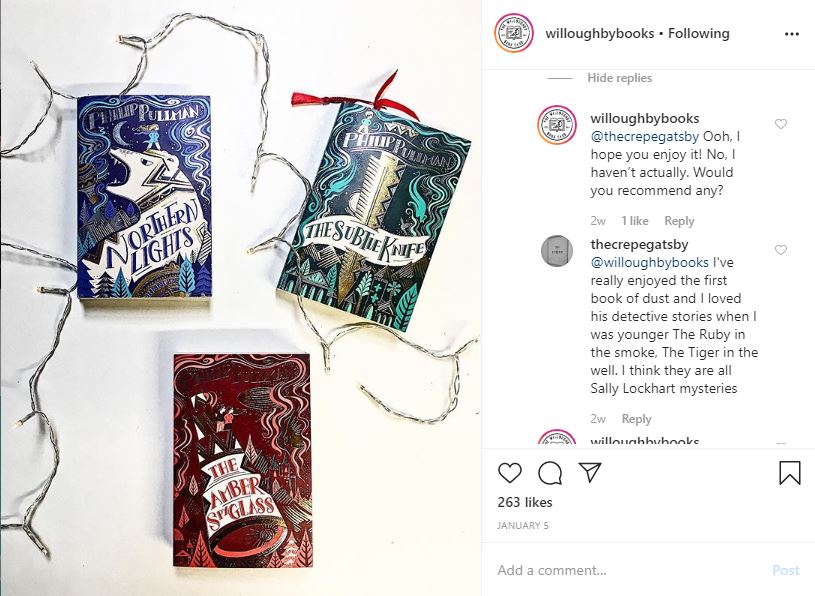 What can you learn for your own social strategy?
Take the time to understand how your customers like to engage with each other and your brand and encourage it. While it might be quite time consuming, responding and taking part in discussions can give your brand a much more humanised appeal while giving you the opportunity to naturally promote your products and services.
2. Cosy Candles
Our second social media strategy example is Cosy Candles, a family business who offer candles in different scents alongside VIP and subscription services.
Founded only two years ago, Cosy Candles has strong family foundations and values which they carry through their social profiles. They invite followers to become part of the brand by sharing behind the scenes content. From showing how their products are made to sharing pictures from the warehouse, this type of content allows customers to see how the business works and most importantly for the majority of customers, the team behind the products.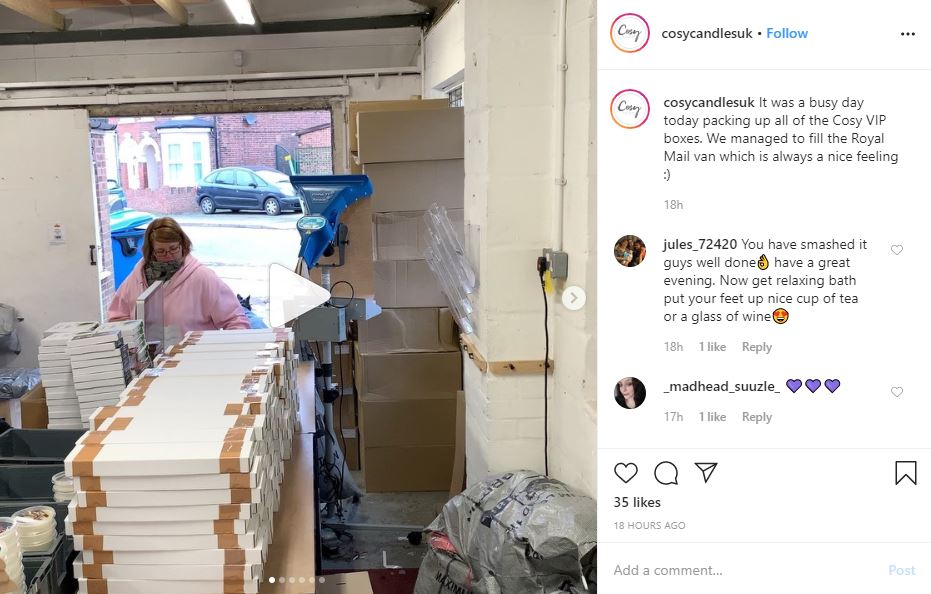 They also regularly share user-generated content from their customers, ranging from pictures of candles to reviews.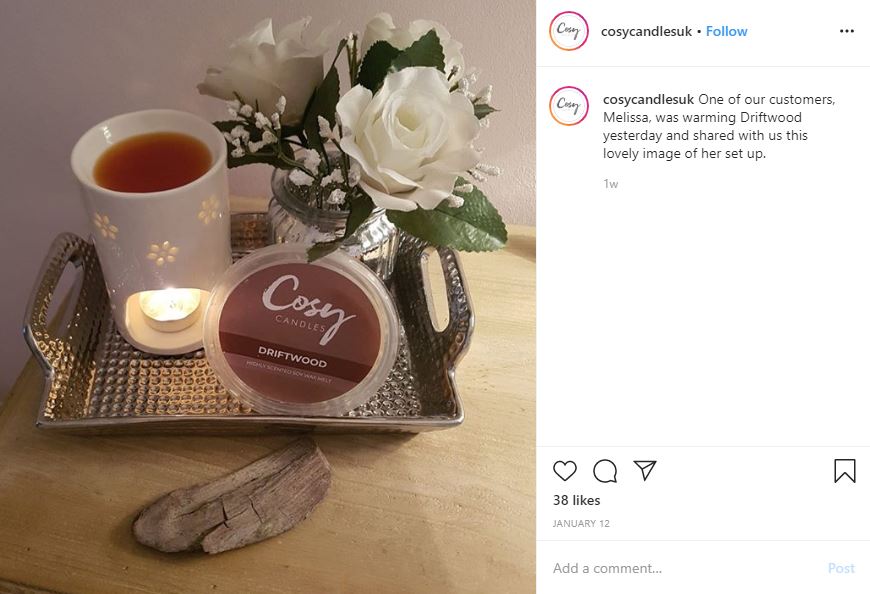 Cosy Candles also listen to their customers to help create new content, which they share on their social channels. For example, they've used a frequently asked question on wax melts to create a new article which is then shared on Facebook.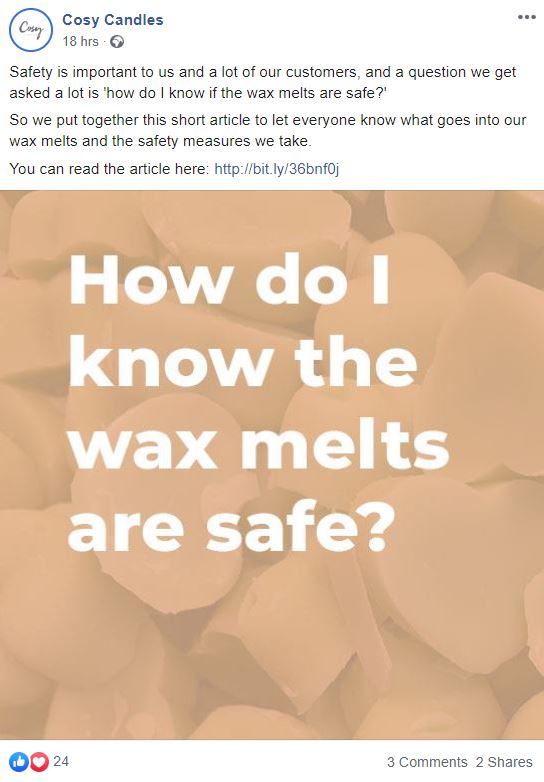 What can you learn for your own social strategy?
Don't be afraid to share behind the scenes content and your brand personality, showcasing your team and how you create your products to help differentiate your business from competitors.
This example also demonstrates that sharing user-generated content and reviews allows you to promote your business directly through the people who have brought from you. Sharing this type of content can also take the pressure off filling your social media calendar. Also, make sure you're listening to what your customers are saying to help answer questions and come up with some new content ideas.
3. BeerBods
BeerBods is another subscription service, this time specialising in unique beers from smaller breweries.
What they've done successfully is create their own community by focusing on products that have a story behind them. When you subscribe, not only do you receive hand-picked products, but you get the opportunity to join a live discussion about the 'Beer of the Week' on Thursday nights.
'This Weeks Beer' gets a showcase page on the website with the story behind the week's choice, which is then promoted across Instagram and Facebook. Keeping consistent across their channels, each beer is showcased on a white background alongside a picture of the people behind the product and their story. Followers are then invited to join the live tasting session.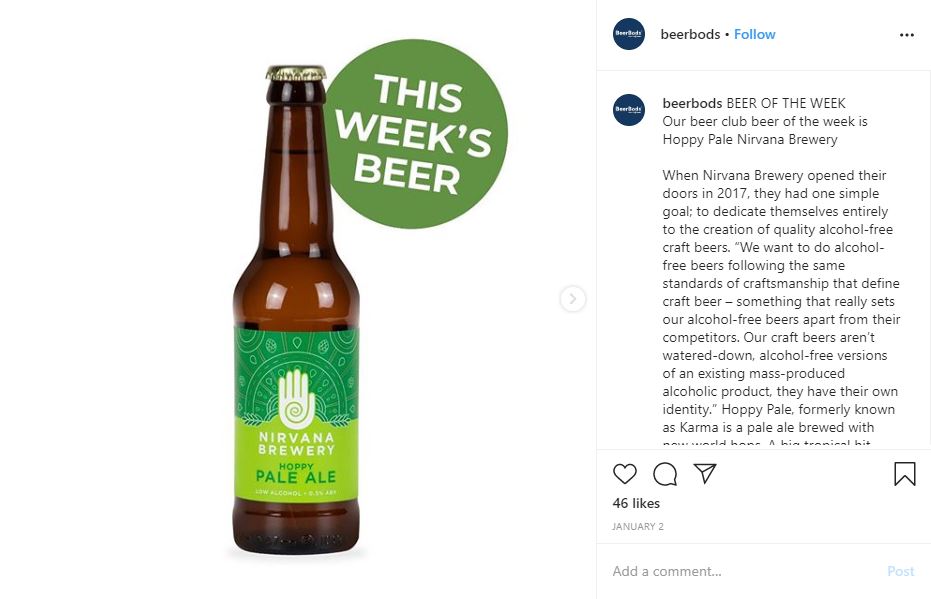 What can you learn for your own social strategy?
Creating your own community can help you offer something unique in a crowded marketplace and improve customer loyalty and retention. Using social media features like live streams and Q&As can help you bring your customers together in an easy and popular way.
4. Green Dog Walking
Green Dog Walking is a leading dog care service in London offering dog walking services.
Green Dog Walking has adopted a similar tone of voice to their ideal customers across social media. By referring to their client's pets using language that relates to dog owners like 'furry pals', 'adorable' and 'cheeky', they become more relatable and approachable. They have also identified what is most important to their customers, the care of their dogs, and use social media to push their brand values and focus on wellbeing.
Keeping along this theme, Green Dog Walking also share content that they know will relate to their target audience. Most of this content is down the popular meme route and sharing of more humorous posts. This helps to boost engagement and encourage followers to comment and join in discussions while helping make the brand more human and approachable.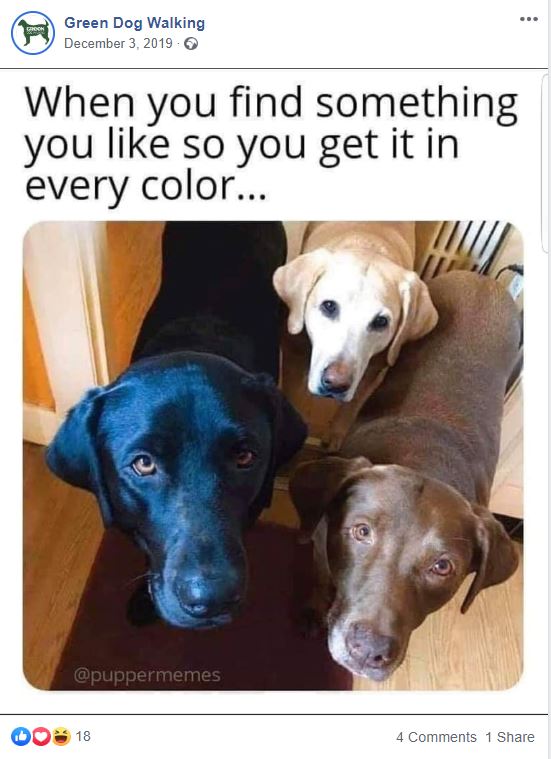 What can you learn for your own social strategy? 
Making your brand and content relatable is key to social media success. Using similar language and sharing content that your target audience is likely to engage with is a great way to make your brand relatable and more engaging.
5. Momma Makes Clothing
Another great example of a brand understanding how to talk to their audience is Momma Makes Clothing, a family-focused business selling fun and practical clothes and products for children and parents.
Understanding the emotions and experiences of new parents is what Momma Makes Clothing does so well. By sharing their own experiences and feelings, they are instantly relatable and many of their posts provoke engagement and encourage others to share their stories. Many of their social posts directly ask followers to share their own stories and advice.
Like many of these small businesses, Momma Makes Clothing also shares the business' story, providing inspiration to others and encouraging them to follow and support their journey. Making the customer feel valued adds that extra touch and this is showcased through their social media channels.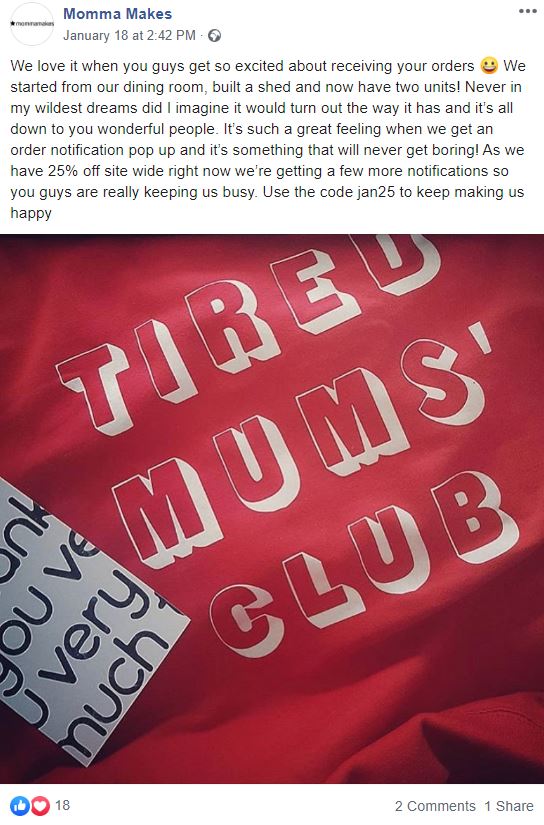 What can you learn for your own social strategy?
Social media is a place for sharing, so posting about your own experiences can help to showcase the people behind your brand as well as spark more engagement. Making your customers feel special with something as simple as a 'thank you' can improve retention and help create a strong group of loyal customers.
6. Vanbrugh House Hotel
Our final social media strategy example is Vanbrugh House Hotel, a boutique hotel who focus on the historic surroundings of Oxford to promote their hotel.
Differentiating themselves from other hotels, Vanbrugh House uses the iconic historic Oxford as a key theme in their social media. Mixing photographic shots, lending themselves nicely to platforms like Instagram, with photos of their rooms and hotel means their feed becomes a breath of fresh air in the crowded marketplace.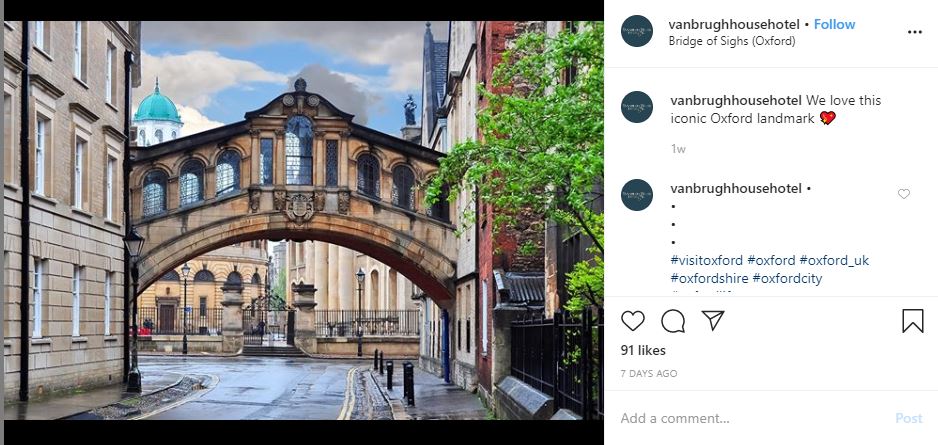 Vanbrugh House Hotel also uses Twitter to get involved in relevant events and trends. Having a theme to some of their social content allows them to create posts which are relevant and timely. From January blues to Valentine's Day and #BrewMonday, it provides some variation to their feed.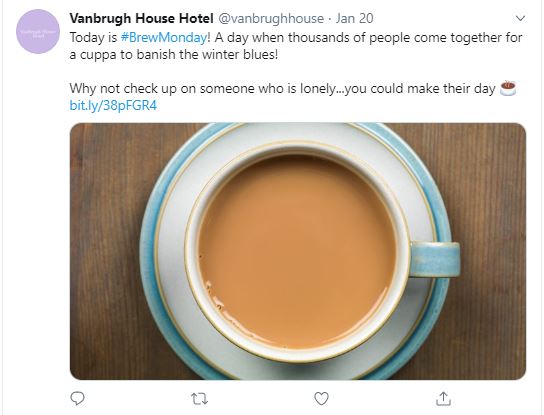 What can you learn for your own social strategy?
Although promoting your products and business is a key part of any social media strategy, creating variation on your feed can make your social channels more unique and interesting. What other interests does your target audience have? Could you post inspirational or helpful content that would also appeal to them?
Summary
What all these great social media strategy examples show is that understanding how your customers use social media is key to success. Don't forget the power of user-generated content too, if your customers are tagging you in pictures where they're using your product, utilise them! 
From what your customers like to engage with to how they talk to each other and with other brands, taking the time to understand these key features of your target audience will allow you to produce relevant and engaging social content.