With so many CVs submitted for every job opening, making sure that yours is memorable – and for the right reasons – has never been more important. One way of doing that is to ditch the traditional A4 piece of paper in favour of an interactive CV. These are a great way to show off your skills and creativity, and today we'll be looking at some examples to give you some inspiration for crafting your own.
What are interactive CVs?
Interactive CVs shake up the traditional CV format by displaying your career history and skills in a more fun way, and online. It's a way to present your career history in a more engaging way, as well as setting your CV apart from the crowd and showcasing your creativity. To be clear, we're talking about CVs on websites, as opposed to online portfolios. Here's some great portfolio/CV websites we've previously reviewed, and here are more more examples.
The showstopper
Robby Leonardi's interactive resume is a particularly well-known example. He famously turned his CV into a basic computer game scenario, with a character who moves through different levels as you scroll. At each level, there are different kinds of information about him – who he is, what his skills are, his work experience and so on. This impressive site has garnered international attention – and how many people can say that about their CV?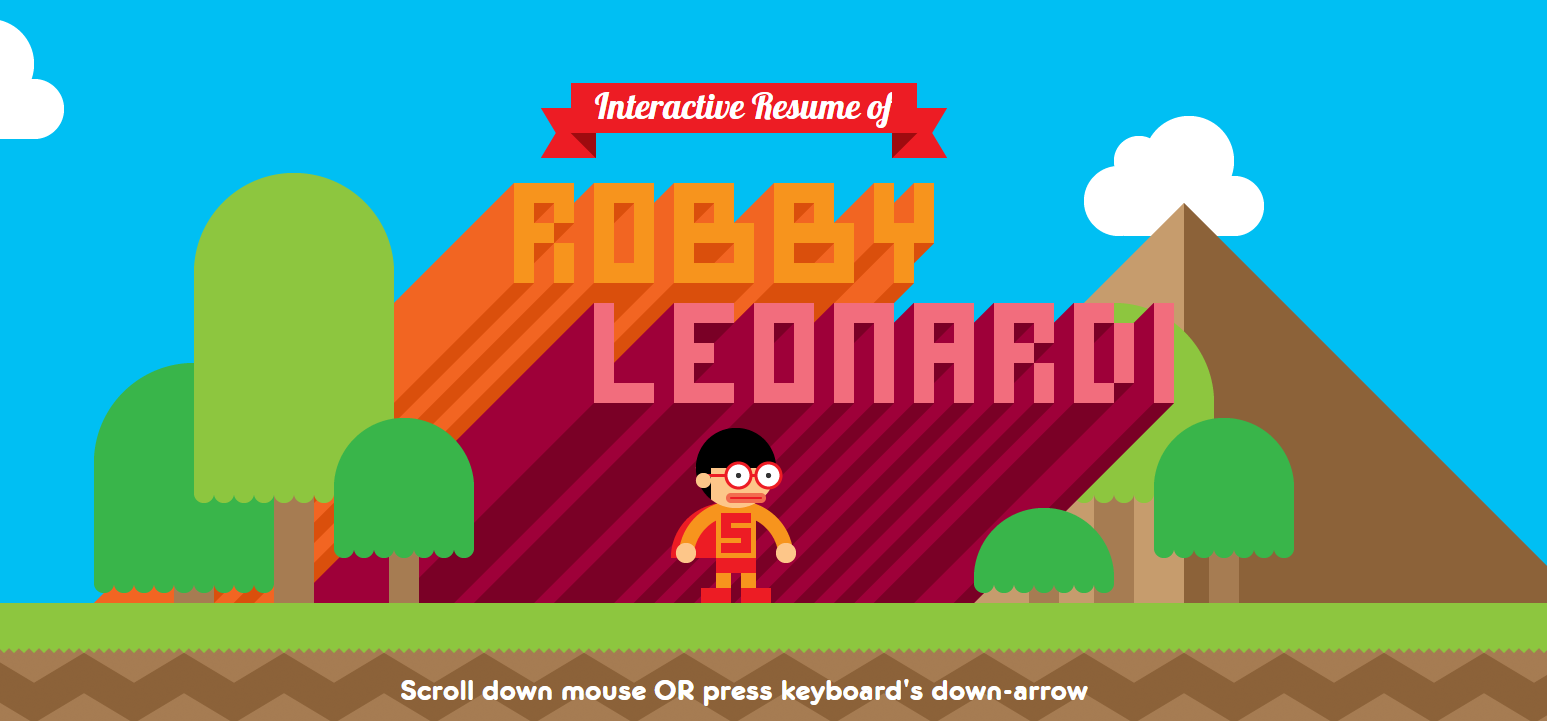 Another famous example is employadam.com, a brilliant site created by Adam Pacitti, who was trying to secure a job in the media industry. An entertaining video on the homepage features Adam himself explaining his job hunt and career history. Other pages on his site include a page about Adam that includes a traditional CV and a portfolio-style page. Adam's campaign for a job went viral after he even spent his last £500 on taking out billboard advertising to draw attention to his website.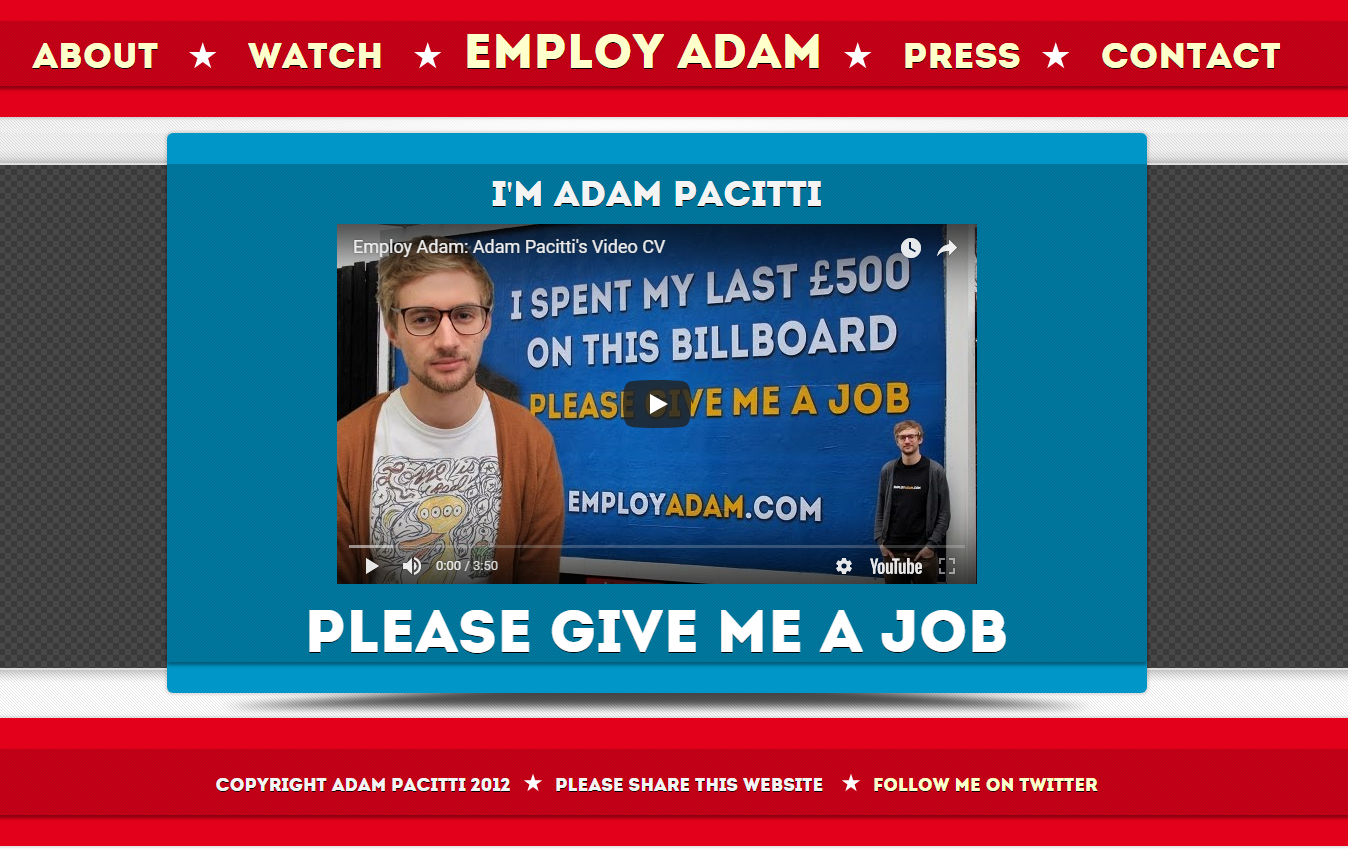 The traditional
Software engineer Robert Horner's online CV is a great example of how you can display a traditional CV online, with a menu down the side allowing you to jump straight to particular sections. His skills and tool knowledge are listed along with star ratings to indicate his level of experience in each, and a few examples of projects he's worked on are displayed portfolio-style just before his contact details.

Senior creative art director Jimmy Baldwin's online CV is a great example of how to display your CV online as part of a portfolio website, and it's even available as a downloadable PDF. It's nicely laid out and easy to read, and it's part of a sleek yet simple site showcasing his work. There's a similar idea on Daryl Thornhill's site, madebydaryl.co.uk, which incorporates a portfolio in a nicely executed scrolling page that sees projects pop up as you scroll.
Another great example of a more traditional online CV is that of SEO and digital marketing consultant Dan Clarke, which is less interactive but engagingly displayed, with Google maps showing that he's worked all over the world, levels of technical knowledge displayed as progress bars, and a testimonial from a happy client.
The timeline
Career histories are chronological, so a timeline format works really well for an interactive CV. Martin Ringlein's website is a good example, allowing you to click arrows to scroll forwards and backwards in time and displaying headline stages of his career with a 'more' button that brings up more detailed information on each.

The designer
Daan Louter created his fun interactive CV when he was applying for an internship with The Guardian. As you scroll down the page, the background colour changes and the image of Daan on the left updates to reflect the copy on the right about himself (a mortarboard appears on his head when talking about university, for example). At the end, the background changes to an image of The Guardian's offices to accompany his description of why he wants to work for them. In case you were wondering, a note on his website mentions that he got the job and worked with The Guardian for over four years.
A particularly innovative online CV comes from interface prototyper and designer Nick Jones, whose website is a fantastic showcase of his skills. Scrolling down the page produces the unexpected effect of the whole page rotating round to show engaging content about Nick's work.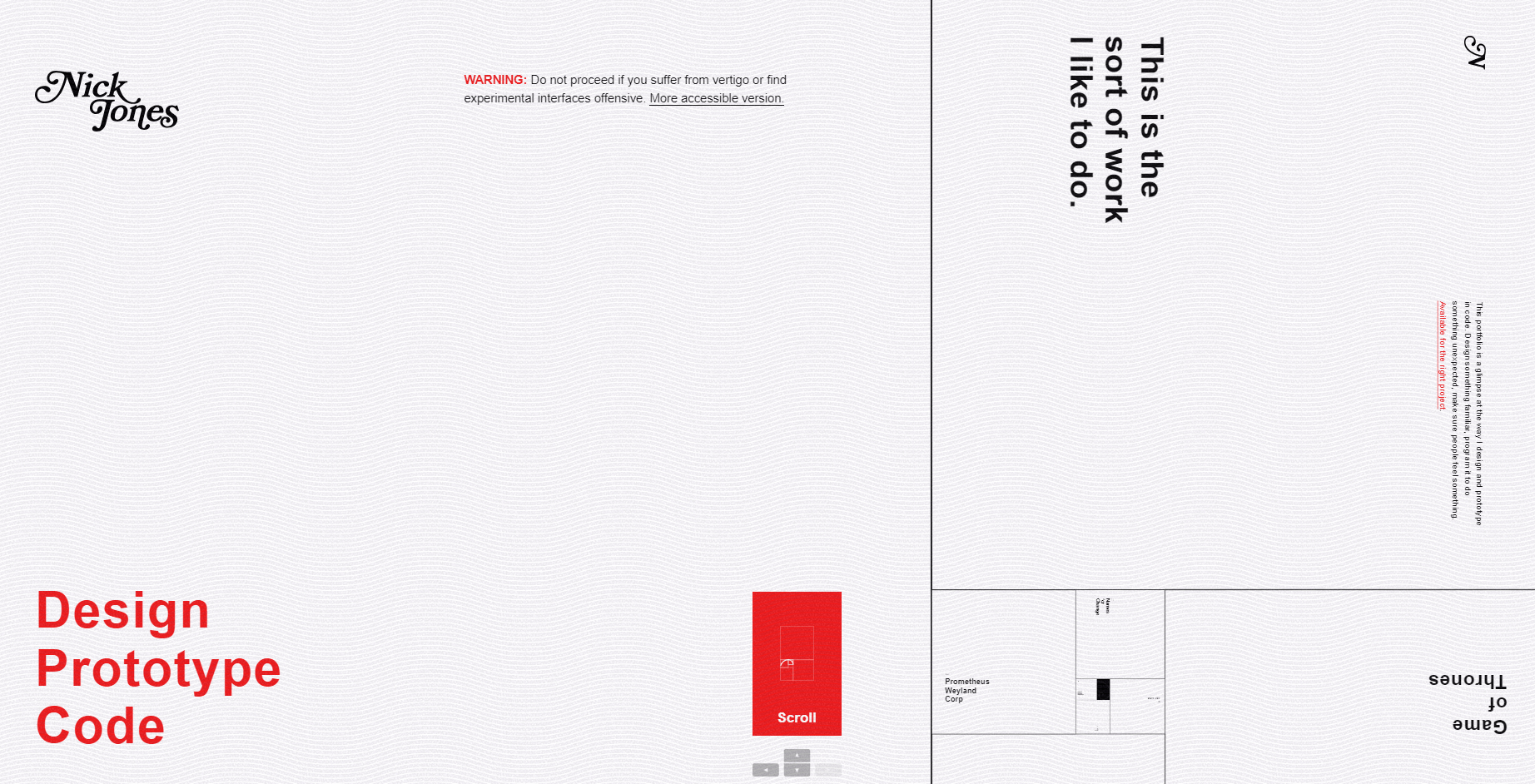 Another clever use of layout is seen on SEO and web analytics consultant Gary Le Masson's site, which is made to look like Google. Introductory text is typed out in the search box, and then you click one of the buttons to find out more. The 'I'm Feeling Lucky' button goes straight to his contact page, while a resume page lays out his CV like a Google results page. The web analytics page keeps up the Google branding, made to look like snippets from the results pages.

Do they work?
It's all very well putting loads of effort into creating an interactive CV to wow potential employers, but do they actually work, or are you better off just sticking to a piece of paper? Our research suggests they are effective at getting the attention of HR professionals.
In a study conducted last year, we found that online portfolios impress hiring decision makers and that nine in ten (88%) HR professionals are more likely to hire or proceed with a candidate who demonstrates their experience using a portfolio in an interview. Online portfolios – and, by extension, interactive CVs – are a great way to stand out from the crowd, because while an average of 17 people apply for every job, our research found that only 31% of graduates showcase their skills on a personal website. We also found that 40% of HR professionals believe that digitised portfolios and CVs will be the norm within five years, so why not get ahead of the game and get yours up and running?
How to create your own interactive CV
If you'd like to set up your own interactive CV or portfolio site, the first thing to do is buy a domain name. There's lots of advice on choosing a domain here, but for this kind of site the best approach is to use your own name as your domain, if possible.
Find a domain
From there, you'll need to look at setting up the website, and WordPress is a great choice thanks to its user-friendliness and wide choice of free or cheap themes that allow you to achieve a sleek site without the need to spend a fortune on hiring a web designer and developer. Some excellent themes for online portfolio and CV sites include:
For lots more advice on setting up and promoting your own website, have a read of our guide to getting online. If you're looking for jobs, you'll also find lots more practical advice in our Employment section.