As 2020 is now well underway, this is a great time to reflect on some of the social campaigns that got us all talking in 2019.
As well as sharing some of the most standout social campaigns from the last year, I'll also discuss why these social campaigns were successful and what your small business can learn and incorporate into your very own social media strategy.
1. Gillette's 'The Best Men Can Be' Campaign
At the beginning of 2019, Gillette launched what would end up being one of the most talked about social campaigns of the year. Their aim was to tackle some of the most common stereotypes about men as well as address negative male behaviours including bullying, sexism, sexual misconduct and toxic masculinity.
They encouraged men to promote inclusivity, stand up to bullying, talk about their feelings, build confidence and help the next generation of men to be the best they can be.
A controversial campaign like this one isn't without its risks and while the campaign certainly was the subject of much controversy and didn't go down well with many, it certainly got people talking across social media and industry publications.
Gillette received 1.5 million social media mentions the week after releasing the video compared to just 10,000 mentions the week before. 1.1 million of these mentions happened in less than 24 hours and the hashtag #TheBestMenCanBe was used 187,000 times in that same time period.
It was still fantastic exposure for the brand with the video being viewed an incredible 64 million times on YouTube and Twitter alone. Across its social media channels, the video also racked up more than half a million comments and nearly 1.5 million likes.
Despite some negativity surrounding the campaign, a Twitter poll carried out by PRWeek revealed that overall, it was received positively. 81% of respondents said that the video was a success and that this is something brands should be speaking out about. With results like this, there's absolutely no doubt that 'The Best Men Can Be' was one of the most talked about social media campaigns of 2019.
Why was Gillette's campaign successful?
The first thing to get your attention is the catchy name of the campaign. 'The Best Men Can Be' is a clever spin on their very famous slogan 'The Best a Man Can Get.' This means that there's instant brand recognition and people are reminded of Gillette every time they see the video or hear about the campaign.
Perhaps the biggest reason for its success comes down to the well-timed response to the #MeToo movement. This was already huge and being talked about all over the world.
While this made it even more controversial in nature, it also meant that people were guaranteed to talk about it. Although Gillette was piggybacking off one of the biggest social media campaigns of all time, they did genuinely want to be seen as the brand helping the #MeToo movement achieve its goals.
What can your small business learn from Gillette?
Supporting a cause can really help to get your social campaigns off the ground. What's more, with 46% of consumers paying close attention to a brand's social responsibility efforts, it can also help to attract new customers.
With 'The Best Men Can Be' campaign, Gillette pledged to donate $1 million each year for the next three years to non-profit organisations which help boys and men achieve their best.
If you run a social media campaign and it's a big hit, find ways to keep it running. Gillette continued to run their campaign later on in the year by sharing stories of men who are advocates, mentors and leaders in their communities, actively demonstrating what it means to be a great man, every day.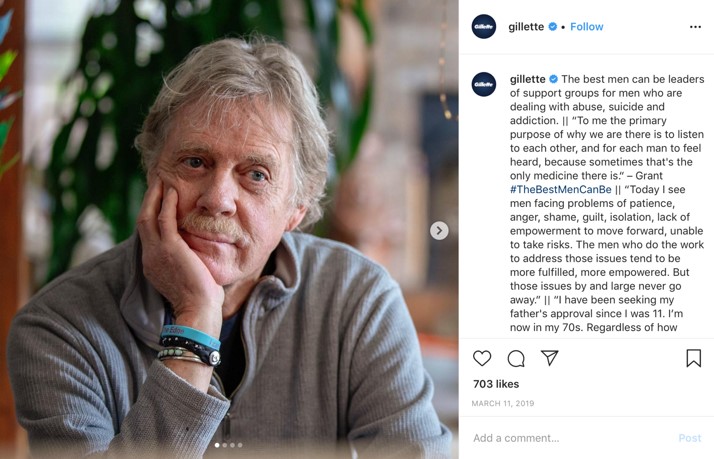 The final thing we can learn from Gillette is that timing is crucial. They were responding to a successful campaign which was a hot topic at the time. Keep your social campaigns timely by paying attention to trends, news events and what's being talked about on social media.
2. MoonPie
If you're looking for examples of some of the best social media campaigns, look no further than MoonPie. The American food company had so many great examples from last year, I couldn't choose just one.
Brand humour is something we started to see a lot more of in 2019 and companies like MoonPie have fully embraced this. They've firmly established themselves as a brand that likes to have some fun across its platforms and as a result, they've created some great interactions between themselves, their followers and other brands.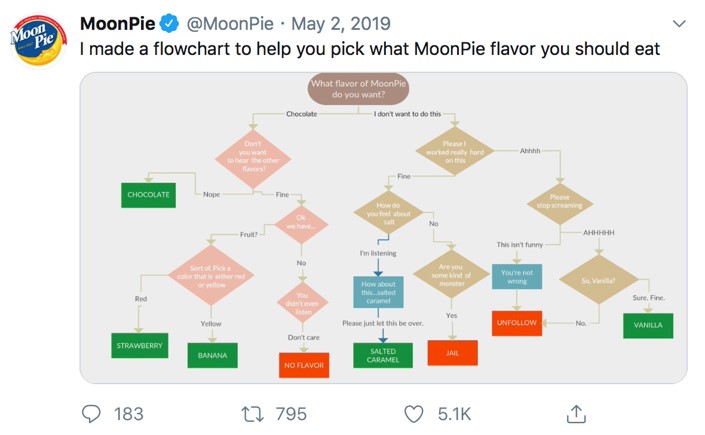 In July, they also launched a campaign where they've appealed to NASA to put a MoonPie on the moon. While this is mostly tongue-in-cheek, if it were to actually happen, it would be an incredible marketing stunt for the company. In the meantime however, the promotional video has been watched more than 180,000 times on Twitter alone and there's a petition on change.org to put a MoonPie on the moon which has nearly 4,000 signatures.
Why MoonPie has some of the best social media campaigns of 2019
MoonPie's social media content is funny, engaging, interactive and a bit cheeky. They engage with other brands and they really know how to get people talking. Others tend to respond to their tweets with a bit of banter which means their posts often get hundreds of comments.
Although NASA is yet to acknowledge their bid to put a MoonPie on the moon, plenty of their followers are having fun with the campaign.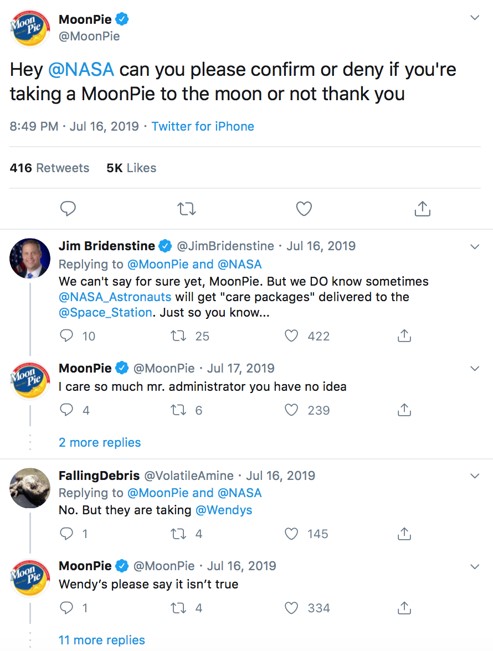 Just like Gillette, MoonPie has also looked at current events. Even though the brand has been around since 1917, the reason they're appealing to NASA now is because they're going back to the moon in 2024. Over the next few years this is something that's going to be talked about more and more so MoonPie knows it's going to be great publicity for them if they can get involved somehow.
What can you learn from MoonPie?
Like MoonPie, don't be afraid to show off your personality and inject some humour into your posts. The vast majority (72%) of consumers say they want to see more of this from brands in their social media campaigns. What's more, 67% are more willing to like content which is entertaining and 55% are more likely to share these types of posts with their followers.
If you're struggling for inspiration, here are some great examples of companies being funny on social media and what you can learn from them.
When working on your social media marketing strategy, ask yourself what makes someone want to follow an account? By considering the audience you're trying to attract, you'll be able to indicate the edge that your brand can offer.
This will also help you to determine how much humour you can get away with. While MoonPie can afford to be a bit cheeky with their posts, this isn't always suitable for all types of businesses. If you're a counsellor for example, it's highly unlikely that humour would be appropriate.
The great thing about MoonPie's social campaigns is that they put an emphasis on quality over quantity. Between Christmas and New Year, they only posted three times but they were all great Tweets which went down well with their audience.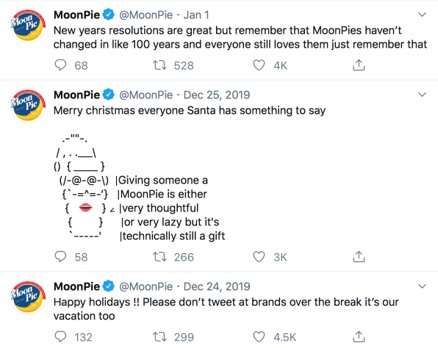 Last but not least, you can be sure that when there's a relevant holiday, trending topic or meme going around the Internet, they'll find a way to repurpose it to incorporate the moon or eating a MoonPie.
3. The 10-Year Challenge
What better way to celebrate the end of the decade than with a trip down memory lane? December 2019 saw one of the biggest social media campaigns of the year really take off and its one which has continued into 2020.
The 10-year challenge involves users posting a current photo of themselves next to one from ten years ago. It went viral very quickly and the hashtag #10YearChallenge has been used more than four million times on Instagram alone.
Why has the 10-year challenge been a success?
The 10-year challenge is one that everyone can get involved with. We all love to reminisce and reflect on how our lives have changed and this provides the perfect opportunity to do exactly this.
It's also good fun to see other people's stories and transformations and the hashtag #10YearChallenge makes it very easy to do so. As always, it helps that many celebrities and influencers got involved which always gives social campaigns a huge boost.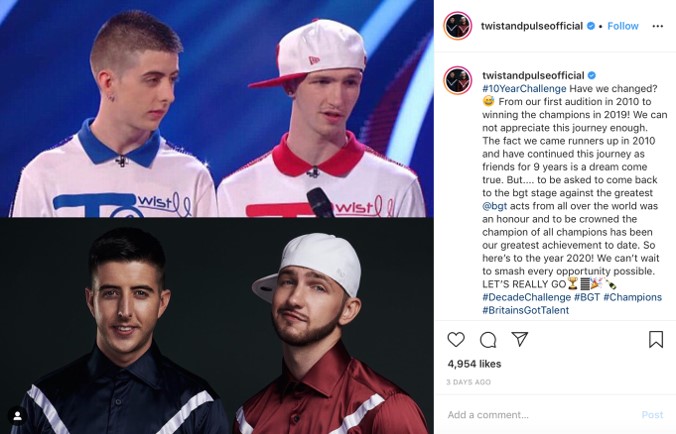 Finally, it also piggybacks off an already popular social media trend with hashtags such as #ThrowbackThursday and #FlashbackFriday habitually used on these platforms. With people already loving this type of content, the 10-year challenge was destined to be a huge success.
What can your business learn from the 10-year challenge?
Although the 10-year challenge doesn't promote a specific company, it's been great for the social media platforms because so many people have uploaded photos and spent time engaging with other people's posts. You could even do your very own 10 year post if your business has been established for the last decade.
There's also a lot that brands can learn from this campaign when it comes to thinking of their own social media campaigns.
Firstly, simple concepts are often the ones that go viral. From the ice bucket challenge and the dress colours everyone saw differently to eating a teaspoon of cinnamon, people like anything that's a bit of fun and is easy to get involved with.
Most social media users are looking to increase their following which is another reason why people love getting involved with things like the 10-year challenge. They know that by posting content that's trending and using the appropriate hashtag, other users are likely to find their account and possibly follow them. If you can start a campaign that builds a community and that people will want to be part of, it will pretty much run itself as people start to post their own content.
This brings me onto user generated content. User generated content is fantastic for your social campaigns because it's all about sharing photos and posts that your customers have created for you.
With other people doing the hard work for you, it makes content planning much easier and it can also play a big role in creating a compelling social strategy. This type of content is fantastic for engaging and building a community around a brand. People generally get excited to share photos of their products if they think the business might see it, especially if there's a chance they'll share it as well.
BMW takes user generated content so seriously that they've created their very own hashtag for this. #BMWRepost allows them to see and share all the social media posts of proud BMW owners and their cars. With nearly 1.5 million posts using this hashtag on Instagram alone, it's clear that consumers absolutely love to engage with brands in this way.
As well as saving time because you don't have to take as many photos and spend time on content creation, real people posting real photos is a highly effective way to boost brand recognition and trust. Equally important, you're interacting with your customers on a personal level when you share their photo on your feed which is a great way to offer good customer service.
If these social media campaigns have motivated you to get started with your own, take a look at some of these great articles to get you started including: