Small Charity Week kicks off today, Monday 18th June, with each day of this following week dedicated to a different aspect of celebrating and supporting small charities. Smaller charities do invaluable work in local communities or in supporting those affected by more niche illnesses or issues. However, often they struggle in competing against bigger charities or spreading their message to communities, potential supporters, and those in need.
Small Charity Week is a great opportunity to celebrate these charities and build awareness of the support and advice that could help them. We've spoken to Pauline Broomhead, CEO of FSI (Foundation for Social Improvement), the charity behind this great week about the challenges faced by small charities and what resources are available to them.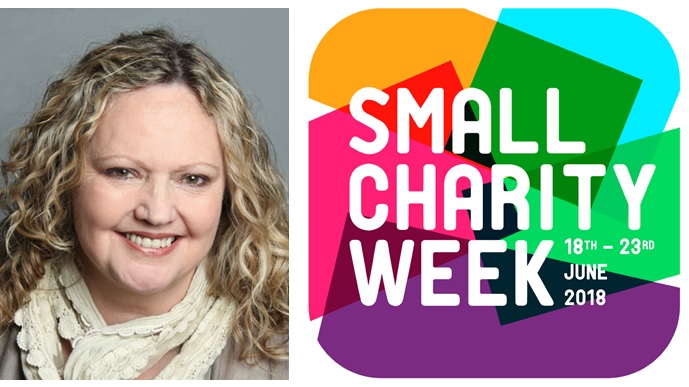 What is Small Charity Week and why are smaller charities so important?
PB: "The bottom line is there aren't enough opportunities to shout out loud about the amazing work of small and local charities and community groups. So, it's events like Small Charity Week that really help to raise awareness of their work as well as giving them access to valuable information and networks across the week."
What are the big challenges currently faced by small charities?
PB: "It's vitally important after eight years of cuts when councils are increasingly prioritising their diminishing resources on statutory services that the most vulnerable have access to a broader range of support, including preventative support that intervenes prior to a statutory service being required.
For the most part it's small and local services run by small and local charities and community groups that provide this vital link in the chain for those in need.
The most urgent challenge faced is demand which has increased by a staggering 134% since June 2013. The most important challenge facing small and local charities is building sustainability in order to fund services now and in the future. Small charities and community groups report a drop of 12% since June 2013 in overall statutory income and income from voluntary sources has flatlined.
It's important that small charitable organisations raise their profile so that local people, companies, and funding bodies are aware of what they do and that more funding opportunities are open to them to ensure that their vital services continue."
How can small charities stand out against larger organisations?
PB: "Small charities know more than any other group in civil society what is needed from them, they are often delivering a local response to a local issue or more widely to a niche illness or disorder. They are as, if not more, relevant to their local communities as larger organisations delivering a broader range of support. But to ensure that all in their community are aware of them they need opportunities to raise their profile." 
What resources can small charities tap into to help them in Small Charity Week?
PB: "In Small Charity Week 2018 they have the opportunity to raise their profile locally with the public and wider business communities as well as with their local council. Each day of the week is themed so they can dip in and out of the week taking advantage of the opportunities that are most pertinent to them:
Monday: I Love Small Charities Day brings three competitions with cash prizes which will help small charities engage with supporters and raise their profile.
Tuesday: Big Advice Day is where small charities tell us what advice they need and we match them with an expert in that field providing tailored information.
Wednesday: Policy Day is all about engaging with local or national government through a range of events locally and in Westminster. International charities can join the round table discussing collaboration across the international community and charity leaders delivering services in the UK can come to a reception hosted by the Minster Tracy Crouch MP.
Thursday: Fundraising Day delivers five separate initiates through which charities can raise funds. These include a matched funding initiate from Local Giving, free membership competition from Remember a Charity and the ability to have the charity's fundraising message featured on eBay's 'Give at Checkout'. There's also the opportunity for up to 250 charities to attend the FSI's annual Fundraising Conference and download a range of toolkits. 
Friday: Small Charity Big Impact Day is about shouting loud and proud about the work of small charities through the FSI Small Charity Big Impact Awards. The five winners of this year's awards will be announced and each will receive a package of support including a video of their work that demonstrates their impact, plus support packages for runners up and the highly commended.
Saturday: Celebration day is earmarked for charities to hold their own events or for their supporters to hold events for them as a perfect opportunity to celebrate their favourite small charity's achievements."
How can being online help small charities and also what challenges might it bring too?
PB: "In today's fast-moving world, the adoption of digital technology in smaller charities, especially around fundraising, is still in its infancy but each year the use of mobile devices and online giving platforms is increasing and so the use of digital is growing in importance for all charities.
With small local charities and community groups comprising over 96% (based on annual income under £1 million per annum) the challenge of gearing up for digital is often overwhelming as they lack resources, tech expertise and in some cases, are reluctant to make the necessary changes. But change is inevitable, if not just around the corner, and so all small charities and community groups must ensure their websites are kept up to date, look fresh and are accessible to digital platforms and also become more active on social media to encourage more donations through digital technologies, whilst not forgetting that right now more of their voluntary income comes from more traditional sources."
If you work for a small charity and you would like advice and support on getting online, take a look at our 'get online' section and our dedicated charities page, full of free and helpful articles, guides, and videos.
You can also see how other charities are using a website and online presence to grow with our case studies. If you know a great small charity that deserves to be celebrated you can also nominate them for our UK Domain Leaders programme.