WordPress is the world's most popular content management system (CMS). With thousands of free templates, a plethora of fully supported plugins, DIY tutorials, and the freedom the CMS provides, it's easy to see why the WordPress community – currently at 75 million – continues to grow.
For many, one of its biggest draws is the ability to optimise content for search engines. After all, what is the point of building a website if it can't be found on Google when people search for a product you offer?
Read on for a definitive guide to WordPress SEO for enhanced visibility and increased traffic, as we cover the following areas:
Keywords
Themes
Yoast SEO
Optimising page content
Readability
301 redirects
Sitemaps
Robots.txt files
Verifying websites with webmasters
Keywords
Before you can optimise your WordPress site you should research your keywords. The aim is to identify words that are relevant to your niche, frequently searched for and have minimal competition. You can find a helpful guide to keyword research here.
Theme
Having good foundations will improve your SEO efforts no end, so choose a site theme built with SEO in mind. The things to look out for are:
Responsive design: This automatically scales the resolution of the website to fit across any device. This is crucial for SEO as Google favours sites that are mobile friendly.
Clean design: Always choose a theme that looks professional, clean and is devoid of any unnecessary design elements. Think carefully about the user experience and make sure that information is easy to read and accessible.
Upload speed: Page load speed is another strong ranking signal for Google so choose a theme with a fast loading speed. Speed can be checked using Google PageSpeed Insights.
Social media integration: Ensure the theme you choose allows you to easily integrate your social profiles. Although not strictly essential in terms of SEO, social profiles will enhance your brand and connect you with your audience.
If you've already built your website, review your theme to check it meets the criteria above. Changing your theme is relatively easy because WordPress will transfer pages, content, images and structure for you.
Install Yoast SEO
Yoast is arguably the most downloaded and comprehensive plugin for SEO. It will allow you to optimise all on-page elements for your site and is packed with useful features. It is also particularly useful for SEO novices as it's easy to use and often self-explanatory compared with other plugins.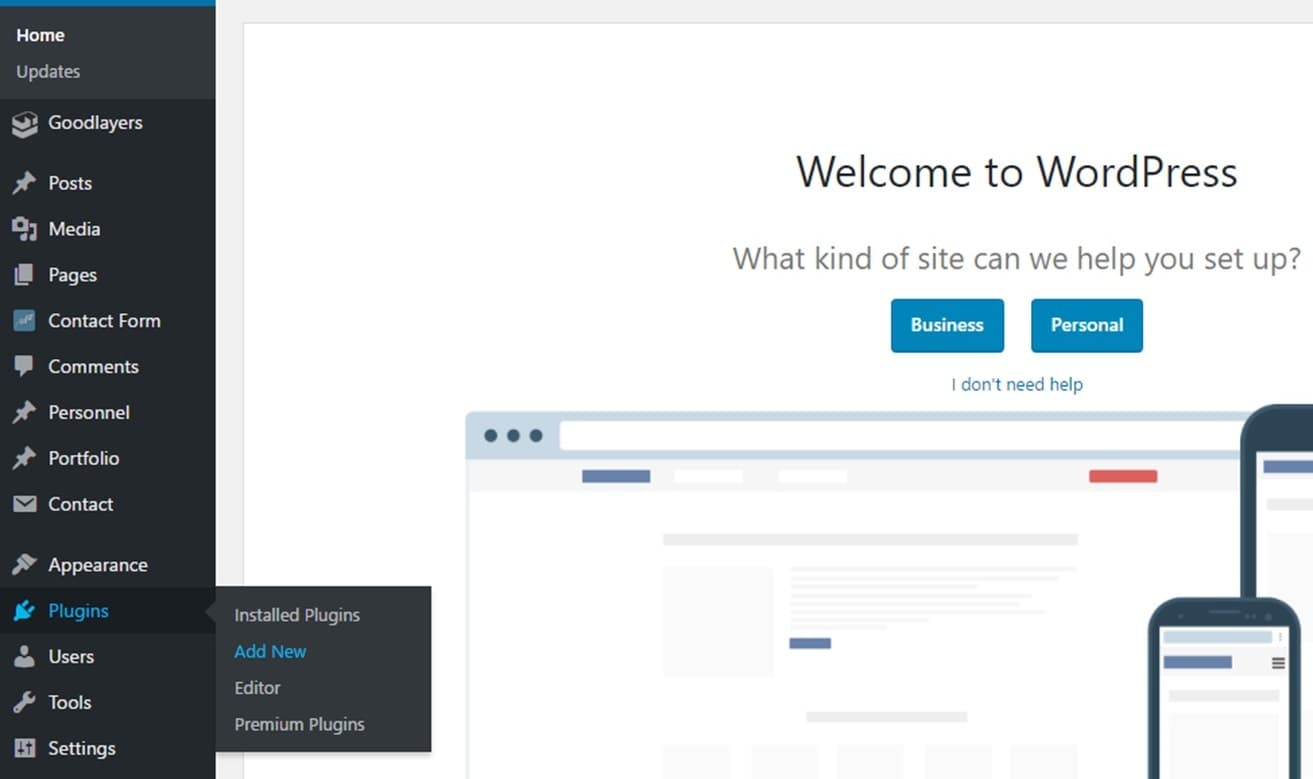 From the menu, navigate to 'Plugins' and select 'Add New'. Use the search bar at the top to search for Yoast.
Click 'install'. After a few seconds the button will change to 'Activate'. Click this to activate the plugin and then you're good to go.
Yoast configuration
When you first use Yoast you will be prompted through the 12 step configuration wizard. Answering the questions will help the plugin set up your site and determine key settings.
Step 1.
Yoast gives you the option to configure the plugin yourself or pay for a configuration service, the latter of which includes an update to the premium version of the plugin. Since we're showing you how to configure your site, go ahead and select the first option.
Step 2.
Select the word that describes the current status of your site. The options are:
Production (this is a live site with real traffic)
Staging (this is a copy of the live site used for testing purposes only)
Development (this site is running local for development purposes)
By identifying the environment of your site, Yoast will make automatic changes to your robotx.txt. We'll explain more about the robots.txt file shortly, but essentially you are letting Yoast know if you want your site to be found on the search engines. If your site is still in staging or development phases you may not have it ready for public viewing and won't want it easily found.
Step 3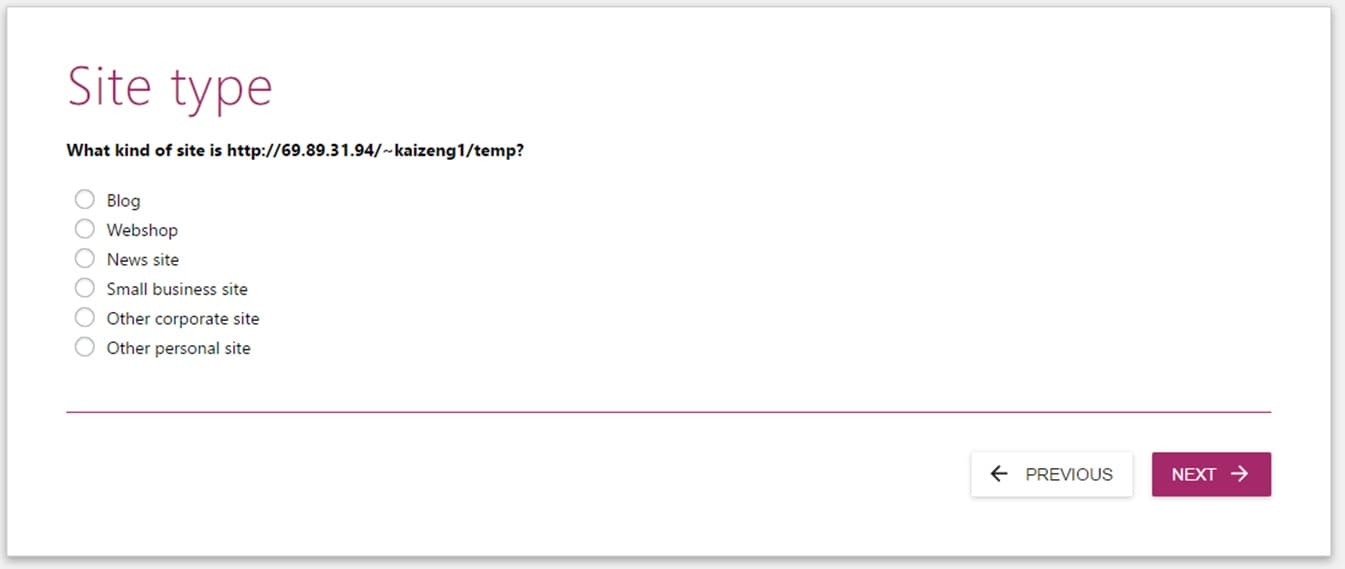 Specify the purpose of your site. This will help Yoast understand what you are trying to achieve and will include appropriate features accordingly.
Step 4
Choose whether your brand name is representing a person or a company, then enter the name and include a logo. The information provided here will be shown as metadata, allowing search engines to better understand and display the information on your site.
Step 5
Enter links to the social profiles that connect with your site. Yoast will use metadata to inform search engines that these social profiles are associated with your brand. Metadata is also used in Knowledge Graphs, an enhanced search result.
Step 6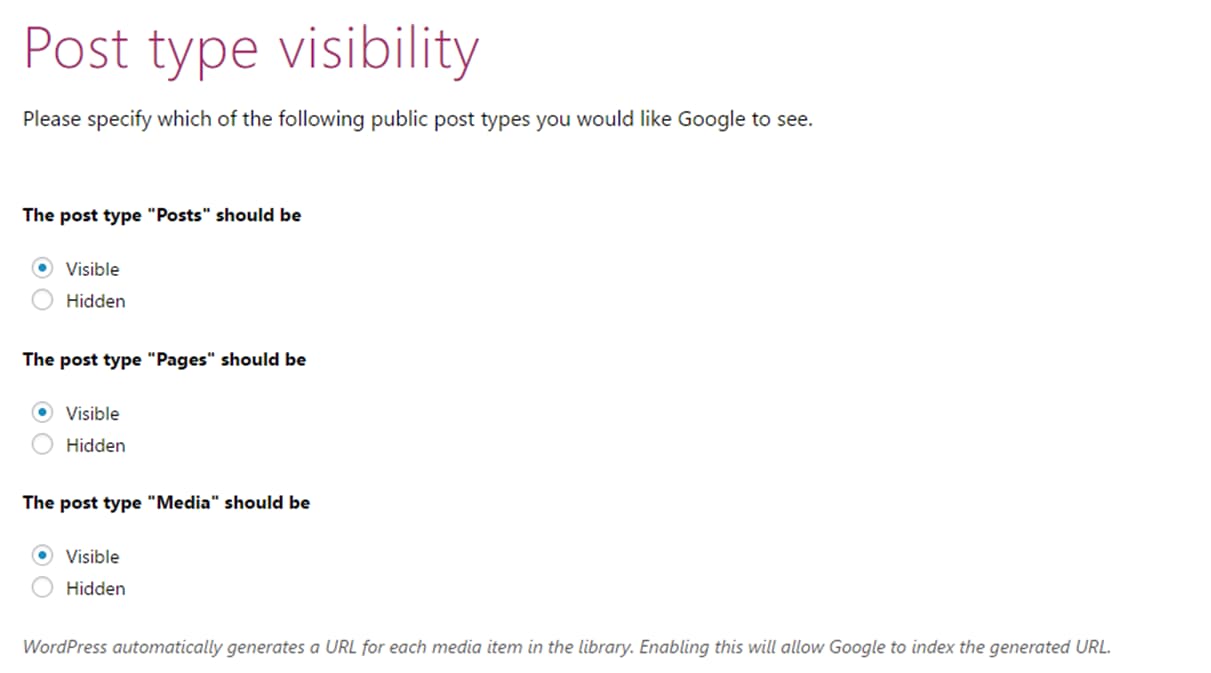 Use this section to inform the plugin which media you want to make visible to Google. Changing the options here will change the XML sitemap file and discourage certain media from being indexed, essentially stipulating the default settings for all new media added.
My advice would be to make everything visible. If there is a post or image that you don't want to make public you can change the settings on the individual media instead.
Other options that appear here will depend on the template you are using. For example, it may ask if you want 'personnel' or 'post type' to be visible or hidden. Again, you are choosing default settings which can be changed for individual posts at the time of publishing.
Step 7
Identify whether your post will have multiple authors. Changing this to 'yes' will ensure that you can choose the author of posts when publishing them to avoid all posts being assigned to the site owner.
Step 8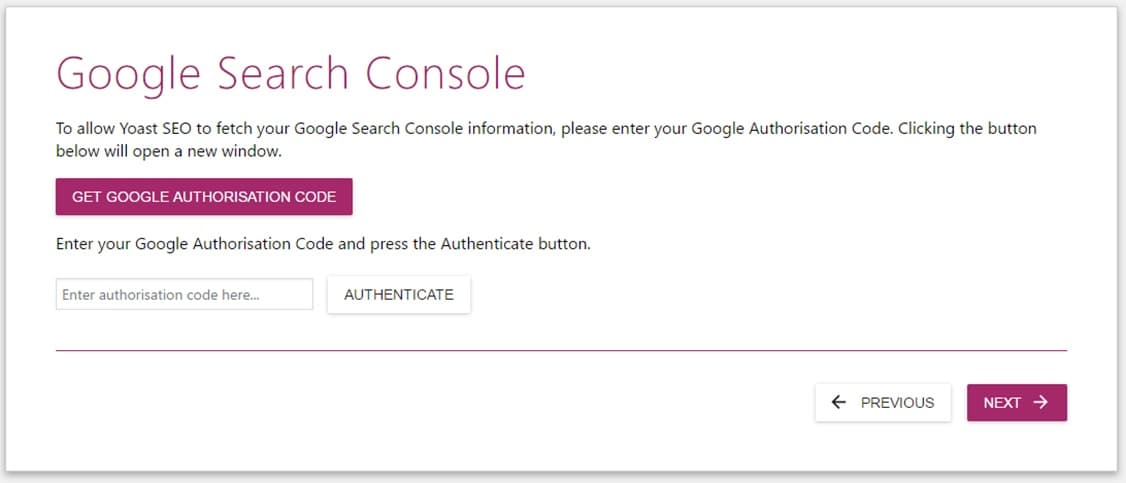 To proceed with the next step you will need to setup and verify your site with Google Search Console (see guide to verifying your site below). Once this is done, press 'Get Google Authorisation Code', copy the code into the box and press 'authenticate'.
You can then select your profile from the drop-down menu to connect your site with Google Search Console.
Step 9
Specify the name of your website – this may be different from your domain name. The website name supplied here will be included at the end of the title tag for each of your posts and pages. You should also specify which character you wish to use to separate the title from the site title in search results.
Here's an example of how this will appear in a typical search result:

The site title 'Yabber Marketing' is placed at the end of the post title by default and the two are separated by the pipe character (|). I would suggest configuring your site in the same way for SEO. I'll explain how to create meta descriptions and title tags shortly.
Step 10 – 12
These steps are an opportunity to sign up to the premium version of the plugin or pay for their training programmes. You can ignore these, but I would recommended signing up to the newsletter. Yoast often includes handy SEO tips and information about available updates in the newsletter which can be helpful.
Once you've closed down the wizard you will be redirected back to the main dashboard for the plugin.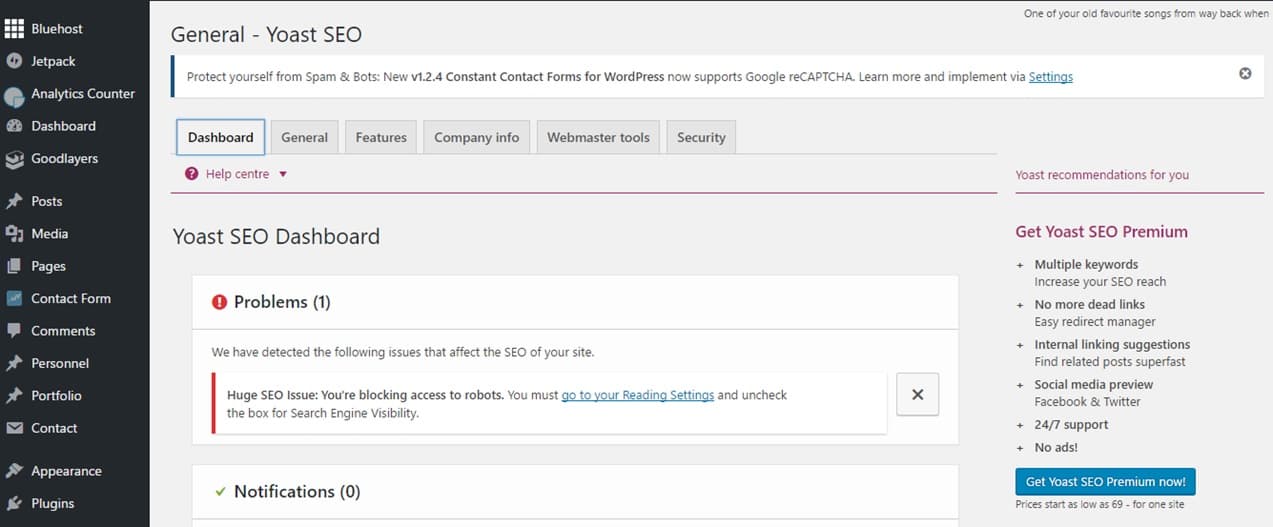 Here you can view any urgent problems or notifications, edit company information, verify your site with other webmaster tools and change the security settings.
Optimising page content
Now that you've installed and configured Yoast you can begin optimising the content on your pages. This gives your site a better chance of being found for specific keywords and should improve the click through rate (CTR).
Navigate to either pages or posts from your WordPress dashboard and you'll now see two additional columns:
If you haven't attempted to optimise your pages, the dots in both columns will be grey. Once you start optimising page content, Yoast employs a traffic light system to indicate whether SEO and readability is 'good', 'OK' or 'bad' – green, amber or red respectively.
Open a page or post. Scroll past your content until you get to the Yoast SEO options. Use this section to optimise the content for this page. This includes ensuring that keywords are included in all the essential places to allow search engines and users to better understand the content on your site.
Snippet
The snippet preview shows you how your search result will appear in search engine result pages and is made automatically by Yoast based on the information on your page. You can edit this information using the following fields:
SEO title: This is known as the metatag and should be the same as your page title, or made similar if the page title is too long. Metatags should ideally include the keyword, at the start of the title and should be 50-60 characters long. The good thing about Yoast is that the gauge underneath the title tag will turn green when it's at the optimum length.
Slug: This is the end portion of the page URL and is automatically generated by WordPress. If you feel it's too long, edit it down but make sure it contains the keyword or phrase that you wish to use on the page. If you are editing the slug for a published page you will need to set up a 301 redirect to ensure that any future traffic is redirected to the new page (see more on this below).
Meta description: This is the body of text that appears in the search snippet. You should aim to write a concise and enticing description of the content on your page and include your keyword or phrase. Aim for 150-160 characters in length – Yoast will let you know if this limit is exceeded.
Although meta descriptions aren't a ranking signal, including keywords in your descriptions helps an audience determine the page's relevance to their search query.
Focus Keyword: Enter the focus keyword or phrase you wish to use on the page. You can only enter one keyword here unless you signed up for Yoast premium – then you can enter and monitor up to five keywords.
Select the 'cornerstone content' tick box if this page is of particular importance. Yoast will help to identify where you can internally link to this page to help demonstrate its importance to search engines.
After you've made your edits, go through Yoast's SEO analysis of the page. You're aiming to make each assessment point green.
Content: Google is constantly aiming to deliver the best results to its users. If your page content is too thin it can be perceived as unauthoritative. Aim to write between 300 and 2,000 words. A recent study found that the top ranking pages all contained an average of 1,890 words.
Internal links: Include internal links to other important pages. This indicates a good user experience and a well thought-out site structure. Internal links also help to facilitate the customer journey through your site, which is considered by Google when ranking your page.
Images: Images or other visual media can enhance the user experience. When you add media to your pages, make sure the keyword is included in the alt tag and file name. File names should contain only lowercase characters and words should be separated with a dash (-) to replace a space. E.g.: image-for-my-page.png
Slugs: Yoast advises against including stop words in the page's slug; these are often filtered by search engines. Although there is no universal list of stop words, be wary of words like as, it, for, which, that, this and from.
Outbound links: Outbound links point to information located externally on another site. Like internal links, they enhance the on-page experience and suggest that the page content is well researched. Refrain from adding links if the content doesn't require it. Linking should be as natural as possible or it could be regarded as trying to manipulate the SEO.
Readability
The readability of your page content is analysed by Yoast via measurements such as paragraph length, sentence length, language and number of transition words (e.g. next, finally, afterwards, for example, for instance). Yoast bases analysis on the Flesch Reading Ease test – if you follow our guide on how to construct an effective blog post you shouldn't have any problems passing this test!
Although there is no direct evidence that readability is a ranking signal, poorly written content can impact bounce rate (the percentage of people who exit your site without interacting with other pages) which will impact ranking ability.
301 redirects
If you change the URL of a published page, users with the old link (or external sites linking to that page) will navigate to a page that no longer exists (a 404 error). This is bad for your users, SEO, and can seriously hurt your ability to rank well. To ensure this doesn't happen, set up a 301 redirect. The 301 status code tells search engines that a page has permanently moved to a new location.
Yoast premium can help you do this, or try one of these free plugins to create 301 redirects:
Simply download and install the plugin, navigate to 'settings' and then select redirects. From here you can set up your 301 redirects by entering the requested URL (old url) and the destination URL (new url).
Sitemaps
XML Sitemaps are an easy way for search engines to better understand what exists on your site and crawl it more easily. Although sitemaps don't affect SEO, they can give your site the best possible chance of being indexed by search engines.
Yoast will automatically generate a sitemap index for you which you can access by navigating to the Yoast plugin from your WordPress menu and selecting 'XML Sitemaps'.
Make sure that the XML Sitemap functionality is enabled and click on 'XML Sitemap' to view it.
Although search engines are good at locating your sitemap, you can make their job a little easier by submitting it. Do this by registering and verifying your site with Google Search Console (GSC) and Bing Webmaster Tools (see a guide below).
In GSC, select your site from the main dashboard and navigate to 'Sitemaps'. Click on the 'ADD/TEST SITEMAP' button to add your sitemap. Go back to Yoast on your WordPress and view the XML sitemap again. This time, copy the end of the url of this page and paste it into the GSC. For example: www.domainname.uk/sitemap_index.xml
Robots.txt files
A robots.txt file informs search engines which URLs on a site can be indexed and are therefore important elements for SEO. Robots.txt files should always be at the root of your domain, for example www.domainname.uk/robots.txt
You can validate your robots.txt file in GSC using the 'robots.txt Tester' under 'Crawl'. This will show any errors or warnings. Make sure you fix any problems with the file before making it live or you could be blocking search engines from indexing you site. Yoast offers a great guide to robots.txt files if you want to find out more.
Verifying your site with webmasters
Verifying your site with webmaster tools can sometimes be tricky, especially if you don't have an FTP or you're not confident about editing your website code. Fortunately, you can do this directly in the Yoast plugin via a relatively simple process.
As an example, we'll use GSC to do this.
From the main GSC dashboard click on 'Add a Property'.
Type in your site's URL and click 'Add'. Select the 'Alternate methods' tab at the top and select 'HMTL tag'.

Copy the code as shown in the example above. Login to your WordPress account, navigate to Yoast and click on the webmaster tools settings. Enter the code in the box for the relevant webmaster and click 'save changes'.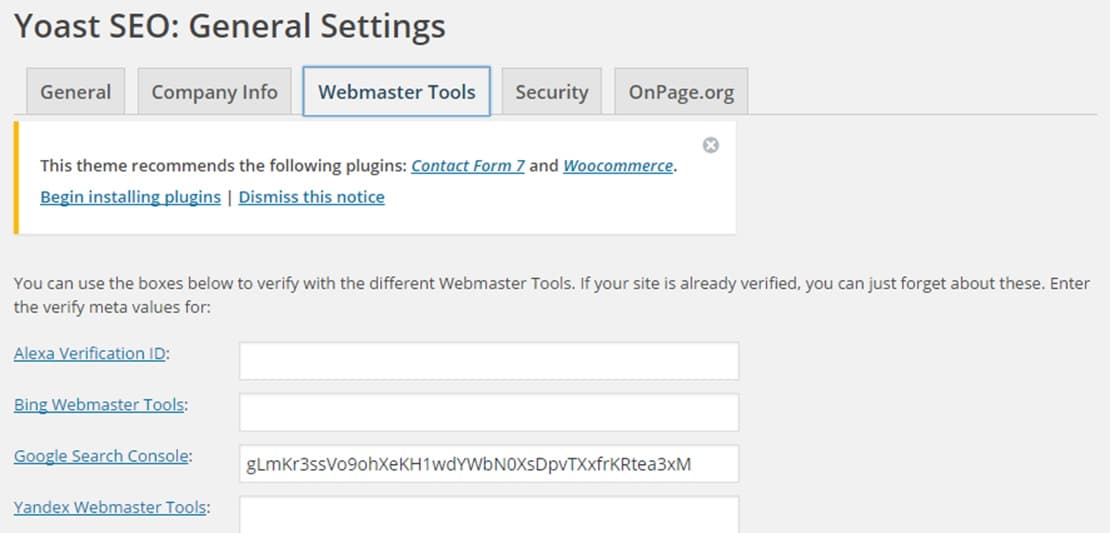 Your site will now be verified. Repeat the process for all the other search engine webmaster tools.
Finishing up
If you've got a WordPress site, now is the time to optimise it to ensure it has the best possible chance of ranking well and attracting those all important visitors.
If you only ever install one plugin for your WordPress site, make sure it's Yoast. As well as helping to optimise content, analyse readability and create and manage sitemaps, Yoast also offers a premium version with extra functionality and around the clock support.
If your website uses geo-targeting, is an e-commerce site, or you want a better way of optimising news or videos then check out other SEO plugins by Yoast.
Use this guide to optimise your content and within a couple of months you'll be rewarded.