The last year has seen several standout marketing campaigns launched by large, well-known brands and household names, encompassing both those designed to promote products or raise brand awareness and those created as a response to a PR issue or problem faced by the brands in question.
All of these campaigns are now instantly recognisable and were highly memorable thanks to the unique angle and approach taken by the brands behind them, and resonated with a wide audience of prospects within the UK. The social media traction achieved by these campaigns has helped to ensure that they each reached a huge prospective audience, started a discussion or debate, and engaged a wide and diverse cross-section of the community whilst raising brand awareness at the same time.
In this article I will share some insights into the five most memorable marketing campaigns of the last year, explain what made them so effective, and discuss what all of these very different campaigns had in common – and what SMEs can learn from these approaches themselves.
Gillette: The Best Men Can Be
Gillette's "The Best Men Can Be" campaign launched in the middle of January 2019, and immediately received a lot of attention in both the press and across social media, not all of it positive.
Designed with the intent of starting a conversation about toxic masculinity and bullying, and encouraging men to "do better," the Best Men Can Be campaign hitched itself to the coat tails of the #MeToo movement, pledging to challenge stereotypes and expectations of what it means to be a man.
Gillette also pledged to donate $1m per year for the next three years to non-profits whose missions align with the campaign itself.

A refreshed version of Gillette's now-30 year old "The Best a Man Can Get" slogan, the campaign's launch took a slick, multi-channel approach that immediately gained a huge amount of traction on social media, initially hugely positive but quickly dividing opinions into two main schools of thought.
On the one hand, supporters of the campaign felt that regardless of the reasons behind the campaign itself, a huge, well-known brand like Gillette using their influence to catalyse positive change and open a dialogue on positive masculinity could only be a good thing.
On the other side of the divide, detractors viewed the campaign as a highly cynical move designed to piggyback or even hijack the #MeToo movement and associated issues in order to boost sales, despite Gillette's parent company (Procter and Gamble) itself falling short in closing the gender pay gap within their own company, and said parent company's proven track record for needlessly gendering products like razors.
Another argument against the campaign is that it unfairly stereotypes men as a whole, and is based on the assumption that the very baseline of male behaviour itself is a low one.
So, how has the campaign played out for Gillette so far? Well, the "Best Men Can Be" campaign can fairly be described as a hot take, and was more or less guaranteed to generate a certain level of controversy, as well as shining the spotlight very strongly on Gillette's own corporate culture and brand ethos.
The brand itself was no doubt fully aware of this from the outset, and even though the campaign was fairly polarising amongst those that viewed it, it did a huge amount to get people talking about the brand and the power of using the level of influence a brand of this size has, regardless of the reasons behind it.
Whilst it is still a little early to analyse the campaign's full impact and what it will achieve in terms of Gillette's bottom line, there is no doubt that Gillette's first campaign of 2019 is also likely to be its most memorable one, and one that both fans and detractors will continue to discuss for a good while to come.
Greggs: Vegan sausage roll launch
Popular bakery chain Greggs kicked off 2019 in a highly proactive manner with the introduction of the chain's first ever vegan sausage roll. Whilst the brand positioned their marketing collateral incredibly effectively to raise awareness of their new product line and kick off the conversation, they let their social media following do most of the heavy lifting for them.
Can a "sausage" roll really be vegan? Who would want to buy a vegan sausage roll anyway? Not Piers Morgan, that's for sure. In fact, Piers Morgan's scathing tweet about Greggs' new launch was potentially the pivotal tipping point in the campaign's success, which Greggs neatly batted right back at him to much public applause.
Perhaps working on the assumption that "the enemy of my enemy is my friend," Greggs' Tweet in response to Morgan's own received 20k retweets and almost 150,000 likes on the platform, and helped the brand launch their new product line to much fanfare and public support.

Greggs' own website page description for their vegan sausage roll describes the product as "the most hotly debated sausage roll since, well… the sausage roll," and whether Greggs really was expecting Piers Morgan to comment on its launch or not, it is certainly fair to say that they made full use of the opportunity when it presented itself.
Many people who retweeted or commented on the initial post said things along the lines of "I'm not vegan but I'm going to buy one anyway because Piers Morgan says it's bad," and on the day of the launch itself, those humble vegan sausage rolls sold out in most areas of the UK within minutes, and soon became Greggs' fastest selling new product line from the last six years.
A nice example of a well-promoted product living up to expectations helped to carry the momentum along. Social media users who had managed to get their hands on one of the now much in-demand vegan sausage rolls commented that it was perfectly acceptable as a sausage roll, and many comments from non-vegans who tried it mentioned that it tasted just like Greggs' regular meat-based alternative. The £1 price tag didn't hurt either!
KFC: FCK
Perhaps the most memorable and certainly the most risqué marketing campaign of the last year comes to us courtesy of KFC, who found themselves faced with a serious supply chain issue in February 2018 that left a large number of their UK restaurants without any chicken for several days.
Not only did this of course have a huge impact on KFC's bottom line, resulting in a 5% drop in operating profit during the first quarter of the year, but it also resulted in an immediate and embarrassing PR nightmare for the brand too, as both social media and traditional media outlets spread the word ever-further.
KFC's response to the issue was particularly impressive given the speed with which they designed and actioned it, and they certainly weren't looking to err on the side of caution when they did.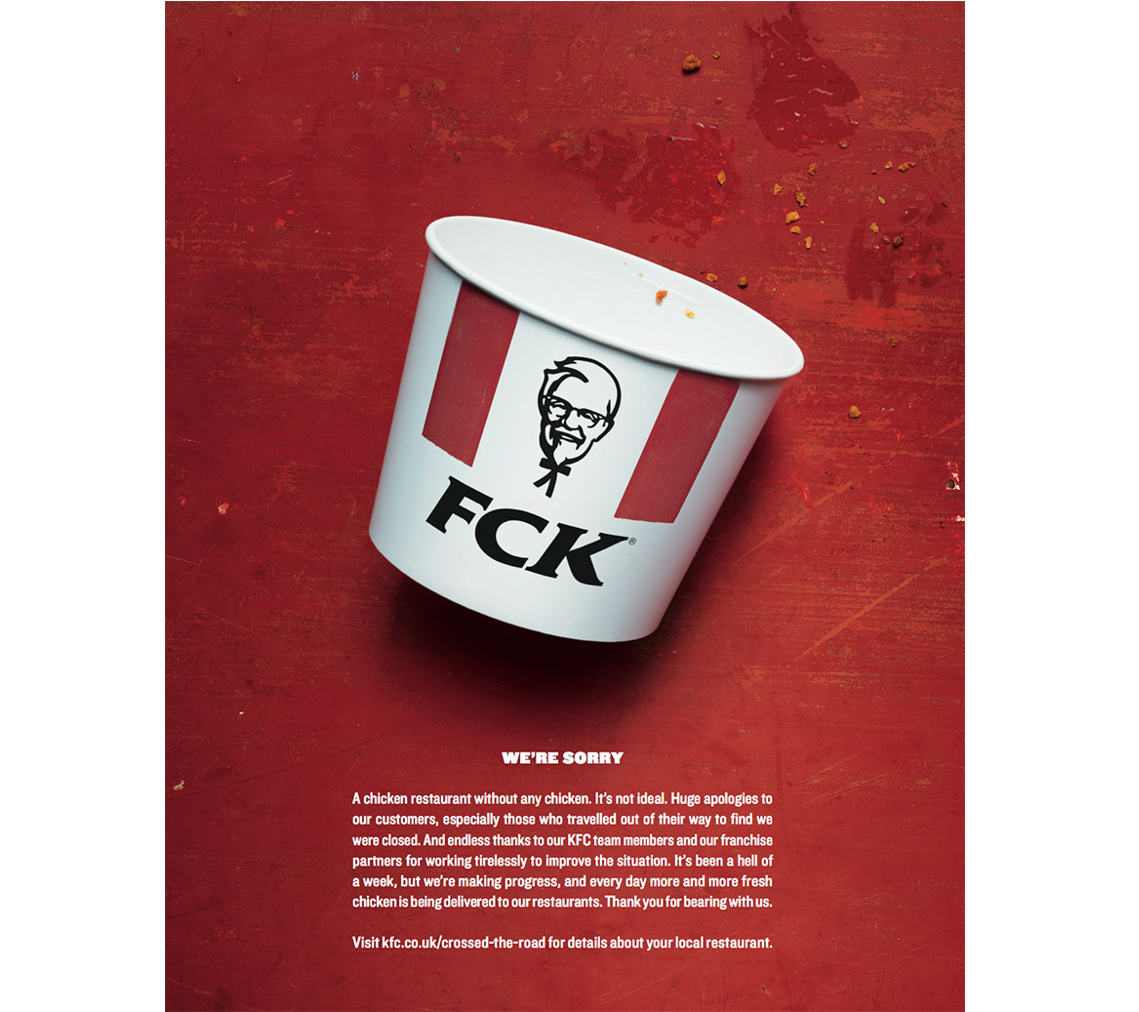 Rearranging the brand's name into a short-form cuss word, presenting it in such a strong visual format and rolling it out across multiple media channels both online and offline can fairly be described as something of a gamble, and one that many brands would have immediately discounted as just too edgy or risky.
However, by having a thorough understanding of the brand's core buyer demographics and the type of tone, style and approach that they respond to and find amusing, KFC gained a lot of goodwill from both regular customers and the general public, and boosted brand perception and got people talking about the brand as a whole too.
KFC's approach to restoring the brand's reputation encompassed taking responsibility for the issue and using clever, self-effacing humour to let the public know that the brand understood their short fallings, were sorry about it, and were holding their hands up to it and trying to make things right.
The campaign received a hugely positive response across social media that if anything, helped to reinforce the existing brand loyalty of KFC's customer base and get the brand on the radar of those who would not usually buy from them too.
Iceland: Greenpeace partnership on "banned" Christmas advert
Being the supermarket chain or department store to produce the best Christmas advert of the year has taken on something approaching cult status in the UK, and we tend to call to mind brands such as John Lewis and Sainsbury's and their slick, atmospheric feel-good adverts when recalling the stand-out Christmas ads of the last few years.
Ergo, it must have come as a surprise to many competitors in the run-up to Christmas 2018 to see the spotlight shining front and centre on a supermarket chain that few would have previously seen as a serious competitor in the Christmas advert stakes – Iceland, and the Christmas advert that never was.
Iceland partnered with Greenpeace to produce a Christmas 2018 TV advert with an environmentally friendly message, using an orangutan character called Rang Tan to raise awareness of deforestation for palm oil production for the UK market.
Whilst the advert may well have gained a lot of traction and support for the brand had it aired as planned, Iceland's advert ultimately went viral for one reason. It was blocked from airing on television in the UK by the regulatory body Clearcast, which cited a breach of the rules in respect of banning political advertising under the remit of the Communications Act of 2003.
Given the nature of the advert itself and the pre-existing backlash amongst environmentally conscious consumers over the widespread use of palm oil in food products, there is every chance that Iceland's Christmas ad would have performed well if it had simply aired as planned.
Throw in a good underdog story – Iceland trying to spread an important message and being prevented from doing so by The Man – and the Iceland advert itself quickly became greater than the sum of its parts. Social media users fought to spread the word about the banned advert, the perceived reasons behind its ban, and encouraged people to watch it and support its aims.
Iceland also pledged to remove palm oil from all of their own-brand products by the end of 2018, which reinforced their commitment to the message they wished to spread and added a layer of authenticity and taking responsibility for the brand's own part in deforestation, and commitment to end it.
Social media quickly lit up with trending hashtags encouraging others to watch the ad, avoid buying palm oil products, and shop at Iceland – which resulted in over 70 million views of the advert itself across various types of media, and "Grocer" magazine calling the campaign "the most powerful Christmas advert of 2018." Over 670k people also signed a petition to get the ad itself aired on TV, and while the brand hasn't revealed the financial impact that all of this had on Iceland's bottom line in the last quarter of 2018, it almost certainly resulted in a steep jump in revenue over the Christmas period.
Interestingly, Iceland's feel-good eco-friendly credentials and general integrity were called into question just a short while later in January 2019, when the brand removed their own-name label from 17 products containing palm oil rather than removing said palm oil from their own brands as promised.
Whilst this technically fulfils the letter of the brand's commitment to remove palm oil from all of their own-brand products by the end of 2018, it certainly doesn't fulfil the spirt of their pledge, or support the ethos of reducing palm oil production to meet the brand's demand for it either.
You might fairly assume (as I did) that this would result in a negative backlash against the brand that might go as far as undoing all of their previously-achieved goodwill and then some; and yet very little publicity or social media backlash resulted from this ethically questionable decision.
This rather cynically demonstrates the fickle nature of the modern consumer's attention span, and the momentum that can be achieved through viral social marketing that piggybacks a common cause, even when the reality behind the scenes doesn't strictly add up.
Nike: Colin Kaepernick partnership
Colin Kaepernick might be better known in his home country of the USA than he is in the UK, but his recent partnership with Nike generated a lasting impact that cannot be ignored on either side of the ocean.
For context, Colin Kaepernick is perhaps best known as the NFL quarterback who elected to sit (and later, kneel) when the US national anthem is played, in protest against the oppression of black people and other People of Colour.
A very polarising issue and one that resulted in Kaepernick levelling accusations of blackballing on the part of the NFL in the wake of his position, Kaepernick's stance started an international conversation on the treatment of black people and PoC by the police and in the media, which was defended with vigour by those on both sides of the debate.
President Trump himself naturally has strong views against Kaepernick's stance and that of other players who took up the cause, taking to his usual platform of Twitter to make his feelings known.
As was the case with Greggs and Piers Morgan, for Kaepernick, this once more created something of a David and Goliath narrative that in turn, helped to cement support for Kaepernick amongst those who might otherwise have had no strong views either way.
Nike's partnership with Kaepernick restarted the controversy (which never really went away) afresh, and virtually took over social media for several days when it was initially launched in late 2018, with the slogan: "Believe in something. Even if it means sacrificing everything. Just Do It."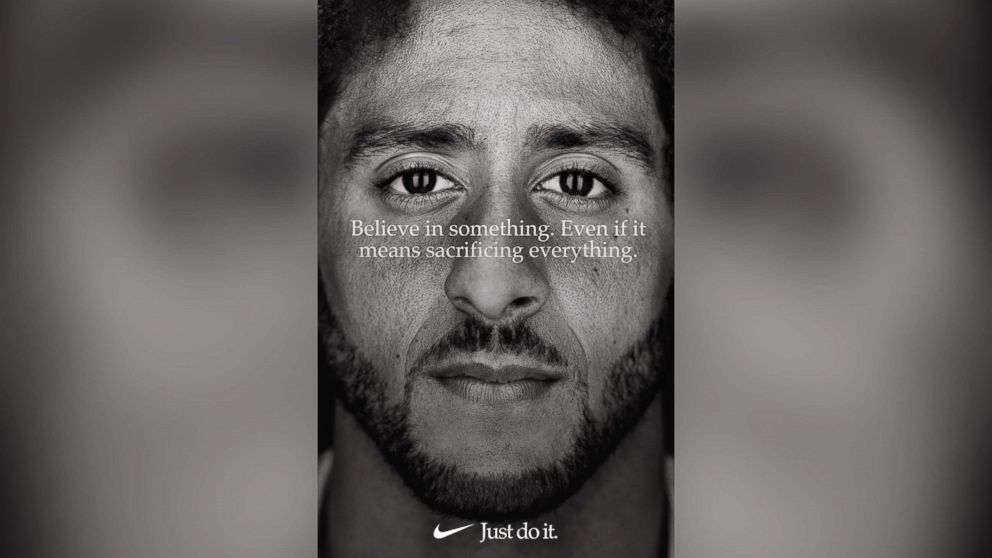 Supporters of Kaepernick and Nike's partnership with him lauded the brand for "standing on the right side of history" and supporting the cause, whilst detractors posted pledges to never buy Nike products again, with some going so far as to burn their existing Nike clothing and accessories, and sharing pictures of their doing so.
So, how have things played out for Nike so far? Well, despite the cries to boycott the brand from opposing camps, the gamble paid off – and then some. Nike's stock values rose by 5% between the date that the partnership was announced and the end of September 2018, resulting in a $6 billion increase in the brand's overall value.
What made all of these campaigns so memorable – and successful?
So, what made all of these campaigns so memorable, and what helped them to achieve such a high level of public awareness and so, success for the brands in question? Whilst the five campaigns I've outlined above were very different from each other in terms of their key messages and execution, they all share a number of common elements that helped to secure and cement their success.
First of all, each campaign was polarising; none of them were trying to appeal to everyone, instead pinning their colours to a strong, unambiguous cause or approach that was just as likely to make them enemies as friends. This is more evident in some of these campaigns than others, such as that of Nike and Gillette, but KFC's "FCK," Iceland's partnering with Greenpeace, and Greggs' new take on the sausage roll too can all fairly be described as edgy, or likely to alienate some potential prospects.
Secondly, they all took a clear stand and an angle, and then catalysed their supporters to take up the cause on their behalf. Again, how obvious or otherwise this was for each campaign was variable; for Iceland, Gillette and Nike, their causes were already established with a following just waiting for a cause to pin their colours to, whilst for Greggs and KFC, their stance is a little more obtuse.
For Greggs, widening of availability of vegan food options on the high street in support of the current popularity of veganism as a whole helps to add integrity and a level of conscientious consumerism in support of meat-free dining to the brand's image. For KFC, on the other hand, simply being willing to hold their hands up to their mistakes and laugh at themselves over it rather than remaining silent or defending their position was very much a smart move, but one that not many brands would automatically have made.
All of the campaigns actively predicted and courted the controversy they generated too, again, for various different reasons. The level of backlash against Nike was certainly something the brand would have predicted and even expected to profit from, Gillette surely expected some pushback from those arguing against the perceived vilification of men in their campaign, and Iceland's partnering with Greenpeace is controversial for many in and of itself.
KFC's choice of the "FCK" slogan is once again undeniably controversial, and the relish and speed with which Greggs went head-to-head with Piers Morgan indicates that the brand was expecting and probably hoping for Morgan, or another well-known and highly polarising celebrity of the same ilk to attempt to trash the brand on social media and so, give the brand's own followers a figurehead villain to rally against.
Additionally, all five of our mentioned campaigns were of course created to boost their respective brands and incentivise sales, but the campaigns themselves concentrated on highlighting a specific cause, issue or product and its advantages, rather than the brand itself.
Finally, after the initial campaigns were launched, all of the brands in question stepped back, and let their audiences do the majority of the leg work for them when it came to taking a stand, spreading the word, and supporting the campaign or cause; either for its own sake or because the campaigns themselves were amusing, clever, or a talking point across a wide range of demographics.
One final point worth mentioning that may well be self-evident anyway – our five campaigns all took a multi-channel approach encompassing both online and offline ad collateral, but the make or break platform in terms of their reach and success was social media. An effective marketing campaign needs to start a conversation, and allow it to grow and expand organically, taking the brand along with it – and this can be achieved more quickly, effectively and economically on social media than it can anywhere else.
What can SMEs learn from these campaign approaches?
Achieving the type of success and public awareness that the five brands I've mentioned managed with each of their respective campaigns was of course supported by a large marketing budget and a team of top-level marketing and PR professionals with the knowledge and insights to give their campaigns the best possible chances of success.
However, the key to this success lies in the common elements that all of these campaigns and most other hugely successful marketing and PR endeavours share, in terms of finding the winning formula to give an ad or campaign the best possible chances of catalysing public opinion and reaching a large audience organically.
Making the decision to create a campaign or ad to support a cause that is likely to polarise opinions can be a gamble, particularly for SMEs who may not be able to afford to make a serious error or pin their colours to the wrong mast.
However, if you have a good enough understanding of your core demographics in terms of their interests, political affiliations or pet concerns, and the cause or approach you take on aligns with them and there are enough potential members of your audience to support it and spread the word, you may well be able to emulate such success on a smaller scale.
For our three brands that deliberately took a stand on a polarising hot topic of the day (Iceland, Nike and Gillette), the topics and causes that their campaigns were built around were already well established if rather young in their evolution. This allowed the brands in question to get a feel for public opinion and learn from the mistakes and successes of those who had gone before them before they designed and fine-tuned their own approaches.
This helped to take away a large amount of the uncertainty that comes with pinning a brand's name and reputation to an external movement or cause before its wider impact and the public mood about it is well known.
A brand being willing to take a strong position on a social or political issue, regardless of the side they fall down on, is somewhat edgy even today. This in itself is apt to cement positive brand perception and receive approving nods from today's modern consumers who have no interest in fence-sitting or staying silent on important issues, and that respect brands that take the same approach.
Courting controversy, or actively welcoming it when it falls in one's lap is something that needs to be handled carefully and that in some cases may be best avoided; but it can also be a gift and an opportunity for switched-on brands seeking to expand their reach and boost public perception.
Greggs' social media marketing team, for instance, must have felt as if they had won the jackpot when Piers Morgan decided to knock out a throwaway Tweet criticising the brand's new product launch, and they were primed and ready to use it as a catalyst for viral infamy when they did.
Perhaps the greatest takeaway for any SME when it comes to creating and executing marketing campaigns is to know how to read the room, as it were, in terms of what both prospects and the general public need and want.
Many of the people who surged to Greggs stores to buy their vegan sausage rolls the day it launched weren't vegans and had little interest in the sausage roll itself; they wanted to join the conversation and get in on the joke. 
Choosing to highlight a cause or a product that itself supports a cause (such as veganism and vegan consumerism) rather than the brand itself is a smart move for many reasons, as long as the message in terms of what you want this cause to do for the brand itself is clear to prospects, but not shoved in their faces.
For instance, the key takeaways from both Iceland's "banned" ad and Gillette's "The Best Men Can Be" campaign is to support the campaign and lobby and act for change down here in the real world.
But when those consumers that take up the cause go shopping for groceries or razors, which brands do you think they're more likely to choose to buy if all other things are equal, even if that choice is made unconsciously? Exactly.