As I write this article, there's a little green wheel spinning around in the bottom right-hand corner of my Google Doc. That green wheel is my new best friend because when I make an error, a red line appears under that text. With a click of a button, it's fixed. 'Ah, that's no more than an old-school spell checker' I hear you cry! Well, actually it's a lot more than that. It's one of the many reliable and intelligent AI-enabled copywriting tools for writing copy.
AI is here to help. Take that green wheel – this is the Grammarly app which we'll look at in more detail in a moment – combined with Gmail's 'Smart Compose', and you get emails that almost write themselves. Smart Compose saves you time by reducing the amount of repetitive writing you do. Together Grammarly and Smart Compose let me fire off quick emails error-free with less typing. AI is here to help us, not conquer us…
"As a whole, AI is so misunderstood that people almost have this sci-fi mentality. When they hear AI, they think the things they've seen in the movies and that's the stuff that's hyped up," says Paul Roetzer, founder of the Marketing Artificial Intelligence Institute. "Like, that's not real, the real stuff is these very narrow uses of AI that are built to be very specific things, like improving the content you're writing or devising subject lines."
A great place to start this list of 6 AI-enabled copywriting tools, then, is with Grammarly.
1. Grammarly
First off, Grammarly works pretty much everywhere on the web. Your FB posts, Instagram posts, Messenger messages, Emails, and Disqus comments can all be checked in real time with Grammarly.
Of course, if you write in text-speak then you're going to confuse Grammarly because Grammarly is all about concise writing — the big G just pointed out to me there is no need for a comma before the word 'because' —  if I disagree with that, I could click 'ignore' and help teach the AI more about my writing.
As we said at the start, Grammarly is much more than a spell checker. Here's an overview of the core features:
Comma splice
Comma usage
Critical grammar and spelling checks
Genre-specific writing style checks
Grammar rule explanations
Grammarly Editor
Microsoft Office integration
Missing articles
Misspelled words
Multiple device document access
Native desktop apps (Windows and Mac OS)
Outdated spelling
Performance stats
Personal dictionary
Plagiarism detector
Repetitive words
Vocabulary enhancement suggestions
Weak adjectives
Word definitions and suggestions
For clear and concise writing, Grammarly is the best all-arounder and an extremely affordable AI-enabled copywriting tool suitable for use across the board in pretty much all businesses.
2. Wordsmith
Wordsmith is at the other end of the spectrum to Grammarly. According to the website: "Wordsmith is a natural language generation platform that transforms your data into insightful narrative."
If that description of Wordsmith sounds like something your business could benefit from then settle in for this webinar of how the Orlando Magic uses AI for customer communications.
If you're just curious what Wordsmith actually does…
Well, it's super-simple. Basically, you feed numbers into Wordsmith and it creates a story with those numbers. An example of this is how The Associated Press uses Wordsmith to write the reports on minor league baseball games.
3. Acrolinx
Acrolinx claims it's the bridge between content and strategy. In short, once Acrolinx knows your goals and content strategy it can help anyone who's writing content for you stay on point. That means freelancers or other people in the department are all using the same type of language and showcasing your brand is the most positive light. All these elements are tough to manage manually.
So, Acrolinx offers companies better control of the brand's voice across the board. Again, this is often problematic to achieve manually. Here's a video of a customer explaining the benefits of Acrolinx.
4. Hubspot Content Strategy Tool
Hubspot claims that search engines reward websites which are organised into topics. And their tool makes it easier to find those topics.
The tool offers you all the pertinent information like search volume and topic relevance and then the content tools allow you to make clusters of information on each topic.
Hubspot claims you can grow your business like a team twice your size using their tools.
For the final two tools, let's take it a step further than the AI helping us. Let's look at AI-enabled copywriting tools that actually want to replace human writers.
5. Article Forge
Article Forge is, at heart, a very advanced article spinning software. Article spinners have been around a long time. SEO's use spinning software to generate articles for link building campaigns.
If you're not an SEO who's creating a tiered link building campaign then Article Forge is pretty useless to your business. If you are, it's an indispensable ally.
6. Articoolo
One review I read for Articoolo said: "If you think a machine cannot work like a human brain then you are wrong". Wow, I thought. I have to check this out. So, I got a trial and put the machine to the test. I wanted to see how well it could write this very same article.
Once signed up. I asked the software to create a new article. The keywords I gave were '6 AI-enabled copywriting tools'. I selected the max word count of 500 and the process began. Exiting!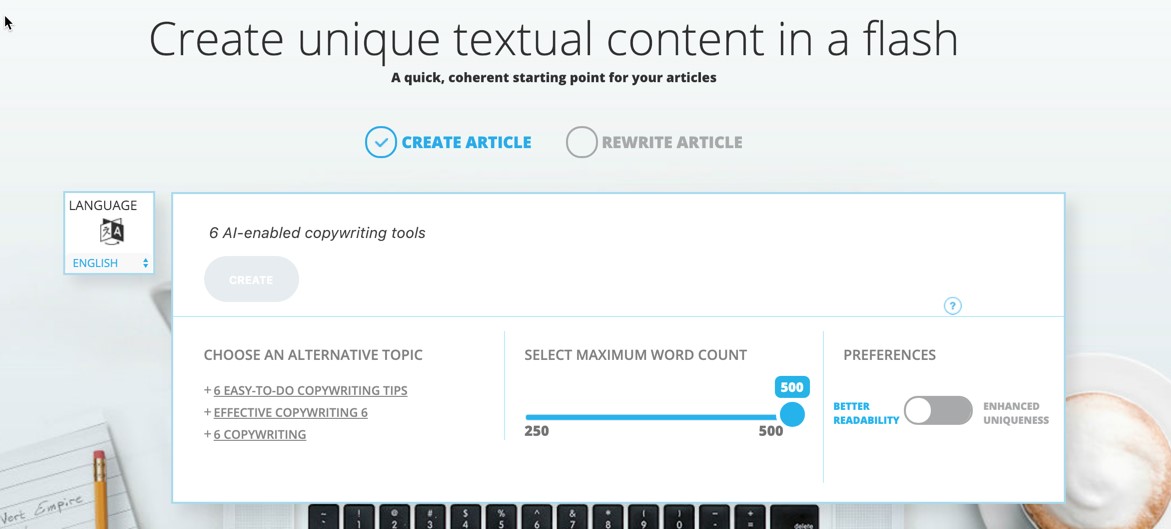 Remember Articoolo is being promoted as a top AI-enhanced copywriting tool so it absolutely should be on this list.
Then something started happening…
Oh, it failed.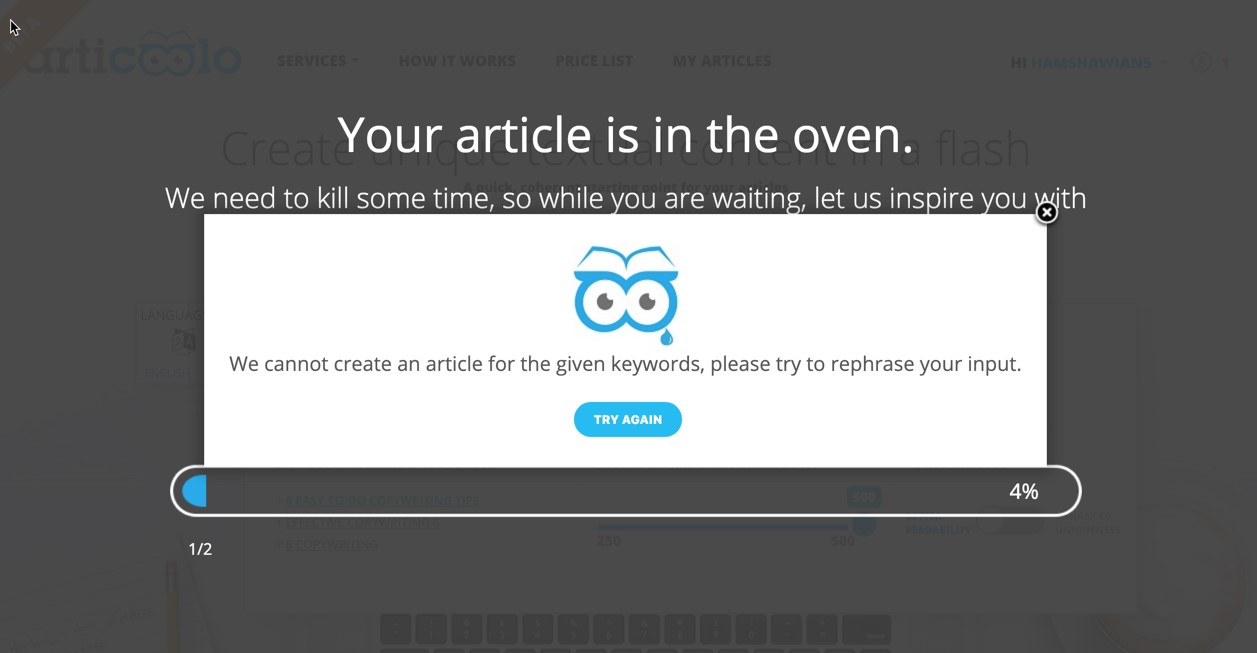 I did play around with the software a little longer, but by the time it produced an article on copywriting it was so far away from the original topic it was unusable.
AI can assist but not replace the writer
AI-enabled copywriting tools are getting smarter every day (literally) and tools like Grammarly combined with Smart Compose have a timesaving impact on daily writing. The fact AP is using AI to created basic news reports on baseball stories is a huge advance in the way news can be reported.
And then there is Acrolinx which helps you control your brand voice across multiple platforms being used by multiple users. The future for these tools is bright.
Now, the reason I included the failed Articoolo experiment is to remind you (the human) that AI-enabled copywriting tools are here to help but not replace human writers. Certainly not any time soon anyway.