Online giving is on the rise, and it's become a vital source of funding for charities here in the UK. With so many ways for charities to raise money online, it's little wonder that the statistics show figures like these:
About 7.6% of overall fundraising revenue, excluding grants, was raised online in 2017—a record high percentage
21% of all online donations in 2017 were made using a mobile device
Donations made via websites, social media and apps account for 26% of donations in the UK
Websites, social media and apps account for £2.4 billion in donations in the UK annually
Source: NPT UK
A popular way to raise money is to do something for charity – run a marathon, for example – and use online donation platforms to bring in donations from friends and family, sharing updates on social media to promote your cause. As a charity, you can make sure you benefit from these initiatives by signing up for online fundraising platforms. But which of them is your best bet?
You'd be forgiven for thinking that they're all much of a muchness, as they're all performing the same function: a handy intermediary between you and your fundraisers. However, it's worth bearing in mind that the platform you choose affects how much of each donation your charity will receive, as well as what other benefits you receive from being signed up. Let's take a look at the most popular platforms and their pros and cons.
JustGiving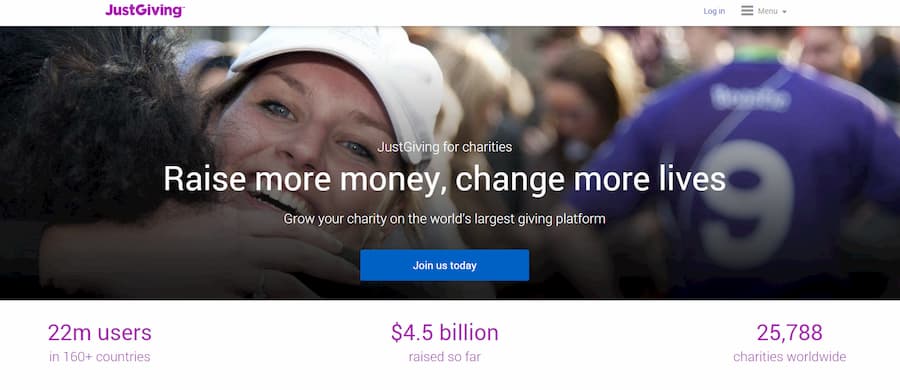 The biggest player in the market, American-owned and profit-making JustGiving has over 25,700 charities registered worldwide, and it's probably the platform that first springs to mind when you remember the last time you were asked to contribute to a friend's fundraising efforts.
Pros
22 million users, and your cause promoted to those most likely to care about it
Customised fundraising pages with your branding and story
Because it's a profit-making organisation, lots of work goes into maximising donations
Useful donate buttons, widgets and tools to help boost donations through your website, apps and other places
Receive direct debit donations, as well as card payments in nine currencies
Allow donations in memory
Advanced reporting so that you can keep track of donations and campaigns
Cons
No monthly fee, but a 5% fee on online donations, plus 2.90% transaction fees still apply
You'll only receive £11.74 of a £10 donation with Gift Aid (worth £12.50)
Find out more and sign your charity up for JustGiving.
MyDonate

The not-for-profit MyDonate was set up by BT, and it's funded out of the organisation's "commitment to raise £1 billion for good causes by 2020".
Pros
Receive more of each donation than you would through other platforms, as well as the full 25% Gift Aid; MyDonate says this equates to 63p more per £10 than other platforms
No fees charged, except those from the donor's credit or debit card company
Your cause will be promoted to MyDonate's existing community of millions of supporters
Cons
Fundraising pages aren't as sleekly designed as some others
There's less advertised in the way of widgets, reporting and other perks that JustGiving offers
Register your charity with MyDonate.
Virgin Money Giving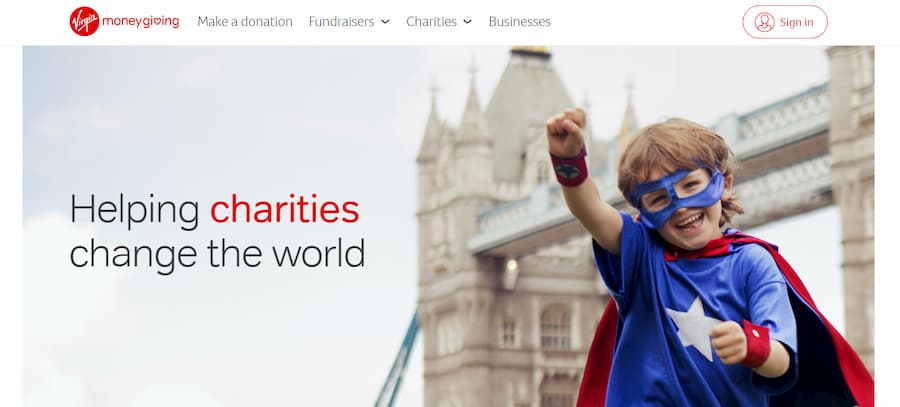 The fundraising arm of Virgin Money, Virgin Money Giving has so far "helped over 14,000 UK charities and 650,000 fundraisers raise more than £640 million online".
Pros
No monthly charges
For every £10 donated with Gift Aid, you receive £12.15
Sleek fundraising and in memory pages
Lots of useful services, such as Gift Aid reclaim, corporate fundraising and marketing consent collection
Donate buttons and APIs
Reporting tools to help you track donations
Free access to Virgin Money Lounges for hosting community events and meetings
Training available to help you get more from online fundraising
Cons
£150 + VAT one-off joining fee
8% transaction fee on each donation
Register your charity with Virgin Money Giving.
Wonderful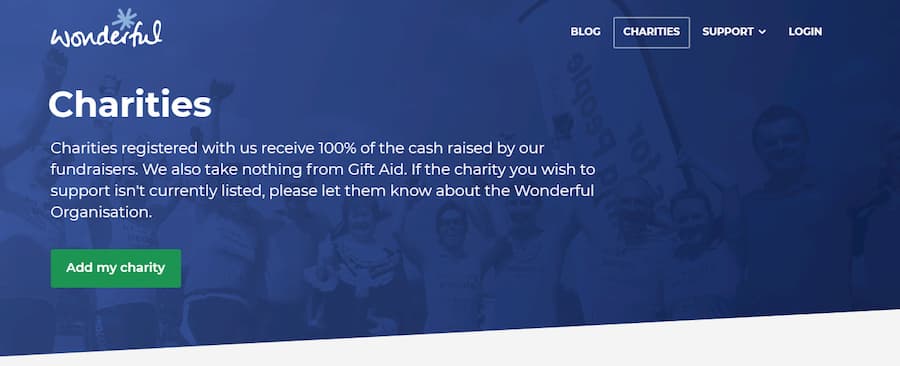 A small platform funded entirely by corporate sponsors, Wonderful says on its homepage: "You don't fundraise for profit. Nor do we."
Pros
Cons
Because it's small, with only around 525 charities registered, it doesn't have a huge community of existing supporters as the big players do
You also won't get the extras offered by the bigger platforms, such as widgets, APIs or training
Register your charity with Wonderful.
Golden Giving

Golden Giving is a not-for-profit platform that, according to its homepage, has so far enjoyed the support of 117,600 people, who've have raised over £3.1 million for 4,346 projects and good causes.
Pros
Receive £12.22 for a £10 donation with Gift Aid
No Gift Aid charges
No joining or membership fees
A wide range of useful tools to help you raise funds and engage with supporters, including contactless donations, events, raffles and much more.
Cons
2-3% transaction fee per donation (only applied to the donation, not to Gift Aid)
Register your charity with Golden Giving.
Needless to say, the bigger charities will be registered with all the top platforms to give supporters as much choice for raising money as possible. If you're pushed for cash, it's worth being registered for the platforms that don't charge joining or monthly fees, as the platform fees come out of donations before they reach you and you won't be any worse off financially. Finally, if you're involved in running a charity, you'll find lots more helpful advice on how to make the most of being online in the dedicated charities section of our site.