If you're new to the world of e-commerce and want to start selling online, one of the first things you'll need to decide is what you want your webshop to look like. With the goal of your webshop being to sell as many products as possible, every aspect of the design will need to be geared towards encouraging customers to purchase, from simple navigation to compelling sales copy.
To give you some inspiration, we're looking at some examples of well-designed webshops and what they're doing right that you can apply to your own e-commerce site.
Simply Hike
A specialist hiking shop for clothes, footwear and camping equipment, Simply Hike is notable for its impressive product pages.
The essential information is at the top of the page, immediately visible: the brand, product name, price and a brief description outlining the main benefits of the product. There's a clear image and, even better, a 'play' button that shows a short video introducing the product and how it works. At the bottom right, the Google Customer Reviews widget stays in the same position while scrolling down the page, reminding potential buyers that the product has a 4.9/5 star customer rating.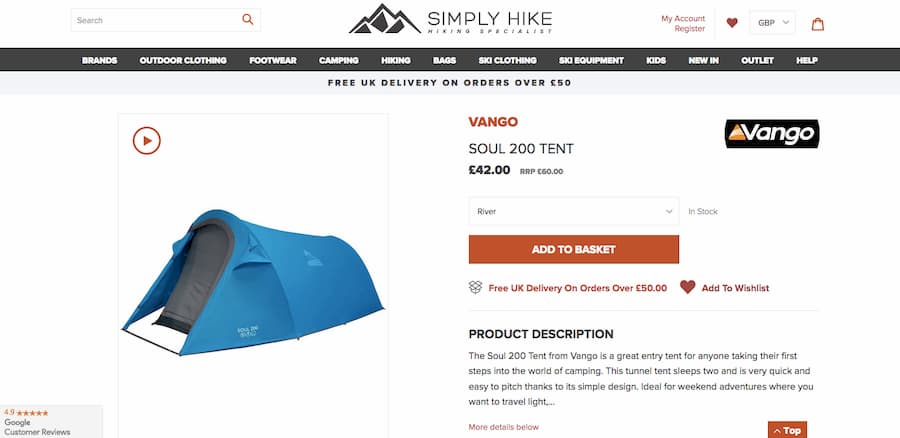 Further down the page is more detailed information about the product and its features, along with information on delivery and returns. More images show other colour options and dimensions, while a clever counter feature gives shoppers information on timeframes for ordering to receive the product on a particular day. Sharing buttons encourage people to tell their friends about the product on social media.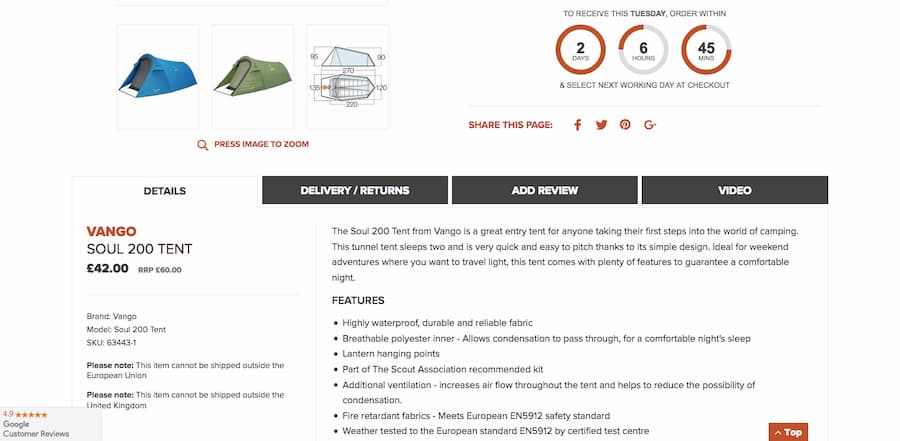 The rest of the site is equally user-friendly, with detailed navigation enabling customers to find exactly what they're looking for with ease.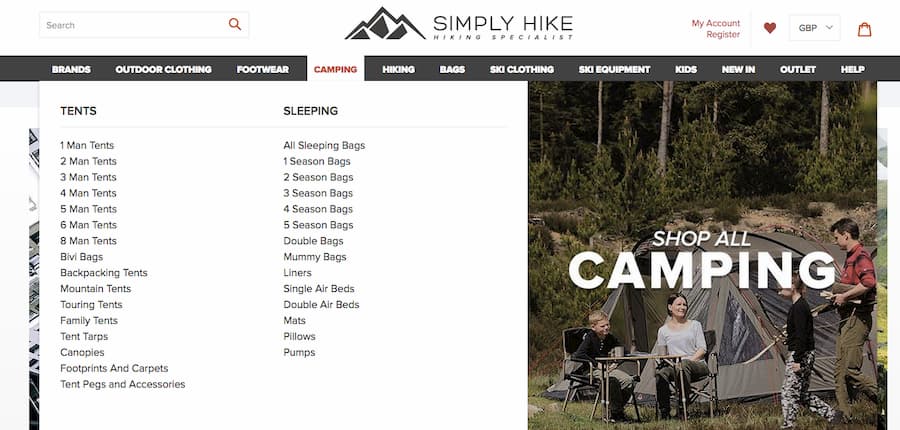 A picture, as they say, is worth a thousand words, and Simply Hike's clear product images on a white background help the products stand out and sell themselves.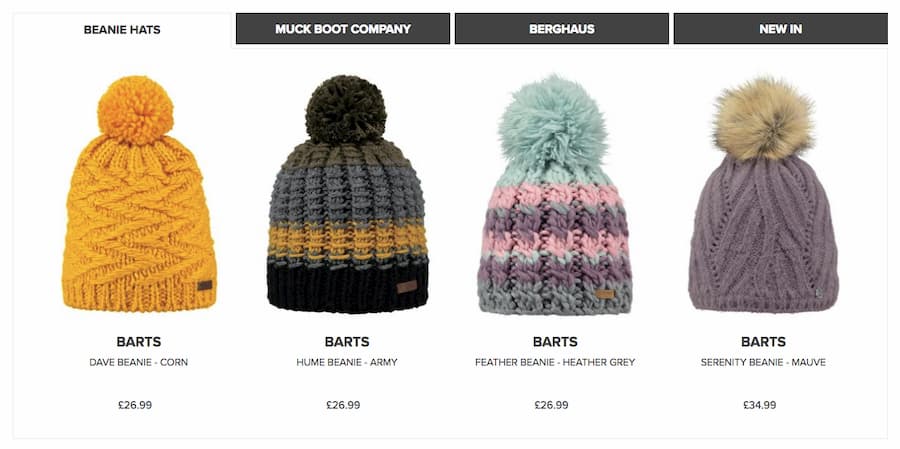 Monsoon Estates Coffee
We've featured Monsoon Estates Coffee before, in a case study, but their mobile-friendly website is worth revisiting as a superb example of a characterful webshop. It features custom artwork by a local artist that reflects the company's individuality and gives the site a unique look, with a different illustration for each coffee. Scrolling over each of the images gives a short description of the coffee to help customers decide whether to click to find out more.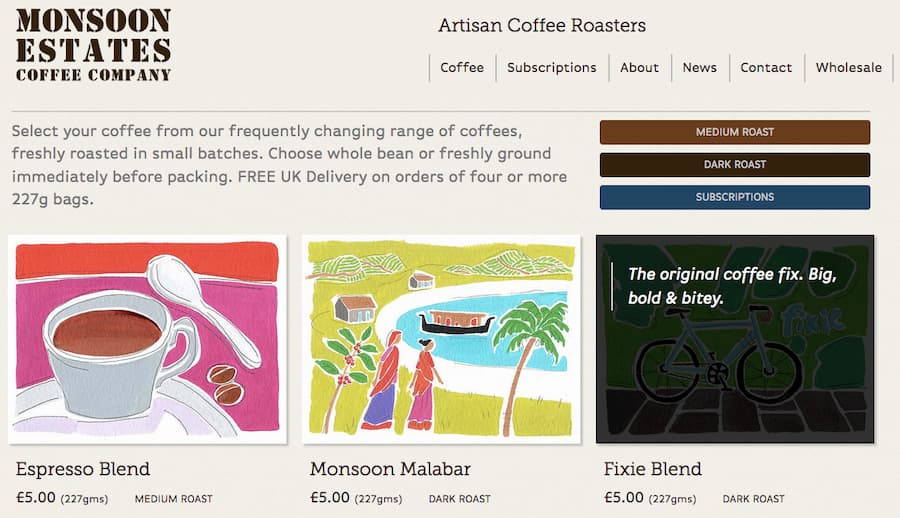 Clear product pages have a longer description of the coffee and allow customers to select their desired grind before buying. The simplicity is intentional; a 'less is more' approach keeps the site as straightforward as possible by eliminating obstacles to purchase.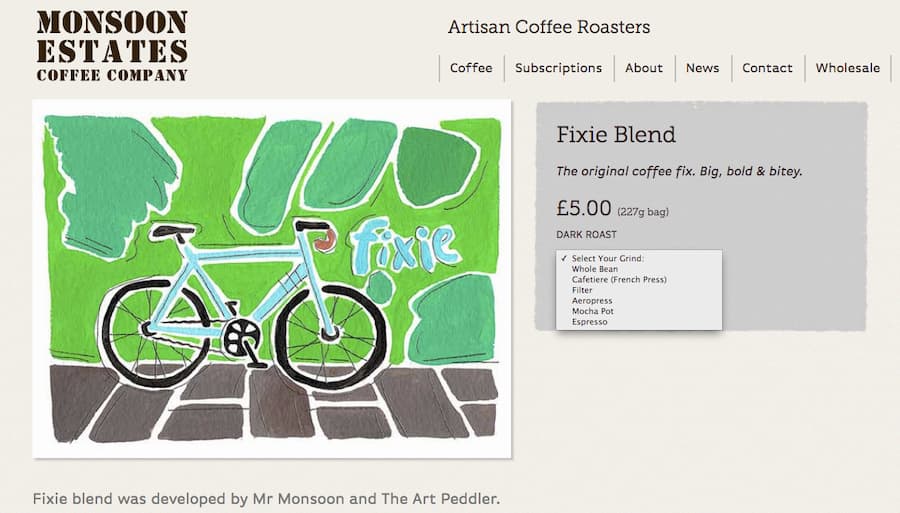 Pump Street Bakery
You might think a bakery is the kind of business you have to visit in person, on the high street, but the family-run Pump Street Bakery in Suffolk shows that even goods with a short shelf life can be sold online.
It's a great example of a traditionally offline business using the internet to support income from a bricks and mortar premises. The bakery's attractive online shop sells larger batches of baked goods along with longer-lasting chocolate products such as hot chocolate and gift boxes. There's even a chocolate subscription club to encourage repeat business.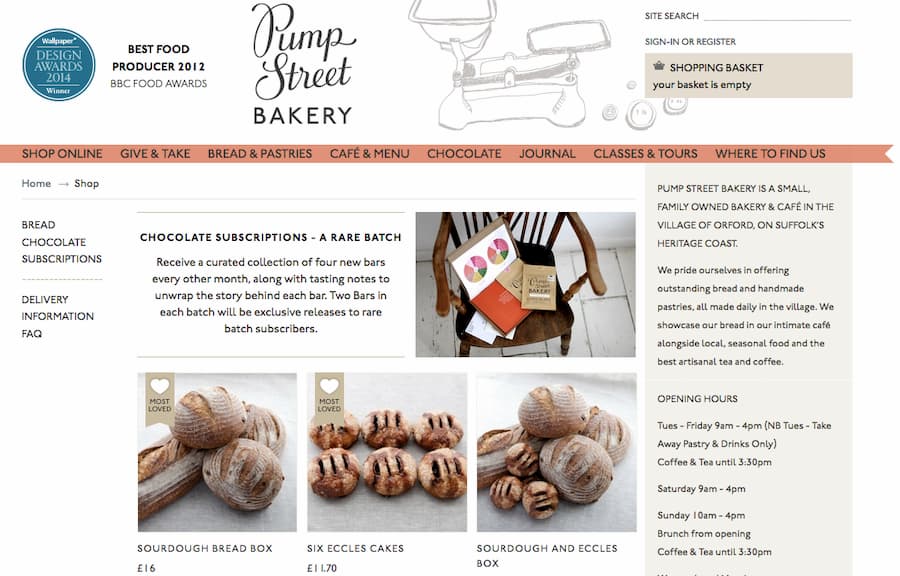 I particularly love the "most loved" tags on popular products, which successfully draw attention to the top-selling products while contributing to the site's warm tone of voice.
Clicking on each product takes you to an informative product page, each of which has a couple of different product images and an enticing product description under the imaginatively-labelled banner of "tasting notes". Collapsible sections are used to hide away the more technical information that not everyone will be interested in and that would otherwise clutter the page, such as ingredients and storage life.
The top 'breadcrumb' navigation clearly indicates which category the product sits in (Bread) and makes it easy to get back to view other products, while sharing buttons beneath the image encourages visitors to share the page on social media. The "Show Me More" subheading contains similar products that the visitor might also be interested in.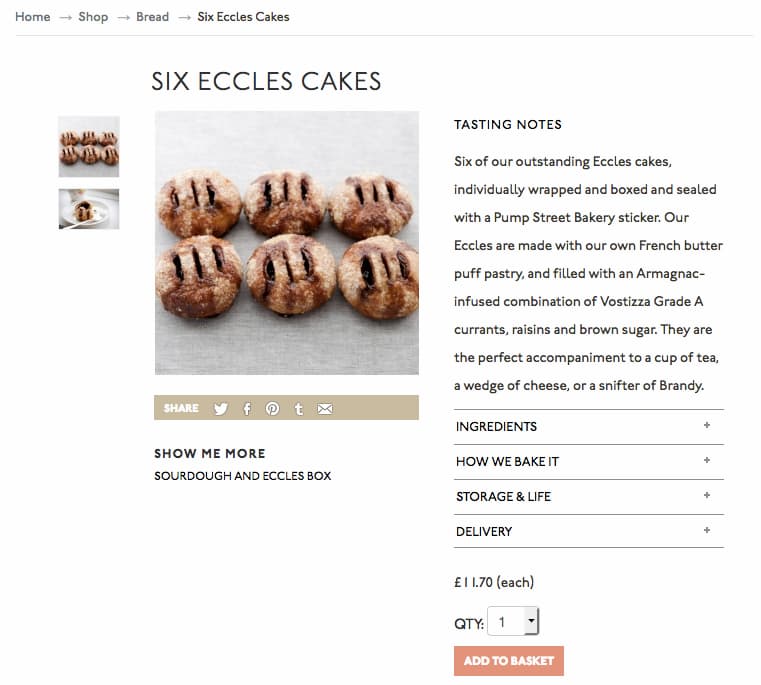 If you've been inspired by these fantastic e-commerce sites, it's time to get started on one of your own. Have a read of our e-commerce tips for small businesses to brush up on the tricks of the trade before you start, and then you're ready to get online.
Find a domain