Continuing our series looking at beautifully designed websites, today we're looking at some excellent examples from the world of fashion. If you're starting your own clothing company, or you're already an established business aiming to update your online presence, take inspiration from these fantastic sites.
1. Seasalt Cornwall
Women's clothing company Seasalt Cornwall has a beautiful website with a strong sense of the Seasalt brand. On first landing on the website, you see a main slider that cycles between three different images, one of which you can see in the screenshot below. The Customer Service chat icon, with a speech bubble offering help, helpfully remains in the same position as you scroll down.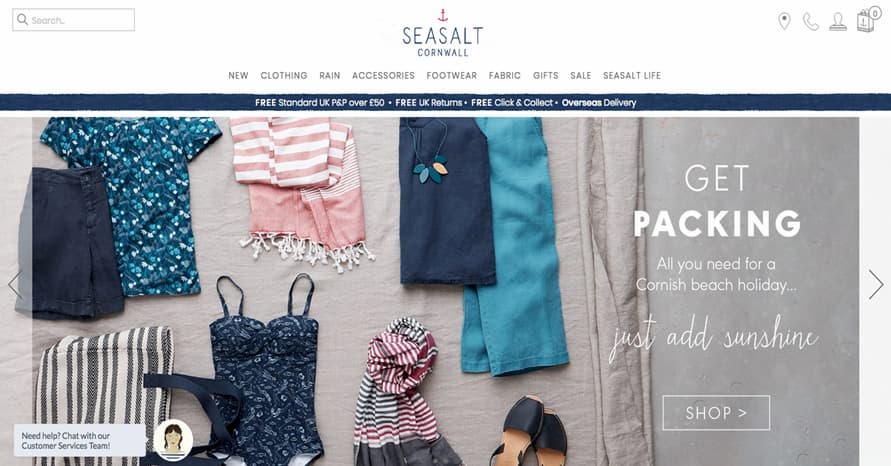 The handwriting-style font you can see in the "just add sunshine" line is a distinctive element of the company's visual branding. The "Shop" button is a simple call-to-action to accompany it, and this combination is seen repeatedly as you scroll down the homepage. Images of the products as a 'flatlay' are interspersed with striking photography featuring models wearing the clothing in picturesque Cornish settings, reflecting the brand's strong Cornish heritage.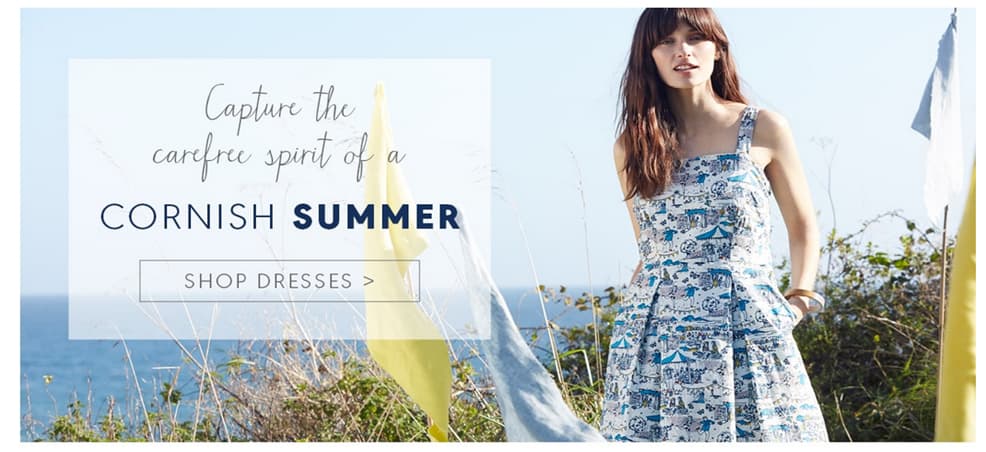 Further down the homepage, an embedded YouTube video reinforces the imagery on the page with beautiful scenes featuring the new collection, and there's a line of product images linking directly to product pages. Beneath that, there's an easy-to-use 'find your nearest Seasalt shop' widget, and a footer containing important links along with a welcoming newsletter sign-up encouraging visitors to "Join Seasalt Friends" and follow the brand on social media.
The product pages – arguably the most important pages on an ecommerce site – do a great job of presenting each product. Alongside a prominent "Add to bag" button, there are lots of high-quality product images, both modelled and on their own, and even a video of the product being worn so that you can see how it moves. On the right, links to complementing products show you how to "Get the look", along with links to similar products that "You might also like", encouraging bigger orders. Further down the page, a written description of the product gives details about the fit and features, also putting the product in context using friendly language such as: "Perfect for special summer days, we think it looks lovely with wedges or a pair of stylish clogs."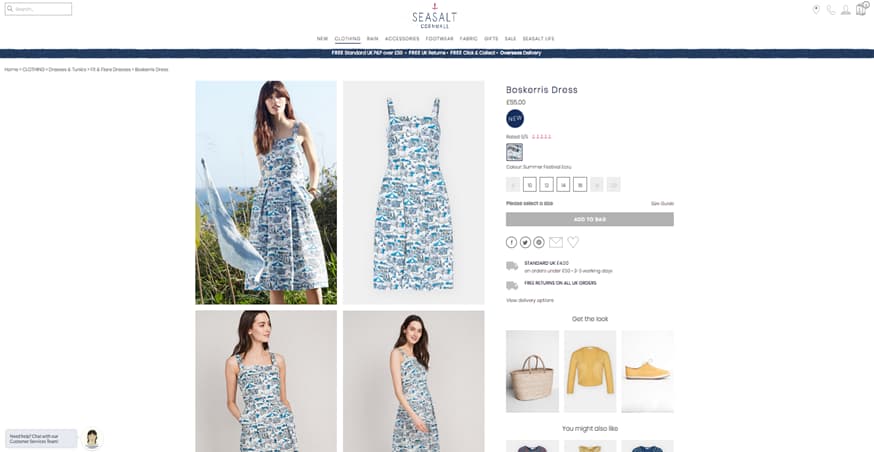 Each product page also has a section for customer reviews so that you can get real opinions before deciding whether or not to purchase the product. The rest of the site is lovely too, such as the blog (titled "Seasalt Stories") and a page about the company's history that talks about Seasalt's background and values.
2. People Tree
Sustainable and Fair Trade clothing company People Tree has a sleek, minimalist website that puts its organic clothing centre stage. A homepage slider highlights the most important products and collections, such as Limited Edition, New Arrivals and Best-Sellers. On each slider image, a prominent "Shop Now" button uses a colour that matches the products being modelled.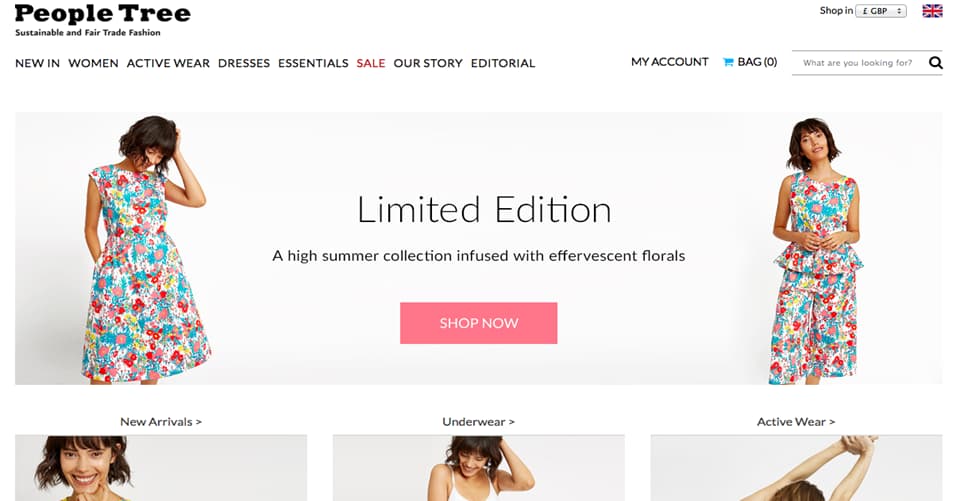 The minimalist design continues to the product pages, which keep things simple with a two-sentence product description that includes styling advice. A series of images show the product from different angles, and beneath the eye-catching "Add to bag" button is information on shipping and returns. There are icons to make it easy to share the product on social media, and a link to a handy size guide. Technical information about the product, along with more detailed delivery and returns information, is kept further down so that it doesn't clutter the page.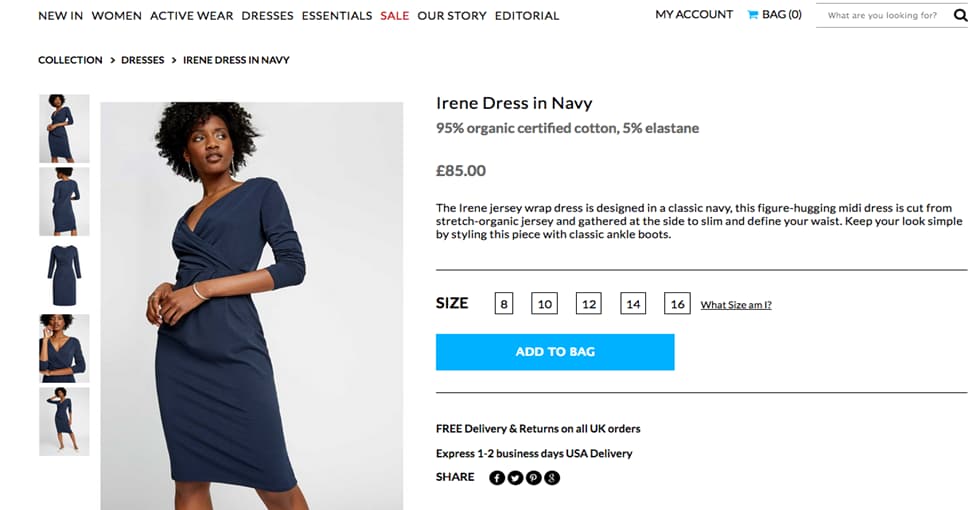 Elsewhere on the site there's a nice page outlining the company's values and mission, which showcases everything People Tree does to ensure its products are ethical and sustainable, and a blog called The Thread, among lots of other great content.
3. Aspire Style
Clothing and gift company Aspire Style takes a slightly different approach with its homepage, eschewing an image slider in favour of image boxes highlighting key parts of the site, such as dresses, gifts, and the mid-season sale.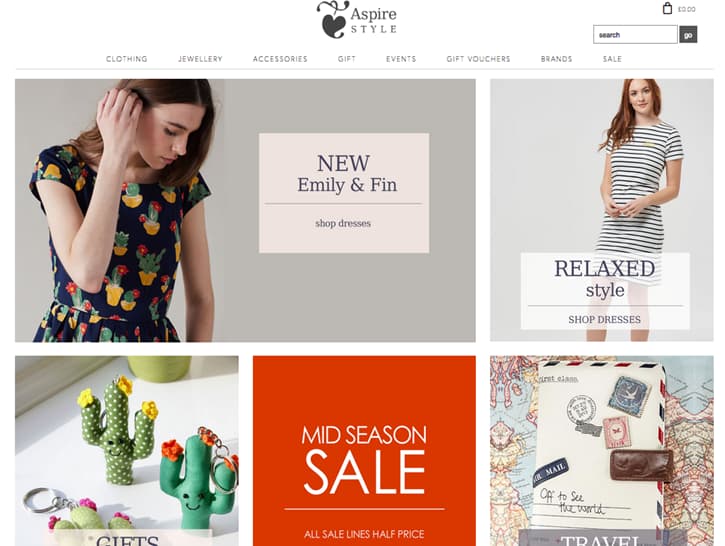 Further down the page, direct links to specific products showcase the latest arrivals under the heading "So New, So You!".
As the company only has five stores, it uses the footer to give their addresses so that customers can easily find where their nearest store is. There are also newsletter subscription and social media icons to encourage people to keep in touch.
The company's simple product pages have a large image with easy-to-read bullet point information about the product. Delivery and returns information is hidden away in the second tab to avoid clutter, and a pink background highlights free P&P – another reason to order.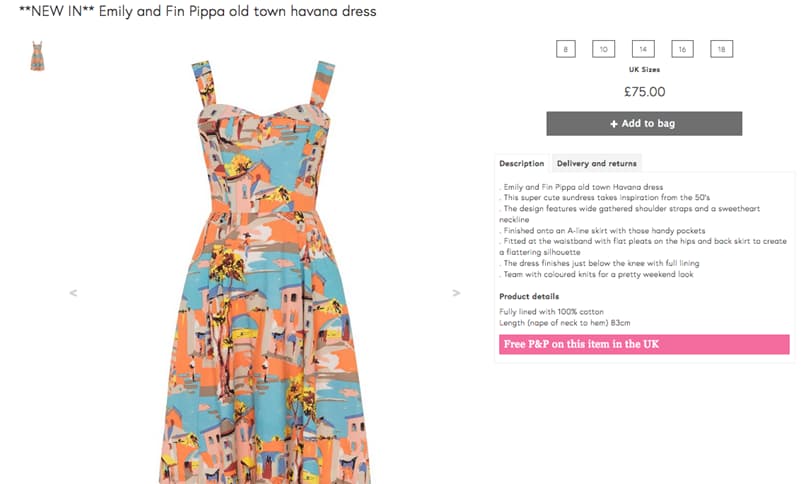 Scrolling down, a helpful "Complete the look" section showcases complementing products – a great way to maximise order values by encouraging customers to buy another product to go with this one.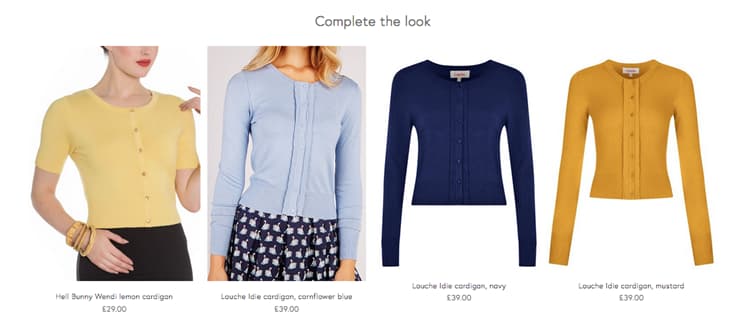 Elsewhere on this nicely designed site, you'll find an interesting About Us page, as well as pages that allow customers to shop by brand, such as Cath Kidston, which helps the site appear in brand-specific Google searches.
If you've been inspired by what you've seen here, it's time to take the next step towards launching a fashion website of your own. Head over to our Get Online training resources and find out how to get your business website up and running.