When you're heading off to explore somewhere new, the chances are you'll do a bit of research online to find things to see and do before you go. You'll probably end up on a website dedicated to your destination and you'll find it full of useful information on places to visit, stay, eat and shop. There may even be details about exciting local events you might want to drop into while you're there.
Sites like these provide a wealth of information to visitors, making them invaluable when you're planning a trip. But they also benefit local businesses by promoting them to tourists, providing a vital service to the community. Continuing our series on website design, today we're looking at three great examples of destination websites – for a city, a county and an entire country – and how they do a great job of providing useful and inspiring content to tourists.
Visit Bath
Bath is known for its Georgian architecture and Jane Austen connections, but the current Visit Bath homepage leads with a vibrant photo of a carnival parade that challenges those preconceptions. The Georgian architecture is there in the background, but from the moment you land on the site, you get the sense that there's more to the city than that. The brief copy supports the image with its "Unexpected Bath" headline and, coupled with a call-to-action inviting visitors to "find out more", creates a sense of anticipation that makes readers want to discover more about Bath.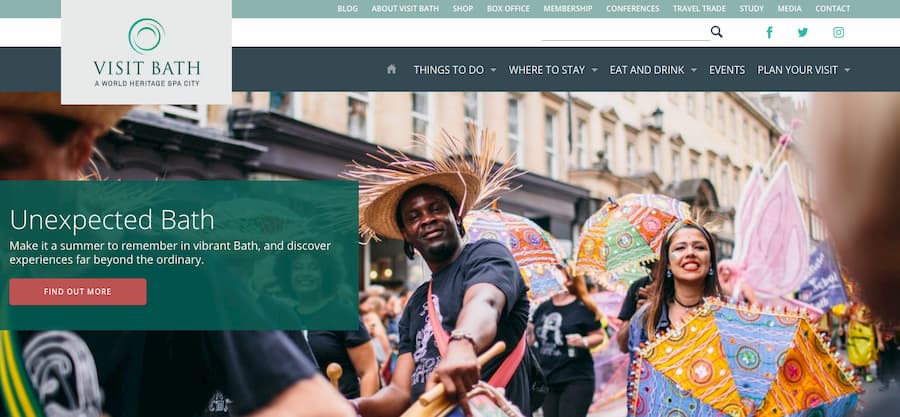 Below this image is some enticing introductory copy alongside a map showing Bath's location and distance from London – a handy summary for those who don't know anything about the city. There's also a large embedded promotional video of the city, which gives a fantastic introduction to the array of things to see and do in Bath. Right from the homepage, visitors already start forming ideas about what they might want to include on their itinerary.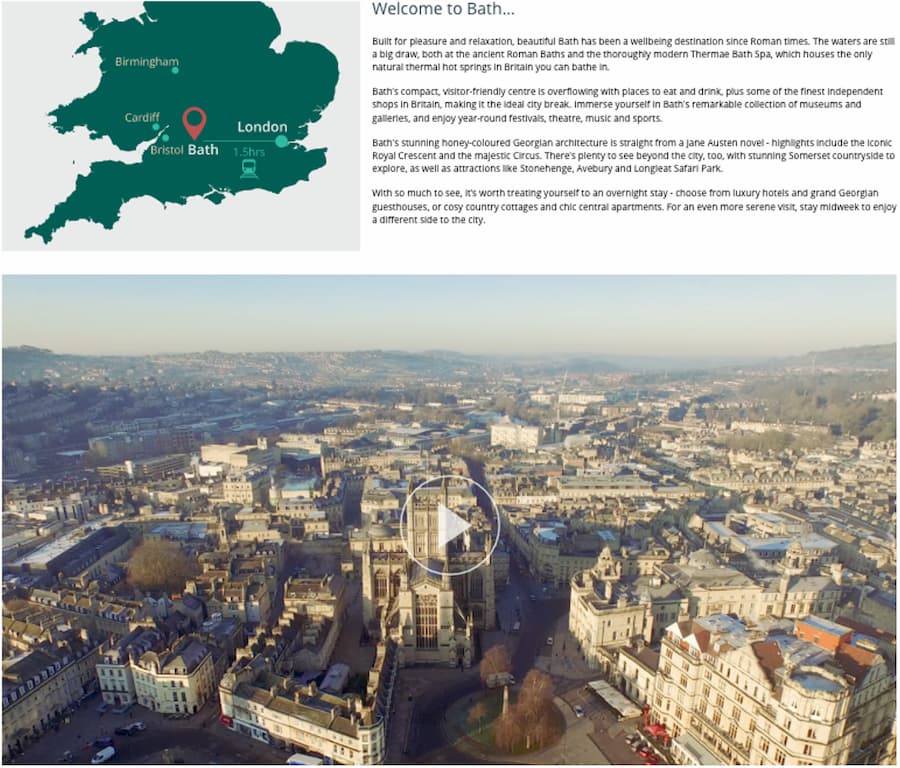 Keep scrolling down and you'll find a carousel of some featured attractions; there's a similar one further down the page with featured accommodation. Clicking on each of these leads to its own page with all the useful information visitors could need, such as pricing and opening hours (as in this Roman Baths example). Having them on the homepage makes them easy to find, which gives visitors a better experience of using the site as well as doing a great job of promoting these top attractions and accommodation options.

There are also some attractive, full-width images highlighting different sections of the website, such as 'Spa and Wellbeing', advertised here with an image of the city's famous Thermae Bath Spa. These help set an inviting scene that inspires readers to find out more about visiting particular places in Bath; in this one, you can imagine stepping into the warm geothermal water like the people in the image.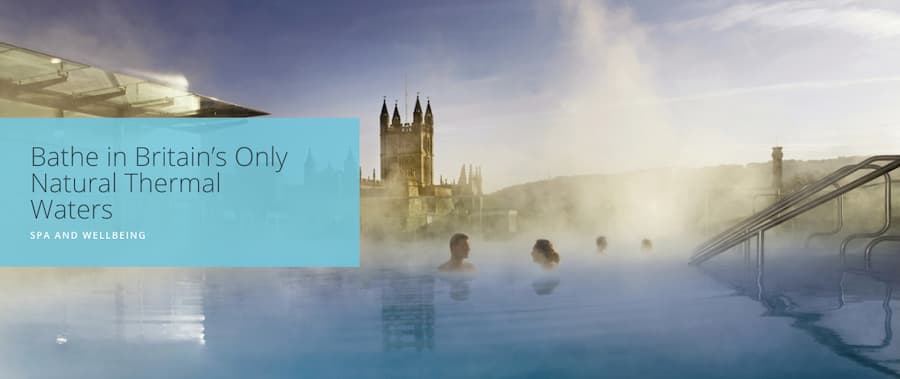 Below this, a 'featured events' section helps promote local events that draw in crowds to the city's businesses and gives visitors further ideas for their stay, along with a newsletter sign-up so that they can keep up-to-date with the latest goings-on in Bath prior to their visit. There's also a link to the online shop for purchasing souvenirs and tickets to key attractions, and a selection of recent tweets encourages people to follow them on Twitter.
Elsewhere on the site there's an easy-to-use accommodation search function to make it easy to find somewhere to stay…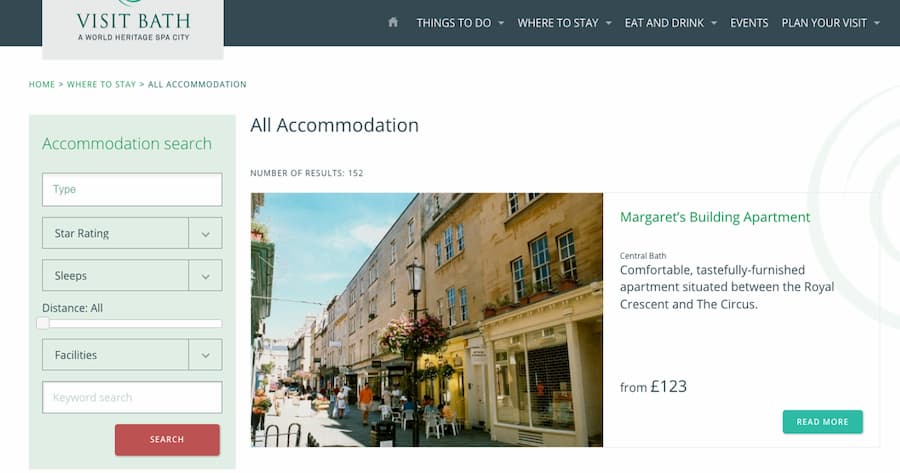 …and a nicely laid out page helping visitors discover the best places to eat and drink during their stay in Bath.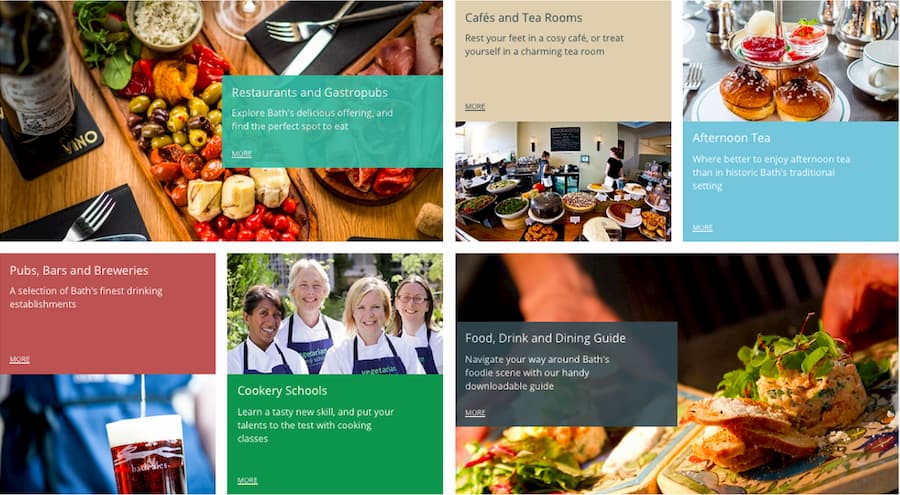 A similar tile layout is used on other pages too, such as the Things To Do and Plan Your Visit pages, keeping the style consistent throughout the site. A blog keeps the site up-to-date with regular new content, giving visitors inspiration for their trip as well as helping the site perform well in search.
Visit Devon
The Visit Devon site opens with a glowing endorsement of the county from a famous figure – director Steven Spielberg – and a full-width video showcasing beautiful aerial shots of Devon. This is an inspiring way to open the site, putting visitors in the mood for learning more about the county.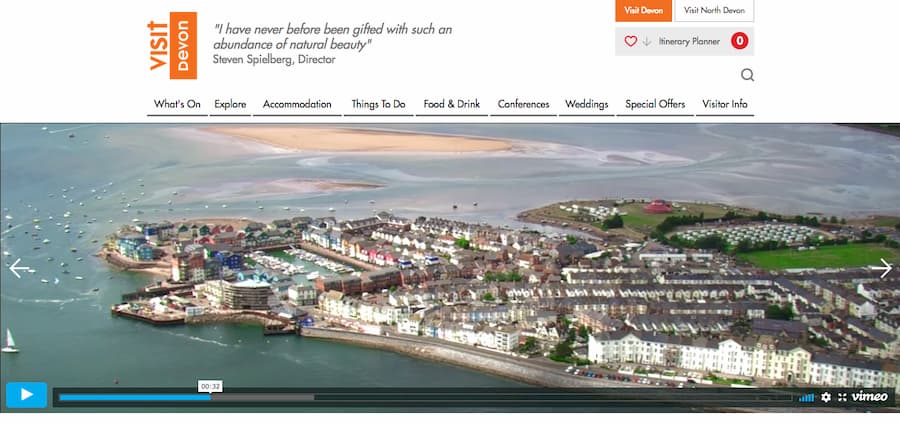 Below this, a simple widget allows visitors to search and get straight to content that will help them plan and book their trip. It's an effective way to help visitors whittle through a large amount of information to find exactly what they're looking for, as it gets them to a page of search results that matches their requirements – whether that's things to do that have disabled access or dog-friendly places to stay that have hot tubs.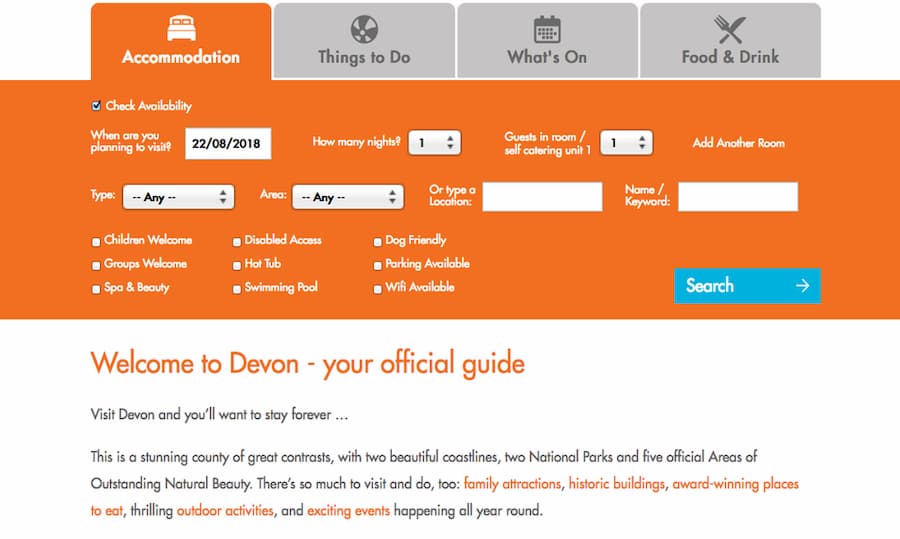 For those who haven't yet booked a trip to Devon or who are looking for ideas, a section titled 'Inspire Me' leads visitors to landing pages for different sections, such as Activities and Food & Drink. There's a sentence of copy under the subheading that aims to evoke readers' curiosity, spurring them on to explore deeper into the site: "Visit Devon and you'll find that there is more to this spectacular and diverse county than you might have thought."
Within each category, each suggestion has its own page, such as this one for The Pier House restaurant, providing lots of photos, TripAdvisor reviews and other useful information to help visitors make up their minds. A clever feature is the Itinerary Planner, which works by letting you save ideas using the 'Add to Planner' heart symbol that you can see on the right of the image in the screenshot below.
When you've started saving ideas, you can use the clever Itinerary Planner to plan your trip, changing the order of activities and displaying each activity on a Google Map to help you visualise distances and routes. You can then print the itinerary or email it to a friend – a really useful tool in the run-up to a trip to Devon.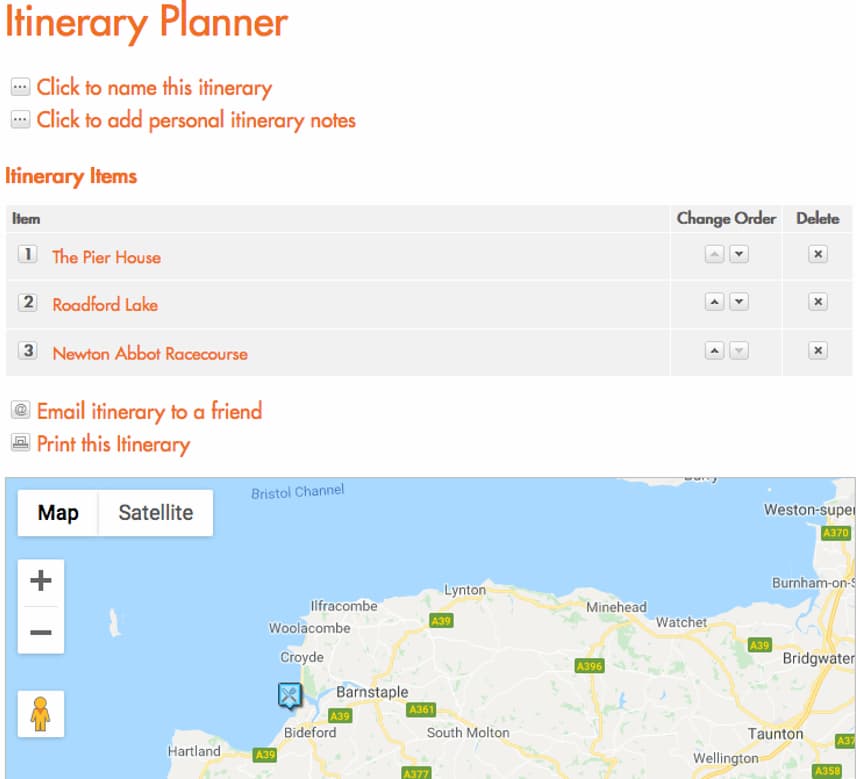 Visit the USA
The Visit the USA site leads with striking full-width images, which do a great job of showcasing the incredible scenery the USA has to offer. The stunning imagery is effectively combined with a prominent call-to-action – in this case 'Try the new USA Trip Planner!' – which immediately draws visitors deeper into the site (we'll come back to the trip planner shortly). A live Facebook chat box gives you the option to ask questions immediately, so you don't need to hunt around for a way to get in touch if you have any queries that you can't find the answer to, or if you just want some help with planning your trip.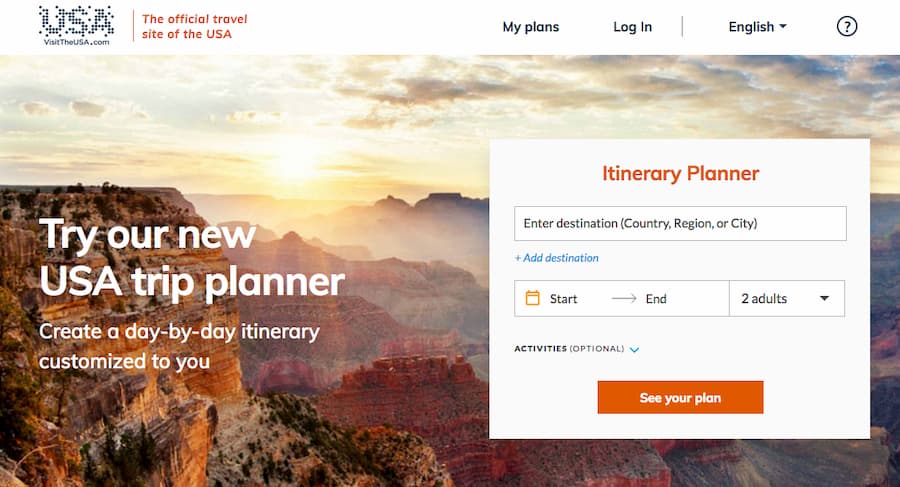 The top navigation menu keeps things simple for users by dividing content into Destinations, Trips and Experiences, with less important links tucked neatly away in the orange menu button on the top right. Clicking on the links in the main navigation lets you jump straight to the right section based on where you're going; this is the Destinations menu, which even includes small maps showing which states are where to help visitors get their bearings.

Further down the homepage, a Google map is used to good effect with small images highlighting places to visit in different categories you can choose from – in this case places to be outside in the USA over the winter. Given that the USA is such a vast area, this helps bring to life the different kinds of experiences visitors could have on a holiday here.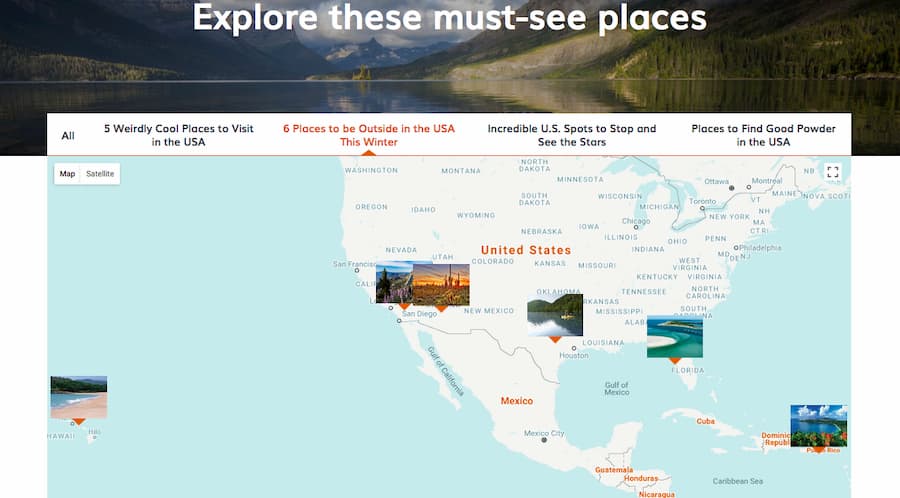 You can also get ideas based on the kind of thing you're interested in, which helps visitors find information that's relevant to them as well as showcasing the variety of different holidays possible in the USA.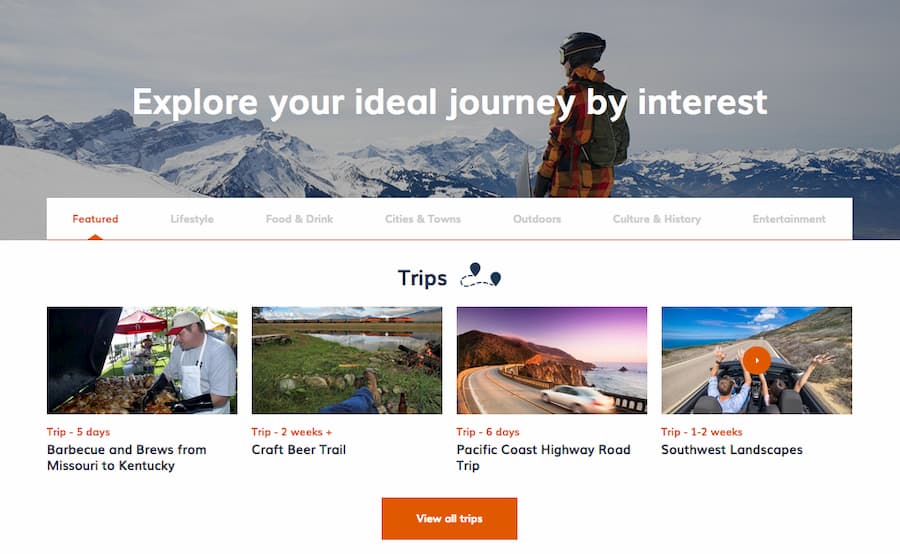 Each of these suggestions leads to a full page of in-depth information and inspiration, such as this fantastic guide to the Pacific Coast Highway. For those who don't yet know where they want to go, the homepage also features a fun tool that lets you choose which image you prefer in each category before coming up with suggestions based on what you like. It's a great way to get visitors engaging with the site and excited about the possibilities for their holiday in the USA.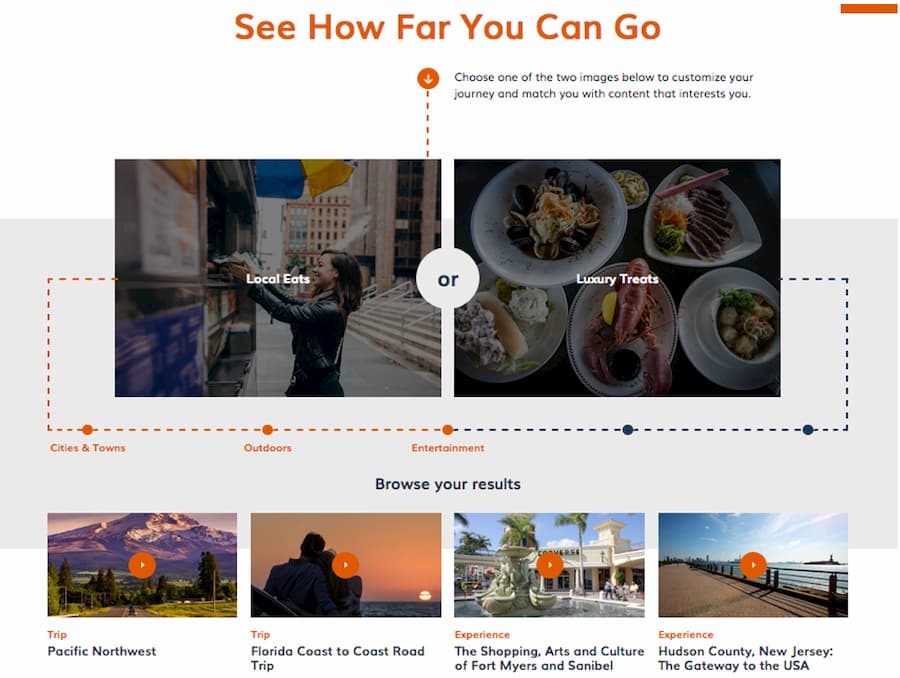 We touched earlier on the Trip Planner linked to from the homepage, and this is a useful tool worthy of a mention. It's designed to help holidaymakers put together a detailed itinerary for their trip, and it will help out with information about the best times to visit certain attractions, reviews, transport options and 'hidden gems' you might not have known about. Not only that, but it cleverly organises your itinerary to minimise your travel time, basing your schedule on opening times for the attractions you're visiting and even recommending how long you should plan to spend at each place.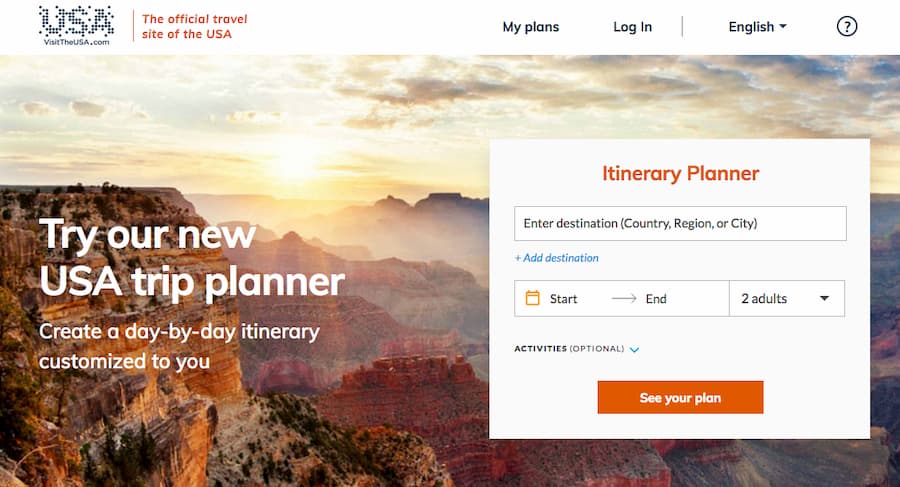 With good use of images and video content throughout – such as on this page – this site does a great job of selling the idea of a holiday in the USA alongside offering useful advice to help with trip planning. The itinerary planner is a particularly useful feature, and one from which other destination websites could gain inspiration for helping visitors get the most from their trip.
If you've been inspired by any of these sites, why not set up one of your own? Visit our Get Online section to get started.