As a tradesman who'll be entering people's houses, one of the biggest concerns you'll come up against is the need to prove that you're trustworthy. Having a great website shows that you're professional and will help to build trust – especially as it's the perfect place to highlight your accreditation and experience. Here are some fantastic examples to inspire you.
1. My Plumber
Based in London, My Plumber is a business whose services cover plumbing, drainage, boilers and heating.
The homepage is geared towards encouraging potential customers to request a quote and check availability, with a dropdown box that enables customers to choose the service they're after and put their postcode in for more tailored information.
There's a phone number and a clear 'Book Online' call-to-action displayed at the top of the page, and a simple navigation menu that breaks the company's services into straightforward sections (plumbing, drainage, boilers and so on). Just below the top banner, there's also accreditation and trade logos, helping to instil trust for potential customers.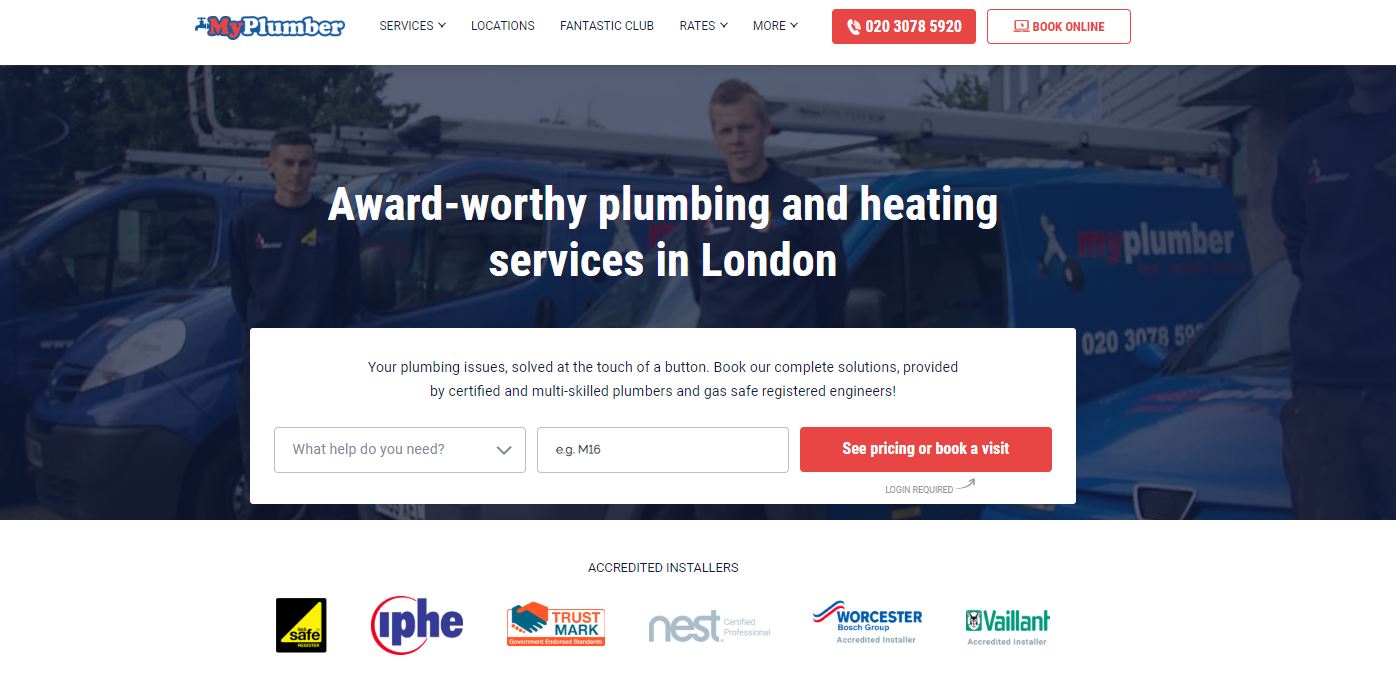 Further down there's a handy breakdown of all the services the company offers, and each item is a link to more information (such as Boiler Repair), making it easy for potential customers to find out more about the particular work they want done.
Each of these pages feature that dropdown call-to-action again, encouraging customers to login to see more pricing and booking options.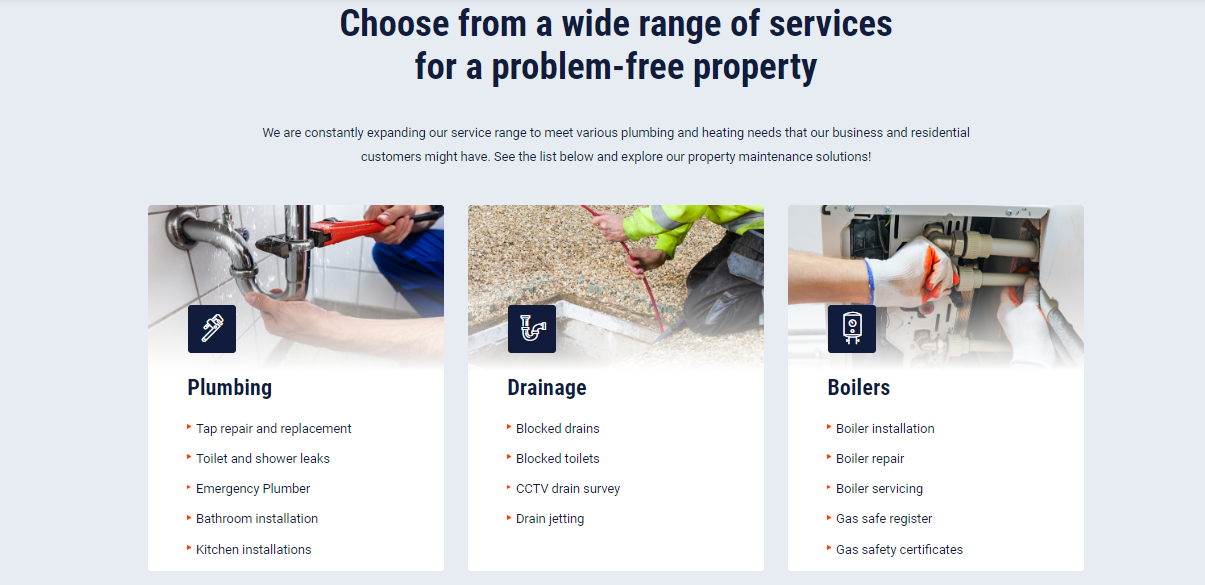 Scrolling further down the homepage, there's a section describing why you should use My Plumber for all your plumbing and heating needs, with buttons to call the 24/7 customer service line or to book an appointment online.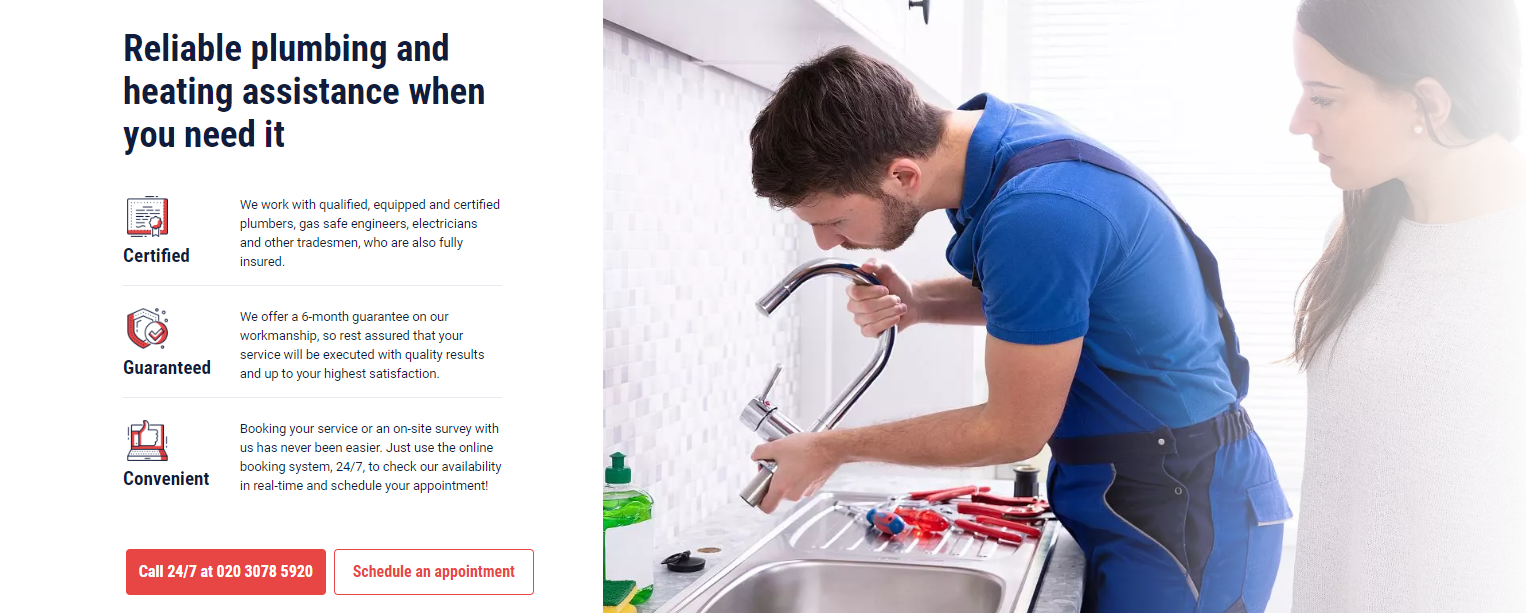 Next, the homepage explains that My Plumber is part of a larger parent company, Fantastic Services, giving My Plumber customers the benefit of an membership programme called the Fantastic Club. This section highlights the benefits of this programme to customers, such as paying less for every service and priority booking options. A prominent 'learn more' button invites readers deeper into the site.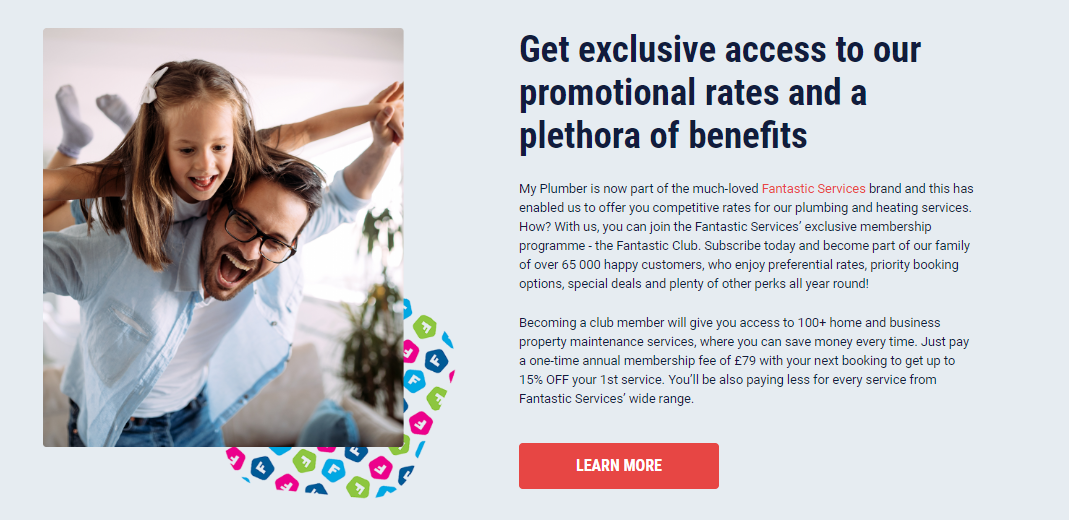 Scroll down below this section and you'll find reviews from happy customers followed by links to location pages, which help the site bring in search engine traffic for different locations around London.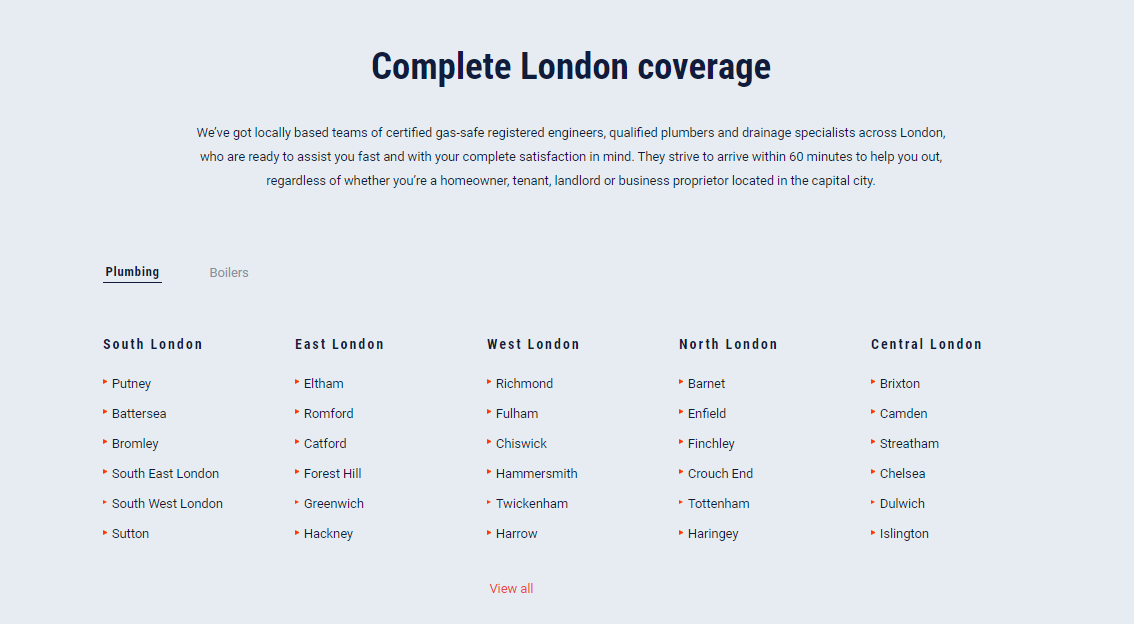 Keep scrolling and there's a section for those interested in starting a franchise business, followed by logos with the awards My Plumber has won, showing them to be professional and trustworthy. Finally, there's a repeat of the buttons we saw earlier: the helpline number and a 'schedule a visit' link.
Worthy of note among the great content elsewhere on the site is a section devoted to prices – so often left out of such websites. By being open and honest about pricing, they've kept their services transparent and given potential customers a realistic indication of what they can expect to pay, again building trust.
There's also a blog covering relevant and useful topics such as 'how to choose a smart heating thermostat' and 'how to drain a central heating system', along with a comprehensive About Us page.
2. Fantastic Handyman
The Fantastic Handyman site is clear and easy to use right from the homepage, which shows a handyman at work accompanied by a brief description of the kinds of jobs undertaken and an indication of the price.
Words such as "professional" and "skilled" help build trust, while visitors are encouraged to enquire about pricing and availability with a box to type in their postcode for a tailored quote. There's also a prominent telephone number and "book online" box at the top of the page, along with a chat box that stays in the same position on the bottom right so that you can ask questions in real time from anywhere on the site.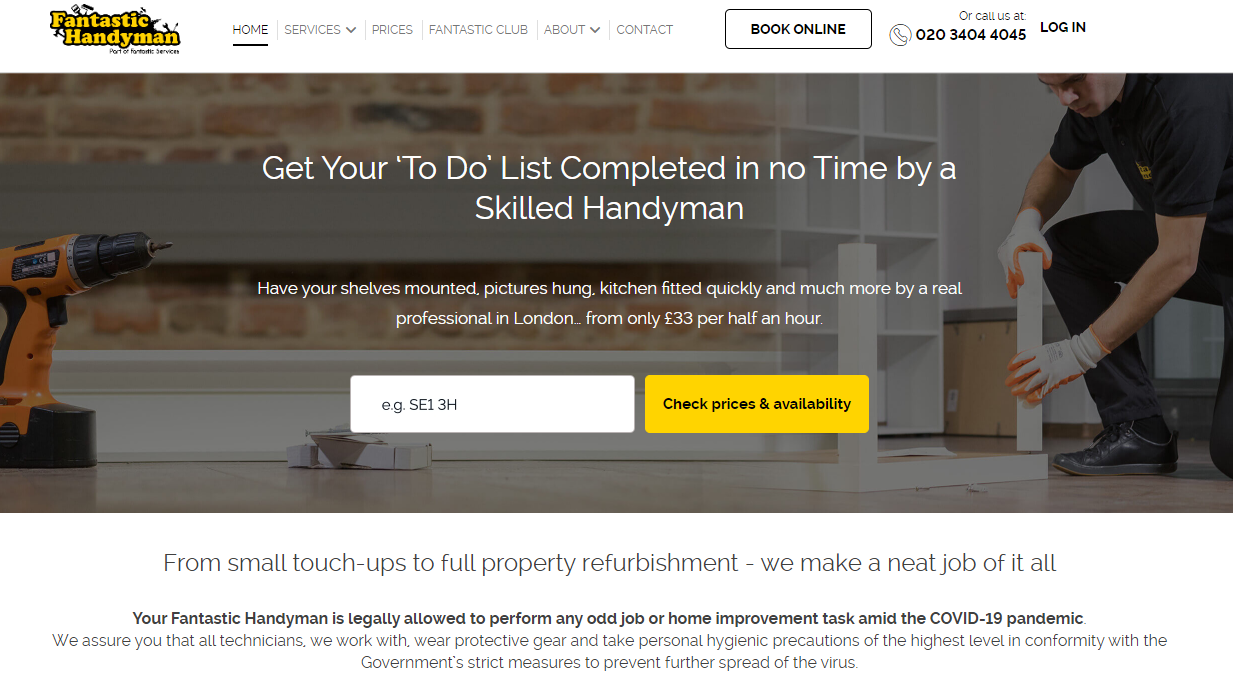 Further down the page is a handy breakdown of the kinds of jobs the company can deal with. You'll also notice the chat box widget has moved down the page with you, enabling customers to contact the company by instant message for an immediate reply.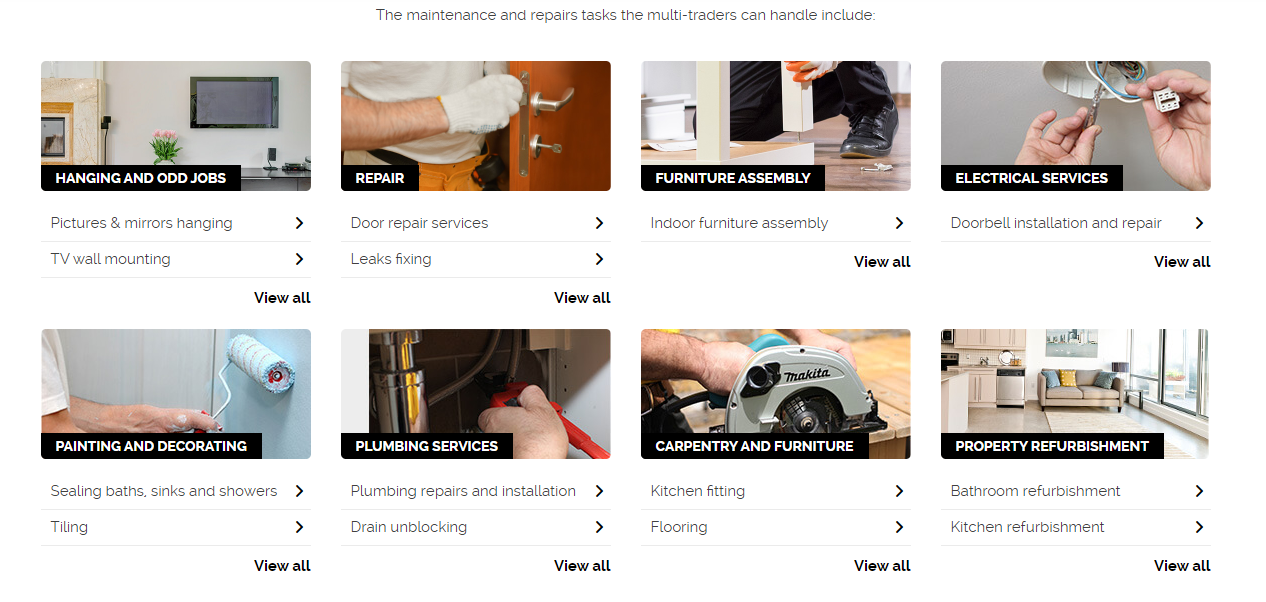 Each of these services links to a page with more detailed information, such as indoor furniture assembly. Each page contains lots of useful copy that will be helping the website to rank for relevant Google searches as well as informing potential customers about what they can help with. Elsewhere on the page there's also a pricing table and buttons encouraging customers to book online.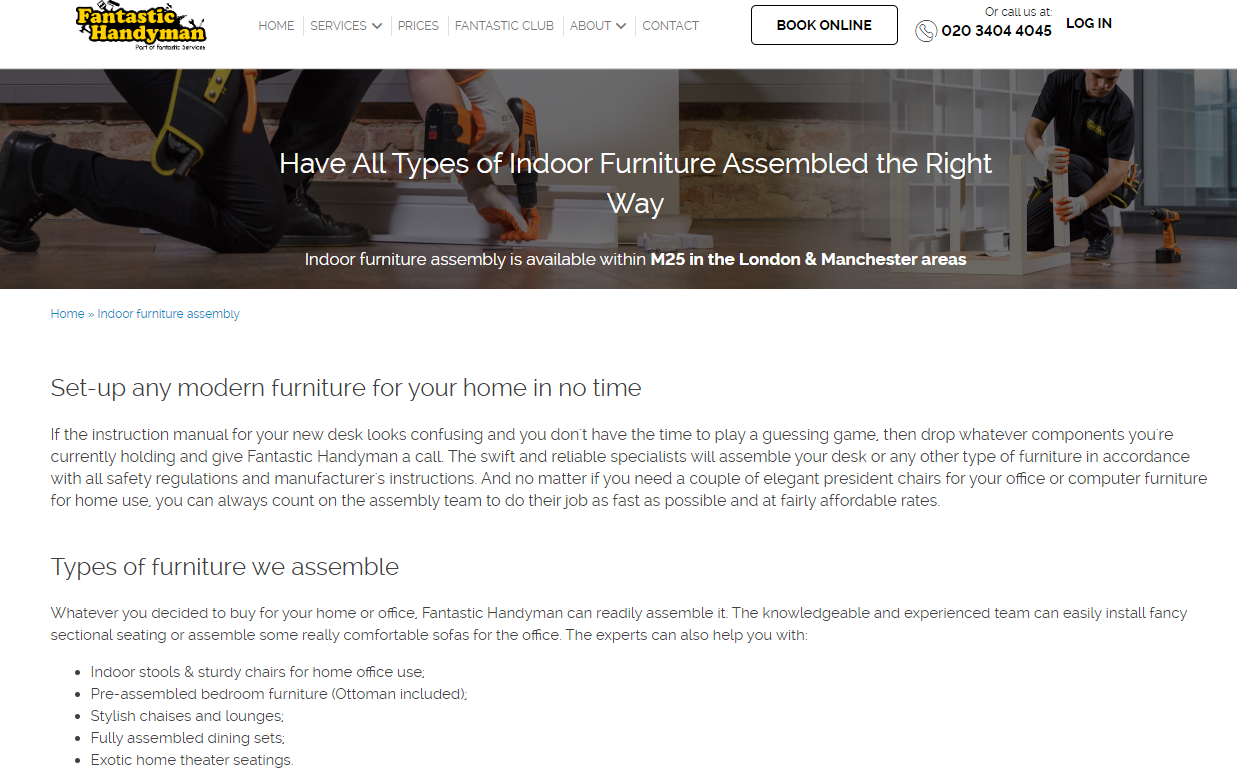 Back on the homepage, there's a nicely laid out summary of why customers should choose Fantastic Handyman. With clear subheadings that make it easy to skim-read for the salient points, as well as providing more detailed information underneath each one, it's ideally written for online readers. It's backed up by testimonials from happy customers below it.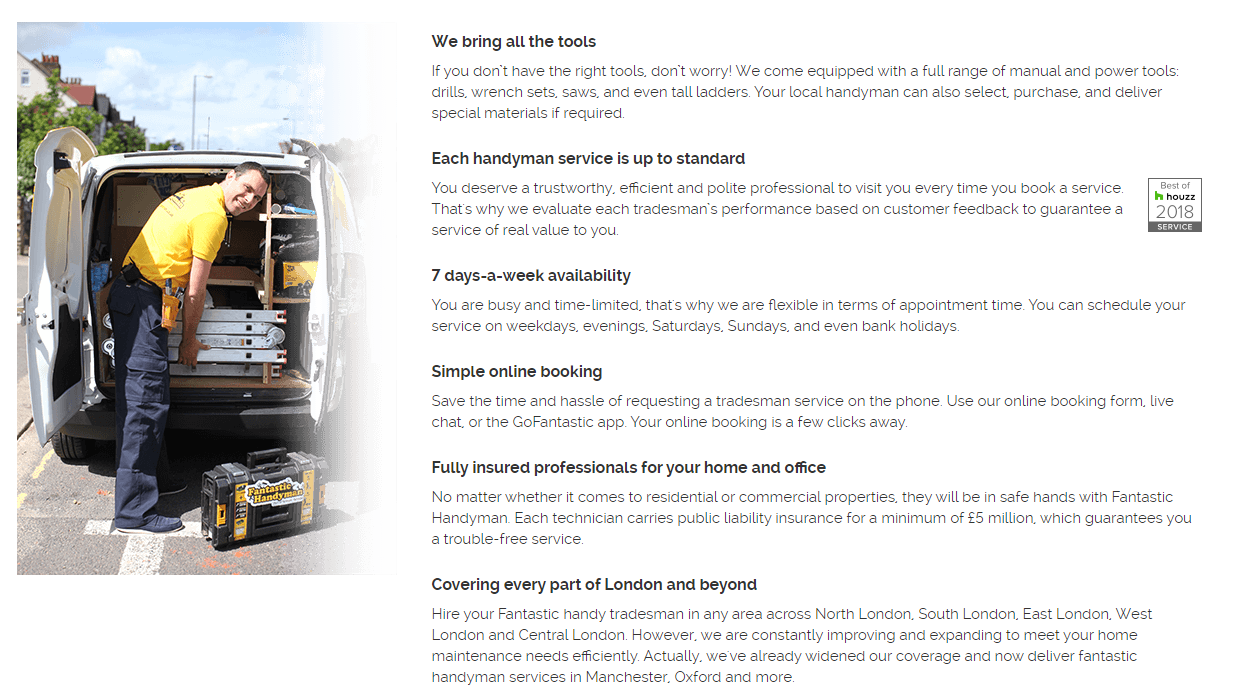 Elsewhere on the site there's an excellent About page, where there are 'featured in' logos showing the press the company has received from the likes of the BBC, The Times and The Sunday Telegraph – another way to demonstrate their trustworthiness and a comprehensive Prices page that gives the hourly rates for different kinds of work so that pricing remains transparent – another great way to instil trust.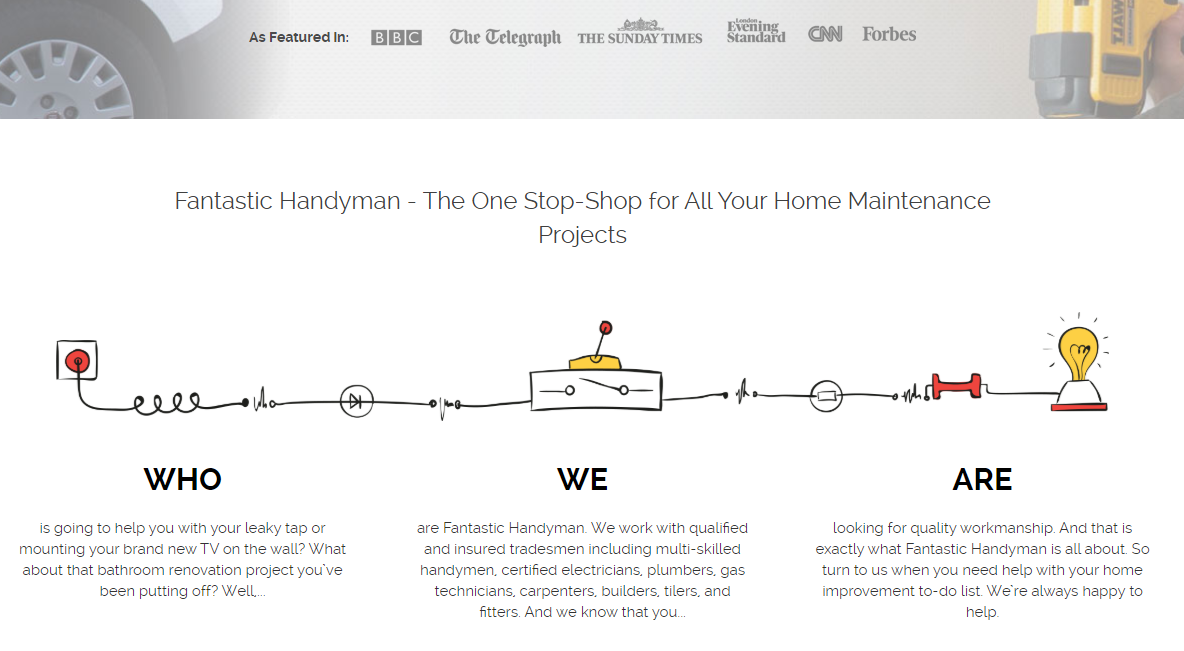 3. Thompson Heating and Plumbing
Family-run Thompson Heating and Plumbing is an Oxfordshire-based business with a sleek website that immediately proclaims their expertise and what they do – "Unrivalled knowledge in all domestic plumbing, heating and mechanical services" – accompanied by an eye-catching professional image.
Their telephone number is displayed on the top right of the header to enable visitors to see immediately how to get in touch. The image is a slider, with further slides giving headline facts such as the company's 50 years' experience.
Scrolling down the homepage, there's an image of the whole team, which adds a human touch to this professional-looking website and lets visitors put faces to the company name, which is reassuring.
This is accompanied by some information about the company – a simple outline of the kind of services they offer, with a line about the fact that they've been "operating since 1987" – again, this longevity helping to instil trust in the visitor.

There's a link to read more, which leads to an attractive 'about' page that goes into more detail about the company and its history and values.
Below this on the homepage, there are two more sections with 'Read more' links, this time taking visitors to a page about the services they offer and to a separate website for the dedicated branch of the company specialising in bathrooms. Each service is accompanied by professional photography, which helps give the website a trustworthy impression.
This is added to by the next section of the homepage, devoted to their accreditation and awards. The logos appear alongside some supporting copy that outlines the steps they've taken over many years to give customers complete confidence in their services. This links to an Accreditation page giving more information about each of the logos and what they mean.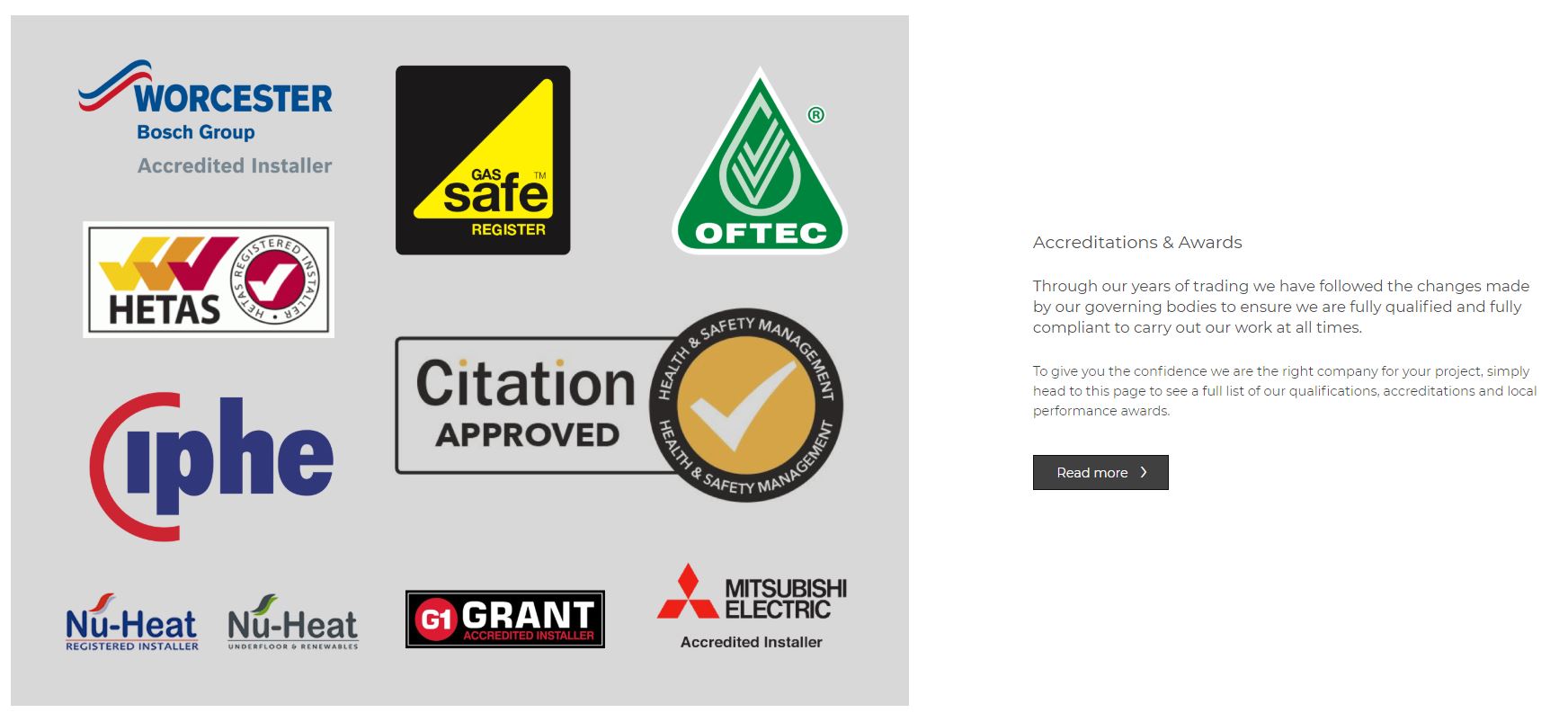 Finally, there's a scrolling slider of testimonials from happy customers, along with a footer showcasing some of the accreditation logos again, along with contact details. All in all, it's a nicely designed website that's attractive to look at, easy to use and instils trust every step of the way.
Key takeaways
Having looked at these excellent examples, there are a few key features from them that you can include on your own website to make it as effective as possible:
Keep your contact details prominent in all parts of your website to make it easy for customers to get in touch with you
Have individual pages about each of the services you offer, as this helps optimise your site for searches for specific needs (such as 'boiler repair')
Include logos to show your accreditation and awards to demonstrate your credibility and professionalism
Invest in professional photography to make sure your website looks the part
Be transparent about pricing so that customers know what to expect
Add location pages to help optimise your site for local searches (such as 'plumber in Slough')
If you've been inspired by these superb sites, why not follow suit and set up your own? Whatever your trade, get started with these handy guides to getting online and find out more about how to build a professional web presence for your business. The first step is to buy a domain, and then you'll need to think about how you want your website to look. Here are some top tips on building your first website, and you might also like to have a read of some tips on how to design a winning homepage so that you can make sure you give your potential customers a great first impression.