If you're running a business online, I've got some bad news:
The internet is flooded with websites just like yours.
For every obscure niche, there's still plenty of competition – and if you're not doing everything you can to get seen and found online, things are going to get tough.
Luckily, the art of SEO (Search Engine Optimisation) has exploded in the last few years.
There are more free resources and learning materials than ever before, and the algorithms that power search engines like Google have shifted away from the dubious spammy tactics that used to make websites unpleasant for their visitors.
You could pay a marketing agency or a search consultancy ongoing fees for their services.
Or you could just make use of the powerful DIY tools that make business SEO easy.
Here are some of the best apps and websites to help your business get noticed online – from back-end audits and on-page optimisation, to getting a sneaky inside look at how your competitors are pulling it off.
1. SEOQuake
If you're completely new to SEO – or you're not yet convinced it's worth the investment – it's never a bad idea to start off with something that's free.
SEOQuake is a browser plug-in for Chrome, Safari, Firefox or Opera. And it's completely free.
With the click of a button, you can instantly analyse the SEO metrics of any web page you're browsing.
So as well as understanding how your own pages are looking, you can get a sneak peek into the workings of any of your competitors' pages – or you can study and learn from a popular mainstream site that's completely unrelated to you.
So what do you get with this free SEO plug-in?
You'll get:
An SEO overview of any page, with useful tips to help you improve each area
An optional overlay for the search results page in Google, so you can directly compare stats for every website found for any keyword phrase you choose
An easy-to-understand analysis of the links, keyword density, and various rankings of any page
And a tool to plug in a set of URLs, to directly compare their performance to your own.
Let's see how it works in practice. Here's the initial SEO overview, which highlights the important SEO features you might be missing: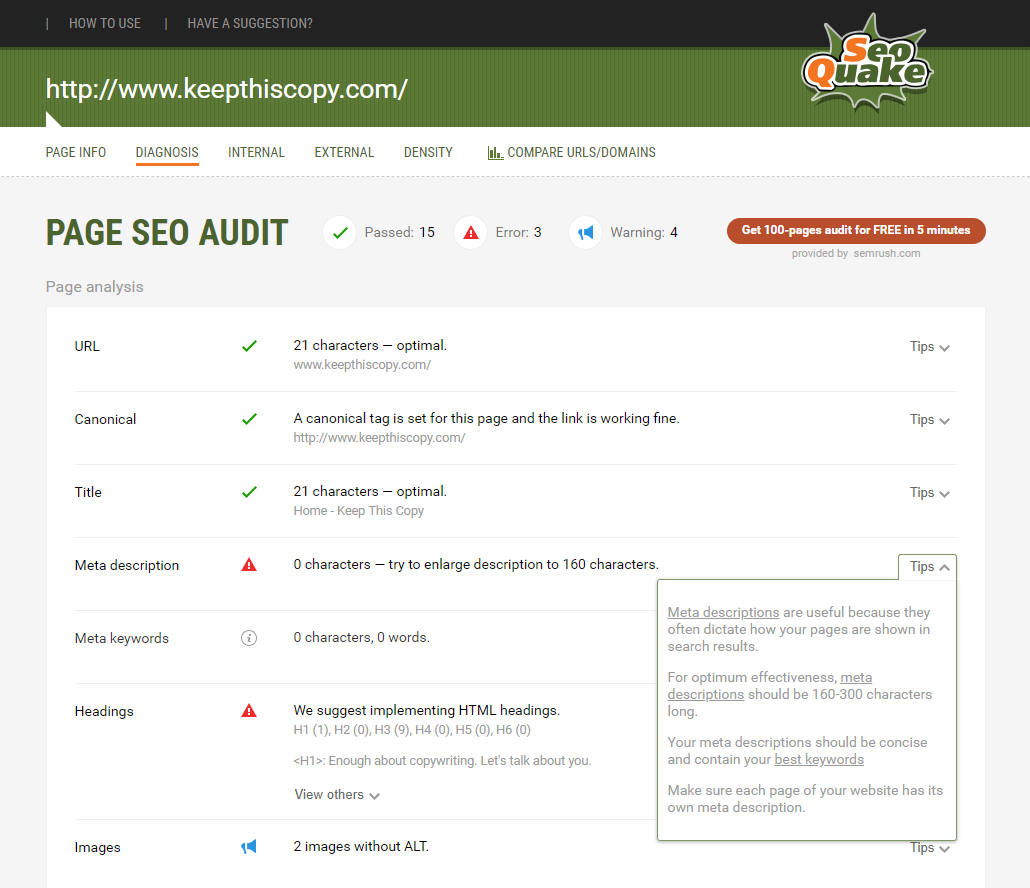 As you can see, this web page is missing a meta description – and SEOQuake has flagged it up for us.
By clicking on the 'Tips' button to the side of each aspect of your SEO analysis, you'll get a brief explanation of what that aspect is, as well as some best-practice advice to help you correct the problem.
You can also use SEOQuake to get a report on the density of the individual words you've used in the content of your pages: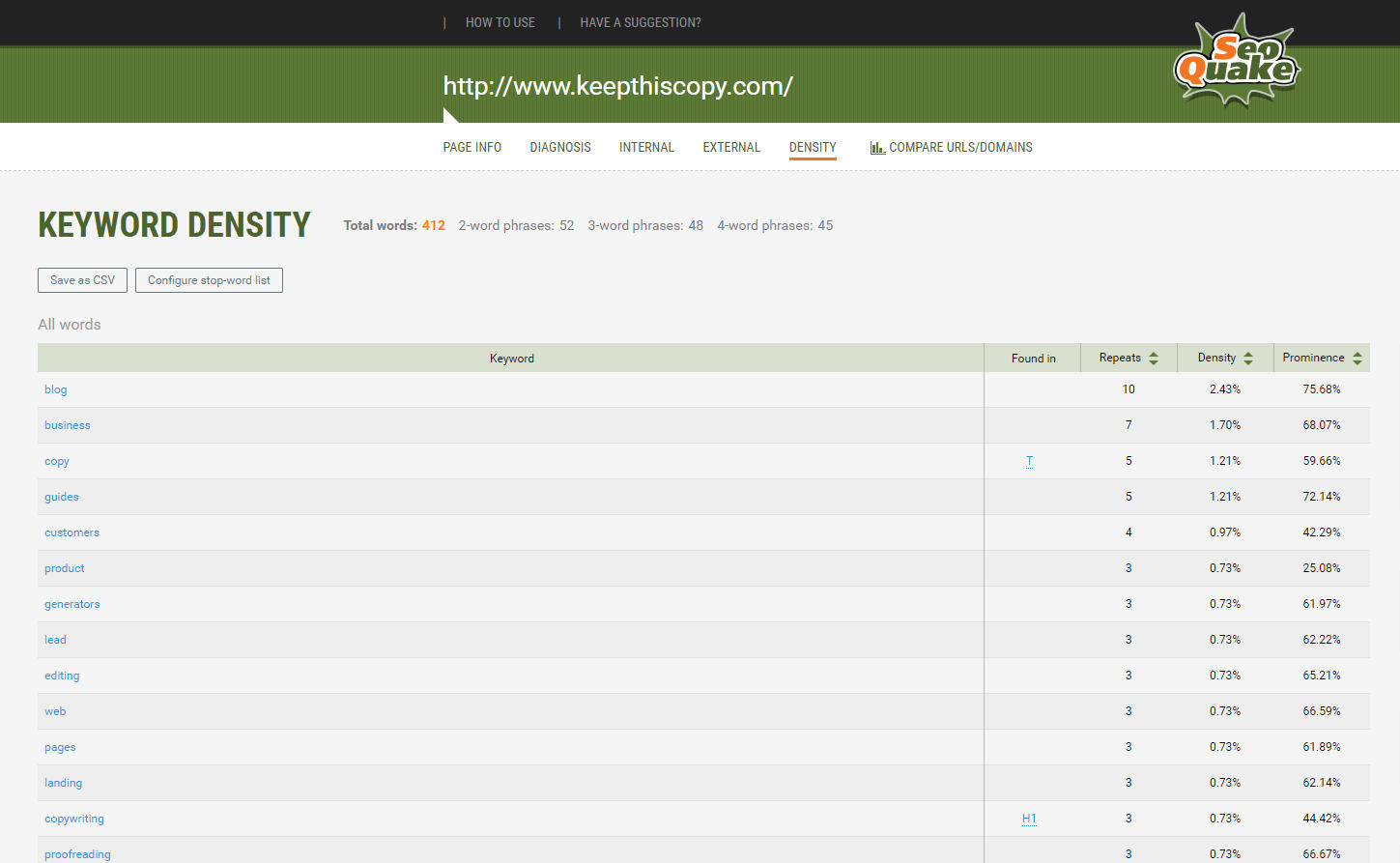 So if your most-used keyword takes up 20% of your content, your web page is probably a spammy mess.
And if your number one word is something that's completely unrelated to what you want to be found for, you'll know that you need to re-work the messages on your site.
As a free tool, SEOQuake has plenty of in-depth features and reports to help a business that's just getting into SEO.
But as you might imagine, it can't give you everything that a premium, paid SEO tool can.
2. Moz (Pro and Local)
Back when SEO was still in its infancy, Moz was one of the most reputable sources of SEO education for anyone who wanted to get found online.
Today, it's no different – but their services are now split into two main areas of focus: general SEO, and local listings for physical businesses.
With their all-in-one suite of general SEO tools (Moz Pro), you'll get:
An easy-to-use Keyword Explorer Tool – where you can research potential keywords, and see just how popular (and competitive) they are before you commit to them
An automatic Site Crawler, which can dig through every corner of your website on a regular basis to find issues and suggest improvements
Powerful tracking and reports to monitor your site's SEO rankings for specific keywords – as well as comparing it to how your competitors rank for those same phrases
And countless other useful tools, including Link and Backlink Analysis, and Priority Optimisations to help you get the best results with the least amount of effort.
If you're a business with physical stores in multiple locations, you can also make use of Moz's other main offering: Moz Local.
With Moz Local, you'll get:
Automatic distribution of your local business listings to the important directories and data aggregators
Monitoring and tracking of your online reviews, as well as Review Management tools to help you respond to them
Tools to help you check your listings and keep them up to date, such as continuous monitoring and duplicate detection.
For a small or medium-sized business, Moz Pro (the all-in-one general SEO suite) starts at around £75 a month, with a 20% saving if you choose to pay annually.
Moz Local (which is a separate product) starts at around £75 per year.
If you're still not convinced, there's a 30-day free trial available for each of these products. And better yet, there's an entire page of Moz's free SEO tools for you to have a play around with – but you will have to sign up with a few details to get access to some of them.
So if you'd like to take a casual look at how some of their tools might help you, you can start by:
Getting a free local listing analysis with My Business Listing
Researching new keywords with the Keyword Explorer tool
Downloading MozBar, the free browser plug-in that gives you SEO statistics on your Google search results page.
3. ahrefs
Much like Moz Pro, ahrefs aims to be a comprehensive, all-in-one suite of tools to help you understand, monitor, improve, and compare your SEO.
Like SEOQuake, you can analyse any of your competitors' websites, and you'll also get an integrated SEO toolbar that plugs into your web browser.
But unlike SEOQuake, ahrefs isn't free.
It does, however, come with a huge list of features and tools. With the basic package, you'll get:
A complete site audit which crawls up to 10,000 internal pages of a single website per month
Rank tracking for up to 500 keywords, updated weekly
Up to 25 different domains researched each day
Batch analysis of thousands of suggested keywords in one go
And automatic alerts – for things like new or lost backlinks, mentions on the web, and any new keywords that your competitors start to rank for.
This basic package costs around £75 a month (or you can get two months for free if you decide to pay annually).
Unfortunately, there's no free trial for ahrefs. But you can get a heavily discounted trial period (around £5 for a 7-day trial period).
4. Screaming Frog's SEO Spider
Screaming Frog is a UK-based search marketing agency. But they're also the creators of the SEO Spider tool, an industry-leading website crawler that scans through websites at lightning speed to collect data and analyse their SEO.
With this tool, you'll be able to:
Find broken links and server errors
Analyse page titles and meta descriptions
Find and audit any redirects and loops in a site
Locate duplicate pages, as well as duplicate content and elements within pages
Get an overall view of your site's architecture, evaluate your internal links, and understand how Google's own crawlers view and navigate through your site.
And the best part?
Almost all of these features come for free.
If you want the more advanced features (such as scheduling, unlimited sites, or integration with Google Analytics and the Search Console), you can upgrade to the paid version for £149 per year.
5. Google Analytics and Search Console
If you want to know more about how your website performs in Google, you're better off going straight to the source.
Luckily, Google has two powerful (and free!) tools to help you with this: Google Analytics and Google Search Console.
Before you can use them properly, you'll need to add a couple of markers into the back-end of your website:
For Google Analytics, you'll need to either add some code into your web pages or install a plug-in to do the job for you, like the Orbit Fox plug-in for WordPress.
And for Google Search Console, you'll need to copy and paste a single code into your site's TXT Records, which should be available once you log into your web hosting service.
Once you've got these two markers in place, you'll have access to all sorts of useful data, graphs and reports surrounding the behaviour of visitors on your website.
Through Google Analytics, you'll be able to see how many users are visiting your pages, as well as their average session duration and the bounce rate (the proportion of people who quickly leave after arriving):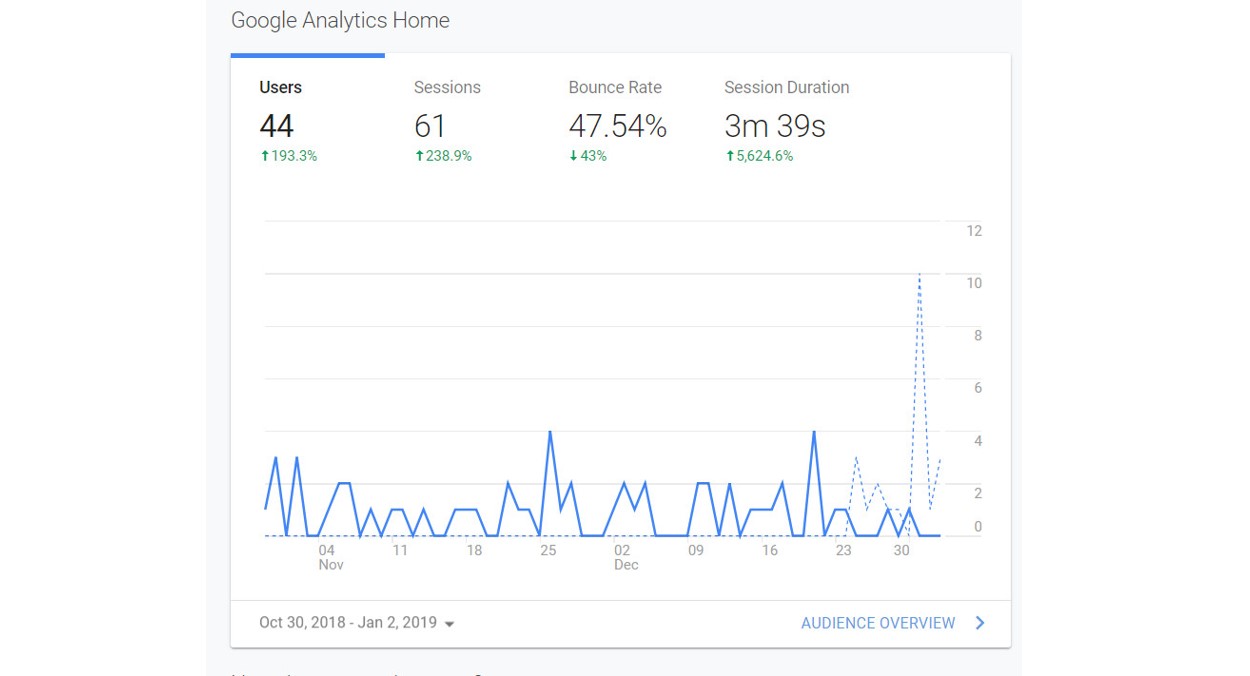 You'll also be able to get a breakdown of where your users are finding you – through organic searches, social media referrals, or direct links:
But when we move onto Google Search Console, that's when things really get interesting.
You'll be able to see exactly how many people have seen your website in the search results (impressions), and the proportion of people who actually click on your site from the results page (CTR, or Click-Through Rate):

With this information, you can start to understand the strengths and weaknesses of your SEO efforts.
If you're being seen in lots of searches, that probably means your website has good authority and your keywords are being used effectively.
But if you've got a high number of impressions with a low CTR, that probably means your page titles or meta descriptions aren't very attractive or enticing.
And if you've got lots of impressions and a high CTR – but you've also got a short session duration and high bounce rate – that probably means that your pages aren't matching up to the expectations of the searchers.
But perhaps the most useful tool in the Search Console is the list of queries, where you can see exactly which search terms people were using when they saw your site, and how many views and clicks you had for each term:

Through this tool, you can get an idea of the general mindset of searchers – which can help to fuel your future content topics, blog titles, and the keyword phrases you use on your pages.
Ready to hook more searchers?
There's a lot going on here – and SEO isn't the most intuitive topic for anyone to get into.
But some of these tools are more accessible than others. And some of them can give you more immediate benefits without any technical knowledge.
So if you're just starting to get to grips with SEO for your own website, I'd recommend spending a bit of time with some of the more simple (and free) options.
In particular, you'll probably see the most immediate success with SEOQuake (for analysing your website and getting tips to fix common errors) and Google Analytics and Search Console (for tracking your progress and understanding how people find you).
And if this article has given you a taste for more SEO knowledge, be sure to check out these other useful guides and articles across Analytics and SEO.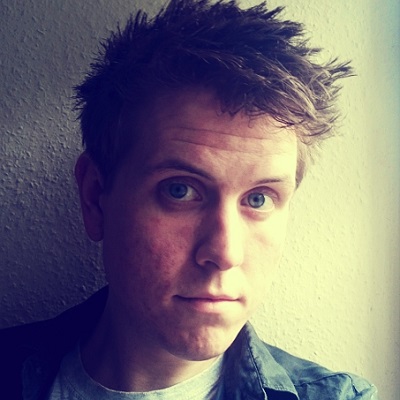 Ed Palmer is a freelance copywriter at Keep This Copy. He's spent more than five years helping businesses look good and sell more stuff – writing for and about almost every business and industry there is.
Read full profile