Are you one of the 14 million people in the UK with a Twitter account? If you're not and you own a small business, you could be missing a very profitable trick.
The average Twitter user follows five businesses and 77% of people using the platform say they feel more positive about a brand when their tweet gets a reply. Even more importantly however, is the fact that 54% of users say they've taken action after seeing a brand mentioned on Twitter and companies using the site for customer service see a 19% lift in customer satisfaction.
Whether you already have an account or those stats have convinced you it's finally time to bite the bullet, ensure that Twitter Analytics makes up an important part of your social media strategy.
In this piece, I'll cover everything you need to know including why using Twitter Analytics is important, how to use it and which metrics you should be measuring.
What is Twitter Analytics?
A built-in platform on the site which offers free Twitter analytics, this function enables you to analyse your tweets, understand your followers and crucially, determine how the content you're sharing is helping to grow your business.
Through the dashboard you'll be able to access high-level statistics including:
Your top-performing tweets
How many times users have seen, retweeted, liked and replied to your posts
Impressions, results and cost-per-result for any ad campaigns you've run
Conversion tracking (what people do after clicking on your ad)
Who the biggest influencers in your network are
How many tweets, impressions, profile visits and followers you've received within a specified timeframe
Engagement rates
You can also access insights into how individual tweets are performing including impressions, engagements, likes, link clicks and retweets by simply clicking on the graph icon on an individual tweet within your feed.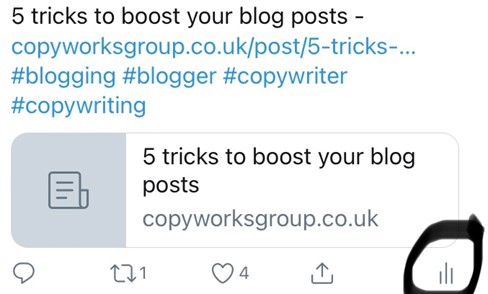 Through Twitter Analytics, you can also use the Quick Promote function which allows you to share and promote chosen tweets to targeted audiences.
Why is Twitter Analytics important?
Tracking the results of any marketing campaign is important. Without doing this, you have no way of knowing what's working, what isn't and whether or not you're getting a good ROI. Ultimately, it helps you to make better marketing decisions because you're armed with data which highlights your strengths and weaknesses.
As well as providing valuable information about your social media performance, Twitter Analytics offers several helpful insights including:
Patterns: do your Tweets perform particularly well on certain days? Do some topics get more likes than others? If you can identify certain times and days your audience is more responsive and topics they love to hear about, this will give your social media efforts a real boost
Follower growth: this is a good indication of how well received your content is. If you're gaining lots of new followers, this is a great sign. If you never get new followers however, it probably means that people don't find your content very engaging
Video content performance
Conversion tracking: find out exactly what someone does once they've clicked on your ad. How long did they spend on your website? Did they complete a call-to-action? Did they make a purchase?
Tweet analysis: the tweet activity function is a very important one because it allows you to analyse impressions and engagements. Your overall engagement rate is what tells you how your audience is responding to your content. A low engagement rate signals that people aren't resonating with your content. A good engagement rate, however, says that people find your posts interesting, relevant and worthy of a like, retweet or comment. What's more, the higher your engagement rate, the more likely new audiences are to discover your posts. Find out more about why engagement rates are important on social media here
How to use Twitter Analytics
Learning how to use Twitter Analytics is very simple which is great news for those who aren't overly familiar with the platform.
Simply head over to the Twitter Analytics page or you can access it from your profile by clicking on the three dots on the left menu.

From here, click 'analytics' and you will be directed straight to your dashboard. At the moment, this function can only be accessed on a desktop or laptop.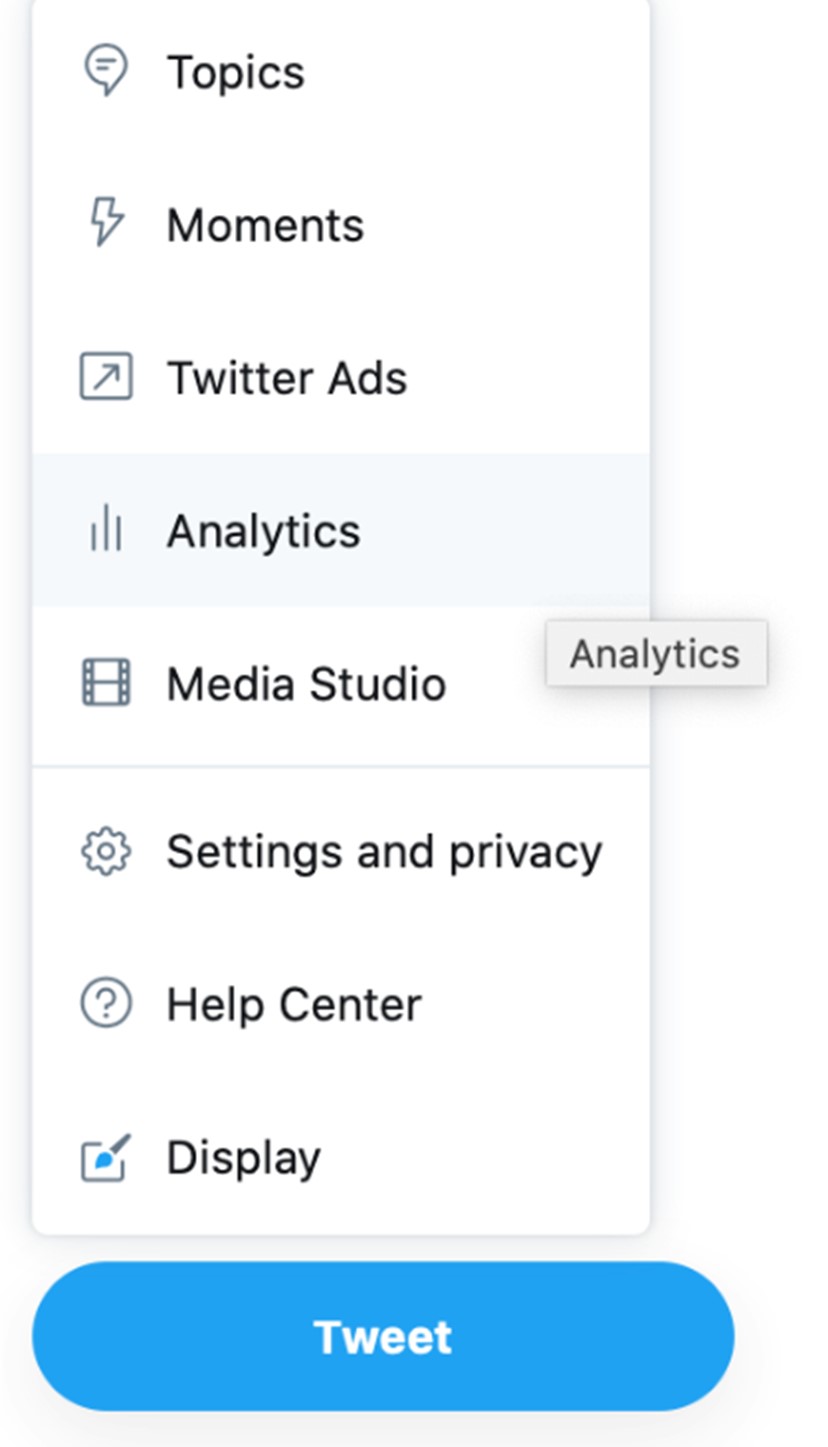 Here you will be able to see your dashboard which gives you lots of helpful data from the last 28 days including tweets, impressions, profile visits and followers. If you scroll down, you will also be able to see your top tweet and your overall summary from previous months.

At the top of the page, you will also see a 'Tweets' tab. If you click on this you will be presented with a more in-depth analysis of your tweets including impressions, engagements and engagement rate. You can select any date range for this which is great for comparing your tweet performance over the last month, quarter, six months or even the year.

If you post videos to your page, you'll no doubt want to know how they're performing too. If you click on 'more' and 'videos', you'll be able to see everything from which videos you've posted to how many views they've had, how long people spend watching them and what the completion rate is.
If you run Twitter ads, head over to 'conversion tracking.' Here you will be able to measure the performance of your ads, track what people are doing after they've clicked on your ad, tailor messages to certain audiences based on their behaviours and use the data available to you to optimise your content for conversions.
Some additional features which come with Twitter Analytics include the date range and export data features. You will find these in the top right corner of the Tweets tab.

The date range tab allows you to view your tweet activity over a selected period. You can do this for the last seven days, 28 days or you can choose your own date range. Although you can only look at all your data for 91 days at a time, you can go back as far as you like.
As shown in the images above, you can then quickly and easily see how many impressions your posts earned within that date range, what your top tweets were, the replies you received, engagements and any promoted posts you sent out.
You may also find it helpful to export this data. This is great for sharing information with others, producing reports and storing your analytics information somewhere you and others can access it (such as a shared drive). It also provides additional information you can't see on your dashboard including user profile clicks, hashtag clicks and lots of information for promoted tweets.
The added advantage of this is that when you download this information, all your metrics are displayed in a ready-made table containing all the data you could possibly need.

Which metrics should I be measuring in Twitter Analytics?
As you know, Twitter Analytics is a very useful tool for measuring the success of your tweets and ads. In order to make sure you're truly getting the most out of the platform however, which metrics should you be paying attention to?
1. Top tweet
Twitter tells you which tweet earned the most impressions in a given month. As this is the post which reached your largest audience, it's a perfect example of what you're doing right and the type of content you should be posting more of.
There's a lot you can learn from your top tweets including:
The time of day you posted. It's been reported that 92% of all engagement with tweets happens within one hour of posting so getting your timing right is crucial
The hashtags you used. Using hashtags will get your content seen by new audiences. Using targeted hashtags specific to your content will get your posts seen by the right audience. Find out how to use hashtags effectively and why they play a key role in your social media success
It's safe to assume that your tweets with the most engagement are the ones which resonated with your audience most. Focus on sending out more posts like this and you may also want to consider Quick Promoting these tweets to further extend their reach
2. New followers
Growing your social media followers organically is often a slow process for small businesses.
Follower growth is an important metric to keep an eye on however because if you're losing followers, it means your strategy really isn't working. Perhaps you're posting sporadically, you're rehashing the same old content, you're not showing any personality or you're not engaging with your audience.
On the flip side, maybe you had a week or month where your followers suddenly shot up. Look back at your posts over this time and review your activity, perhaps you were promoting your account away from social media. Whatever it is, this is what you should be doing more of because it's a sign that your Twitter strategy is working.
3. Engagement
Engagement is how many times people have interacted with your tweets. This can be anything from a like to a comment or retweet. The higher your engagement rate, the better. If you're not getting good engagement, you're talking to a void but if people are responding, you know they find what you're saying helpful and interesting.
It's important to track your engagement rate over time. This allows you to identify a pattern when it comes to the type of content which inspires your audience to engage with you and what typically tends to fall flat.
4. Impressions
This tells you how many times users saw your tweet. As part of your content calendar, keep a note of the time you send out each post. Aligning this to your impressions will help you to identify the times your audience is online and are most likely to engage with your content.
If you've noticed that certain posts have received more impressions than you have followers, this could be a sign that non-followers are finding you. This is likely to be through a retweet, comments or the hashtags you've used. Focus on sending out more of these posts because they're working well.
5. Link clicks
Keeping an eye on link clicks is a good idea because it shows how many people have clicked through to your website and also gives you an indication of the type of content your audience is engaging with.
Say you regularly post links to your blogs for example, by monitoring link clicks, you'll build up a picture of the types of blogs people are more engaged with. When someone clicks on a link, it's because they typically want to find out more information so you can also use these insights to understand which products or services people might want to hear more about. In time, this will help to form the foundation of your social media schedule because you know to tailor your content based on what gets results.
6. Videos
With video becoming increasingly popular, many brands are choosing to promote their products and services through this type of media. Twitter Analytics allows you to track your video activity and will tell you everything from how many views you've received and how long people spend watching your videos to what your completion rate is.
Your completion rate is the total number of completed views divided by how many people started watching your video. This is an important metric to monitor because it's a great indication of whether or not people find your content engaging. If your completion rate is low for example, this means that few people are watching until the end of your video. If this rate is high however, it means that people are staying engaged and watching until the end.
Here are some great tips for creating marketing videos on a budget.
7. Twitter Ads
If you choose to run ads on Twitter, it's very important to track their success because you need to ensure you're getting a good ROI. You will be able to see how many impressions your ad received, cost per result (CPR), engagements, engagement rate and most importantly, conversions.
These metrics are essential for determining whether or not your ad is delivering the desired outcome for your campaign. This may, of course, vary from campaign to campaign. If you've just created a new landing page for a particular product you're pushing, clicks might be your main goal in which case you'll monitor link clicks closely. If you want people to download a white paper from your website however, conversions are likely to be your top priority.
8. Top Mentions 
Within your Twitter Analytics home dashboard, you can also find number of mentions and top mention. This will give you some insights into how many times your business is being mentioned and tagged and also which of those tweets received the highest number of impressions.
While the details of what these mentions are can be limited in Twitter Analytics, you can see all your mentions by heading to your notifications within your feed/account on your desktop or laptop. From here, simply click on mentions and you'll be able to see everyone who has tweeted you.

It's very important to keep an eye on these metrics because if a potential or existing customer has taken the time to engage with your brand, they'll expect a response. You can also spot any trends in the number of mentions your brand is receiving, for example you might be able to align a sudden peak to a new product launch.
The great thing about Twitter Analytics is that even though there's so much helpful information available, it's incredibly user-friendly – even for those new to the platform. By exporting your data into an Excel file, you can also easily compare results of all your campaigns over the space of days, weeks or months.
For more tips and advice to help you get the most out of your Twitter account, have a read of 'Are Twitter ads worth using to grow your brand?' 'How can I use Twitter to drive more people to my website' and '9 ways small businesses can use Twitter.'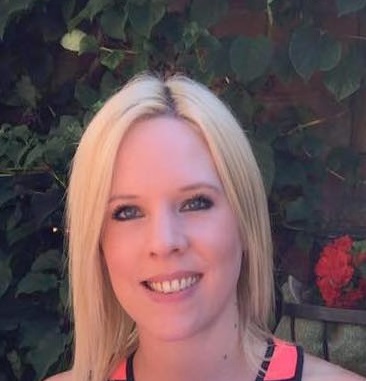 After completing her degree in Journalism, Monique began her career at a digital marketing agency. It was here she discovered a passion for online marketing with a particular focus on content creation for the web. Six years ago Monique set up her own copywriting business, Copyworks Group, which specialises in creating content for websites, blogs, newsletters and social media pages.
Read full profile