Online reviews are a huge factor in the consumer decision-making process, with an estimated 86% of consumers reading local reviews to decide if a business is any good. But not only do they help with your online reputation, they also go a long way to improve your visibility in search rankings online.
Some quick stats:
95% of people aged 18-34 read reviews before buying from a business
Consumers read an average of 10 online reviews before feeling able to trust a local business
40% of consumers only take into account reviews written within the past 2 weeks
57% of consumers will only use a business if it has 4 or more stars
80% of 18-34 year olds have written online reviews – compared to just 41% of consumers over 55
91% of 18-34 year old consumers trust online reviews as much as personal recommendations
89% of consumers read businesses' responses to reviews
Reviews can feel like something you have no control over; after all, you can't review your own product or service, nor can you make someone rave about you online.
That said, there are things you can do to encourage your customers to leave you a review. This, the UK Domain's Ultimate Guide to Online Reviews, will show you why your business needs good reviews, what you can do to get them, and what you can do to limit the damage of a negative one.
In this article:
You can also check out this #asktheukdomain video for an introduction to the points covered in this article: 
1. Why online reviews are so important
Online reviews can be one of the most important ways to drive potential customers to your website. If you're already spending lots of time and effort on online marketing, then you'll know that efforts often take a while to come to fruition. Reviews can give potential customers, as well as search engines, an instant indication of the value of your product or service.
Improve Local SEO ranking factors
Reviews are estimated to make up to 10% of the ranking factors in Google. Moz's 2018 Local Search Ranking Factors demonstrate that organic local search gives a 6.47% weight to customer reviews, and this rises to 15% for local pack/finder ranking factors.
Local pack and local finder are local search page displays that show the pins in maps of local businesses. Local 3-pack means that no more than three results will be displayed, but local finder will display more. Given that customer reviews account for 15% of factors making up your visibility in local pack/finder ranking, the importance of acquiring good reviews among local businesses should be high on any SME's agenda.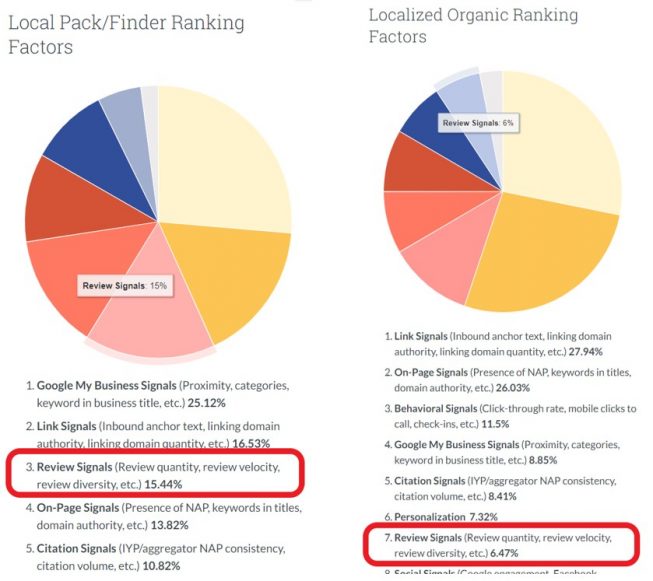 Help long-tail keyword search
If you're already spending time on keyword research, then reviews are an efficient way of matching content against consumers' real search enquiries. For example, if people are searching for "the best inexpensive spa treatments in Nottingham", then your reviews may include some or all of those keywords to help match the search enquiry to your website.
Produce more user-generated content:
Given how search engines like regular new content, reviews are an easy way to garner new descriptive content about your product or service. And, because it's user-generated, it's likely to be most relevant to your other customers' search enquiries.
Increase click-through-rate (CTR): 
Not only will reviews help your business appear in search results to begin with, but people are more likely to click on your site link if you have visible yellow star ratings in your search listings. In turn, a high number of good star ratings combined with improved CTR will demonstrate to Google that your business is worthy of being displayed higher up in search rankings.
Drive brand reputation:
Gaining trust and credibility online is easier said than done. The internet is a competitive marketplace and getting your brand to stand out above your competition requires a concerted effort. But with more people turning away from traditional advertising, towards social recommendations and review sites, more and more businesses are using online reviews as the first line of their reputation management.
In fact, according to BrightLocal, not only do 86% of consumers read online reviews before making their choice, but 91% (aged 18-34) say they trust online reviews as much as personal recommendations.
In a world where reviews and recommendation are the driving force of consumers choice, investing time in a review strategy is time well spent. 
2. Types of online review
Solicited reviews
Asking for reviews is a grey area. Some brands unethically pay for consumers to leave a positive review. And whilst there's no law against this, Google and Yelp have started clamping down on companies "bribing" customers for reviews.  
However, many brands quite reasonably prompt their customers to leave them a review if they've enjoyed their service or product. And overall there's nothing wrong with asking for a review if it's done in an honest and open way.
Unsolicited reviews
These are reviews that your customers voluntarily give you if they've had a good – or even bad – experience of your brand. Ideally, you want to be getting the majority of your (good) reviews without even asking for them. This way you know that your product or service speaks for itself, and you have genuinely happy customers.
Positive unsolicited reviews are a great boost to your brand reputation. They demonstrate that your customers have received such a good experience that they feel moved to share that sentiment online. Conversely, getting a bad review can be damaging, although we'll talk about how you can make the best of a bad review later on.
So where do people leave reviews?
Google Reviews
Google Reviews are the most notoriously difficult reviews to obtain. For a start, your customer needs a Google account if they want to leave you a review.
Yet, Google reviews are probably the most effective for your online profile. When your website comes up in search, it will appear in the right hand "Google+ Box" along with your average star rating and reviews. It's an instant clue as to why consumers should click on your site.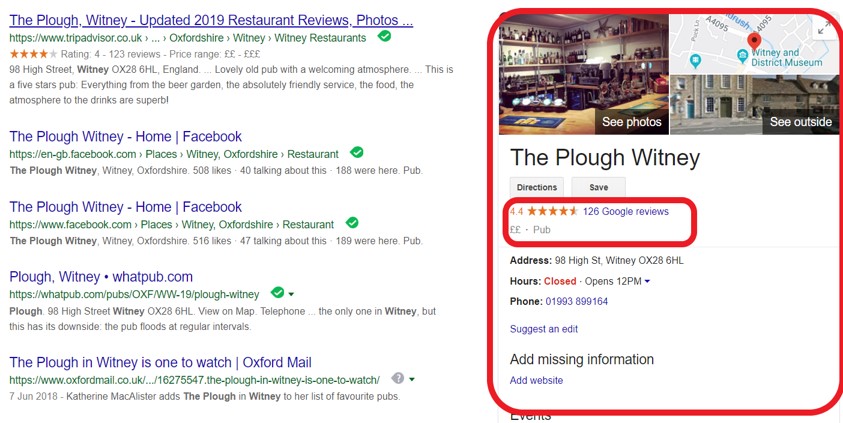 Before you can earn Google reviews you'll need a Google My Business account associated with your business. For more on how to set this up, read this Google My Business guide.
Once you're set up with Google My Business, you should start appearing on Google Maps, and in the Google+ box in the search results page. Customers will then be able to leave a review by clicking into your listing.
Social reviews
Facebook is the most prominent social reviewing platform both for B2B and B2C businesses.
The Facebook review system has changed slightly over the last few months. Whereas before, customers would leave a starred review and a comment, now they get to choose whether they want to "share what they love about a Page" or tell a business how to improve, by clicking Yes or No respectively on the 'Would you recommend' option.
If they clicked Yes, customers are asked to write a note about what they'd recommend about the company; or if they clicked No, they can suggest ways a business can improve. They can then decide whether to publish it publicly, to their friends only, or just so that only they can see it.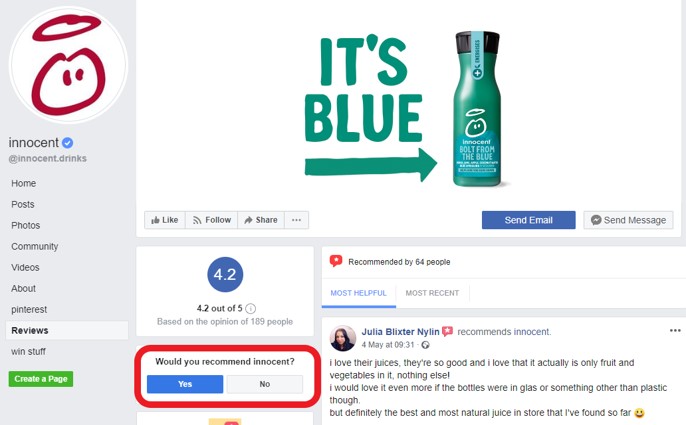 Third-party review websites
Signing up to third-party review sites is a good way of broadening the net. They're a good way of complimenting the feedback you're achieving on your first-party sites (your own website, social media etc.), but also give your brand more exposure around the web. 
These can be quite broad websites or niche, industry-specific platforms.
Defining the right review platforms is the first step here, as there is an abundance out there to choose from.
General review sites
It's worth aiming for the big three to start with: Google My Business (which we've already discussed), Yahoo, and Yelp, all of which will help to get your review scores seen in search results.
Industry-specific review sites
Niche review sites such as TripAdvisor for the service industry or MyBuilder for tradespeople, are a good way of targeting your particular customer base. If you're not sure of which review sites are relevant to your business, then a quick Google search of "[industry] + reviews" will bring up some results.
For a rough guide, and this is by no means an exhaustive list, I'd suggest the following:
Food and drink: TripAdvisor
Travel and hospitality: Air BNB, TripAdvisor, Booking.com, Expedia, Hotels.com
Property: Home Away
Cleaning: UK Cleaning Company
IT/Computers repair: Computer Repair Companies, Computer Repair Maintenance UK
Weddings: Guides for Brides, The Wedding Planner
Trades: MyBuilder
3. Planning your strategy
Before you start acquiring reviews, it's worth spending some time planning your objectives and how to go about achieving your online reviews.
Firstly, outline your goals and how you'll measure them. For example, would you like to see how reviews help to improve traffic to your site overall, or would you like to focus on a few of your best products and see how reviews affect sales?
Next, you'll need to identify which platforms you'll use to encourage reviews (your own product pages, email marketing, third party review sites, social review sites).
You'll also need to plan time to respond to reviews and consider how you'll show off your reviews on your website. Be realistic about the extent of your activity and know when not to ask for a review.
You might also want to consider how you can automate the process, which we'll cover further on, and how to monitor your online reputation.
4. How to get online reviews
Now you know what you want to achieve from your online reviews and the platforms consumers commonly use to share their feedback, how can you go about encouraging your customers to leave a review? 
Make it clear you're open to reviews
If your customers don't know that they can review you online, the chances are they might not think to do so.
Including a reviews section prominently on each of your product pages is a good start; not only does it inform potential customers about what others thought of the product, but it will let them know that they can leave a review of their own should they purchase.
You can also make it clear where your customers can review you, whether that be on Google, your Facebook page and/or any other third-party review sites you're signed up to.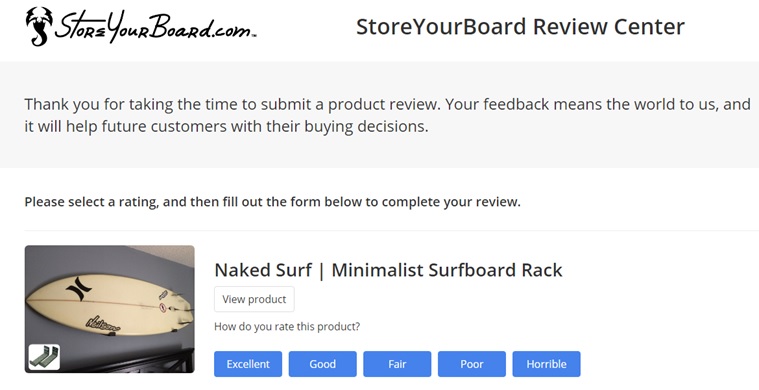 Ask for reviews 
"If you don't ask, you don't get", as the saying goes. You'd be surprised how many customers would be willing to leave you a review if you ask them:    
On social media
If your business is active on social media, then it's a great place to ask nicely for reviews every so often. Don't forget to share the link to the page on your website where they can share their review – otherwise they may simply leave a Facebook comment or Twitter mention, which won't help your website ranking.
On email
If you're an online shop, you can ask for a review once an order is placed.
When a customer has completed a purchase from your store, make sure the automated confirmation email or thank you page asks for a product/service review. You can send a follow-up email two or three weeks after they've purchased (with the right permissions), asking them how they've been getting on with your product and encouraging them to leave a review.
Take care to set up your campaign correctly, to avoid bombarding customers who've already left a review. Platforms such as Mailchimp can be integrated with e-commerce sites like Shopify, and will guide you through this process.
To make this process even easier, you can include in your email a Google review URL which takes your customers to the review page and pre-selects the 5-star option.
On your website
Adding a review page or a button to your website will also help to encourage reviews. A simple button or footer link that takes your customers right to the Google Review URL will make this process super-easy.
Sign up to third party review sites
We've already discussed the different websites you can sign up to in order to achieve reviews. What's important is that your customers know that they can review you on these sites.
One tip is to keep a spreadsheet of all the sites your business is connected with, and make sure that you're checking them regularly to ensure your details are correct.
You then need to make sure that when your customers make a purchase or receive a service from you, you let them know -and direct them – to the sites.
Obviously, if they're making their purchase via the third-party site, on Booking.com, for example, they'll be asked to make a recommendation automatically by Booking.com.
Incentivise reviews
If reviews are hard to come by in your niche, then a good tactic to employ is to incentivise reviews.
Offering discounts, coupons, or money back vouchers is perfectly acceptable when a customer has made a purchase or received a service.
However, caution must be taken to ensure you're not seen to be shamelessly bribing your customers. A good way to demonstrate your neutrality is to make sure you also reward those customers offering you negative feedback.
Make it as easy as possible to leave a review
Keeping the review process simple is important, because if it takes too much time, it's likely that only the unhappiest customers will make the effort. Try to keep the number of questions down to a few important ones, and avoid complicated procedures or too many clicks.
Some companies simply email a set of 'yes' and 'no' buttons or a smiley, sad or neutral face against a question such as "were you happy with this product?". When the customer clicks one of these buttons, they're taken to a link with more questions or a comments box that they can leave more feedback if they want to.
Once you've started getting a few more reviews, you'll probably find that they grow organically; customers will see others leaving reviews and may feel more inclined to leave one themselves.
Automate the process
Asking for reviews can take up a lot of time out of your day, but thankfully there are options for automating the process.
Reputation management tools such as GetMoreReviews, LocalClarity, Grade.us, Broadly and Feefo all integrate with your site to help you acquire reviews either directly to your site or via third party and industry-specific review sites. They also allow you to monitor and manage your online reputation and display your reviews on your site.
You can also simply automate the follow up email you send your customers after they've made a purchase from your site. Mailchimp, for example, can be integrated with your online shop and lets you set up automated work flows to send thank you and follow up emails with requests for feedback.
Bring your physical reviews online
If you're also a bricks-and-mortar outfit, then good old-fashioned feedback slips can be handed to your customers, compiled and published on your site.
You can also encourage customers to go to your site and leave a review themselves. For example, each time someone buys from your shop or dines at your restaurant, hand them a card with the receipt, with a message along the lines of, "If you've enjoyed this product, we'd love to hear about it!" Include a brief explanation of how to leave a review, along with a short web address.
When not to ask for a review
Timing and targeting is everything when it comes to asking for reviews; getting it wrong can actually harm your online reputation.
If you're targeting everyone, not just your customers: Make sure you only notify customers with review notifications, rather than one-time visitors to your site.
If you've already asked twice for a review: A simple review request on a purchase notification email and a follow-up feedback request a week later would suffice. Email after email demanding feedback will deter customers from ever using your site again.
If you've left it too long: If you wait too long to ask for a review, then you're likely not to receive one at all. It's important to strike while the iron's hot and gather reviews as soon as a purchase is made, a service received, or a problem resolved.
5. Monitoring and responding to your reviews 
It's so important that you regularly monitor and respond to any reviews that customers leave you, not only so you can deal with any questions or concerns raised quickly, but also so you can make the most out of any positive feedback. 
Google Reviews
We've discussed your strategy for gaining reviews, so now let's clear up how to monitor and check your Google reviews.
On your Google My Business profile, navigate to Reviews on the left-hand menu. You will first have had to verify your business before you can proceed.

Here you'll find all your reviews. You can respond to them by clicking Reply and then Post reply when you're finished.
If you want to respond to reviews on Google Maps, enter your business name and click enter.
Scroll to the Reviews section of your business profile.
Next to the review, click Reply.
Your reply will appear below your customer's review on Google Search and in Google Maps under Response from the owner. This way, when your business shows up in search or Maps, consumers can see both your review as well as your response.
Facebook reviews
Monitoring your Facebook reviews is as simple as navigating to your Review tab on the left-hand side of your Business page and scrolling through your comments. Then you can choose to reply to your feedback, both positive and negative, as you see fit.
Third-party review sites
How you view and monitor your reviews on your third party listings is dependent on the platform itself. As a general rule, you'll need to set up an account with the platform when you sign up with them. You then need to log in and access your profile/management centre/dashboard when you want to respond to your reviews.
Taking TripAdvisor as one example:
Log in to your account, and navigate to the Management Centre by clicking on Your Business in the top right-hand corner.
Click Reviews in the top menu, then Respond to reviews.
Now choose the review you'd like to respond to, and click on it on the left-hand sidebar. Your reviews can also be filtered by date, title, rating, language and response status so you can easily find specific reviews.
Write your review in the box and click Submit when you're finished.
On TripAdvisor, you can also sign up to receive notifications every time someone writes a new review.
To do this, go to the drop-down menu by your username in the top right of the homepage, and scroll to Subscriptions. Under Emails for Owners, make sure the Subscribed bubble is selected.
It's worth noting that once you've submitted your review response on TripAdvisor, you can't go back in and edit it.
As another example, let's look at AirBnb:
Go to Edit Profile when you're logged in to AirBnb.
Click Reviews
Select Reviews About You
Scroll to find the review you want to respond to
Click Leave a Response and write your comment.
Tips for responding to your reviews
Once you've received a glowing review, then the job's done, right? Unfortunately not. In fact, not only is it important to respond to good reviews because it's polite, but it's also a good opportunity to engage further with your customer. Not only does it let your customers know that their feedback is appreciated, which only helps to build your trust with your customers, but you can use it to go further to secure their loyalty.
Thank your customer for the review: "Thanks for your glowing review! Sophie's Cakes really appreciates your feedback."
Use your keywords in your response: "Here at Sophie's Cakes, we are glad to know that our customers find our pastries as yummy as we do".
Subtly do a bit of marketing: "Did you know we have a new range of cupcakes, which you might be interested in?"
Invite the customer to take another action: "When you're next here, why don't you try our new cupcakes and a cup of coffee?"
6. Embracing negative reviews
When someone leaves a bad review it's almost impossible not to take it personally. But, in fact, negative feedback can be seen as an opportunity to reach out to your customers personally and learn from your mistakes. Not only are they a chance for you to take on criticism from those on the other end of your product or service, but also to demonstrate your customer service excellence in how you respond to these individuals.
What if your bad review is unfounded? Hootsuite argues that you still must issue an apology. You might even consider offering a discount for further transactions. Responding to negativity with further negativity can do a huge amount of damage to your brand reputation, whereas the odd 1-star rating, when dealt with correctly, will have minimal impact to business.
Here's a quick step-by-step approach to your response:
Take some time. Don't rush your reply in the heat of the moment, but take a step back and consider your response objectively.
Investigate the problem: Don't take the customer's word for it. Instead, do a little research into the issue and get your facts straight before responding.
Apologise, even if you're not in the wrong: "We're sorry to hear…."
Keep your response calm. Avoid rushing in and being either defensive, or overpromising solutions.
Offer a practical solution: "We'd like to do whatever we can to address the problem"
Try to take the conversation offline: "We'd like to continue this conversation, so would you mind sending us a quick email?"
7. Showcasing your reviews
Once you've collected some feedback from your customers, it's time to showcase all the great things your customers are saying about you.  
Designate a part of your site
A good way of showcasing your reviews is to designate a page to your feedback, and direct customers to it. Customers can then see what other people are saying about you, but also leave feedback of their own.
According to Moz, the line between third party reviews and business-collated testimonials is increasingly becoming blurred. As web users are growing more discerning in their need for transparency, technology is enabling a better integration between review sites and your business website.
As such, an example of best practise for a review page, should look something like this: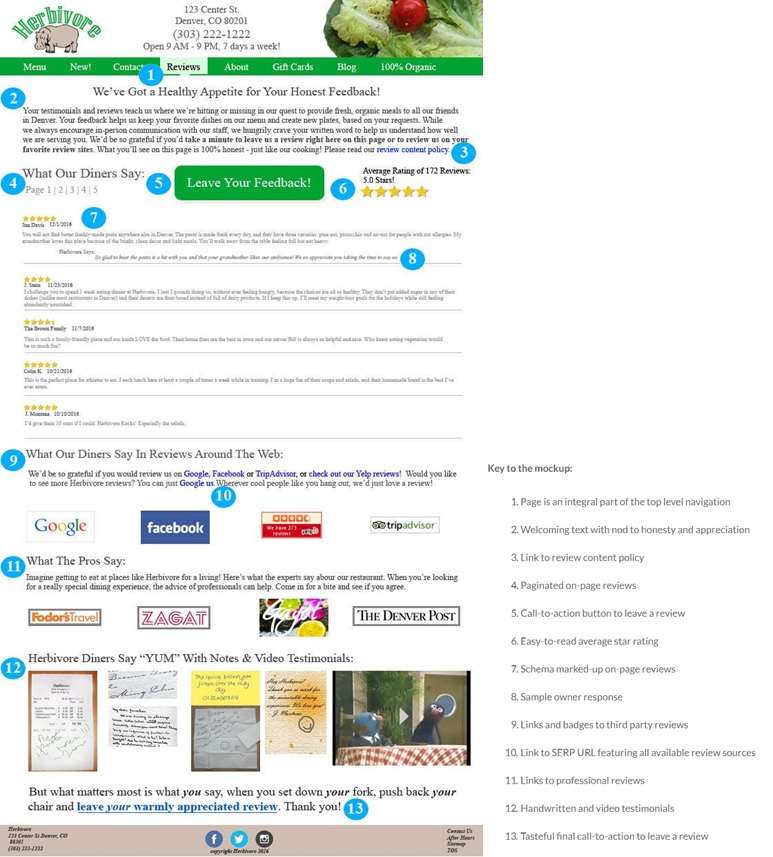 Add rich snippets to your product pages 
Rich snippets are a form of structured data which allow you as a website owner to provide specific information about your web content for search engines to display. If you employ rich snippets on your product pages then you'll be more likely to get your reviews seen in search results.
It's worth noting that there are some caveats for when you can and cannot mark up third party reviews, so we recommend you check in with this guide from SchemaApp.
read this guide for more general advice on setting up rich snippets.
Display reviews on your product pages
Particularly relevant to those who run an e-commerce business, showcasing reviews on your product pages is a great way to display thoughts and feelings from real customers at the stage where people are considering adding your products to their cart. 
Use reviews as part of your marketing
With the right permissions, using content generated by real customers through reviews within your marketing collateral can be a great way to not only gain more content but share real feedback with potential customers.
Quoting your reviews and customers within an email marketing campaign alongside a product showcase can help encourage recipients to click through. Or creating some graphics to share across social media quoting some great feedback can be a good way to get it seen by more people. 
8. Tracking your conversions against online reviews 
As part of your initial planning (see point 3), you will have thought about your objectives and how to measure them. For example, you might want to see how reviews might gain you more web visitors overall, or you could hone in on one or two products and see how reviews affect their sales.
Simple Google Analytics tracking will allow you to gain a good comparison as to how reviews are affecting your business. Taking some metrics before you even start out gaining reviews will give you a baseline from which to work. You can then report against these on a weekly or monthly basis to assess your progress and tweak accordingly.
Some ideas about what to track:
Page views of your top three products
Goal completion of your top three products (i.e. numbers of purchases)
Overall visitors to your website
Referrals from review sites such as Yahoo
Time spent on a given page (a good indication of customer engagement)
For more detail about setting up tracking, Moz has this helpful guide.
9. Your toolkit
Google Reviews: Google My Business
Social review sites: Facebook Business page
Third party review sites: Yahoo, Yelp, etc. 
Industry-specific review sites: e.g. TripAdvisor 
Automation and monitoring tools: e.g. GetMoreReviews, LocalClarity, Grade.us, Broadly, Feefo
Tracking your success: Google Analytics
In summary
Today's competitive online marketplace means consumers are increasingly swift in their decision-making. As such, they rely more and more on peer reviews and star ratings to help them chose quickly from which company to make a purchase.
Alongside this, search engine ranking factors give a great deal of credence to online reviews when they decide how well you perform in search results. Gaining good reviews helps to boost your SEO, and enables you not only to be found online, but get click throughs from potential customers.
For these reasons there's overwhelming evidence that your company should make the most of your customer feedback. By following this tips and tricks, your company will get a real head start in the busy online marketplace.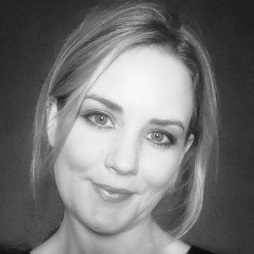 Charlotte Jenkins is an Oxford-based content marketer. She has several years' experience in content writing, editing and digital marketing, helping clients communicate their businesses online.
Read full profile