Blogging is one of the most popular ways to increase organic traffic to your website. However, due to its popularity, it is becoming more difficult to write posts that actually rank well on search engine results pages, and therefore bring in long term traffic.
This increased competition for search engine visibility means that for an article to rank well organically it needs to:
Answer questions that people are frequently searching online
Address a topic that is not already overly saturated with existing content
Contain all the information that Google sees as necessary to exhaustively cover a particular topic
Having these three points in mind when writing an article increases your chances of a post receiving search engine visibility and therefore bringing in consistent traffic for years to come.
The best way to ascertain the information needed to write a post with these factors in mind is to enter your topic into Google and take note of certain pieces of data that the search engine gives to you.
Here is a step-by-step guide on how to do exactly that.
How to come up with high demand content topics
Given that most people find blog posts through search, you will get far more traffic to your articles if you write about a topic that is regularly searched for.
Google is notoriously coy on giving away its search volume data, with even its own keyword tool only providing very rough estimates of monthly search volume.
The search engine offers the clearest glimpse on search volume through its "autocomplete feature". You can activate this feature when typing a keyword into the search bar on Google's homepage.
Google's auto-complete feature is based on actual search data. The data is far more regularly updated than in its keyword tool. This means that if Google predicts a specific search query from a broader topic, then it is likely that the predicted query has enough search volume to warrant writing a post about it.
To find topics to write about that have a sufficient amount of search volume, you should brainstorm a list of "broad topical questions" around your industry, type them into Google's search bar, and look at what the search engine predicts your search to be.
"Broad topical questions" are the most general questions that someone could ask an expert in a particular industry. The best way to come up with these is to imagine someone who is completely unfamiliar with what you do and think about the first questions they would search about your profession.
Let's use cyber security as an example of this. Here are some "broad topical questions" around this industry:
What is cyber security?
Cyber security tips
Why is cyber security important?
What are the best cyber security tools?
Quick cyber security improvements
It's worth noting here that "broad topical questions" are not necessarily questions in a strictly grammatical sense. Rather they are queries that people search.
As an example, here are the queries that Google predicts we may be asking when we type in the broad keyword: "cybersecurity tips"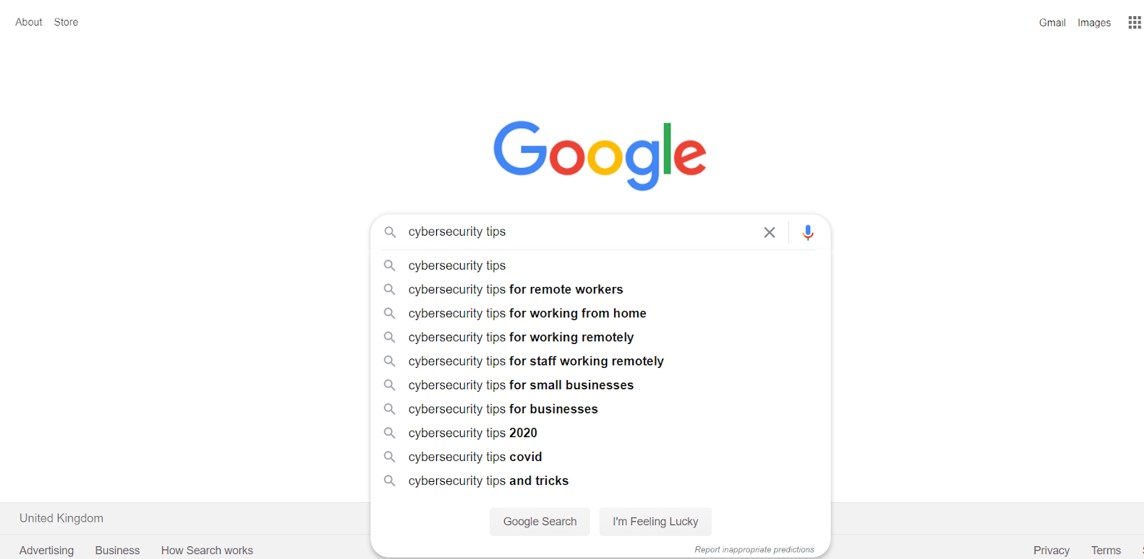 From this, we can see that there would likely be enough interest in a post about cyber security tips for remote workers, or on how small businesses can increase their cyber security.
When doing this, it is important to remember that Google's predictions are constrained by what you type in. Consequently, the longer your "broad topical question" is, the lower volume Google's auto-completed predictions are likely to be. This technique therefore works best when your original broad keyword is between two and five words long.
To get more blog topic ideas, try typing in a single letter after your broad keyword and see what Google suggests. Here are the suggestions for the term "cybersecurity tips e"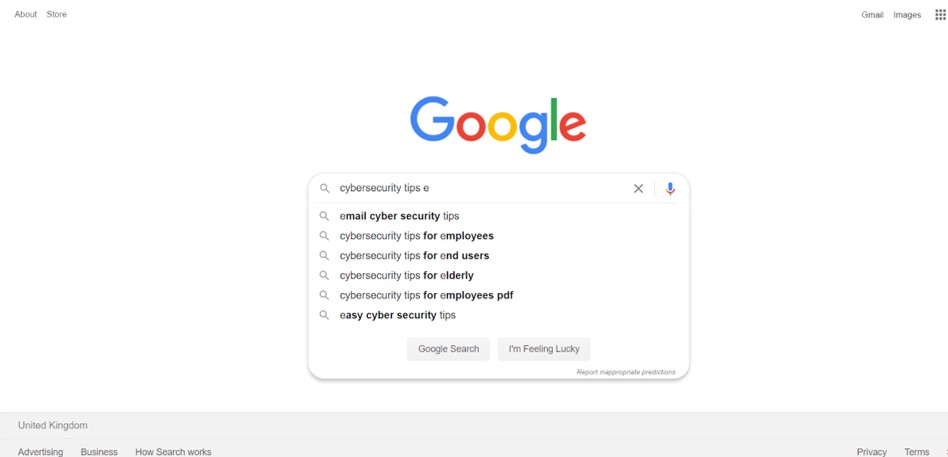 Here we can see that posts about email cyber security, a cyber security guide aimed at the elderly, and an article detailing how you can implement better cyber security through your employees all are likely to have enough interest to warrant being written about.
Not every suggestion Google's auto-complete feature gives to you will be a viable post, but through brainstorming a group of broad keywords within your chosen topic, and combining these with various letters and qualifiers, you should come up with a long list of well-qualified titles.
How to assess your chances of ranking: assess the other sites at the top of Google
Once you have found a selection of titles that you can trust to have a decent level of search volume, it is now time to work out your chances of gaining search engine visibility. This is done by seeing what is currently occupying the top places in the results page and determining whether you can create a better match for your chosen title.
Search engines rank articles based on two factors: authority and relevance.
In this context, authority can roughly be defined as how well established the brand behind a website is. An article about the current best running shoes from Nike's website will likely outrank a similar article from a local sports shop just based on the former's brand power.
Relevance can be thought of as how well an article answers a searched question. The importance of relevance means that an article on a very specific topic can outperform a more general article on a broader topic, even if the latter article is on a more authoritative site.
You can therefore evaluate the level of competition for any given blog title by searching that title in Google and seeing what appears on the first page of results, both in terms of the size of the websites displayed and the quality of answers to your searched question.
If the results are all articles that address the question posed in your search head-on, and that are on the websites of well-known brands, then your chances of getting organic visibility to your post are minimal.
In these instances, you need to narrow down your topic to something more specific. Compare the front page of Google for the terms: "Cybersecurity tips for small businesses" and "cybersecurity tips for brick and mortar businesses"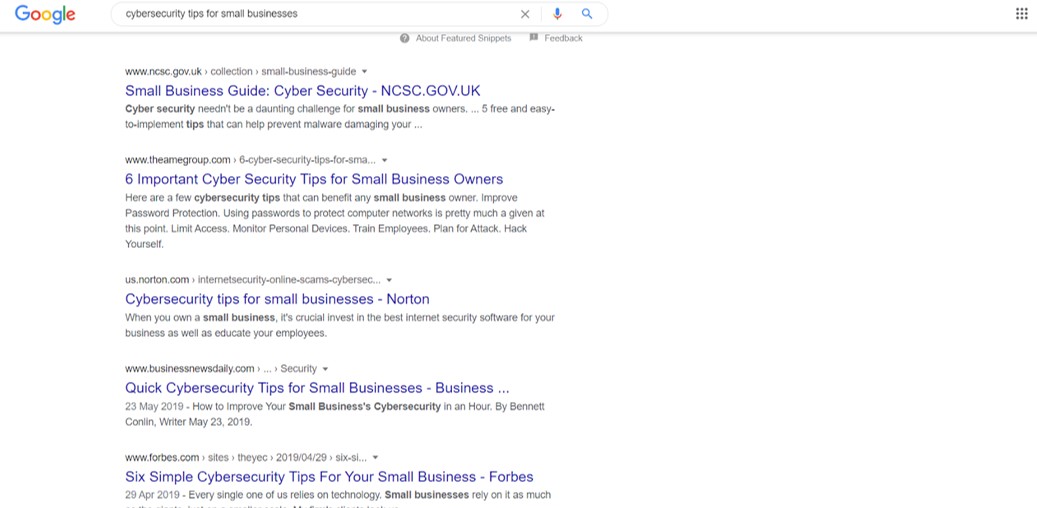 Top results for the term: "cybersecurity tips for small businesses"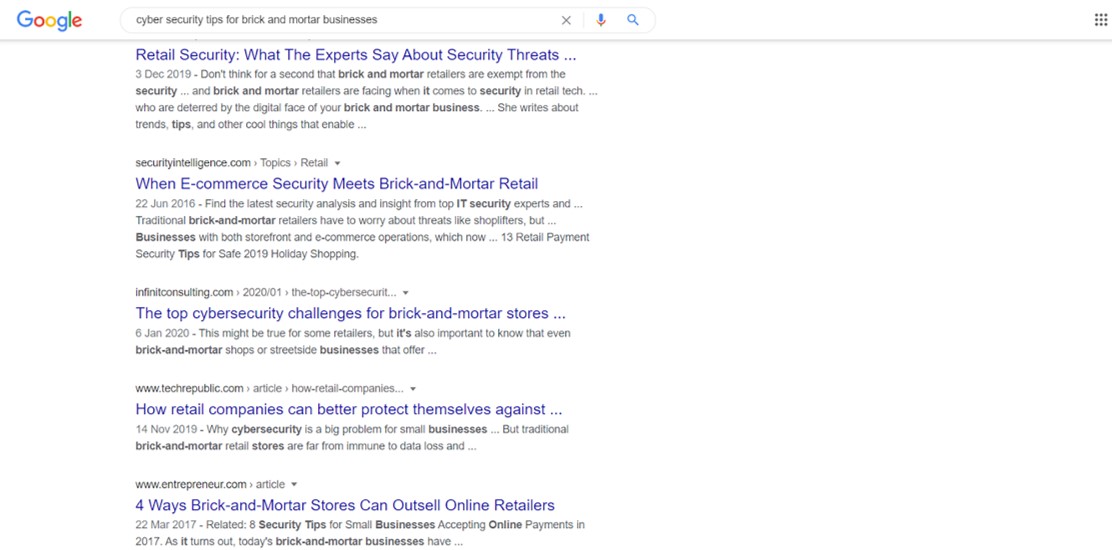 Top results for the term: "cybersecurity tips for brick and mortar businesses"
For the first query, every article is exactly about the title query ("cybersecurity tips for small businesses"). Unless your website has a huge amount of authority, or you can provide new, better insight on the topic at hand, your chances of ranking well are slim.
With the second query, some of the top-ranking posts are not directly about cyber security for brick and mortar businesses. This means that for the second instance there is some space at the top of Google's results page for a more relevant article.
Note that for the second query the top ranking sites are still sites with huge authority (techrepublic.com and entrepreneur.com for example) so your site will need to be of a decent size to compete, even with a far more relevant article.
This measuring of relevance and authority is not exact, but doing this quick research and keeping what competition you are facing in mind for each possible blog title will improve your chances of creating posts that end up with long term search engine visibility rather than wasting time on lost causes.
How to determine what should go into your post: look at what Google (and people) want
Comprehensive content tends to drive more traffic than less detailed posts. The best way to make your posts comprehensive is to answer related questions to your title topic in your post.
You can find these related questions by looking at the "people also asked" tab that appears near the top of the search engine results page when you enter a question based search.
Let's look at the "people also asked" tab for the search: "How to promote small business cybersecurity"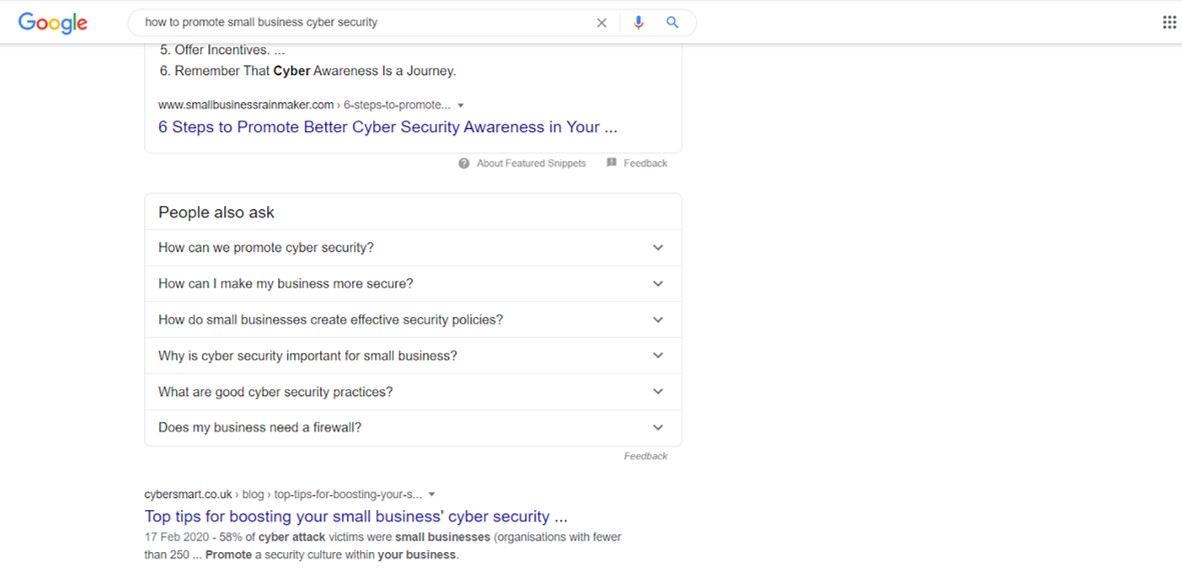 Although some of these questions are more or less repetitions of the original query, some are related but distinct from it. This includes the questions:
"Why is cybersecurity important for small businesses?"
"Does my business need a firewall?"
"How do small businesses create effective security policies?"
These are all excellent subheadings for your blog post. Much like with the auto-suggest feature, these questions are given due to the fact that they are regularly searched by Google's users, often in conjunction with the original query.
Therefore, if you structure your blog post around answering these questions you will create an article that answers the most common follow-up questions to your original title. Answering these follow up questions can lower your bounce rate and increase the time users spend on your page. Having a page with these types of user engagement metrics can also increase your search engine rankings.
Further ideas to include in your article are also given at the bottom of a results page, in the suggested keywords section. Here are the suggested keywords for the same query ("How to promote small business cybersecurity").
This tells us that including a cyber security checklist or plan template will also increase the relevance of our article to our target keywords.
Building your article around these subtopics and having these suggested questions as your subheadings can also increase your chances of ranking within the "people also asked" tab itself. This can dramatically increase the traffic to your post.
Conclusion
As we have seen, the data Google provides us when we search for our proposed blog topics and titles can validate the worthiness of a potential blog topic, and tell us what is needed to rank a post in Google.
Admittedly this method is not perfect, and a healthy dose of common sense is needed when using it, particularly when it comes to structuring your post. Repeating this technique with your subheadings to get a broader idea of what the main questions are in your topic as a whole is often a useful exercise and can give you a whole raft of future blog post ideas in minutes.