For small businesses looking to monitor and improve search engine performance, Google Search Console can be an invaluable tool.
It isn't necessary to sign up for Google Search Console to be indexed by the search engine and to appear in search results, but these tools offer a greater level of information and control over your website's search presence.
Any business with an online presence could benefit from setting up a Google Search Console account as it offers plenty of useful insights for relatively little effort. There are plenty of paid SEO tools out there too, some of which are very useful, but for small businesses this free tool direct from Google is likely to be one of the most beneficial.
In this article, I'll look at how to use Google Search Console, from getting started to some detail on what you can learn from the data on offer.
First, let's cover what Google Search Console is and how you can get started with the online tool. If you're looking to get stuck into the reporting, you can jump to the section here.
What is Google Search Console?
Google Search Console is a free tool from Google which acts as a dashboard for information about your site's search performance.
It has four main uses:
Content optimisation: Google Search Console tells you which search queries are driving visitors to your site and allows you to monitor search impressions, clicks and rankings for target terms
Ensuring content is indexed: URLs and sitemaps can be submitted for Google to crawl, which can speed up the process and ensure that key pages are indexed
Receive information and alerts from Google: Google Search Console is a means of communication with Google. You'll be notified of issues which may affect indexing and can respond to Google once fixed
Learn how Google sees your site: Understand how Google has indexed your pages, and how they work across devices
How is Google Search Console different from Google Analytics?
While there is some crossover between the information shown in Google Analytics and Google Search Console, there are some key differences.
Firstly, Google Analytics looks at more than just search performance, showing how a range of channels perform, looking at audience demographics, devices used to access your site, how landing pages perform and more.
Google Search Console is all about monitoring and improving search performance. While some of this can be done in the analytics platform, Google Search Console provides more detail and a wider range of information.
Broadly speaking, Google Analytics helps you to understand who is using your site, how they came to it, and what they do on site, while Google Search Console helps you monitor and improve your SEO performance.
Ideally, a business looking to improve online performance would look to use both tools together.
How to get started with Google Search Console
Google Search Console is free to use and relatively simple to set up.
Head to Google Search Console and sign up with your domain. There are two options here – one to view a range of URLs across a domain, the other to show URLs with a single prefix, https for example. The first option is for businesses with a range of domains (http, https, etc) so it is unlikely to apply for many SMEs.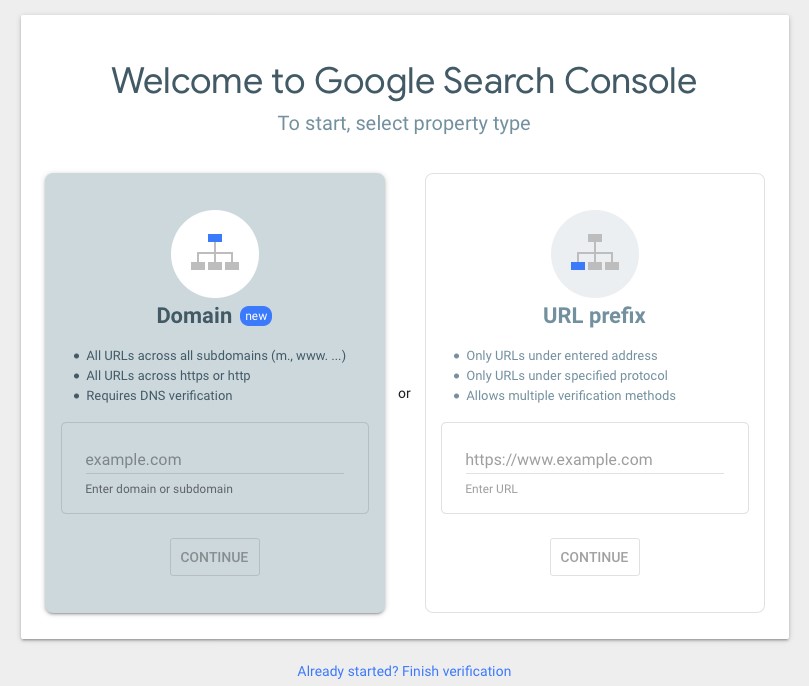 Once you have added your site, you need to verify it. This shows Google that you are the owner of the site and are therefore authorised to make changes and view information relating to the site.
You can verify the site in a number of ways:
Upload a HTML file to the site
Add a <meta> tag to the HTML of a page
Use the Google Analytics tracking code associated with your site
Add a DNS record in your domain name provider
Adding a sitemap isn't compulsory but can help Google to index your site more efficiently. It may seem complicated, but Google has a useful sitemap guide to creating and submitting sitemaps, and there are third-party tools to help beginners to complete this task.
Three of the most useful reports for small businesses
Once you've added and verified your site, or if you've followed these steps already, you might now be wondering how to use Google Search Console. To get maximum value, it helps to know what to look for, and some of the key functions of the tool.
Let's explore three of the most useful reports for small businesses. I've also added some information on nine additional reports you might find useful. 
Report one: Overview and performance
The overview shown on the homepage gives you a quick view across the various sections in Google Search Console.
This is a useful first port of call for businesses to keep an eye on performance. It's a good way to quickly check and see any possible issues across your website.
For example, the Performance report provides lots of detail, with a view of clicks and impressions over the selected time period, which is very useful for tracking trends in search performance.
You can view:
Number of clicks: To your site from search results
The number of impressions: This shows the number of times a URL from your site appeared in search results
Average CTR (click-through rate): This is clicks divided by impressions to show how likely people are to click on your results
Average position in search results: This gives a general idea of how well your site is ranking. It's useful, but it can be more important to get a handful of target keywords in the top positions rather than achieve a great average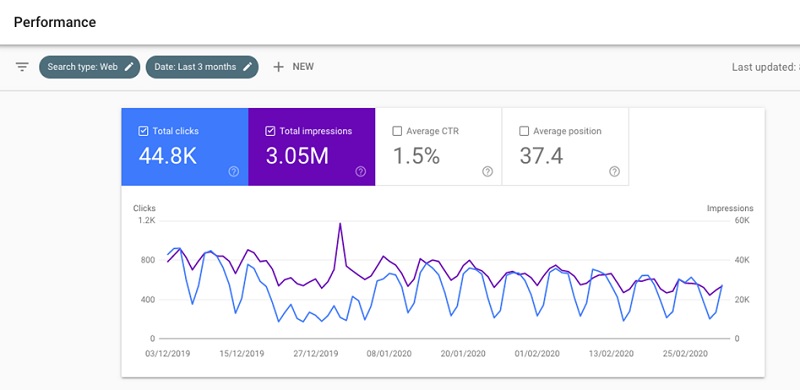 There's more detail to be found below, where you can drill down into the data.
Here you can view:
Queries: The top keywords sending traffic by clicks. You can see up to 1,000 search terms that have brought people to your site
Pages: The pages with most search traffic
Countries: The countries where most clicks are coming from
Devices: The number of clicks ordered by device
Search appearance: This shows how rich results such as video are performing in search results
Dates: This simply shows the dates in the selected time period according to the number of clicks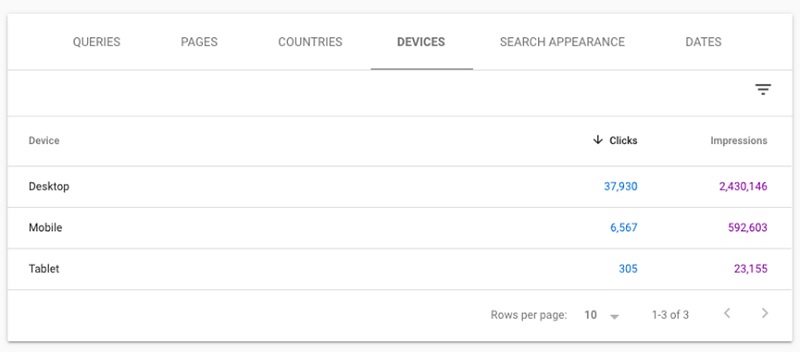 Report two: Mobile usability
The mobile usability report allows you to view any errors which may affect the mobile version of your site. With mobile being the fastest growing way to access the web, it's crucial that your mobile site performs as well as it can.
This matters for users, as usable sites will convert more visitors, but it's also key for Google, as mobile UX issues such as site speed can directly affect the way Google ranks your site in mobile search results.
This report points out usability issues that may affect mobile site performance, and identifies the pages affected, helping you to identify any issues which may impact ranking.
For example, it will point out pages with small text which is hard to read on mobile, clickable elements being too close together or pages with incompatible plugins.
The detail helps you to identify and fix issues which may be harming your conversion rates, before validating the fixes through Google Search Console.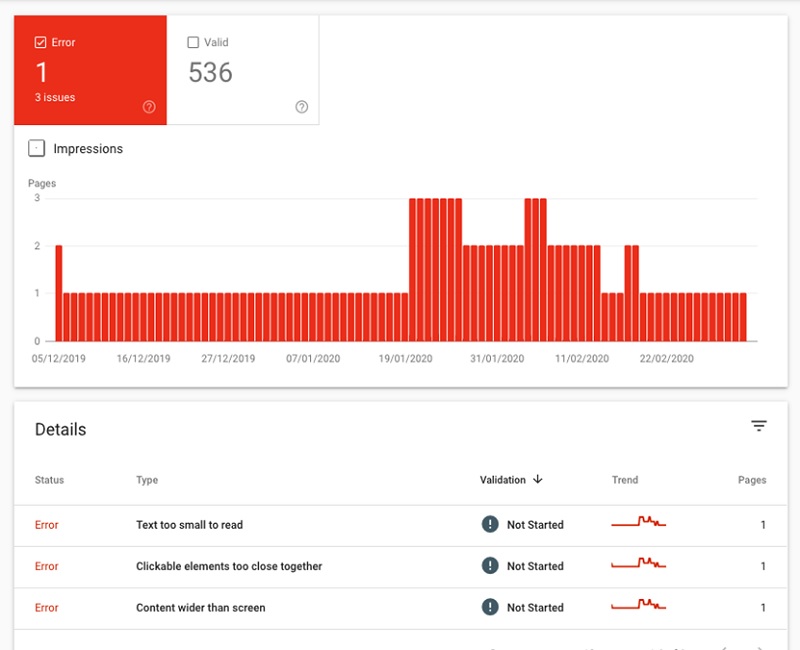 Report three: Links
This section has some fascinating data on links coming to your site, as well as how Google views the internal linking on your website. After all link building is a factor that impacts how Google ranks webpages.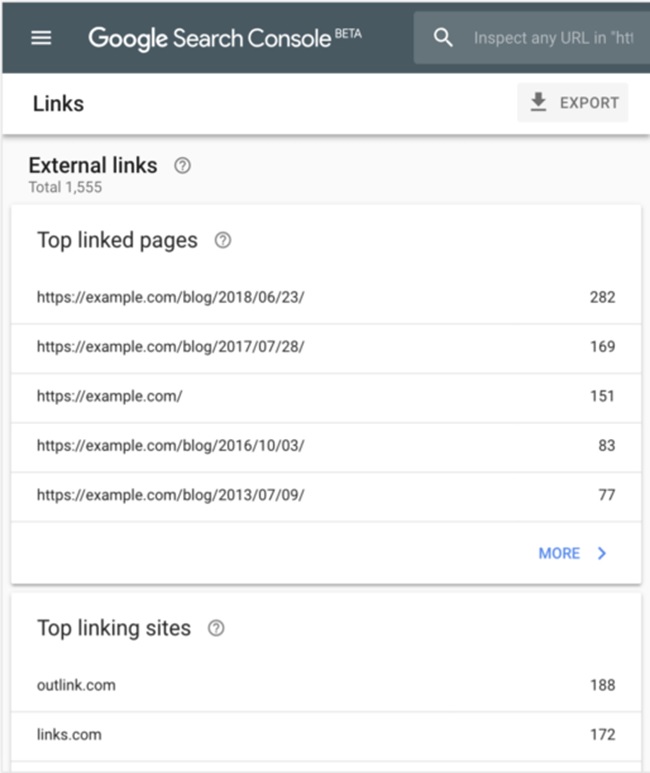 This report shows how many inbound links you have, the pages on your site which have attracted the most links and how many links they have. You can also view the sites which are linking to you, and the most common anchor text used in links to your site.
It's a great tool for monitoring and learning from SEO performance, and this is data that is hard to find elsewhere without paying extra for other reporting tools.
Using this data allows you to see how successful your content is at attracting links which is a big help with monitoring content campaigns.
It also shows you which sites are linking to your content. This can be useful for future content campaigns. If certain sites are indicating an interest in your pages, then they are likely to be a good target for future link building activity.
Want more? Other helpful Google Search Console reports and tools
If you want to explore further, Google Search Console offers a wide range of tools and information. Here I've summarised some of the remaining available reports.
1. URL Inspection 
This allows you to input any URL from your website so Google can run a check on it. It will check whether the URL is indexed and when it was last crawled, as well as showing any mobile usability or other issues which may affect indexing.
By indexing, we mean that the URL/page has been visited by the Google crawler (known as Googlebot) and its content has been analysed and stored in the search engine's index. Indexed pages can then be displayed in search results.
This report is useful for checking any pages which you think might have issues, such as landing pages where traffic or conversions have dropped off.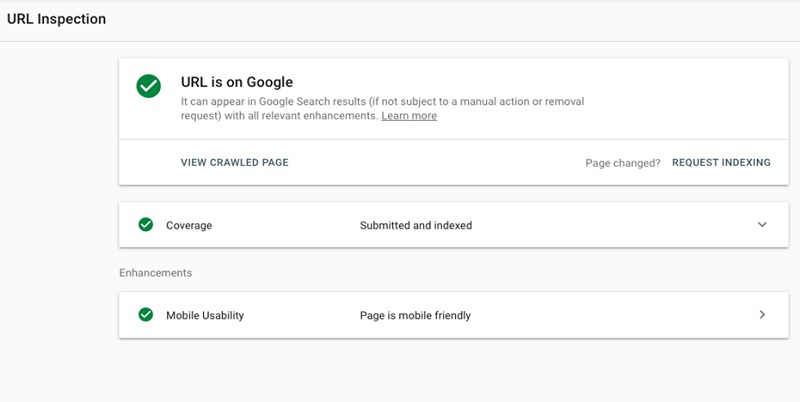 2. Coverage
This report provides information on which pages on your site have been indexed and shows URLs that have any issues which prevent Google from indexing them.
The main report groups pages by status to provide a quick overview. Green 'valid' pages have no issues, yellow 'valid with warning' pages are indexed but have some problems to address, whereas the red 'error' pages are unindexed.
It pays to check this report periodically to see if there are any errors to fix, or to check if you see certain pages experience dips in search traffic. 
3. Sitemaps
The Sitemaps section allows you to see which sitemaps you have submitted and their status. Useful to see that they have been submitted successfully.
4. Removals
While this isn't a tool that all businesses will use, it's useful to know that it's available. 
It allows you to remove content temporarily from Google's search results, normally for around six months. It also alerts you to any outdated content on your site that has been flagged by search users or content reported as adult content.
5. Monitor page speed
Site speed is not only a usability factor which could deter visitors from using your website but is also a key factor which affects how Google ranks your site.
The Speed report is a new report, currently labelled as 'experimental' which will flag pages which may have performance issues. It gives an overview of fast, moderate and slow URLs, before giving details of specific URLs when you open the full report.
Using the Page Speed Insights Report, you can view more details and some ideas of how to speed up problem pages. You can also track the effects of fixes carried out through Google Search Console.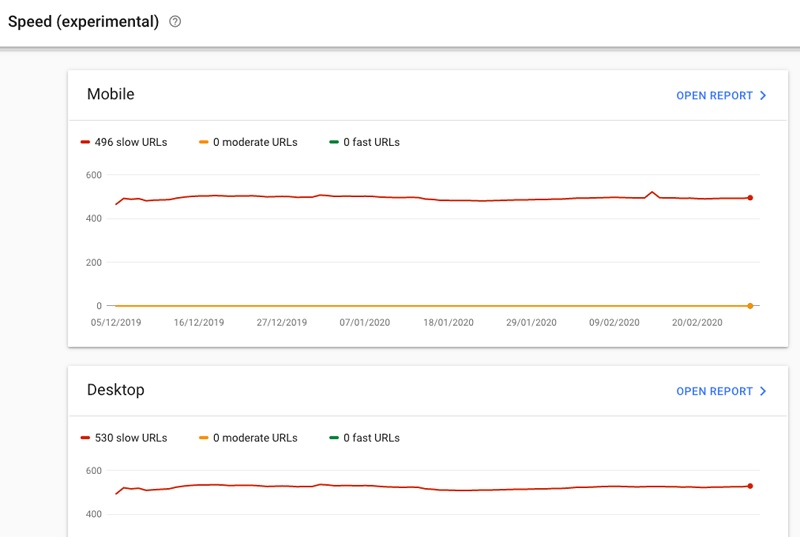 6. Sitelinks Search Box
This allows you to monitor for errors with the sitelinks search box in search results. These are the search boxes that appear to allow users to search within your site straight from Google results, like this example from M&S.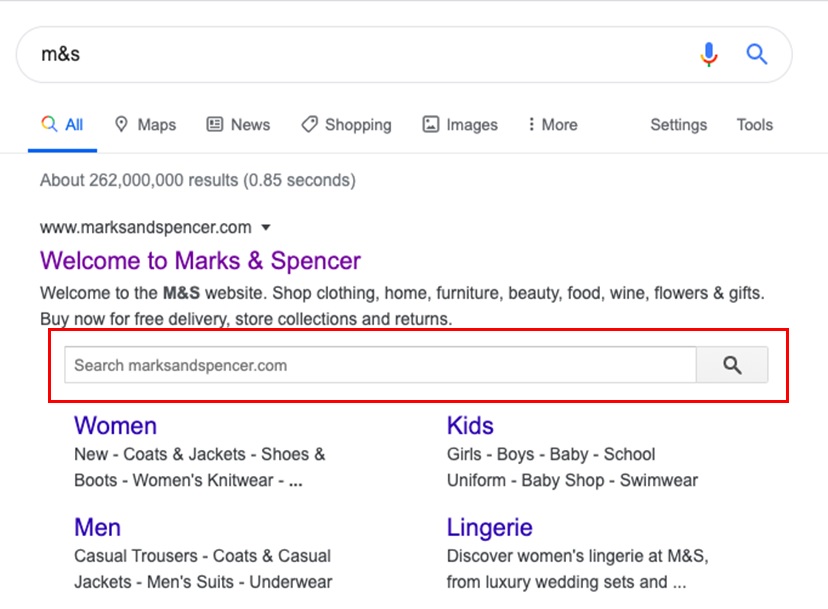 7. Videos
This section monitors for any issues with video markup and shows whether Google can recognise and index the videos on your pages. If Google can see and index videos, they stand a chance of appearing in search results. You can monitor this under 'Search Appearance' in the Performance section.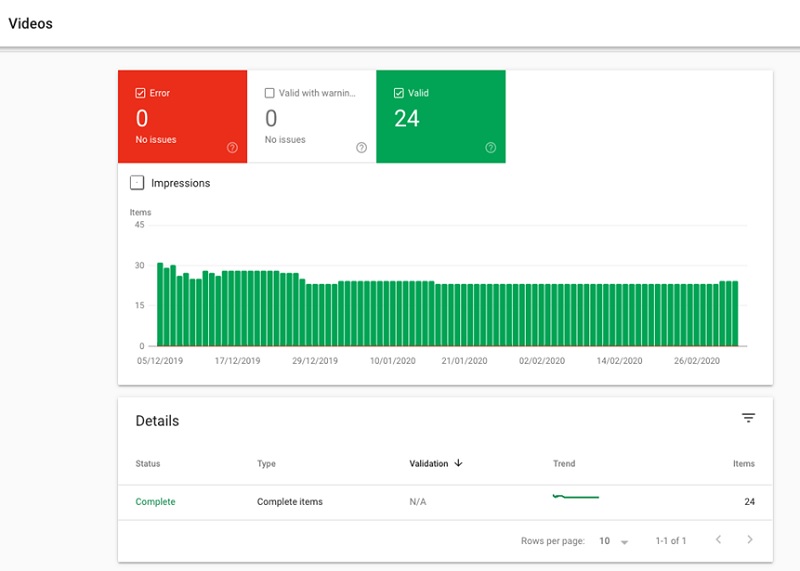 8. Security and Manual Actions
This is a section of Google Search Console you'll hope you don't have to use. The manual actions section will tell you if Google has taken any action against you as a result of you breaking Google's webmaster quality guidelines.
A manual action, sometimes referred to as a Google Penalty, would occur as a result of using questionable SEO tactics, such as buying links, and often takes the form of a demotion in search rankings.
If this happened, Google would alert you of this penalty through Google Search Console and explain the steps you need to take to fix the problem. The security section will alert you if Google finds any security issues with your site, such as hacked URLs, malware, harmful downloads and more.
9. Legacy tools and reports
Google Search Console was updated last year, and this section is a home for those reports that haven't been replaced in the new version yet.
They include:
International Targeting: This can be used to check hreflang settings on multilingual sites or set a country to target in your search results
Crawl Stats: These show how often Google is crawling your site, and how many requests it is making
URL Parameters: This can be used to inform Google of any special parameters you use in your page URLs to enable Google to crawl it better. As with Crawl Stats and targeting, these are for advanced SEO use
Messages: A list of messages sent to you from Google Search Console, normally monthly emails and other updates
Web tools: These link to other Google tools which might be useful for your site
Conclusion
As you can see from this, there's a lot you can do with Google Search Console and a lot of information to view.
However, it's important not to be deterred by this. The truth is that many of the sections aren't necessarily relevant on a day to day basis (and some are for more advanced SEOs) but are there in case you need them at any time.
It's a good idea to focus on some of the most useful reports for your website and your business. Checking these regularly allows you to monitor the progress of link building campaigns, to see how your SEO efforts are affecting impressions and clicks and to find areas to optimise.
For SMEs, I'd definitely recommend getting to know Google Search Console. It's free and easy to use and can provide some valuable insights to optimise your site for search.