In spite of all the new and exciting marketing tools available  – from Instagram Stories through to rich-media SMS – good old-fashioned email still remains one of the most effective marketing tactics.
Adding a video to your email campaigns further improves their performance, increasing open rates by 19% and click-through rates by 200-300%.
The reason for this is that people love video. By 2022, it's estimated that online videos will make up more than 82% of all consumer internet traffic (that's 15 times higher than it was in 2017). And according to Hubspot, 72% of customers would rather learn about a product by way of video.
Increasingly, businesses are realising the potential for video too, with 52% of marketers pointing to video as the content type offering the best ROI. These marketers are the ones who are likely to grow their revenue 49% faster than those who don't use video content at all.
If your video email marketing campaign is going to achieve results, there are certain practices you need to get right. I'll take you through some of these so that you can make a start right away.
How to create the perfect video for email
Establish your email campaign goals
Being clear about the goal of your video email is a fundamental starting point. Without an idea of what you want your video to achieve, you will come up against problems determining your target audience, content type, and call-to-action.
So, when thinking of your specific goals, you might want to consider what action you want it to inspire in your customers.
Do you want to trail an upcoming event? Do you have a new range of products you're about to launch? Or maybe you just want to drive more traffic to your website?
Or conversely, your goal might be to use email to drive traffic to – and engagement with – your existing video content. For example, you may have just launched a video campaign that you want to showcase to your email subscribers. A dedicated email campaign will help to achieve your goal of increasing video views.
Whatever it is, document your goal, and keep referring to it as you launch your campaign.
As a general rule, branded or informational videos work best if they play within the email. Whereas, if you want people to take an action on your website, then you should direct them to your site to access the video content.
Choose your subject
The subject of your video is directly linked to your goals.
You might choose to showcase your products with a demo or a tutorial; promote an event with a montage of the "best bits" from last year's event; or interview one of your prime customers as a way of driving new and existing customers to your website or your social media.
Plan your video
Planning out your video is essential, and it will save you time on retakes and editing later on.
Storyboard your video, plan your maximum video length, write your script, identify and cast for different roles and create a shot list. If your video is meant to seem unscripted – perhaps it's an interview or Q&A – than make sure you've set out all your questions in advance. For more tips on storyboarding, read this guide from TutsPlus.
A note about video length
Keep your video short and succinct. According to Wistia, 59% of viewers will watch the entirety of a video if it's less than a minute, but best to keep it to 30 seconds or less.
It's estimated that today's consumer has an attention span of around 8.5 seconds; that's one second less than that of a goldfish! This means it's crucial to reach your point within 8 seconds, or you risk losing your audience completely.
Shooting your video
You don't have to spend a fortune to make a high-quality video these days, as long as you pay attention to four main areas of film-making:
1. Lighting
Lighting can be the make or break of a video campaign. You can be working with the most expensive hi-tech camera equipment on a brilliant concept and storyline with great actors and top-notch sound. But get the lighting wrong and your whole video can look low-rate.
The good news is you don't have to spend a fortune on lighting equipment. Ideally you'd make use of natural light, ensuring the light source is coming from behind the camera operator, and shining onto the subject. Morning and evening light are particularly effective because they come in horizontally. However, if natural light isn't proving effective, you can set up artificial lights pointed at the subject.
2. Dimension/format
It's always best to film your video in widescreen format, and if you're filming on your smartphone, then use horizontal rather than vertical position.
3. Cameras
What camera you choose to shoot on depends on both your budget for new equipment as well as your stash of existing equipment. DSLR cameras will produce higher quality video content, but that's not to say that a humble iPhone won't produce good results too.
Whether you use a DSLR or a smartphone, I'd recommend using a tripod to avoid shaky cam.
4. Audio
Audio can be an issue with video marketing, particularly as most people view emails on their smartphones. As such, I'd recommend investing in a microphone when shooting your video.
Editing your video
There are a number of tools available to help you perfect your video. From Microsoft Photos on smartphones, through to iMovie for iPhones and Mac users, there are plenty of user-friendly software options out there.
If you've done a good job at the planning and scripting stages, then hopefully the editing process won't be too laborious. Two issues to keep in mind are:
Your video length (keep it to under one-minute max and preferably around 30 seconds).
Your scene-changes (use transitions to keep them seamless).
Include a call-to-action
To help you achieve your goals, you need to decide not only what your CTAs are, but how and where to place them within your video and email.
Gone are the days of CTAs popping up throughout videos. Now you need to keep your CTAs clear yet subtle, so the user-experience isn't compromised.
I'd recommend including your CTA within the email body copy, perhaps below the video thumbnail; then again within the video content (within the first 10 seconds); and then again on the video's landing page content.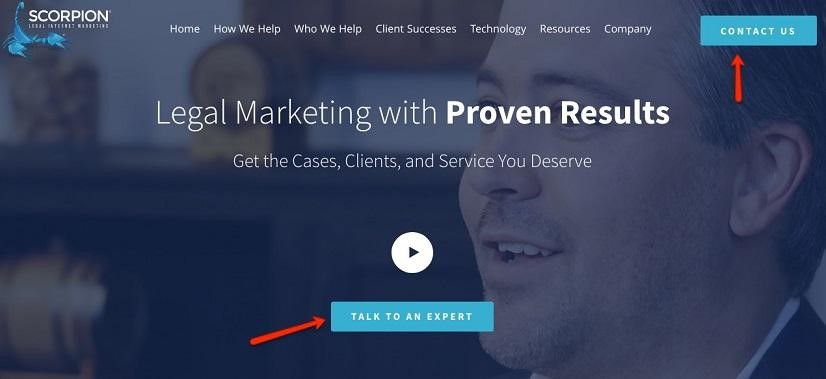 Placing your video in your email
Deciding where to place your video depends on the type of video you've created. As I've touched on, promotional videos are best embedded, whereas videos aimed at driving an action on your website are best hosted on your site.
Hosting the video on your owned media
If you choose to host your video on your own website, then it's best practice to set up a dedicated landing page for that video. You then create a thumbnail of your video (this can be a screenshot of your video with a play button or animation overlaid on top), so that when your email recipients click on it, they will be directed through to this landing page where the video will play.
It's important to note that it's best practice not to direct people to watch your video on YouTube. Doing this will drive your traffic to a third-party, rather than enjoying those extra hits on your website. By keeping your audience on your website from the start, it's more likely you'll be able to convert them into making an action as a result of seeing your video.
Embedding your video
You also have the choice to embed your video into your email, so that your audience can choose to play it from the email itself (or you can set it to autoplay).  
A word of warning about embedding your video: not all inbox providers are compatible with embedded video. Gmail and Android devices (with the exception of Samsung Galaxy), for example, don't support HTML5 and so when the embedded video shows up in an email, a fallback image is shown.
For this reason, I'd generally advise that you avoid embedding, and instead host your video on a dedicated landing page on your website.
Positioning your video within the email
Whether you've chosen to embed your video or host it on your site, you will have a thumbnail within your email.
You will need to pay attention to your email copy so that you can encourage your recipients to read, watch, or click. My advice is to keep the email copy short and succinct, and let your video do most of the talking. Just a sentence or two at the start of the email followed by a clear thumbnail and play button overlay will work well.
It's also worth noting that providing the word "video" in your email subject line will increase your open rate by 19%.
Email builders
It can be daunting when thinking about embedding your video or creating a thumbnail and link within an email campaign, but the good news is that most email builders will help you through this process.
Mailchimp, for example, has a "video content block", which will let you insert your video URL or upload it from your computer. They also let you set up tracking with a Wistia integration. For more on adding videos to your Mailchimp campaigns, read their guide here.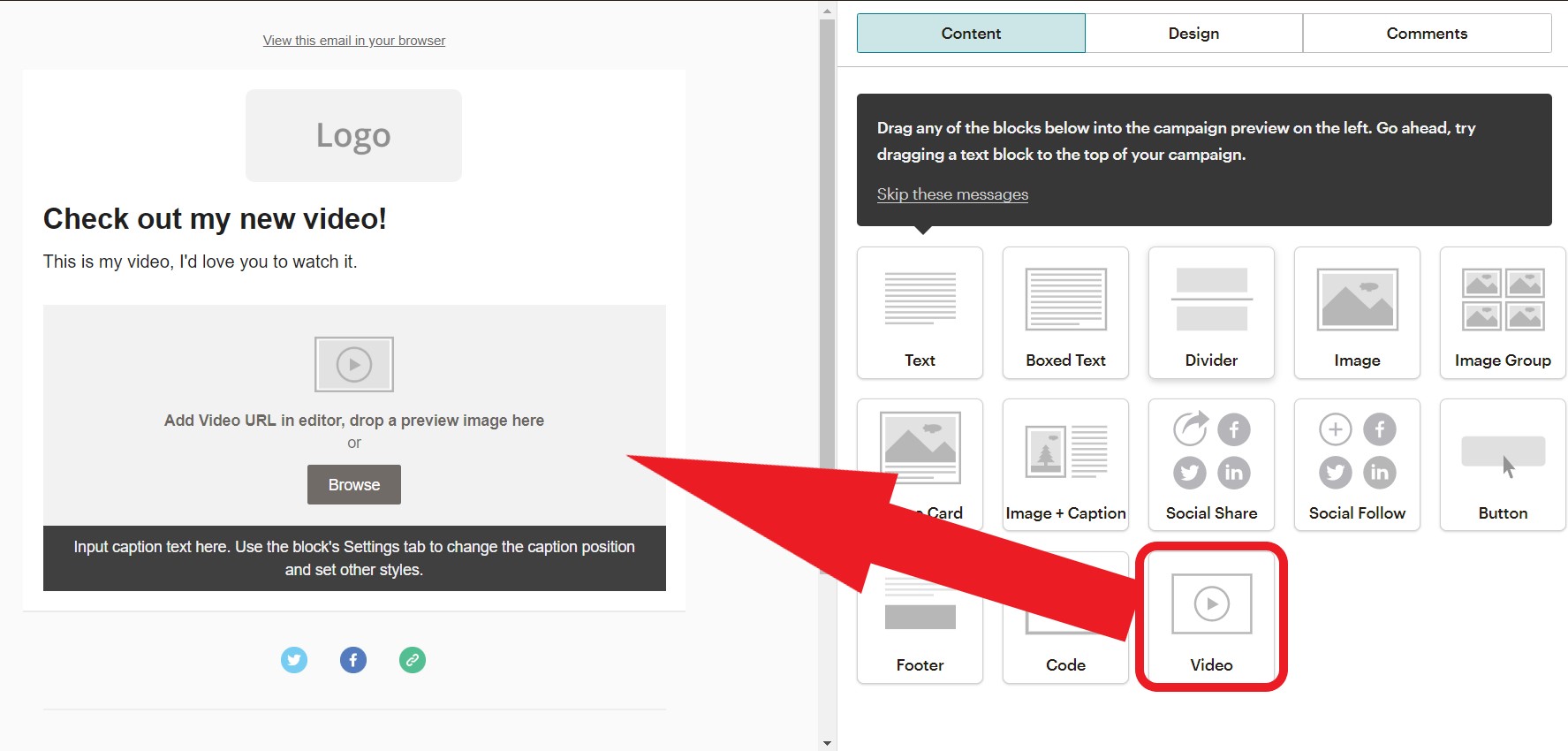 Final thoughts
Using video as a content tool is one of the most effective ways of driving engagement with your customers. Email marketing still provides the best ROI of any other marketing tactic. Bring them together and you're onto a winner.
Video email marketing doesn't need to be the domain of the multibillion dollar brands though. With a well thought out strategy, good planning, and some key tricks in mind, you can create a high-quality video that'll help you achieve your specific sales and marketing goals.
Whether you're launching a new product, drumming up interest in an upcoming event, or simply raising the profile of your brand, placing a video within your email will be sure to boost your efforts.
Video email marketing best practices:
Use your subject line to tell recipients the email includes a video.
Keep file size low.
Pay attention to audio and lighting for a professional finish.
Keep video length short – less than 30 seconds works best.
Get to your point within eight seconds.
Better to create a landing page rather than embed your video into the email.
Turn the sound and/or autoplay off.
Stick to a single CTA.