Think about all the times you've been on the go, reading emails away from your desk or checking your bank account while commuting on a train. Now think about how many employees you have and how many times they're likely to have done the very same thing.
Unless you're logged into a private Wi-Fi network that requires a password, any data transmitted puts you at risk of exposing your private information and browsing habits.
A Virtual Private Network, otherwise known as a VPN, is a must for any business looking to safeguard themselves in an increasingly online world. The encryption and anonymity that a VPN provides helps protect your online activities including sending emails, logging into applications and paying bills. It does this by masking your IP address so your online actions are virtually untraceable and using encryption to scramble data when sent over a Wi-Fi network.
A secure VPN is crucial if you don't want outsiders accessing sensitive information. Not only does this protect your business, it also prevents personal customer information falling into the wrong hands.
Here are five of the best VPN providers available for small businesses.
1. ExpressVPN

As well as offering fast speeds, ExpressVPN has earned itself a reputation for reliability and security.
Key functions of ExpressVPN:
Compatible with multiple platforms
Unrestricted access worldwide
Anonymity – your IP address is hidden and network data is encrypted so nobody can see what you're doing
Cost:
£10.84 per month
£8.36 per month if you pay every six months. (£50.17 per payment)
£6.96 if you pay annually (£83.64 per payment)
Pros:
Easy-to-navigate interface which makes it an ideal choice even for those new to VPNs
It's one of the fastest VPNs on the market
It frequently changes encryption keys to avoid security compromises
Comes with a 30-day money-back guarantee
You can pay monthly, every six months or annually
Cons:
It's more expensive than other providers and therefore might not be the best VPN for very small businesses with limited cashflow
No Safari ExpressVPN browser extension
2. Surfshark
Alongside encrypting all Internet traffic to and from your devices and hiding IP addresses, Surfshark also blocks ads, trackers and malware and phishing attacks.

Key functions of Surfshark:
Anti-malware, ad-blocking and tracker-blocking
Ability to whitelist certain apps and websites to automatically bypass the VPN
Camouflage Mode masks your VPN activity so your ISP doesn't know you're using a VPN
Multihop jumps your connection through multiple countries to hide your trail
NoBorders Mode allows you to use Surfshare in restrictive regions
Cost:
£9.49 per month on a pay-monthly contract
£4.79 per month when billed every 12 months (£57.48)
£1.59 per month when billed every 24 months (£38.16)
Pros:
Unlimited device support
Free 30-day trial
Ensures your location is private and your sensitive data is secure at all times
Protects you from hacking, malware, phishing, identity theft, ad manipulation, ISP tracking and price discrimination
Cons:
Camouflage Mode, Multihop and NoBorders Mode is illegal in some countries and could result in penalties so make sure you check this before signing up
3. NordVPN
One of the most recognised brands in the field, NordVPN offers everything you need to work, stream and play safely online.

Key functions of NordVPN:
Dedicated IP option which can be masked
All your internet data stays safe behind a wall of next-generation encryption
Uninterrupted streaming with no buffering
Privacy on the go with any device
You can block malware and ads
Browser extensions
Cost: 
For a business account:
Basic – $7 per user, per month ($84 billed annually)
Advanced – $9 per user, per month ($108 billed annually)
Enterprise – you'll need to contact NordVPN for a custom business plan
Pros:
Ultra-fast connection
They don't track, collect or share your private data
One account lets you connect up to six devices
You can share large files securely
Data leak tests can help to protect your data
Worldwide access
Centralised dashboard helps to manage all your user accounts
30-day money-back guarantee
Cons:
One of its rented servers was accessed without authorisation back in 2018. They have since carried out multiple security audits, introduced a bug bounty programme and made heavier investments in server security. The breach was limited in nature and involved no user-identifying information which verifies that they don't keep logs of user activity
Billed annually rather than monthly options
4. IPVanish
IPVanish has a configurable, easy-to-use interface, making it the ideal client for those who are new to VPNs or are interested in learning exactly how these systems work.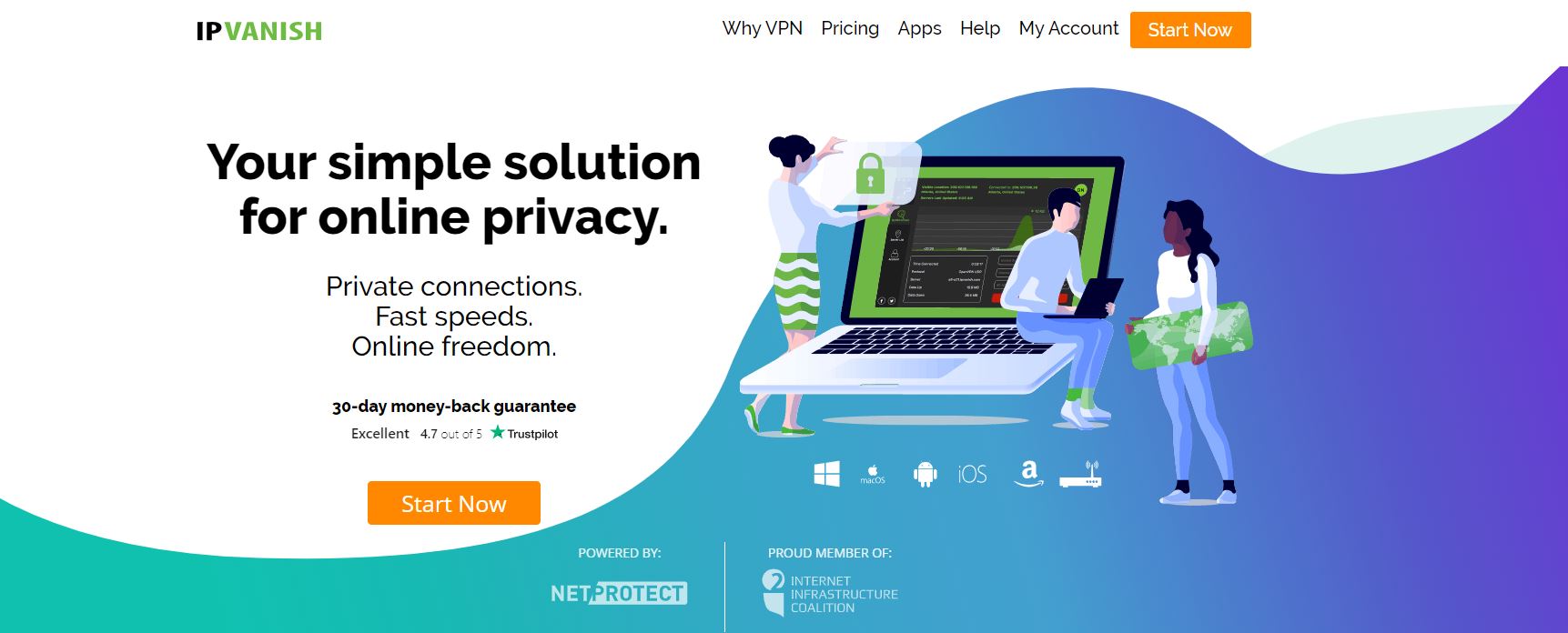 Key functions of IPVanish:
Your real IP address disappears so your online activity can't be tracked
Enables you to get around censorship filters
Fast, unrestricted access anywhere in the world
Encrypt everything from your internet connection to your files with SugarSync secure cloud storage
Cost:
$10 per month
$8.99 per month when billed every three months (payment of $26.99)
$6.49 per month when billed annually (payment of $77.99)
Pros:
It's the world's only Top Tier VPN service provider and they personally manage their entire network
They operate a strict zero-logs policy and don't record your activity
You're protected from hackers, ISPs and advertisers thanks to encryption tools
Secure file management
Data is protected in the event of device loss or theft
Up to 10 simultaneous connections on multiple devices
30-day money-back guarantee
Cons:
Can only get a seven-day trial whereas most other providers offer 30-days
It's much more cost-effective to sign up to the yearly plan which means paying out a bigger lump sum at once
5. CyberGhost
CyberGhost is packed full of helpful features, boasts a user-friendly interface and enables users to unlock content from more than 90 different countries.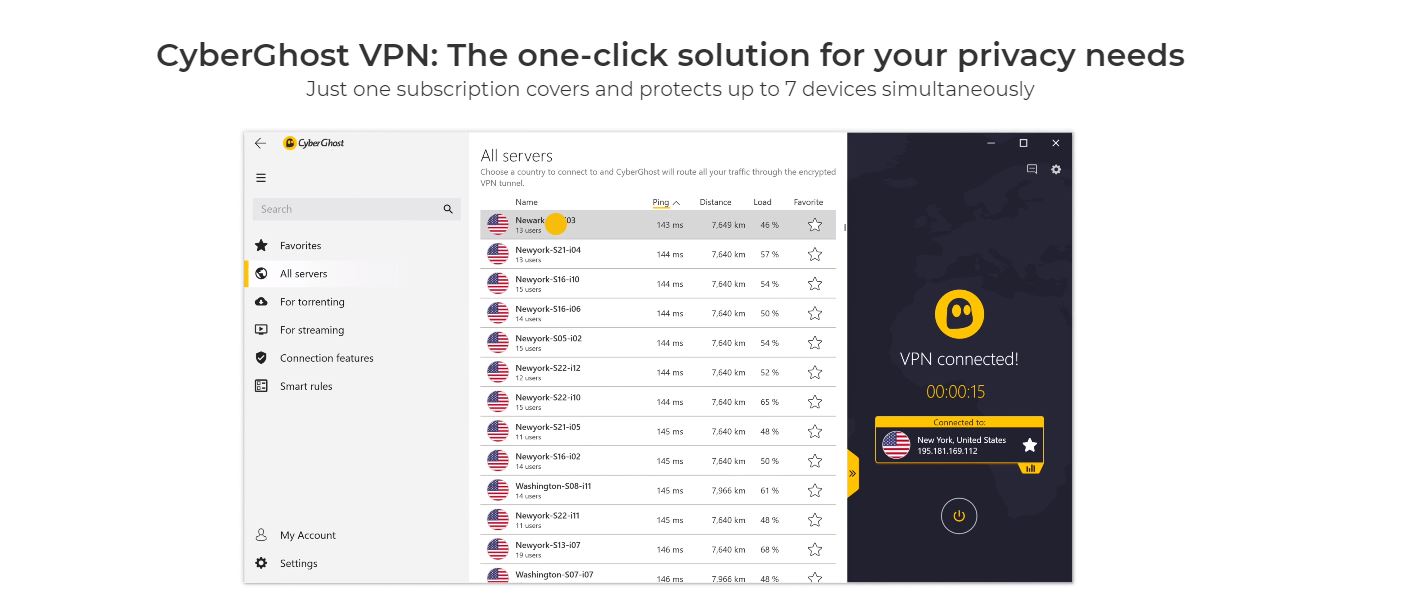 Key functions of CyberGhost:
You can hide your IP address
Protects your digital identity
Allows you to carry out secure bank transactions
Military-grade encryption
Keeps you safe even when using public Wi-Fi networks
Cost:
Monthly – £11.99 per month
Yearly – £4.59 per month (£55.08 billed annually)
Two years – £3.09 per month (£74.10 billed every two years)
Three years – £2.10 per month (£75.60 billed every three years)
Pros:
You can stream and browse the internet without limitation
CyberGhost has a no logs policy
One subscription covers and protects up to seven devices simultaneously
Fast connection speeds
Secure file sharing
You can manually configure your privacy triggers
Comes with a 45-day money-back guarantee
Cons:
If you pay month-by-month, CyberGhost is one of the most expensive providers. There's also a huge jump in price if you pay monthly compared to annually
The free trial is only for 24 hours
While paying out for a VPN may seem like an added expense, it really is worth thinking about to strengthen your SME cyber security. Falling victim to a cyber-attack could be very costly in the form of downtime, recovering lost files and implementing new security systems.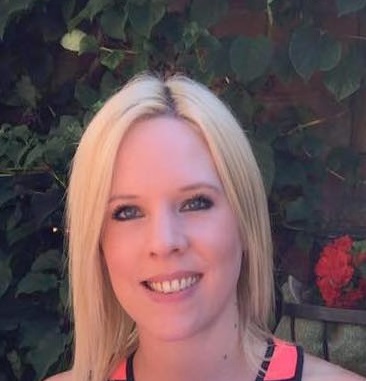 After completing her degree in Journalism, Monique began her career at a digital marketing agency. It was here she discovered a passion for online marketing with a particular focus on content creation for the web. Six years ago Monique set up her own copywriting business, Copyworks Group, which specialises in creating content for websites, blogs, newsletters and social media pages.
Read full profile