Which content management system (CMS) to use is an important decision for small businesses. There's a lot of choice in the market, and a CMS can differ in price, the level of knowledge and expertise required to manage it and the features and flexibility it offers.
In this article, I'll look at a range of content management systems, their suitability for small businesses and the pros and cons of each.
What are web content management systems and why do you need one?
Web content management systems essentially allow website owners to create, manage and edit the pages on their websites.
Just as an operating system is needed to use your PC or laptop, a CMS provides the structure that allows you to manage your online presence.
A good CMS allows you to create a website that appeals to your target audience, allowing you to add the text, images, video and other content you want to show your visitors.
It's important that you can add and edit the content on your website easily, allowing users to manage site content as and when they need to.
Key features and considerations when choosing a CMS
When you're shopping for a new CMS, it can help to think about what you need from it. This can help you make a more informed decision and easily dismiss options which don't match your needs.
Cost
There's a wide range of prices charged for content management systems, from free to very expensive.
If you're paying for a CMS, it's important that the extra features it provides are adding to your bottom line. You need to find the features you need, but be sure to avoid overpaying for them, or paying for extras that aren't important.
Usability
It's likely you'll use a CMS every day, perhaps with a number of different people adding and editing content.
It's important that it's relatively simple and easy to use to avoid wasting time and resources solving problems. A WYSIWYG editor with features like post previews and easy import of media such as video and images is ideal.
It can also help to choose a CMS that is widely used so that new staff are familiar with how it works.
SEO
If you're creating content, SEO is a key consideration in a CMS. It's important to have control over key aspects like URLs, title tags, meta descriptions, image alt tags, headings and internal links. A CMS which makes these aspects easy to manage and edit helps small businesses apply the basic principles of SEO.
It can also help if a CMS has some inbuilt SEO tools or the ability for add-ons. Tools such as Yoast and RankMath can help with getting basic SEO right and to optimise individual pages for search.
Level of knowledge required
If you have some coding knowledge, it always helps, but many small businesses may need a CMS that doesn't require expert knowledge to manage. It's important to consider how easy it is to set up, integrate with other tools, and manage on a day to day basis.
Site search
For sites with more than a few pages, it's important to be able to offer a usable site search option for your visitors.
Plugins
A CMS which comes with a choice of plugins can be a bonus. There are plugins which can help with SEO, to create forms for pages, optimise images and more.
Five content management systems for small businesses
These are some of the most commonly used content management systems, along with key features and pros and cons.
1. WordPress
With a 60% + market share, WordPress is the world's most popular CMS. For this reason, it's often an automatic choice for businesses.
WordPress is open-source software and it is free to download. All you need in addition is a domain name and a hosting solution to get started. There are paid options with extra support for different levels of business.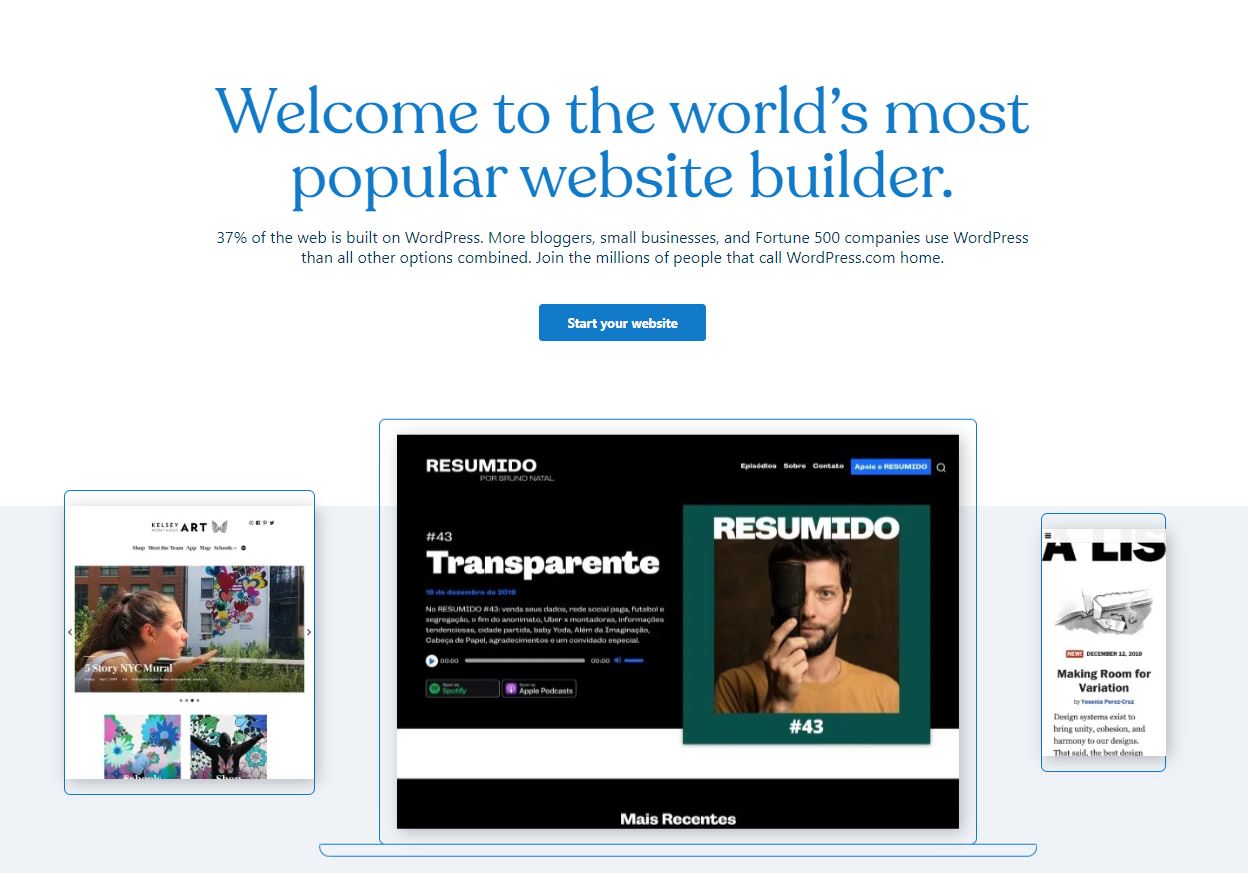 One key benefit of WordPress is that it is beginner friendly, and can easily be used to create blogs, websites and e-commerce sites. The availability of plugins also opens up plenty of options to customise the site.
Pros:
It's a great solution for beginners and is easy to use without any additional training
SEO friendly, with ease of managing title tags, headings etc.
Being widely used, many people know their way around this CMS
Through services such as WooCommerce, you can add retail functionality
Cons:
Doing too much through plugins can have a negative impact on site speed
There are some potential vulnerabilities, often through bad plugins
The sheer choice of plugins can make it hard to choose the right options
2. Joomla!
Compared to WordPress, Joomla isn't a beginner-level CMS. It can take time to learn, but for the more knowledgeable user, it offers a lot of options for customisation.
It's free and open-source, so fits all budgets, while it has a wide range of extensions offering choice. The latter range between free and very expensive.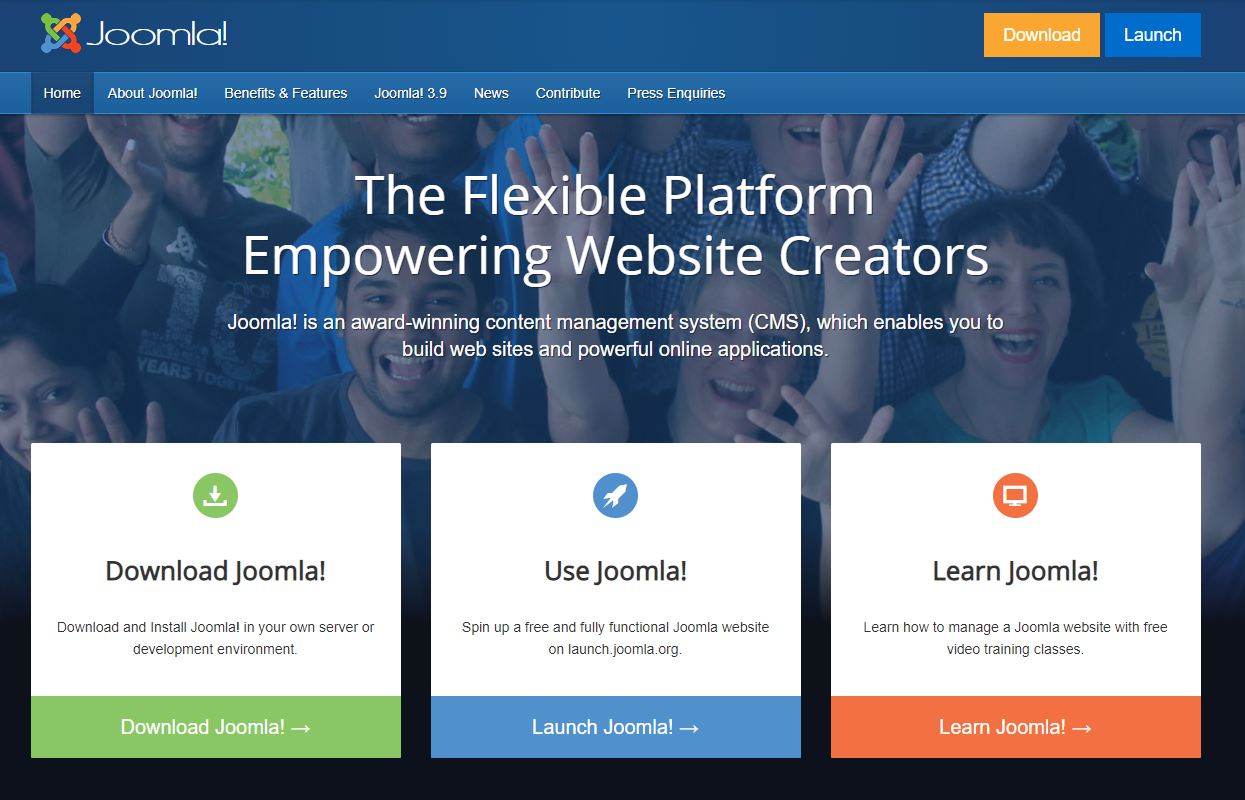 Pros:
Content editing is relatively easy
Customisable options are great for more advanced users
Can offer e-commerce capability
Cons:
It's not incredibly difficult to use, but is more complex than some other options, and may take longer to pick up than other content management systems
A smaller user community so less choice of open-source software
A relatively complicated back end system
3. Drupal 
This is a good CMS solution for larger websites with lots of pages and articles. This makes it useful for smaller businesses with plenty of content or plans to expand rapidly.
It's also noted for a high level of security, is well regarded amongst developers, and is free except for the hosting costs.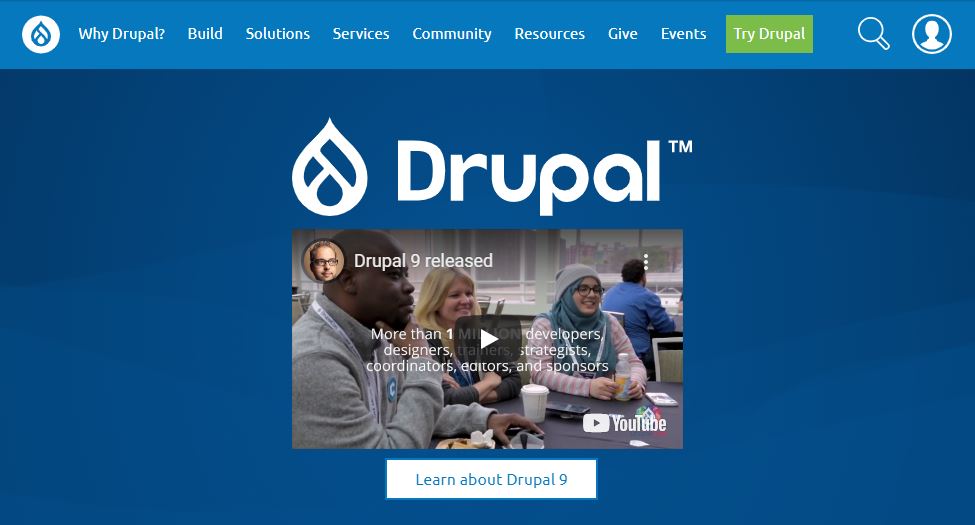 Pros:
Drupal modules allow users to access a wide range of features
It allows for different kinds of content, so can handle complex websites
Strong security measures
Cons:
It's designed for the tech-savvy, which means great features and potential for those that can use it, but it's not the best option for some small businesses without these skills
It can be a slow system and heavy on resources when multiple nodules are used
If you're looking to hire someone to take care of the site, developers with knowledge of Drupal can be hard to find
4. HubSpot
HubSpot provides a wide range of software for marketing, but it's CMS has been gaining ground recently. It's a good choice for websites focused on marketing and lead generation.
It's an easy to use CMS which allows users to easily create content and customise their site without the need for tech skills.

There is no free version, and pricing starts at £196 per month but this does come with extras like A/B testing, reporting and SEO tools.
Pros:
SEO features help with optimisation without the need for extra plugins
Integration with other HubSpot products means sites can access features like personalisation and conversion tools
Comes with SSL for security
Responsive designs
Cons:
With no free options, it's an expensive option compared to some
It's designed to be usable for beginners, so customisation options are limited compared to content management systems like Drupal
5. Squarespace
Squarespace is a more all-round solution, which offers web hosting, website creation and a blogging/content platform.
It can suit all kinds of business but could be a particularly useful platform for online retailers.

It's an attractive option for relative beginners, with an easy drag and drop page editing system, and ease of changing page layouts.
There isn't a free version, but prices for a basic website start at £10 per month, rising as users want extra features and e-commerce capability.
Pros:
It's an all in one solution so very attractive for small businesses starting up online
There's a good choice of templates for people designing their site from scratch
Cons:
Limited ability to add your own code and customise the site amongst the lower tier price plans
SEO options are limited compared to some other content management systems while adding Google Analytics requires some effort
In summary
When choosing a CMS, a lot will depend on your type of business and online goals. For example, if you're looking to sell online, then some of these options are more suitable than others. If you're looking to create a content-heavy site, then it can be wise to choose a widely recognised blogging platform.
The level of knowledge makes a big difference too. Using Drupal may be unwise for beginners, but can offer extra for those with the coding knowledge to make the most of its potential. Conversely, tech-savvy users will find some of the more basic CMS options more restrictive.
It's important to think about what best suits your business type and level of knowledge, and also to look at some examples of sites using each CMS to see if the design style and functionality suits you.