In this post I'll look at what customers are looking for from ecommerce homepages, and some of the key features and information that retailers should show.
The homepage of an ecommerce site isn't necessarily the first page visitors will arrive at, as many will head direct to product pages from search and other channels.
However, it is still likely to be the single most popular page on an ecommerce site, and one that plays a part in the customer journey, wherever their visit begins.
It has a number of tasks to perform. The most important may be to drive visitors towards conversions, but that isn't the only reason people arrive at your site. They may be looking for contact information, store locations, or to track existing orders.
Therefore, while the prime focus will be to direct customers towards products, homepages need to ensure that all secondary tasks are catered for.
Here are the elements that all ecommerce sites should consider. Some are essentials for any site selling online, while others are extras that are worth considering. It should also be noted that some of these features, such as navigation options, should be on every page across the site, at least until visitors enter checkout.
The challenge for retailers is to make sure the essentials are there, as well as any desirable features, while keeping the page uncluttered and easy to navigate for visitors.
A clear proposition
For some sites, this may be obvious, but customers should be able to understand your products or services within seconds of landing on the homepage.
We all know what to expect from an established retailer like ASOS or M&S, but for lesser-known brands and niche retailers, it's good to let people know what to expect.
This, from Hartwell & Co, is a great example. There isn't a lot of text here but the homepage gives a great sense of what the site is all about. The image alone tells first time visitors a lot about the company.
And, for more information, a comprehensive about us page gives plenty of detail about the company, it's history, products, and services.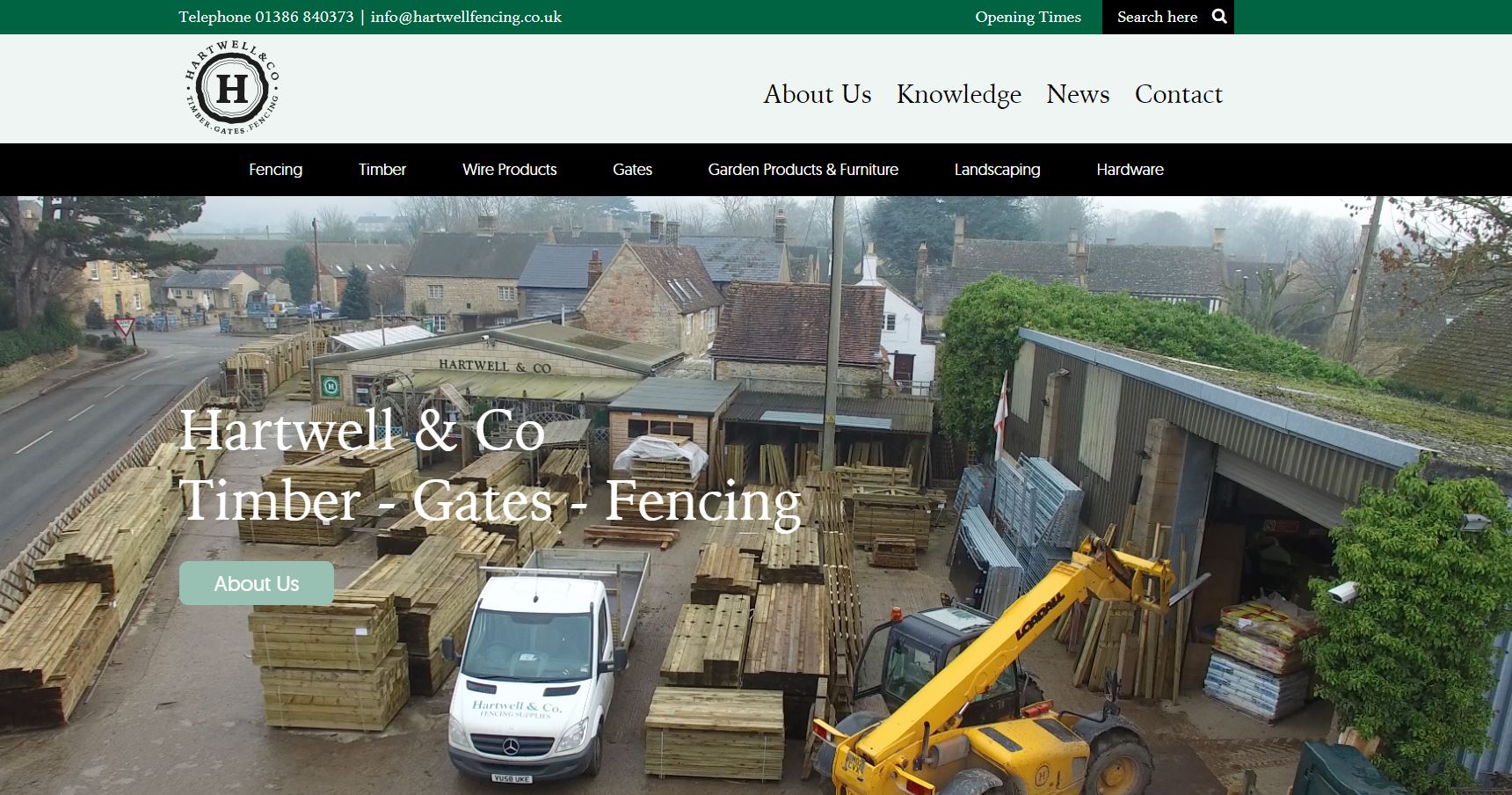 Clear navigation
The homepage is a jump off point for many visitors, and they want to find the right product category without any fuss and get on with browsing.
There's no need to try and reinvent the wheel here. A simple top navigation bar with clear categories is what most shoppers will expect.
Site Search box
This is another essential navigation option. Generally more people will navigate a site using links than by searching for products, but those that do use site search are often more likely to convert. The act of searching for a specific product indicates that they're interested in buying it.
Usage can also depend on how effective site search is. If it works well and delivers fast and relevant results, more visitors will use it again. It should provide visitors with a shortcut to the product they're looking for.
Imagery
Homepage imagery can be used in various ways, and how you use it will very much depend on the type of site and the brand image you want to convey.
Large 'hero' images can be used to make an impression, or to tell a story about the brand, as Hartwell & Co does.
Many sites will choose to use multiple images to give customers plenty of options for products and categories. Used well, merchandising like this can help to promote best sellers, new in stock or trending items to visitors.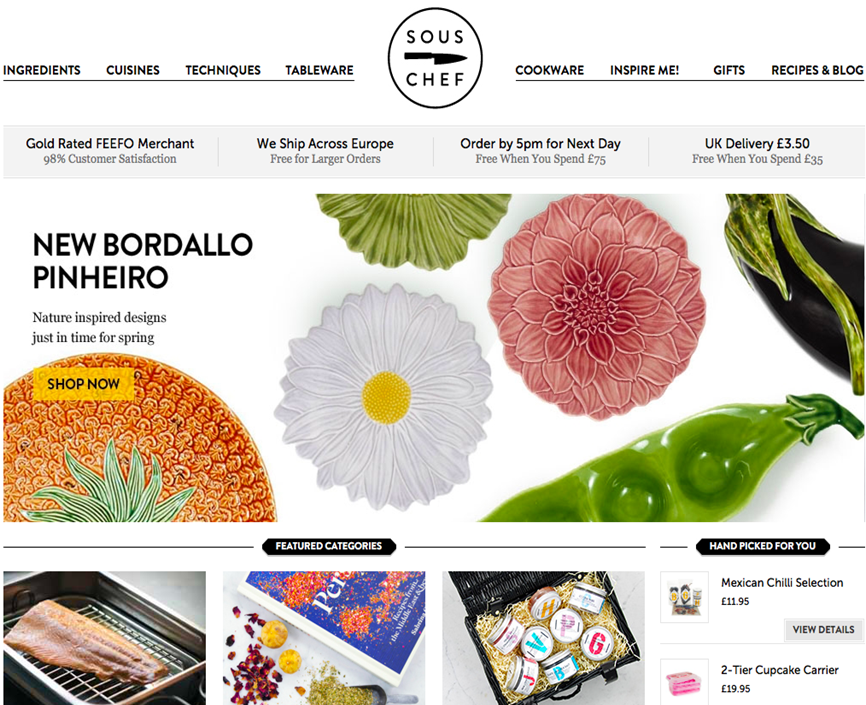 Store locators
If you have an offline presence, then a prominent store locator helps visitors to find you quickly, driving more people to your shops.
It's most often positioned at the top right, above the navigation bar, and it can make sense to follow conversation with placement.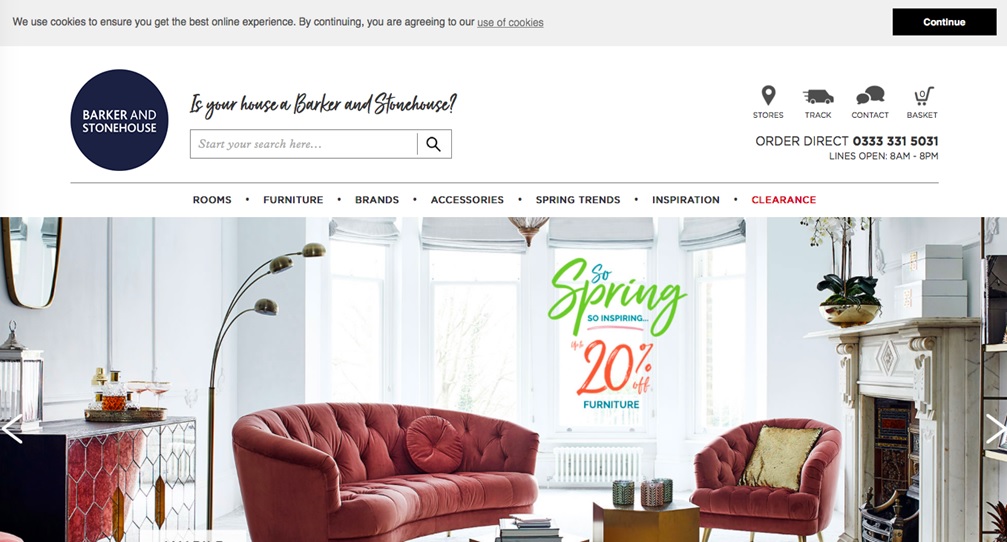 Clear contact number
A clear contact number provides some reassurance to customers, as well as giving them a quick and easy way to find out how to make contact.
Contact details
A link in the footer is normally enough, so that customers can find an easy contact option. However, many sites choose to make these details more prominent. This can be a good idea if you're looking to drive sales or store visits through these contact channels.
Sign in / my account
To be placed in the site's header, this should give customers an easy way to log back into their account when they return to the site.
They may prefer to shop when logged in, so their address and payment details are there when they checkout, or perhaps to track existing orders.
Basket and checkout link
Again, this is one for every page on the site, and allows customers an easy route back to their basket. It's also good to highlight the fact that customers have added items to their basket, as well as previewing the contents and price when customers move the cursor over the link.
An email sign up option
Any retailer should be looking to build an email list which will enable them to send newsletters and product recommendations to an audience that has shown an interest in your website and products.
There are a number of ways to drive sign ups. A simple link or text box on the homepage is one way, but some sites choose to be more direct and serve pop-ups nudging customers into signing up for emails.
They may sell the benefits of newsletters in terms of news and notifications of new product releases, but many choose to offer the carrot of a discount off the first purchase.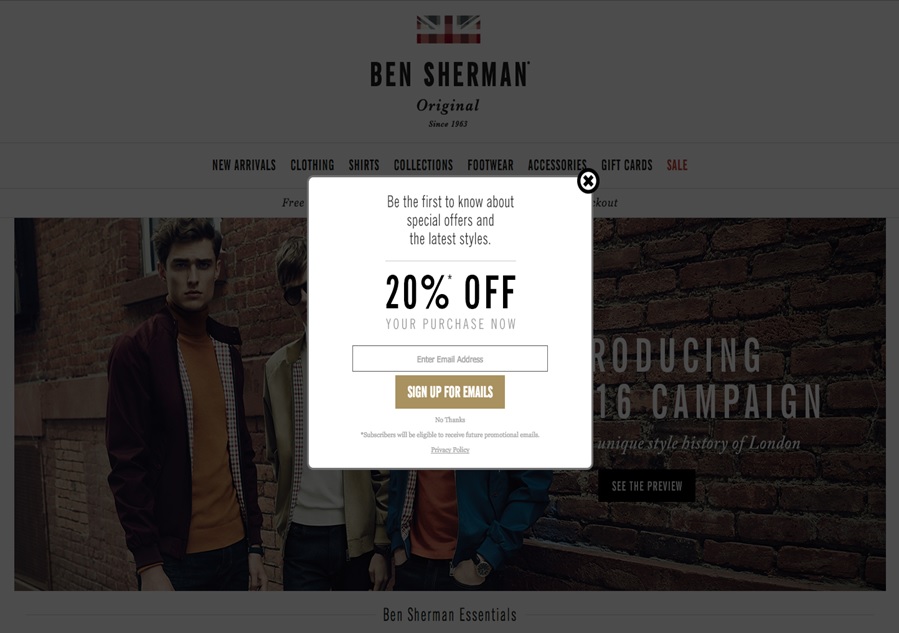 This can be a valuable tactic, but it's important to consider a) whether an interruptive message will deter potential customers and b) whether you can still make a profit after giving customers a discount.
Promotional messages in the header
The header is a great place for any promotional messaging you want to add for visitors. You can add a message subtly, but in a place where people are going to see it.
This may be a message about a special offer you have at the moment, reassurances that you offer free and easy returns, or a free delivery offer.
About us link
Most often, sites will place these links in the footer, as they won't necessarily be the most popular pages on an ecommerce site.
For other sites, they tend to be more useful. For example, if you're offering services or products that visitors may be less knowledgeable about, then this page is a chance to explain what you offer. In such cases, it may be an idea to make the about us link easier to find, as Hartwell & Co does in a previous example.
T&Cs and privacy policies
Boring for some, and relatively few people will actually read terms and conditions, but it needs to be there. Another link to place in the footer.
Returns and delivery information
This information should be available at various points throughout the site. For example, you may want to place a link to returns on product pages where people are thinking about a purchase, and during checkout where people are selecting delivery options.
Otherwise, a link in the footer will allow people who need this information to find it easily.
Links to blogs and other content
How prominently you promote your blog and other content like videos and image galleries may depend on your content strategy.
Some retailers choose to highlight editorial content as prominently as products, as they see it as a way to keep customers engaged on the site and interested in their products.
Otherwise, a link to the blog (if you have one) in the header will be enough for most visitors.
Personalised recommendations
This is more advanced, but if you have information on visitor purchase history and behaviour, you can tailor the homepage or at least some elements of it, to their preferences.
This can be as simple or complex as you want to make it. For example, ASOS defaults to the men's section of the site when I return, knowing that's the section I usually shop in.
On a more advanced level, sites can display products I've viewed before, or those that are relevant to my previous purchases, something Amazon and others do very well.
Links to social media profiles
I'd say these aren't essentials, but placing links to social profiles helps retailers to build a social audience. Placing these links in the footer, or towards the bottom of the page means they're there for those visitors that want them.

Social proof
A little social proof, such as testimonials or reviews can help to reassure site visitors and make them happier to shop.
Here, AO.com displays its TrustPilot score prominently where visitors will see it clearly. Note also the promotional messaging on price matching, returns and delivery.

If your site has been mentioned in the media, this is another way to establish it with visitors who may be unfamiliar with your brand.
Here, Sous Chef shows the logos of the sites and magazines it has been featured in.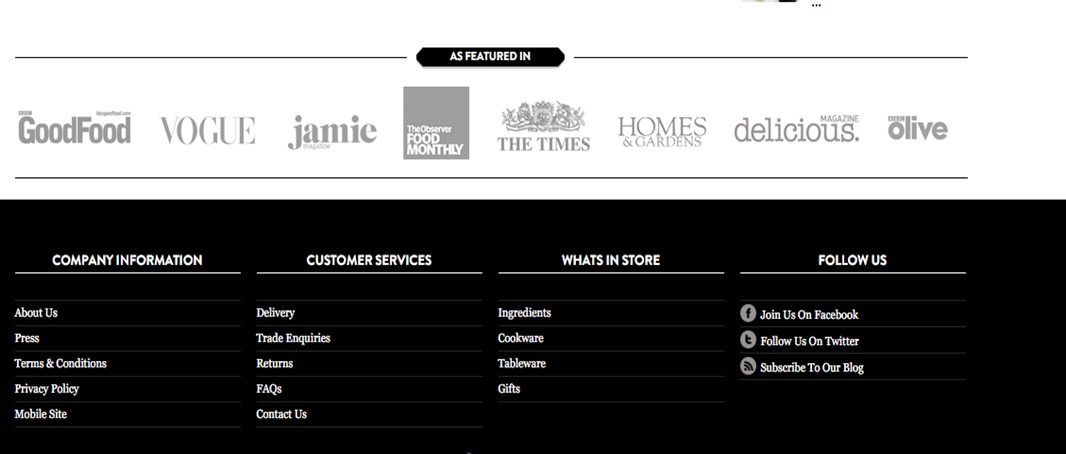 Trust marks
Trust marks which reassure customers about the security of your site can help build trust, though they're not necessarily an essential feature for the homepage. Instead, they may be better deployed just before and during checkout.
In summary
This is intended as a checklist for an online retailer to use against their own page. Not every site will need all of these features, but if there are some you're not using, it may be worth thinking about whether it could add something to your homepage.
As with much in online retail, it's about experimenting and testing to find the best performing homepage.