Shopping basket (or cart) pages are a key part of the customer journey on an ecommerce site, and work as a kind of gateway between product pages and the checkout process, allowing customers to review their order.
There are a variety of design options for basket pages. Some sites use them as a place to add lots of messaging and try to increase basket values with cross-selling options, while others keep them as basic as possible to reduce distractions. Some sites don't even have a traditional basket page.
The aims of the shopping basket page are:
To confirm the contents of the customer's order and the total costs.
Provide an opportunity to edit the contents of the basket.
To answer any questions customers may have at this stage, or to provide channels to do so.
To move customers into the checkout process.
Some customers will just use cart pages to find out total costs or for comparison shopping, but if customers have added items to their basket and moved onto this stage, it suggests that most of them have an intent to purchase.
Therefore, the basket page needs to keep the momentum going into checkout by providing the information customers need.
These are the elements that customers will find useful on pages, or that will help retailers to persuade customers to spend a little more.
Some of these features would be considered essentials by most retailers, while others, such as urgency messaging, help to increase order values or improve the customer experience.
1. Product title, price, and image
This is obvious enough, but part of the main purpose of the cart page. It allows shoppers to check that they've added the correct item to their basket and that the price is what they expected.
Showing a small image of the item just helps them to quickly confirm that the cart contents are correct.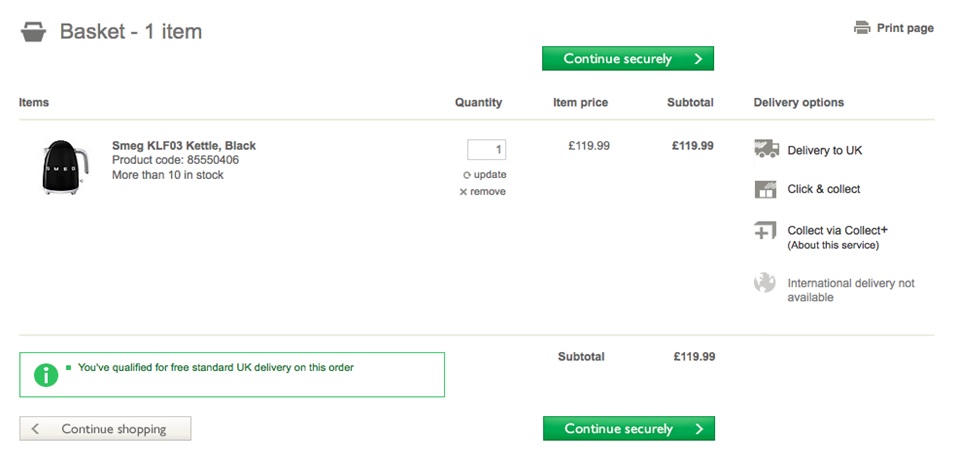 2. Quantity and size selected and editing options
This means shoppers can check they've added the right quantity and haven't accidentally clicked to add more than they intended to.
In addition, product information such as sizes and colour selected keeps shoppers informed.
Cart pages should also provide options for shoppers to edit details if they've made a mistake or want to change their minds. If they can do this from the cart page, it makes things much easier.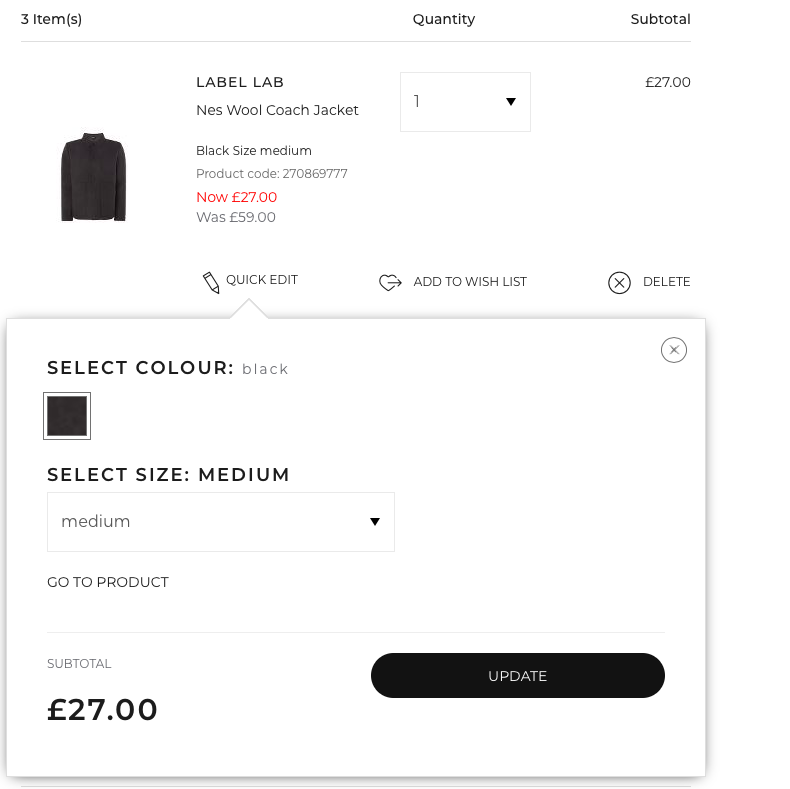 3. A clear call to action
The visit to the basket page will be a very short one for most shoppers. They check the details and price are correct, then head through to make a payment and complete the purchase.
A clear call to action helps to speed this process up, as it means customers can easily find the step they need to take to move on.
There are lots of theories about button colour and placement (green for go etc) but the fundamental point is that it needs to stand out from the page so customers can find it easily.
Here, the green call to action on House of Fraser means it stands out from the page and can't be easily missed.

4. Delivery charges and any other extras
Ideally information on delivery costs and any other charges should be available to the customer before they reach the shopping basket page, but it should also be shown here so customers enter the checkout fully informed of total costs.
Here, Waterstones sets out its delivery options on the basket page, which customers can choose during checkout.

5. Contact details
Contact details should be visible from basket pages for two reasons. Firstly, they reinforce trust in customers minds as they make a site seem more credible, and offer a way to get in touch if they have any problems with an order.
Secondly, contact options offer customers the chance to make contact straight away if they have any questions, and this means retailers can address these issues before customers abandon a purchase.
6. Accepted Payment Methods
While many customers will just assume their debit or credit card will be accepted and continue through to checkout, some will be looking for this information, especially if they want to use PayPal or other alternative payment methods.
7. Continue shopping option
Some customers may want to check the basket before continuing to shop around the site, so provide a link to allow them to do this easily.
Also, it's important to make sure they can come back to the basket page easily. Many shoppers will be aware that basket links are normally shown on the top right of the page, but it doesn't hurt to highlight this when items have been added.
8. Promo code box (if using)
Promo or coupon code boxes are potentially troublesome, as they can have unintended effects.
If you are actively using codes as part of your marketing, then customers will often expect to be able to enter their promo code on the basket page, so they can enter checkout with any discounts already applied.
However, if customers don't have a code and see this box, it can often make them wonder whether they are missing out on a better deal.
The obvious response to this is to head to Google and search promo codes. The risk for the retailer is that once they leave the basket page they may not return, or may find a better deal from a competitor.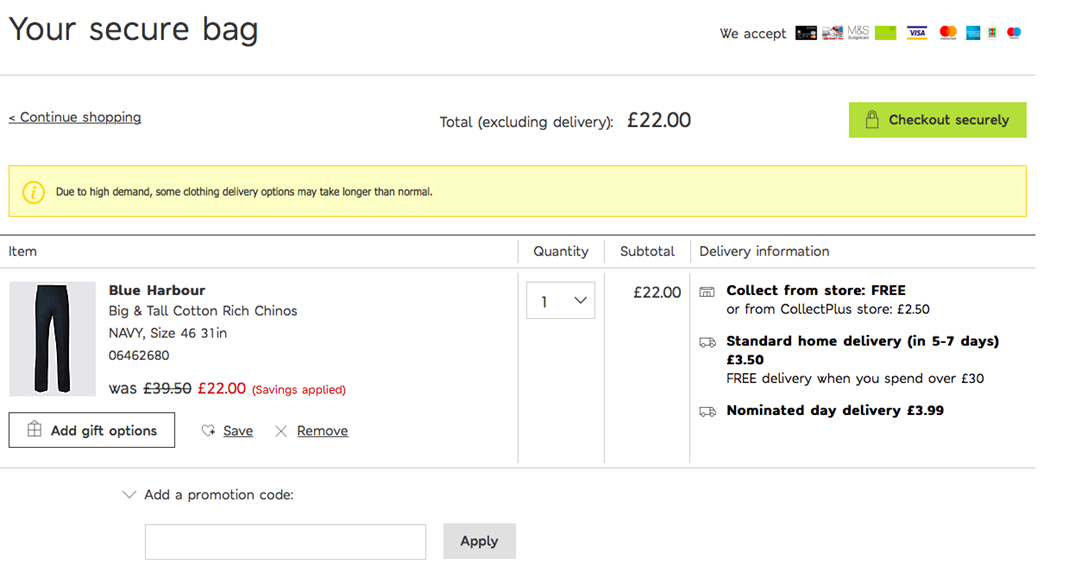 Therefore, the use of promo code boxes should be considered carefully. It can sometimes be a good idea to make them less prominent, so that people looking for them will find them, but they may go unnoticed by others.
9. Security messaging
The basket page is a place where ressurances can be offered to customers about site security.
A lot has to do with the general user experience and the look and feel of the site, but if they're shopping with a retailer they may not have used before, then things like security logos can work well and offer reassurance at the right moment.
Other sites opt for reassuring copy, especially on CTAs, such as 'proceed to secure checkout'.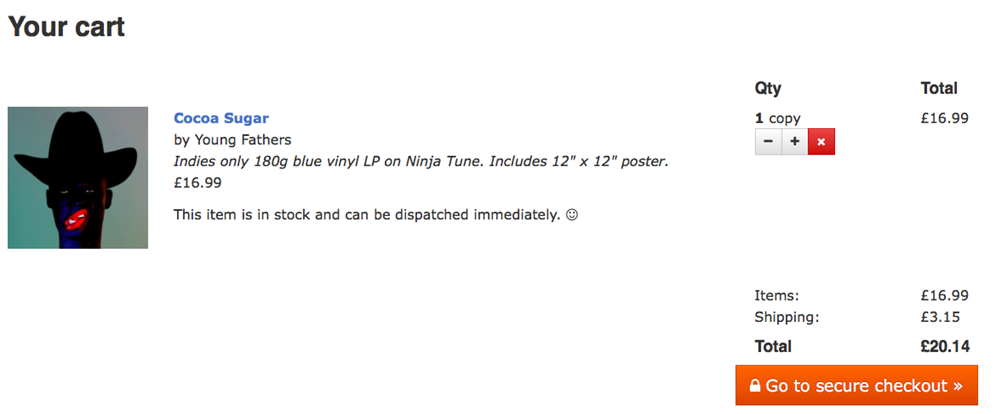 10. Cross selling suggestions
While the focus should be on providing the information users need to progress, the basket page is also a good place to persuade customers to add a little more to their order.
Suggesting relevant products related to or complementary to the ones they're purchasing is one way to do this. Or it's also a good place to offer add-ons like insurance and installation.
11. Show relevant offers
Any relevant offers could also be shown here to increase basket values. Perhaps there's a multibuy offer on the products in the basket and the customer can save if they add more.
More commonly, retailers may have thresholds for free or next day delivery, and the basket page is a good place to remind shoppers of this.
If you tell them they need to spend £10 more for free delivery, it's a great encouragement to get them to add more items.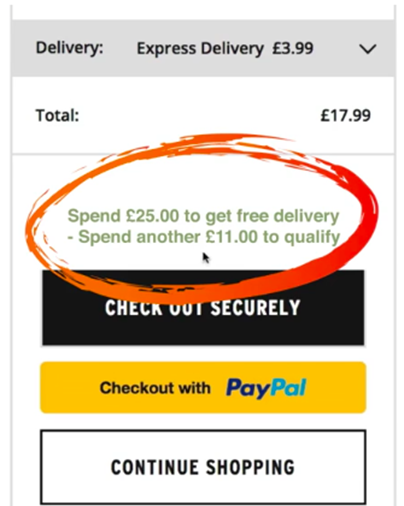 12. Customer testimonials
When they reach the basket page, some customers may still be experiencing doubts about completing the purchase.
Showing testimonials from other customers, or retailer reviews from other customers can offer reassurance at a key point in the process.
In the same vein, product review scores can be shown on the page to reassure customers that the product has been popular with other customers.
13. Returns and delivery information
This information can be key to purchase decisions for customers, so they should be able to access this from the basket page.
For example, M&S provides links to delivery and returns on its basket page, which open up in a lightbox window so customers don't need to leave the page.

14. Use some urgency
Urgency, used well, can help to speed up customer's decision, and give them extra reasons to complete the purchase.
Here's an example from Schuh, with shows a countdown timer to the deadline for next day delivery. It's also a great way to highlight the next day delivery option and persuade customers that it's worth paying extra for this.

15. Allow customers to save basket contents
Some customers may be doing some research, or perhaps want to have a think before they commit to a purchase.
For these customers it makes sense to let them save the basket contents so they can come back later to complete the purchase.
Many sites will do this automatically, which is a good idea, as long as stock isn't tied up that other customers want to buy.
Alternatively you can prompt logged in shoppers to save items, or offer to email their basket contents. This latter option has another advantage – it means you can gather customers opt-in for marketing and send them follow up emails to remind them about the contents of their basket.
16. Keep basket pages simple
There is a certain amount of information that retailers need to convey on basket pages, and this will vary between different products and retailers.
However, if the result of adding lots of information, offers, cross-selling suggestions and more is to create a cluttered page it might be counterproductive as customers will have difficulty absorbing the information.
Instead, it should be as simple as you can make it, while still providing what customers need.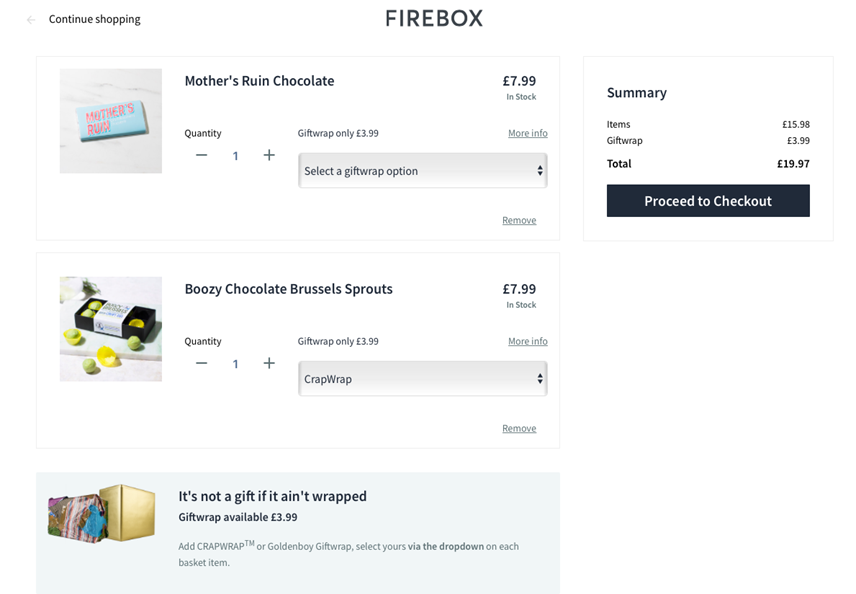 The above example from gift site Firebox is fairly minimal, and perhaps too much so, but it does convey the key detail on product and price, and doesn't place any distractions in front of customers.