The world of digital marketing is becoming increasingly customer-led. The days of businesses interrupting your day with pitches and offers are – thankfully – dwindling, giving way to a subtler approach. Businesses today need to earn their customers' attention and loyalty by demonstrating that they are best placed to deliver a service or product. They achieve this by producing helpful, informative content, which speaks directly to their customers' needs. Content is key, and should become an integral part of any businesses' marketing strategy.
Part One: What is Content Marketing?
Content
Simply put, content is all the 'stuff' you can produce and disseminate online: blog articles, images, infographics, videos, tweets, Facebook updates and Instagram posts. Unfortunately, we are in an age when content is king, thus the web is awash with unhelpful, untargeted garbage, making it increasingly difficult for your intelligent, well-crafted content to be noticed.
The challenge of content creation is in making it valuable and useful, created with your audience firmly in mind. This is where content marketing comes in….
Content Marketing
The Content Marketing Institute describes content marketing as:
" a strategic marketing approach focused on creating and distributing valuable, relevant and consistent content to attract and retain a clearly-defined audience — and, ultimately, to drive profitable customer action."
Essentially, it's a move away from pushing your product or service on your customer by interrupting their day and towards earning your customer's attention (and respect) by presenting information they'll find helpful.
It also involves having a destination in mind; a "profitable action". Content marketing is about creating valuable content for your audience with the aim of beckoning them to a desirable location (your website) and converting them into loyal customers.
A good content marketing strategy will ensure your content:
Is appropriate to and produced for your audience
Is found and read by potential or existing customers
Leads to a profitable outcome for your business
Part Two: How to Use Content Marketing in Your Business
1. Understand your audience
Understanding your audience underpins everything you do in digital marketing, but is particularly central to content marketing. As so much content around the internet is 'spammy' and untargeted, you will immediately have an advantage if you have a well-defined audience in mind for your content.
Define your customer personas
Customer personas are three-dimensional characters you develop to help you envisage your customers' habits, concerns and needs. Try to create two or three different personas to represent the various parts of your customer base, and make them as realistic as possible. You might want to include:
Name, age and location
Profession and industry
Marital status
Online habits: Facebook/Twitter/Instagram users? Predominantly an online shopper? Are they tech savvy?
Pain points: What's the trigger that causes them to look for someone like you to solve a problem?
Search queries
Hubspot has some great resources to help you develop your personas.
The direct outcome of this work is to allow you to create content that speaks directly to your customers' needs and search queries, rather than producing content for its own sake. Targeted content is much more likely to be seen, shared and acted upon rather than left to float around the web ad infinitum.
2. Define the customer journey
Given that the purpose of content marketing is to earn customers' attention and lead them to a "profitable action", some consideration must be made to the journey you expect your audience to take.
As each buyer has their own individual journey, it's tricky to generalise, but carefully considering your personas' buyer journeys will help you to provide them with the most appropriate information (content) at each stage of their process and hopefully convert them into loyal customers.
A combination of the type of business you are, your product or service, and your customer type come together to determine what kind of journey you should expect. You may find that your customers are relatively impulsive about their purchase and won't need much convincing; or you could have a product that requires a great deal of thought and research, so you'll need to nurture your customers for longer. In all cases you'll need to provide appropriate material for each part of the process: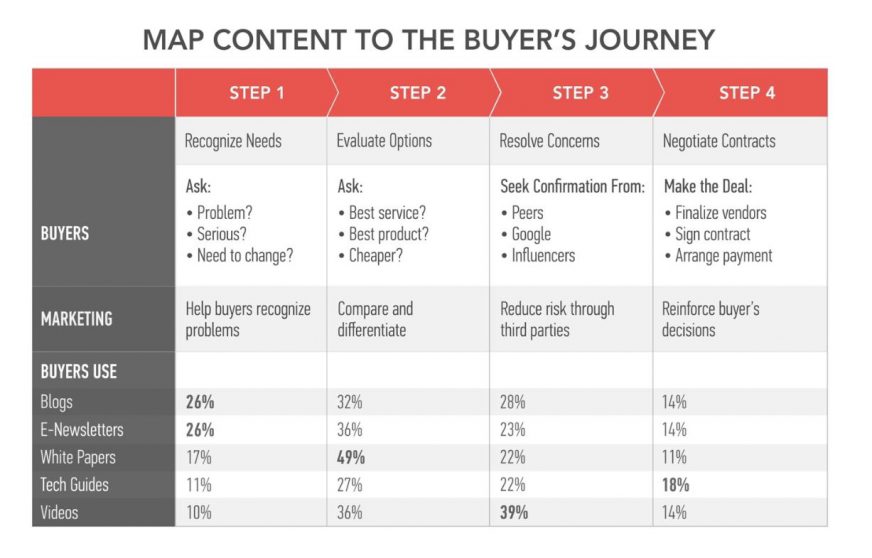 3. Draw up a content plan
Now you know your audience, their online habits and likely buyer journey, it's time to develop your content plan. This involves asking some fundamental questions about how much time you have available to spend creating content. Ideally, you want to regularly produce valuable content, but make sure it's sustainable – share the burden around your company if possible.
You need to consider:
Type of content you want to produce, e.g. blog posts, images, infographics, whitepapers, videos etc.
How often you publish content;every day, once a week, twice a month – what's manageable?
Who produces the content – where possible, share the load and play to team members' strengths.
Keeping the content burden varied – some pieces may require a lot of effort, so follow these with smaller, less time-consuming pieces.
How you promote your content. Plan how you publicise it – social media is a great place to start.
Top tip: Draw up a content calendar to help you plan your content production and dissemination. Assign different people to each content piece, and keep the calendar varied to avoid continually producing the same type of content.
4. Crack on with your content
Speak to your persona(s)
Given that you've spent so much time developing your customer personas, it's important that you use them. Whatever content you're creating, keep referring back to these fictional types with the following questions in mind:
What problems are they looking to me to resolve?
How will my content help them?
Keep it valuable
Make sure your content is valuable to your customers. Keep your tone of voice consistent with your brand, and don't try to show off!
Evergreen content
Occasionally, consider creating content that you can use more than once. Evergreen content is useful because it saves valuable time and resources – you write it once but can promote it repeatedly to earn a new following of potential customers each time.
Include a call-to-action (CTA):
They key to making your content a useful marketing tool is by including a call-to-action at the end of your piece. This works particularly well at the end of a blog post, where a simple "get in touch" button offers your readers a chance to act on what they've read and speak to you as their trusted source of information.
More complicated CTA flows might be a "download our whitepaper" button, which leads the reader to a sign-up page to access a free download.
5. Promote promote promote!
Producing your content is only the first step; it's useless until it's seen by your audience.
….Cue your social media!
Refer back to your customer personas: where do they hang out online? If you're not entirely sure, use your content to find out. Link to your content on as many social platforms as you can and monitor which platforms get the most engagement.
Share your content more than once
The average half life of content shared on Twitter is just three hours. On Facebook, your content will have received 75% of all the views it'll ever see in just five hours (Content Marketing Institute 2017). As such, you need to make the most of this short time frame and promote your content widely and regularly as soon as it's published.
Automate and schedule
Make your life easier by choosing a social media scheduling platform that allows you to upload your social posts and schedule them. Hootsuite and Buffer are great options if you want to share the burden. Each has a free subscription, although you can pay for higher tiers of membership for more complex use.
Measure and learn
You'd be doing extremely well if you were to crack content marketing the first time around. In fact, the most astute content marketers know that the whole business is a process which requires time, careful measurement and, above all, constant learning.
Set up some metrics to determine how successful your content creation has been. You might want to measure:
Website visitors from social media
Conversions (e.g. product purchase/subscription/get in touch) as a direct result of content engagement
Page views on content pages
Engagement time on content pages
You can use a mixture of Google Analytics (a digital marketing professional will be able to help you set up and analyse goals); social analytics (Hootsuite and Buffer both have analytics, or you can look at Twitter Analytics or Facebook Analytics), and qualitative feedback (what are people saying about your content? Are you seeing a big increase in sales/leads?).

A monthly check of your numbers will show you what's working and what's not. For example, you may find that your content pages are getting a lot of page views but these aren't converting into any leads. If this is the case, revisit the customer journey and consider new ways to engage your audience for longer and nurture their buyer journey.
Final thoughts
There's no doubt that content is where digital marketing is at. Valuable content is the key to helping consumers navigate the already bloated online market and make decisions about which brands they will choose and which they will disregard. It's important that you adopt elements of content marketing to help your business stand out in the crowd and establish you as the authority.
Don't be overwhelmed – you don't need to bust a gut to make content marketing work for you. Start small and build up your content as you gain confidence. A simple blog post with some social media is a good place to start and could be the difference between earning loyal customers and losing them to your content-savvy competitors.