Subscription-based ecommerce can be a very attractive business model for retailers. Its key attraction is that it increases customer lifetime value and should reduce the costs of acquisition.
The subscription ecommerce market was estimated to be worth $10 bn in 2018, growing from $4.1bn in 2016. If you take into account partial subscription models like Amazon Prime, the market is even larger.
In the UK alone, the subscription box market is forecast to grow 72% by 2022, according to a Royal Mail report. The market is forecast to be valued at £1bn by 2022, compared to £583m in 2017.
Subscription ecommerce is a business model in which customers subscribe and make regular (often monthly) payments to receive goods or services.
There are three broad types of subscription ecommerce models. Of the three, subscription boxes are the most popular, followed by repeat purchase models.
Repeat purchases. These are services in which customers receive the same goods on a regular basis. For example, Dollar Shave Club offers regular boxes containing razor blades and other shaving equipment. Customers pay from £5 per month to receive regular replenishment of these items.
Subscription boxes. Often curated, these are regular boxes of products, not necessarily containing the same items each time. The boxes arrive regularly but the contents change. Graze is a very successful example of this. It sends customers boxes of snacks, either weekly or fortnightly, each of which is curated for the customer.
Access models. Some subscriptions offer access to members only perks, or things like free delivery, Amazon Prime being one example, where people pay a monthly or annual fee in return for free delivery and more.
Of the three, subscription boxes are the most popular, followed by repeat purchase models.
What are the benefits of subscription ecommerce models?
Convenience for customers. The appeal for subscribers is that it saves them time and effort if they know items they need or want are arriving regularly. No need to re-order regularly.
Convenience for retailers. Subscription models deliver a more predictable income. Retailers can predict volume and demand much more easily, enabling them to order stock more accurately, and reducing waste. They also know when and where products need to be delivered, so can organise logistics more effectively.
The ability to build relationships with customers. Regular deliveries of subscription products mean that retailers are in contact more often with customers. This allows them to build a relationship, and to suggest new offers and cross-sells.
Great for cashflow. Retailers are paid upfront, so bank balances are healthier.
Subscription customers can be higher margin. Acquisition costs can eat into the profit margins of 'normal' retailers, but when acquired customers are longer term subscribers, the profit per customer acquired should be higher. In addition, companies can afford to spend more per acquired customer, knowing that they'll make more in the long term.
Higher retention rates. Customers are committed to regular payments, so they're less likely to churn. For this reason, retailers need to spend less on retention based marketing.
Faster feedback. With more regular orders, retailers will hear of any issues with products more quickly, enabling them to address problems as they arise.
Learning from customer data. Another area where regular orders help is by gathering and learning from customer data and habits. For example, Graze receives more than 15,000 ratings per hour on the contents of its boxes, data which helps it to hone and improve its offering.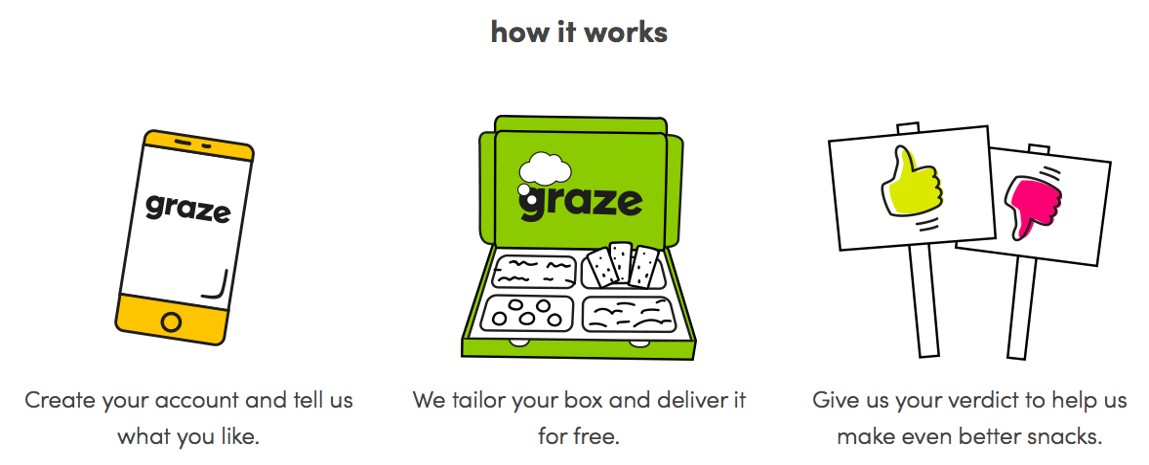 There are some potential drawbacks, or challenges with subscription ecommerce though. One is that new customer acquisition can be harder. Rather than making a one-off purchase, customers are being asked to make a commitment, so it can be a harder sell.
Many subscription sites aim to make it as easy as possible to get started, through a mixture of good UX (ensuring that product selection and checkout is nice and easy), free trials and clear onboarding.
Maintaining customer interest can also be a challenge. Some may become bored of the products, or there can be issues in finding the volume of product that works across a range of customers.
The best subscription businesses will test and learn from feedback and work hard to keep products fresh and interesting for customers.
How ecommerce businesses could offer subscriptions for customers
While many subscription ecommerce businesses have chosen that model from the beginning, it is possible for existing retailers to move into this area and offer some subscription options.
If your products suit a subscription model, then it can make sense to move into this space. Some may be obvious – for example, Gillette has responded to the success of Dollar Shave Club by launching its own subscription product.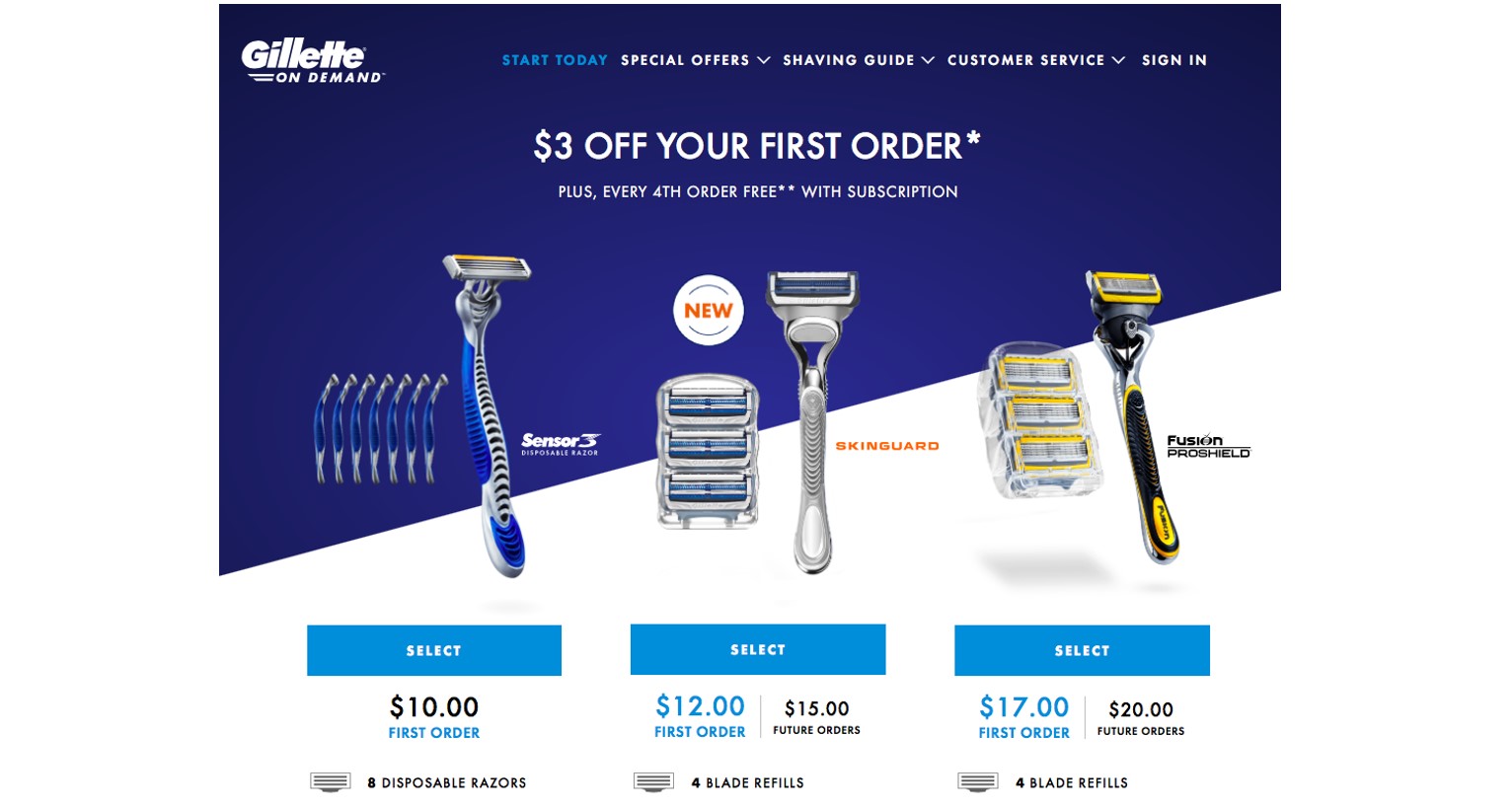 Others are less obvious. Sports clothing retailer Under Armour recently launched an interesting subscription product, the Armour Box.
Subscribers are sent a box every 30, 60 or 90 days with a selection of items curated for them. The difference between this offering and other box subscriptions is that customers only pay once the box has been delivered, and then only for the items they want to keep.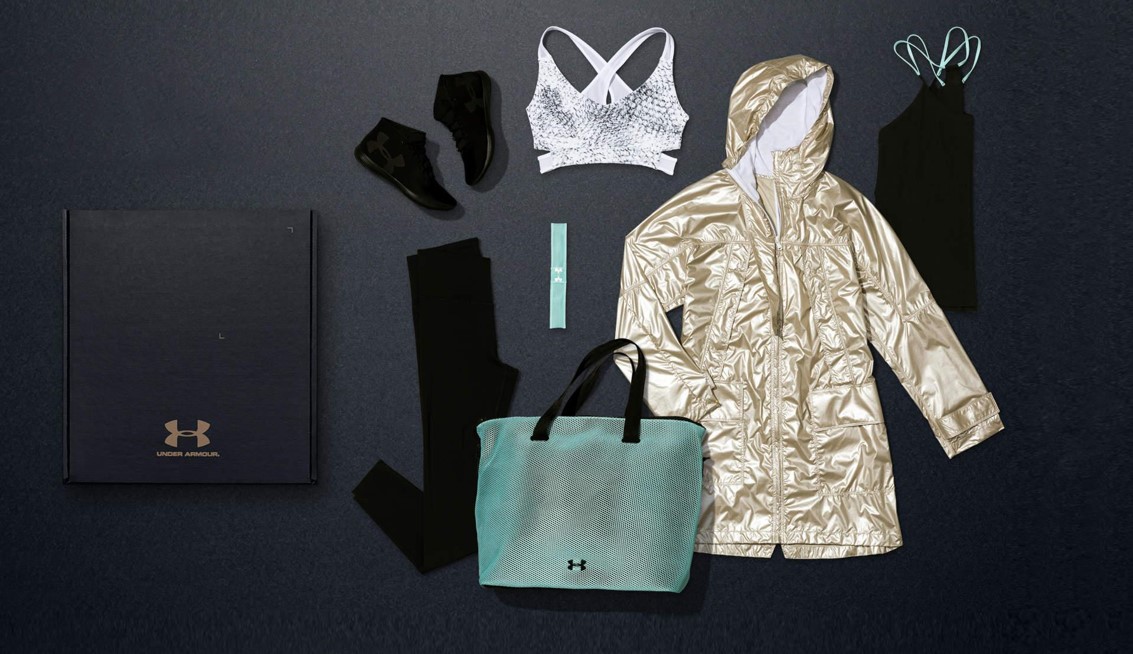 It's a smart idea in some ways, as it makes it seem less of a commitment to sign up to the boxes in the first place. Also, once customers have the items in their hands, they're less likely to return them. It's a persuasive model.
If you're thinking of launching your own subscription plane, it's important to consider a few points:
Do your products suit a subscription model? It's important to think about how often customers need to purchase the items you sell, and whether they're a good fit.
Review your data. Look at buying patterns for some products – are there items that customers regularly purchase?
Customers may expect some discount for subscriptions when compared to buying normally. Factor this into your pricing when launching a subscription.
In addition, if your products don't necessarily fit the subscription box or replenishment model, you can look at other subscription offerings like access models.
Amazon Prime is one example of course, but other retailers have followed suit and added similar offerings. ASOS is one example, with its Premier Delivery service. For £9.95 a year, customers get free and unlimited next day delivery.
It's predictable income for ASOS, but its biggest value is perhaps as a customer retention tool. Once they have paid for a year's delivery, it gives customers a big reason to choose ASOS over competitors. If this kind of offering works, the extra sales driven by subscribers should outweigh any delivery costs.
What can retailers learn from subscription-based ecommerce?
Even if retailers decide a subscription model doesn't suit them, there are still lessons to be learned from this business model and the sites that use them.
One idea is to incorporate repeat purchases without having the full subscription package. It can be offered as an alternative and perhaps more convenient option at checkout for example.
Pets Corner offers this option on its product pages, as people select products like dog food. The single purchase option is the default, but there is a clear offer to add items 'on repeat' by choosing the preferred frequency.
From this point, if customers select the repeat option, then it works like a subscription model, but customers aren't given the hard sell, and this doesn't interfere with the normal purchase process.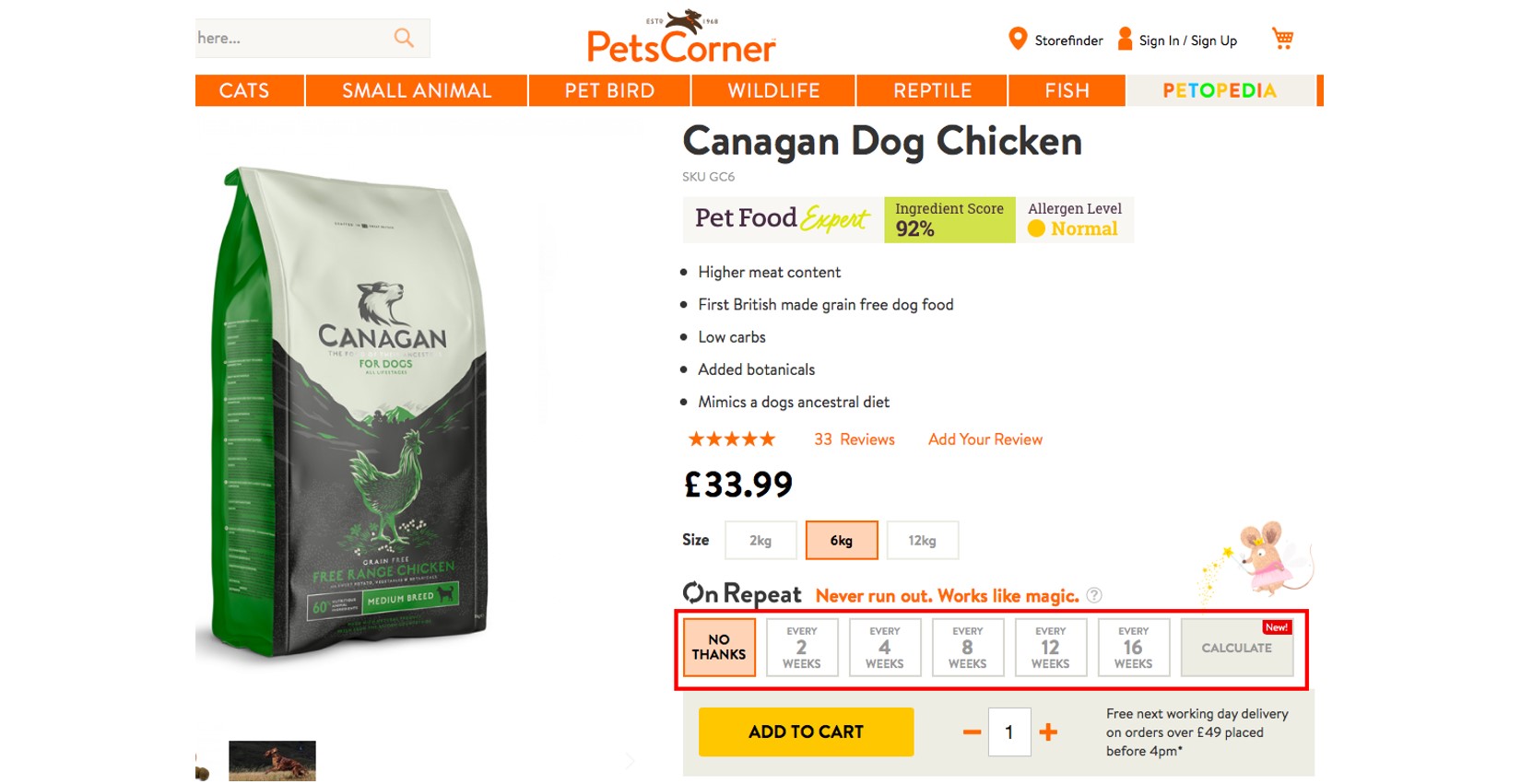 Another thing to think about is customer retention and the ease of making repeat purchases, which are key characteristics of subscription models.
Customer retention is greater because customers have to actively opt out once they've signed up, but also because the best subscription retailers work hard to keep them happy.
For example, by monitoring customer behaviour, feedback and reviews on products, and interactions with customer services, you can identify and address issues which may affect retention rates.
For some product categories, and using customer purchase history, you can prompt them to re-order with replenishment emails, timed when they are likely to be running out of certain products.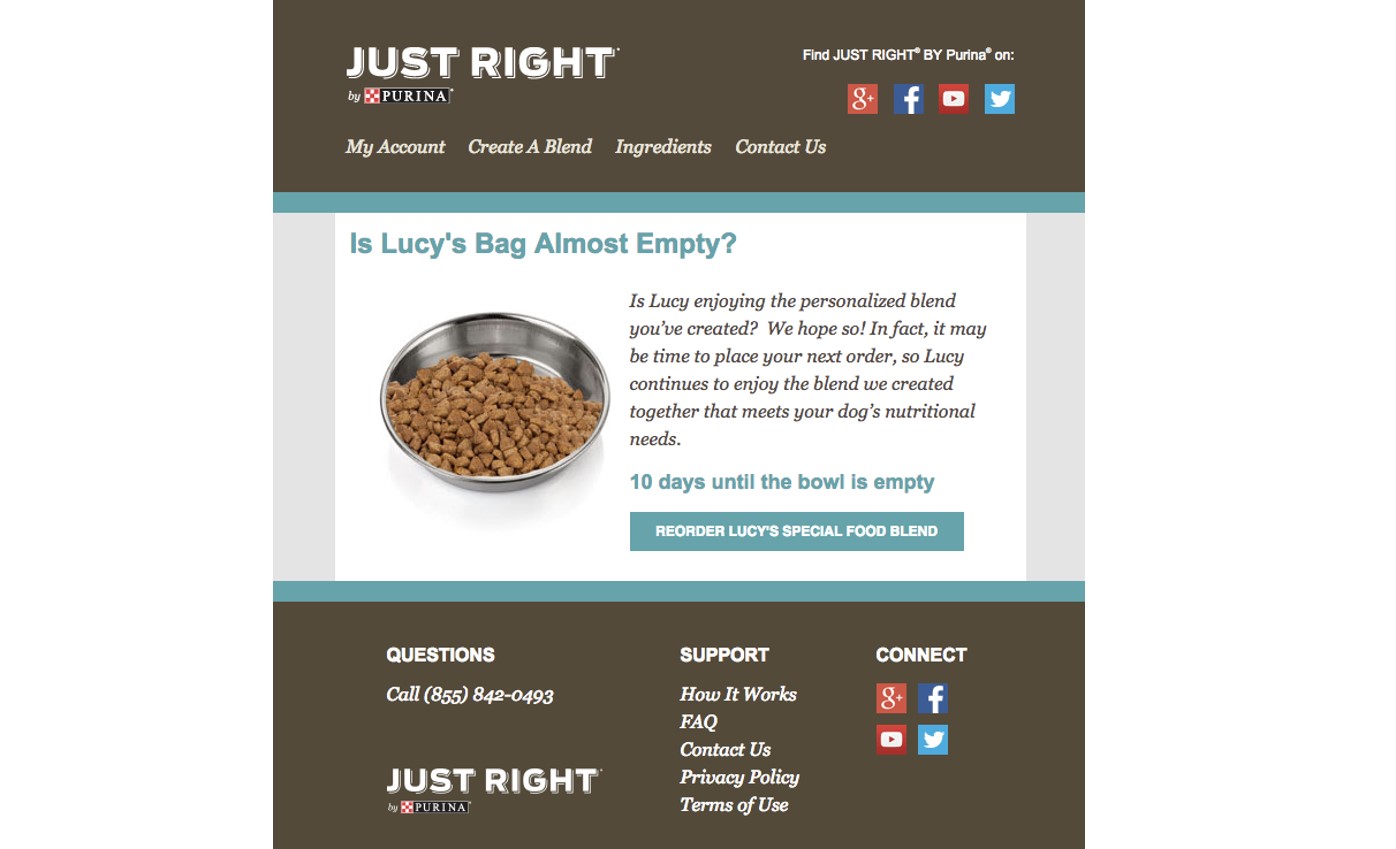 Offering to save a customer's billing details can help to make repeat purchases easier too. Many Payment Gateways, such as Shopify, offer features where customers can save payment details.
This makes it easier to drive repeat business, as much of the work of completing checkout can be skipped – customers merely need to enter an email address and password.
In summary
Subscription ecommerce is an attractive business model, with huge benefits in terms of customer retention and predictable and regular income, in addition to the other benefits laid out in this article.
Many of the more successful subscription businesses work because they can focus on a small number of products, and the best will use the data and feedback they gather to continually refine and improve their offering.
For retailers selling large product ranges, this may be less appropriate, or easy to do. It can also be harder to make the switch once you're established as an online retailer. Technology and legacy systems can all be obstacles to offering new models for customers.
That said, if the products suit subscription, it can still work, and can be offered as an extra product alongside the standard retail offering, as Under Armour has done.
Perhaps the easiest offer is to go down the ASOS route, and offer subscriptions through delivery and discounts, which can help to tie people in and drive repeat purchases.
Finally, whether you opt for any type of subscription model or not, all retailers can benefit from a focus on retention, and the service and overall customer experience that keeps customers happy.