Charities face a challenge in adapting to a more digital future. As more and more of its target donors are moving online, charities need to adapt their digital strategies to promote their aims and attract donations online.
Indeed, stats from Blackbaud highlight the importance of online donations.
Over the past year or so, overall donations have been falling, with online donations (with the exception of a few dips) on the rise.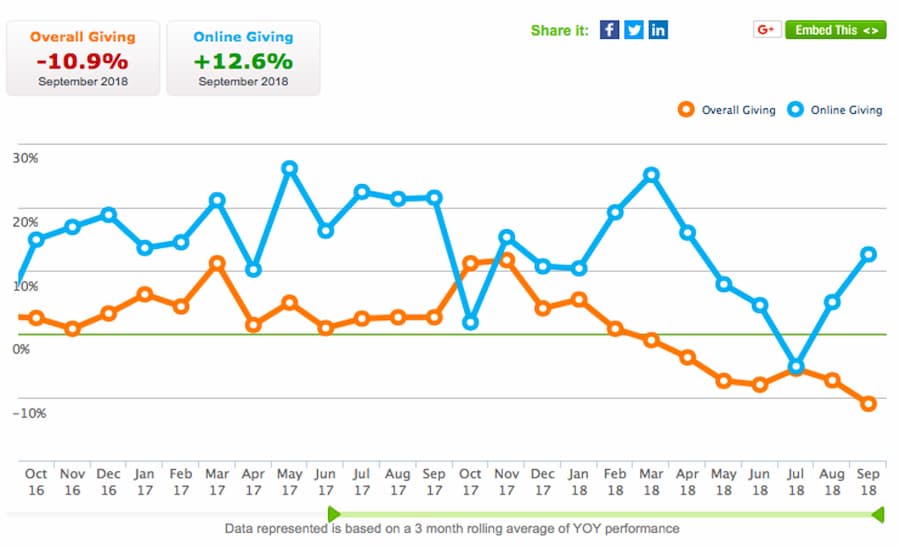 The hub of a charity's online activity is its website. It should be a place where visitors can find out all they need about the charity's work and aims, and be able to donate or contribute easily.
In this post, I'll look at some of the essential features for charity websites, how they can optimise the donations process, and some examples from charities which are getting it right.
Charities and digital capability
Charities, particularly smaller charities, have a challenge with digital marketing. They may lack the resources of others, and besides, there is pressure to spend as much of donations as possible on the charity's goals, not marketing and other costs.
The good news, according to the Lloyds UK Business and Charity Digital Index, is that charities are improving when it comes to digital.
For example, charity digital usage is at an all-time high, with 99% of charities now online. In 2014, just 24% of charities were offline.
The digital capability of UK charities has almost doubled since 2014, the Index score has increased by 92% from 24 to 46.
What information do visitors need and how should it be presented?
People arrive at charity sites in different ways. They may know about the charity already and are looking to find out more or make a donation. Or they may arrive with an interest in the area covered by the charity and want to find out more.
Charities need to cater for all types of visitors and needs, though it could be argued that the donations process is perhaps the most important.
For charities undertaking lots of different work, content prioritisation can be a challenge. Adding everything you think is relevant to homepages and landing pages may seem a good idea, but it can also lead to clutter, which makes it harder for visitors to find their way around.
In addition, visitors don't necessarily arrive at the site via the homepage, there are multiple entry points to a website, and each page needs to act as a landing page, offering clear navigation to show other areas of the site, and cross promoting content effectively.
Sites which look to be as simple as possible to navigate, and prioritise the most important content and messaging, are the easiest to use.
How mission and aims can be communicated effectively
It's good to give visitors a quick impression of your charity and its work. This applies to the sites of well-known charities like the RSPCA or Oxfam, but is perhaps more important for lesser-known charities.
For example, Shooting Star Chase, a children's hospice, has some copy on its homepage which clearly explains what the charity does.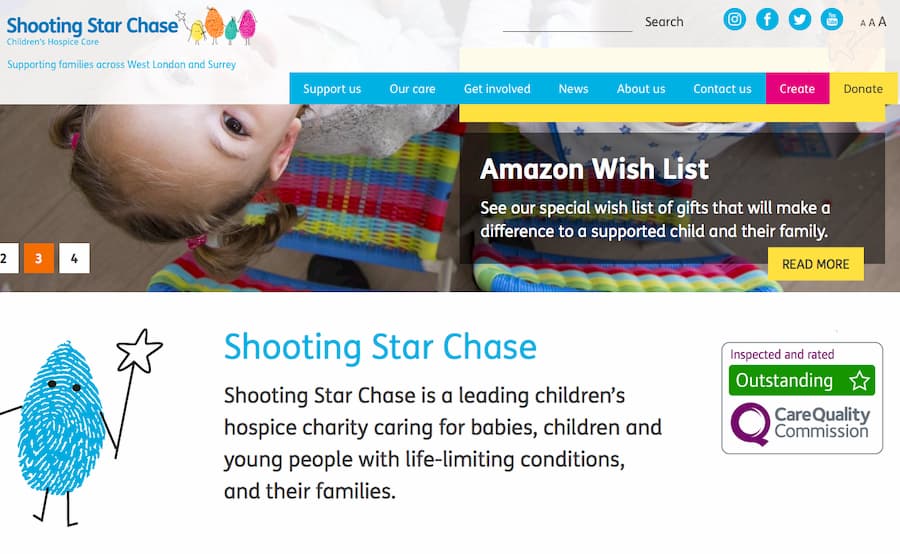 Likewise, Helen Douglas House sets out the charity's values clearly, and conveys some key information about the care it provides, and the cost of providing this.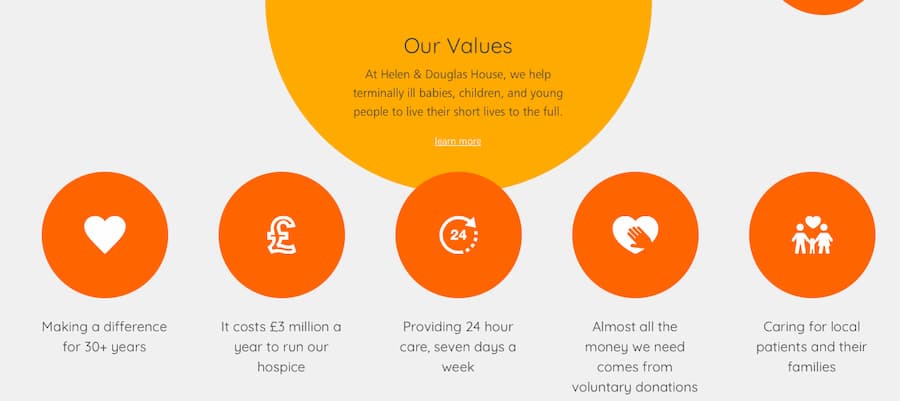 As well as communicating a charity's aims, the website should talk about how these aims are achieved, and some of the projects it is working on.
Case studies and stories can help here – these examples are from the Animal's Health Trust, which fights disease and injury in animals. This kind of content gives a direct insight into the charity's work, while reading stories of how it improves the lives of animals can inspire people to donate or help in some way.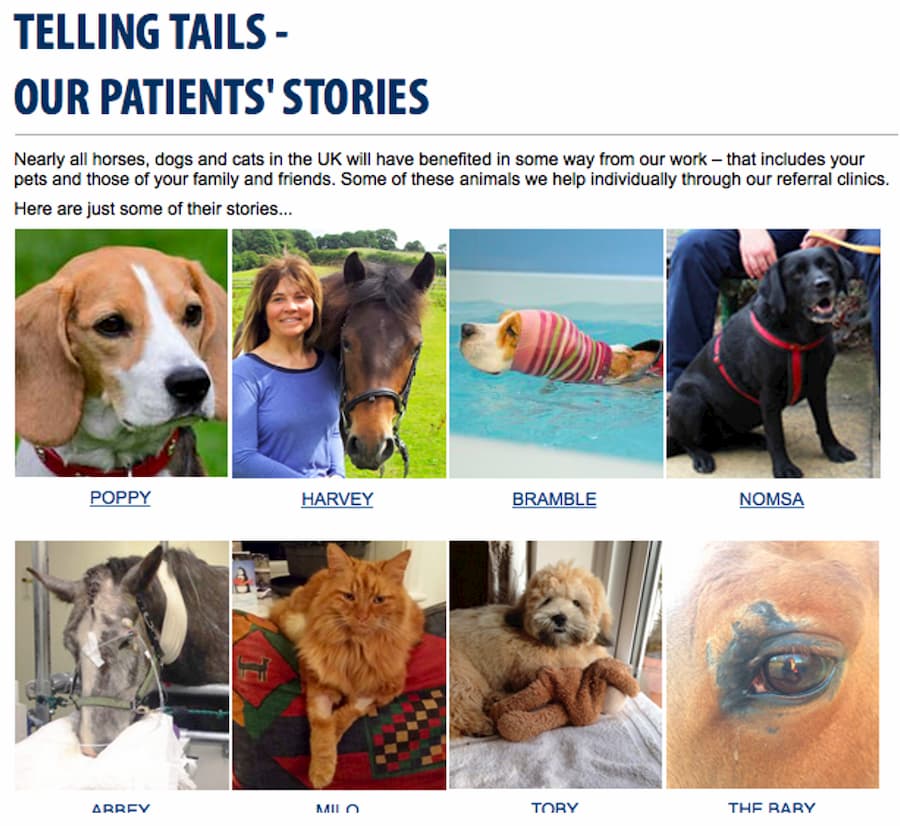 Charity:Water has an interactive map which shows the various projects it's working on throughout the world. The map helps to give a sense of the global nature of its work, and there is lots of detail on the projects the charity is working on.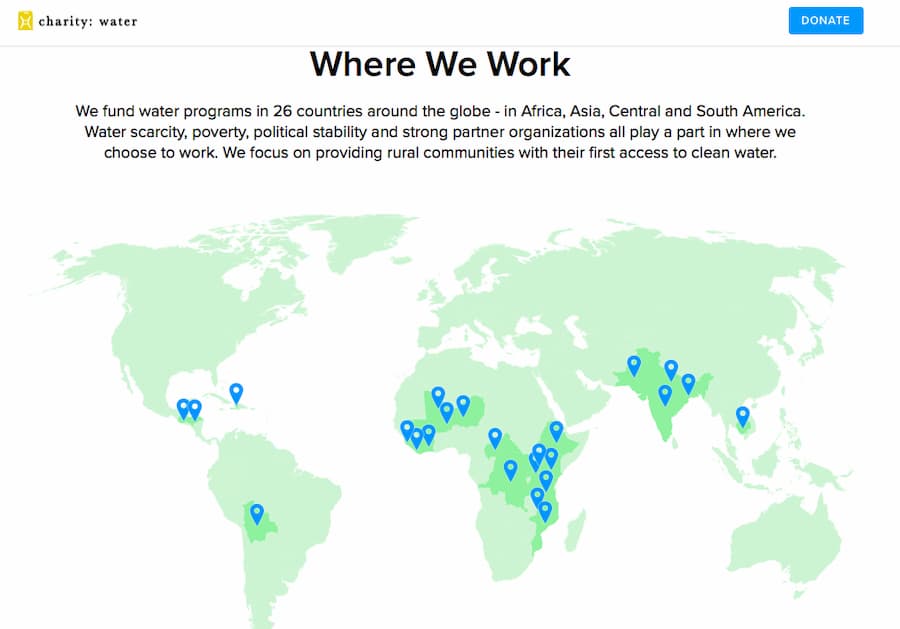 It's also a good idea to explain where the money people donate goes. People seem to trust charities less than they did a few years ago. There has been some negative press, though much of this is unjustified.
There is a perception amongst some of the public that charity executives earn too much, and concerns about how much of the money they raise actually goes to good causes.
For this reason, it can be good to explain how money is spent. Here's an example from MSF, which shows the percentage of spending split across projects, fundraising and office management.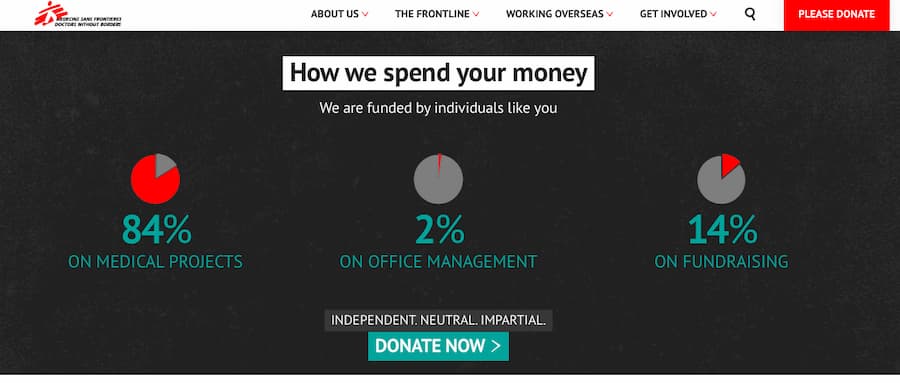 The donation process
A Lloyds report from 2016 found that just 53% of charities were accepting donations online. Some of the charities surveyed for the report are relatively small, but it is relatively simple and cost-effective to take online donations and it's essential that charities can do this.
The importance of taking online donations is further highlighted by the CAF Giving Report 2017, which found that 26% of all charity donations in the UK were made online. It also found that the under 44 age group was far more likely to donate online. It is this group which represents the future donors for charities. 
For those charities that are accepting online donations, it's vital that visitors can find out where to donate the moment they land on the site. Some people may be arriving on site with the express intention to donate, so make it nice and easy for them.
In practice, this means nice and clear calls to action (CTAs) which people can spot instantly, and a smooth donation process.
Oxfam, for example, has a very clear 'donate' link on its homepage, using the orange colour to make it stand out on the page: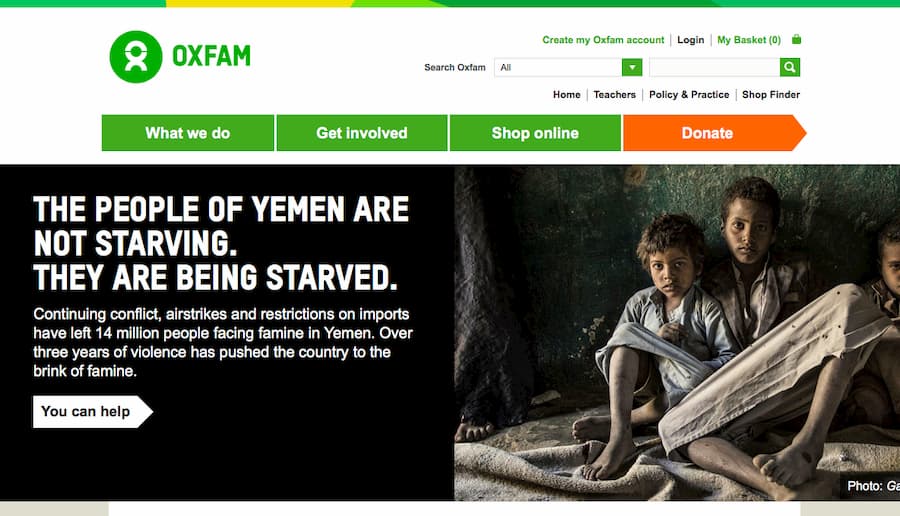 On the Helen Douglas House site, there is a persistent donate CTA throughout the site, so visitors can see it no matter which page they land on, or which page they're viewing.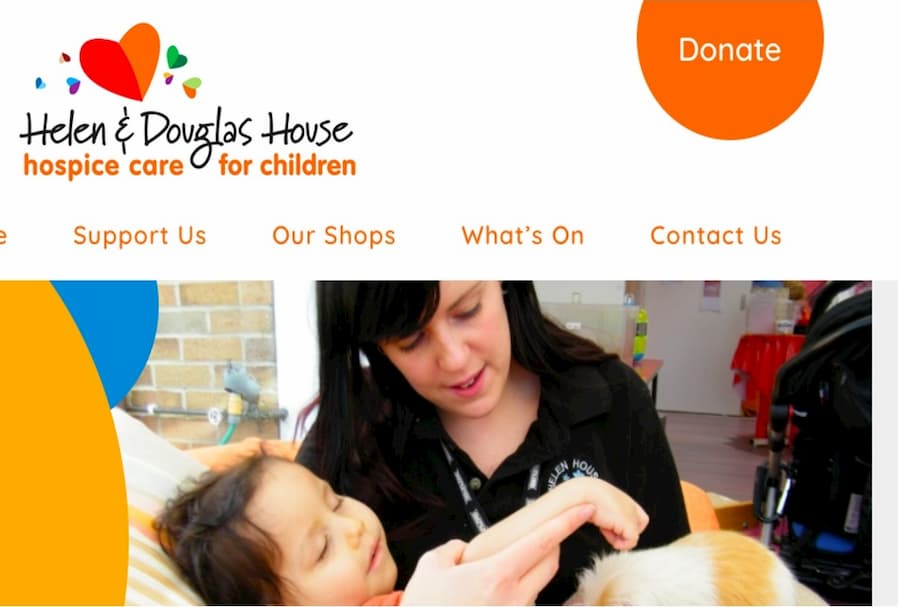 Once people have clicked to donate, the process should be as smooth as possible to go through.
It can also help to reinforce the reasons for donations, and use examples to encourage people to donate as much as they can. Note also that Oxfam offers reassurance at this stage on how donations are used.
For most charities, there's a choice between making one-off donations and setting up regular monthly payments by direct debit. This is an area where charity sites need to be clear. Indeed, it could be argued that Oxfam, by making monthly the default, could cause some users to pick the wrong option for them.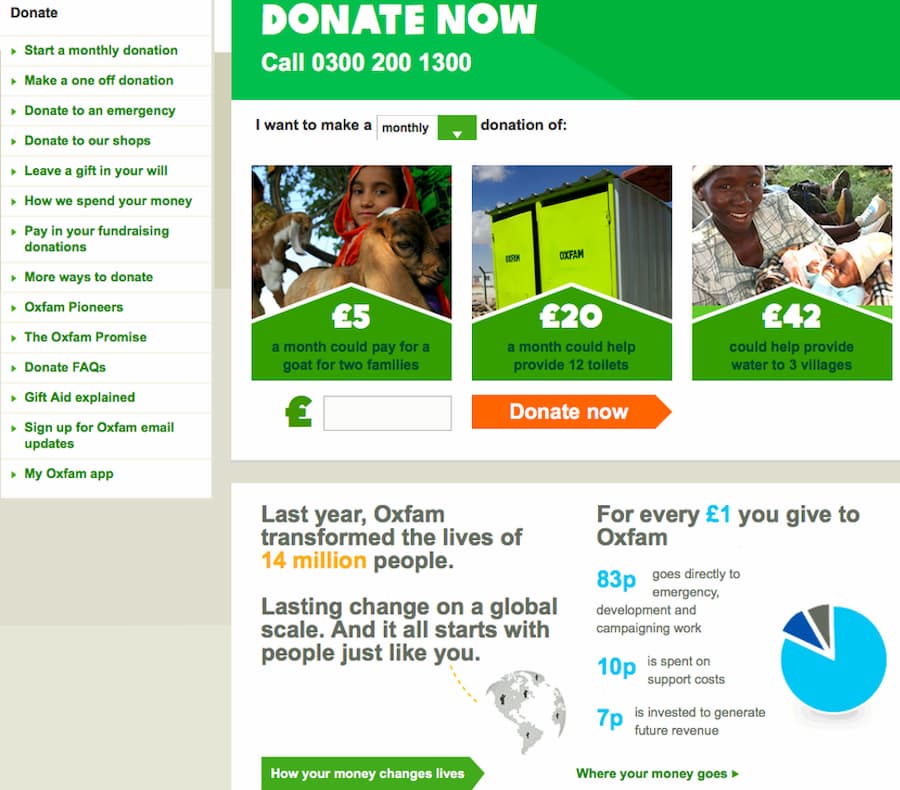 Once people select the amount to donate, it's a simple form to complete. The form is clearly designed with plenty of space, and few distractions.
Also, providing alternative payment options like PayPal can help to speed up the process and cater to different user preferences.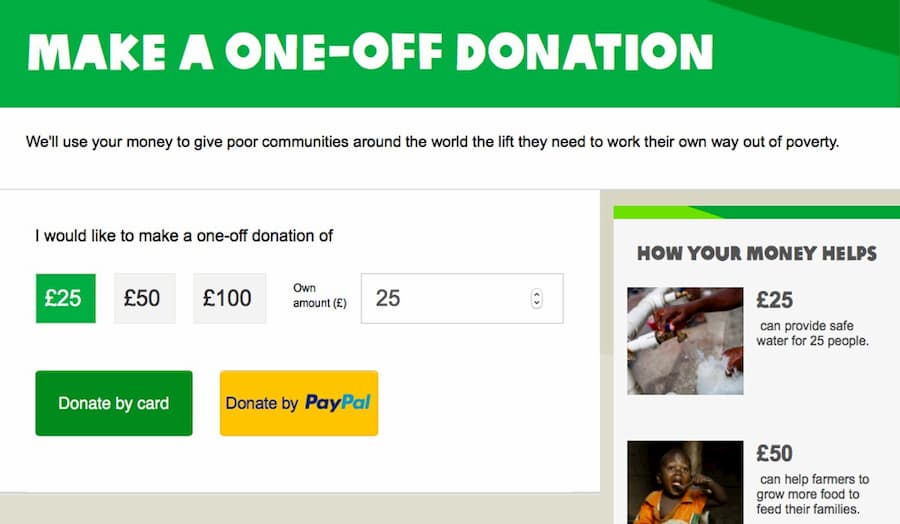 Mobile donations could become a massive growth area for charities that get this right. Mobile commerce continues to grow, and mobile is the perfect response mechanism for people viewing TV and other ads from charities.
Indeed, a study conducted last year estimated that charities missed out on £1.5 billion worth of donations last year due to high bounce rates on mobile devices.
It found that, though 68% of all visits were from mobile users, 79% of these navigated away from the websites after viewing only one page.
By contrast, an average of 58% of desktop users bounced after viewing just one page, which suggests mobile sites have plenty of room for improvement.
Some charities can do mobile well though. MacMillan has an excellent mobile donation process. It's clear and easy to use, with a range of payment options. For mobile, shortcuts can make a difference.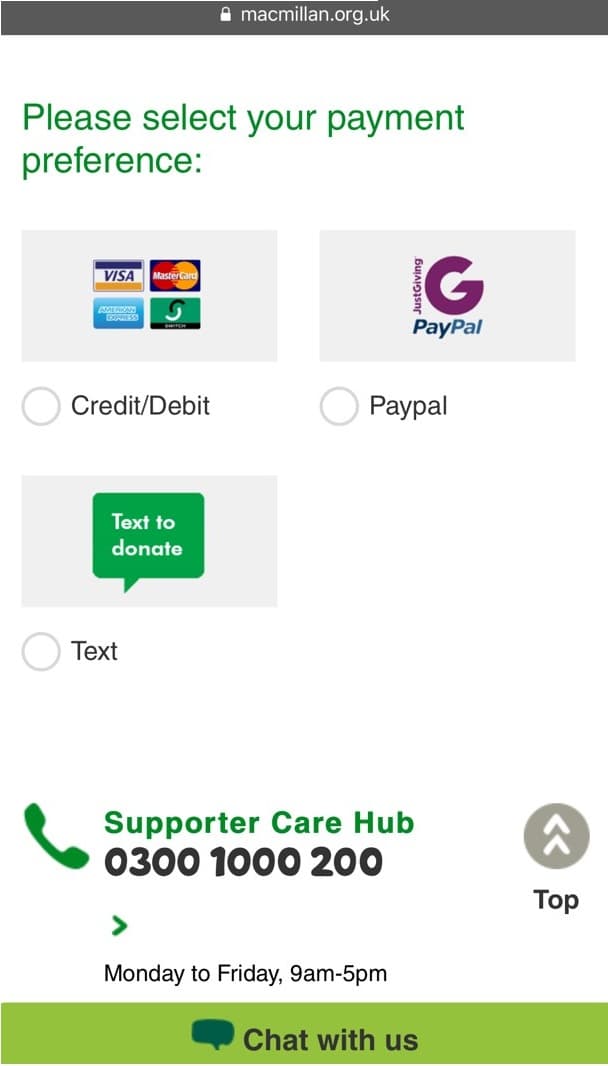 The text to donate option is particularly good. After selecting this option, users are immediately taken to a draft text message where the number is already pre-filled.
It's an easy way to donate for mobile users, and MacMillan has made the process as simple as possible.
Even if users select other payment methods, it's still a nice easy process, with well designed and easy to use payment forms.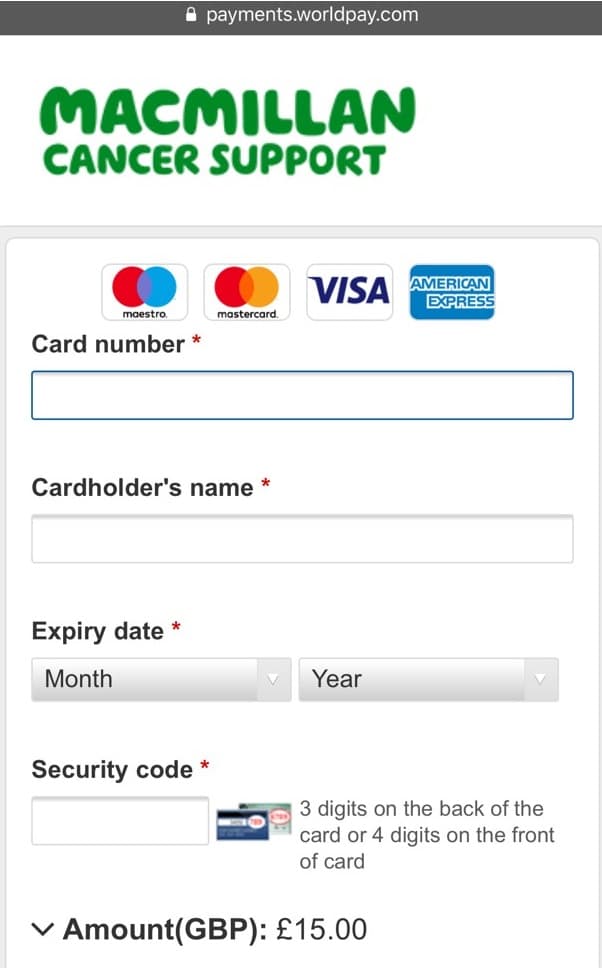 For mobile users, speed and shortcuts matter, and RSPCA has taken this a step further by offering Apple Pay donations.
This means people can select the donation amount and frequency, and complete the payment on the same page.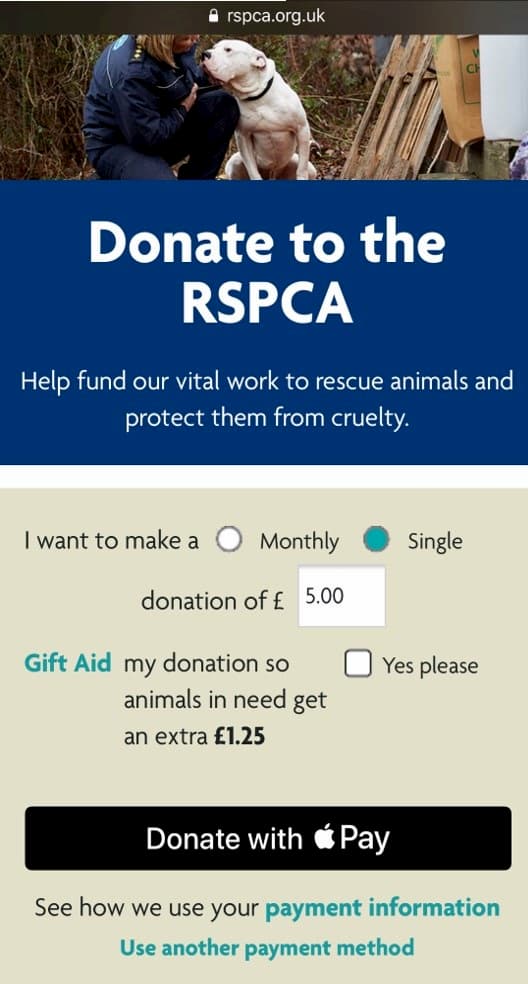 Another way to increase revenue for charities is by looking at alternatives to donations.
One obvious option here is to sell online, something several larger charities do. For example, WWF has a shop selling branded water bottles, cuddly toys, t-shirts and more.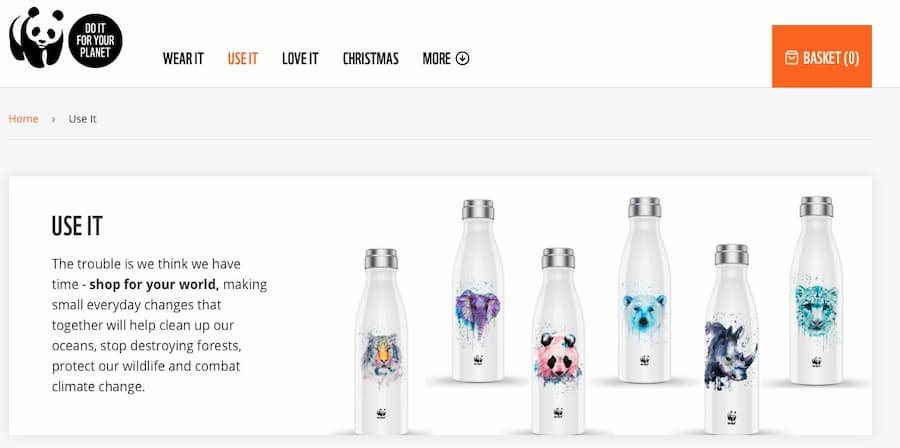 Packing donations as gifts is another great idea. Here, the WWF encourages people to adopt a snow leopard, which can be done in someone else's name as a gift, there's even a cuddly toy that goes with it.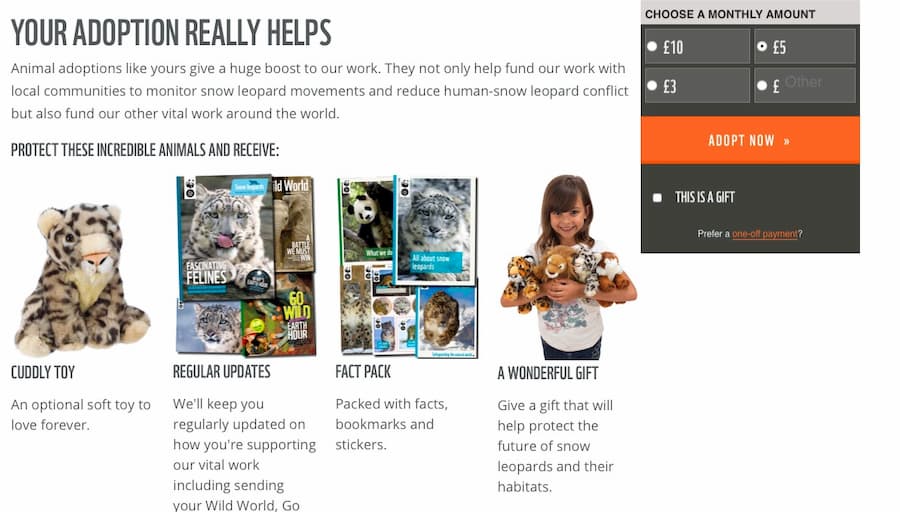 Donations as alternative Christmas or birthday gifts are another way to package donations. For example, Send a Cow sells donations such as donkeys for families in Africa.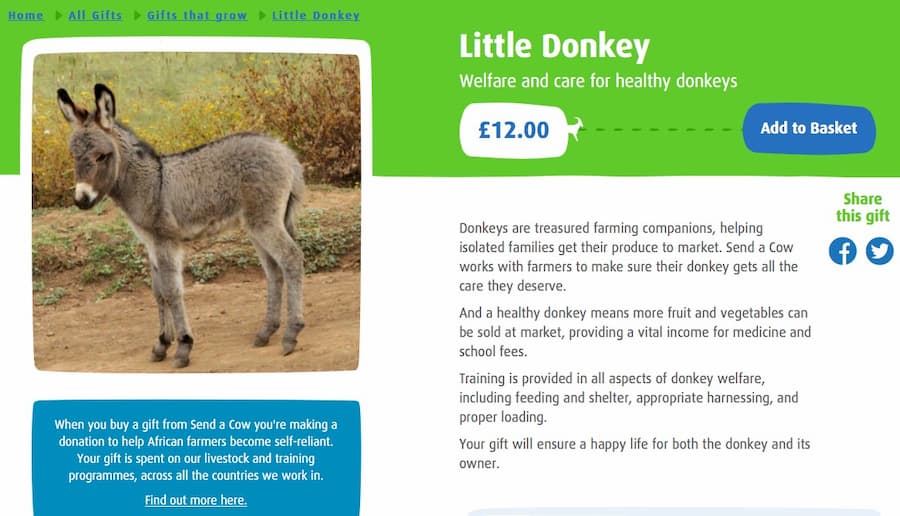 Whatever the donation method, and whether charity sites are selling gifts or taking donations, it's important to test and optimise sites to maximise donations.
Good user experience can make a big difference, but it doesn't necessarily require massive budgets. For some inspiration, take a look at these great examples of charity websites.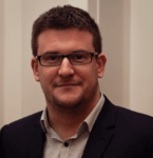 Graham Charlton is Editor in Chief at behavioural marketing company SaleCycle. He has previously worked for Econsultancy and Search Engine Watch, and has written several best practice guides on e-commerce and digital marketing. Follow him on Twitter
Read full profile