Restaurant websites can be hit and miss in terms of user experience.
Sometimes this is because they lack the resources to really pay attention to their websites, while in other cases, it's that they go for something stylish and exciting but lose sight of what people actually want from the site.
According to Google stats from 2015, a third of sales for restaurants are generated via online channels, while Monetate estimates that more than 1 billion restaurant visits a year are a result of online marketing.
Online is important now and will become more so as more and more potential customers head online, using desktop and mobile to look for suitable restaurants, check out menus, and make reservations.
In this article, I'll look at the ingredients that go into great restaurant websites, what visitors are looking for when they arrive on site, and some examples of excellent restaurant websites.
What are users looking for when they arrive on a restaurant website?
If a user has taken the time to enter your URL, click a link from email or search for your restaurant (or restaurant type), then they're indicating some sort of interest.
They may be scoping out restaurants for some future date, or they may be out and about looking for somewhere to eat soon.
They need information that helps them to find out about the restaurant, like the menu, prices and to be able to book if they decide to.
A good restaurant website needs to make this key information easy to find and understand, as well as offering inspiration in the form of images and copy to make their restaurants more appealing.
The main purpose of restaurant sites is to drive bookings and visits to the restaurant, so contact details and booking forms need to be clear and easy to use.
Key features for restaurant sites
Some of the key features, and pieces of information that visitors are likely to be looking for when they visit a restaurant site…
What's the restaurant about?
When users visit a site, they want an idea of the type of restaurant it is, perhaps the ethos behind the food, or other unique selling points.
This could come in the form of a mission statement, the copy on the homepage, or simply a quick strapline and imagery which conveys what the restaurant is about.
For example, fine dining restaurant House of Tides has some text which explains what it's about – 'an emphasis on natural, seasonal & sustainable food'.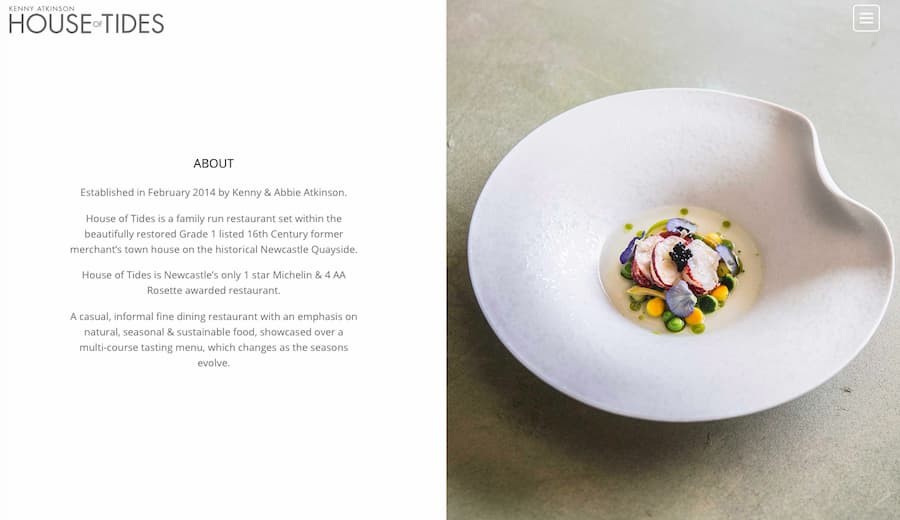 The Waiting Room doesn't necessarily need much text. It explains it's a vegetarian restaurant in the header and lets the images do the talking.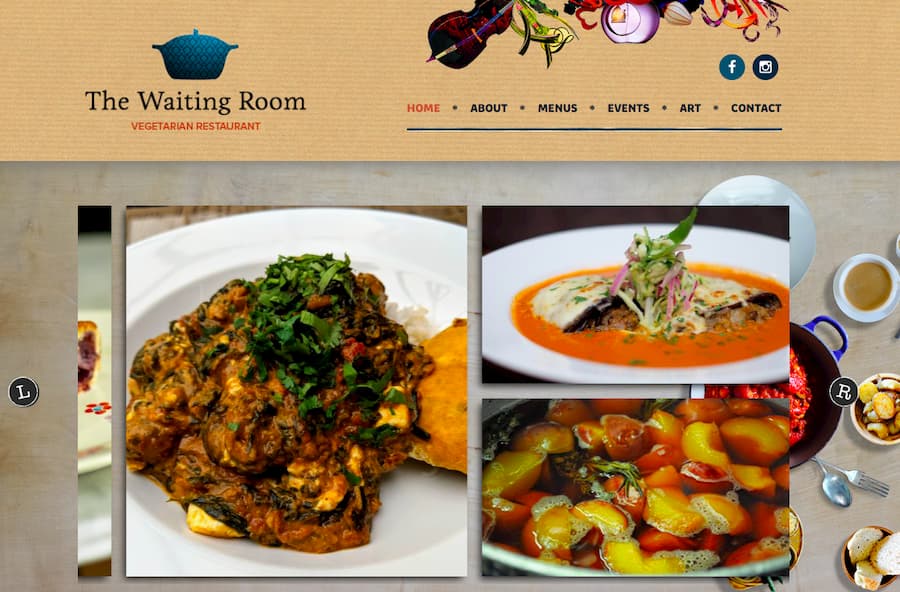 Menus
One of the first things people are likely to check out is menus. They want to know what's on offer, and to get an idea of the prices.
This is key to the customer's decision to book or head to the restaurant, but some sites do this very badly.
Common menu mistakes include:
No menu at all. It happens.
Out of date menus. People want to know what's on that day or week, so it's important to keep menus up to date, or link to social sites where people can view that day's menu. This may not apply so much to restaurants where the menu changes daily, but most tend to have fairly static menus.
No prices on menus. Yes, prices may vary, but it's a key piece of information.
Menus as PDFs. They're harder to access for web users and a particular pain on mobile. Menus should be in HTML format online.
This is a great example from Fat Hippo in Durham. It's in HTML and therefore easy to access, it's well laid out and easy to read.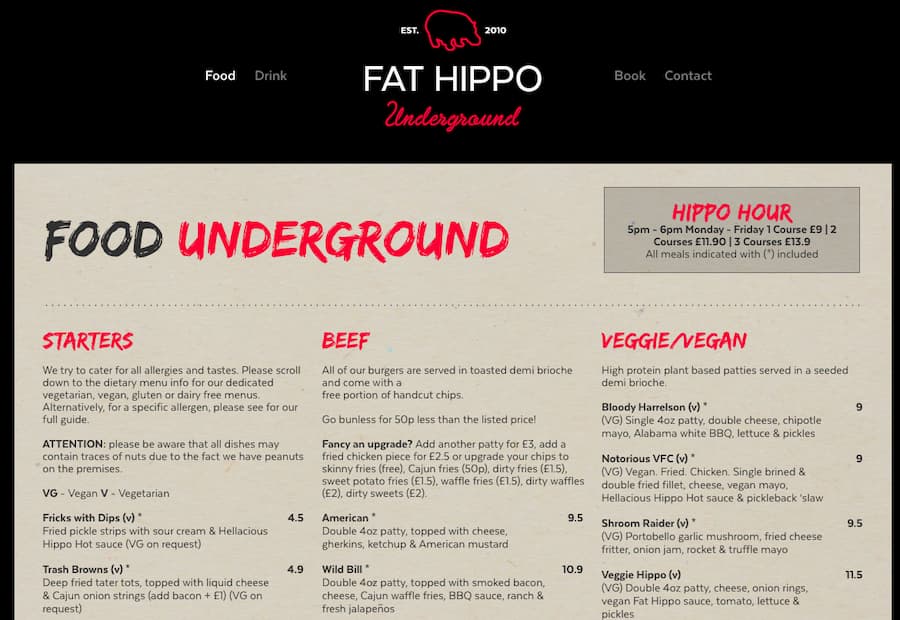 Mobile is vitally important for restaurants, and users are often more likely to search for restaurants on mobile than desktop.
Indeed, 72% of online searches for restaurants and 6.6% are on mobile devices. It makes sense, as its the perfect device to use while out and about.
This next example illustrates the potential problems with PDFs for mobile users. The menus below require a lot of work from users to read, plenty of zooming in and moving documents about to make sense of it.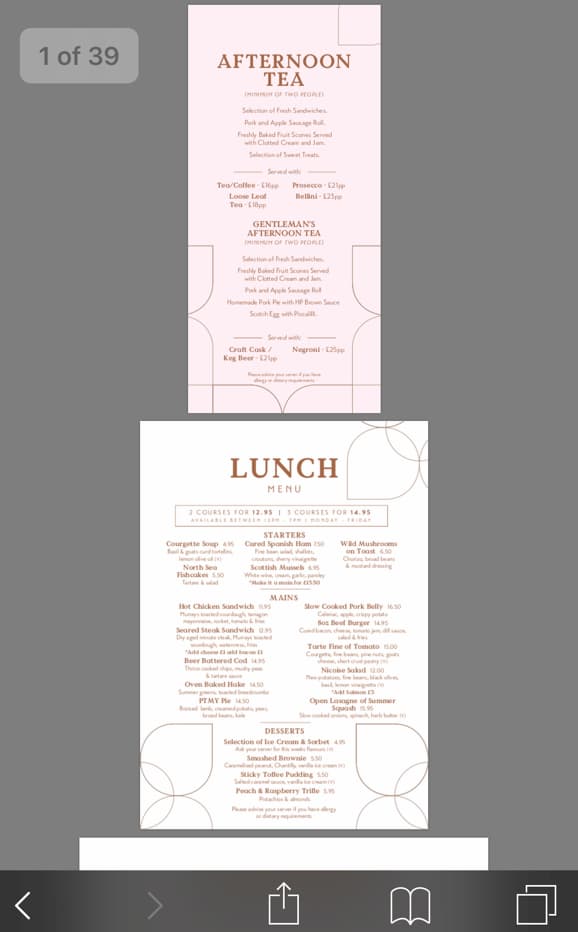 Compare this with Fat Hippo's mobile menu. There's no PDF, the text is clear, and it's easy to scroll up and down the menu. When people are on the move and looking for somewhere to eat, good usability like this can make a big difference.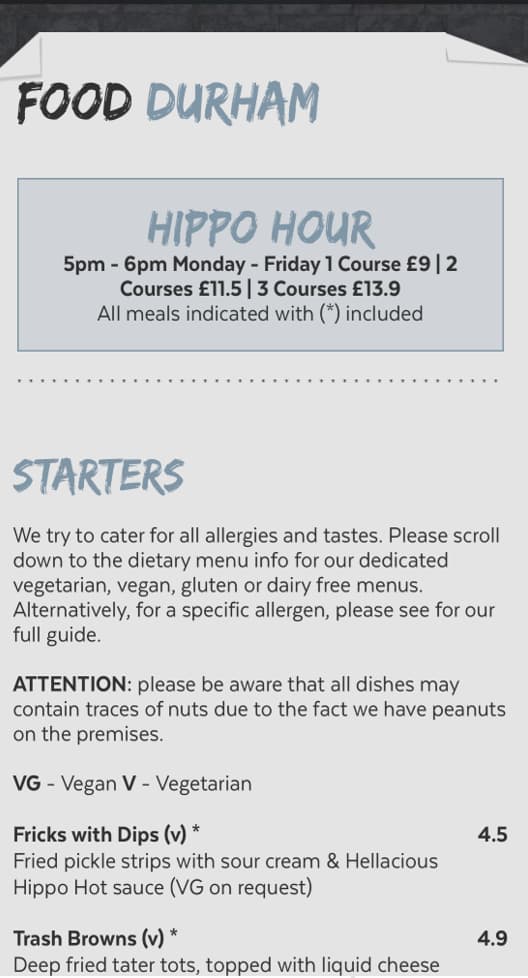 Some restaurants don't do menus online for valid reasons. They may be independent restaurants with a lack of time and resources, or the restaurant's ethos. They may not even have a website yet.
In this case, social media can help. Just by posting a picture of the menu on social sites, or tweeting that day's menu can help.
For example, The Eagle in Farringdon (the first ever gastro pub) cooks something different every day, so instead of an online menu, it posts the blackboard on Instagram, and also points users to this from the website.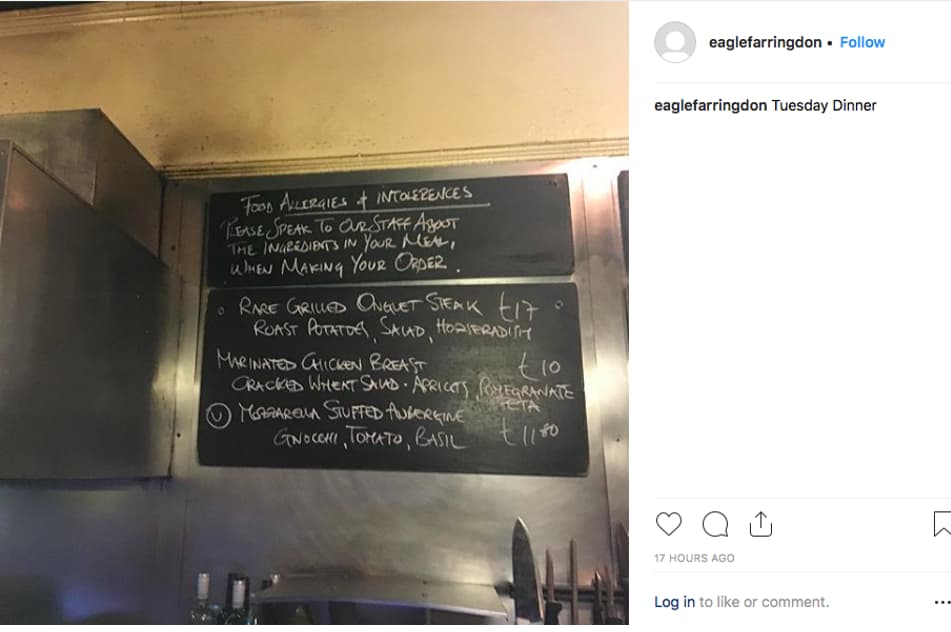 Opening times
This is basic information which should be easily accessible to visitors so they know when they can visit.
Make it easy to find, and keep it up to date. This is also key information to show on any other online listing, such as Google My Business profiles.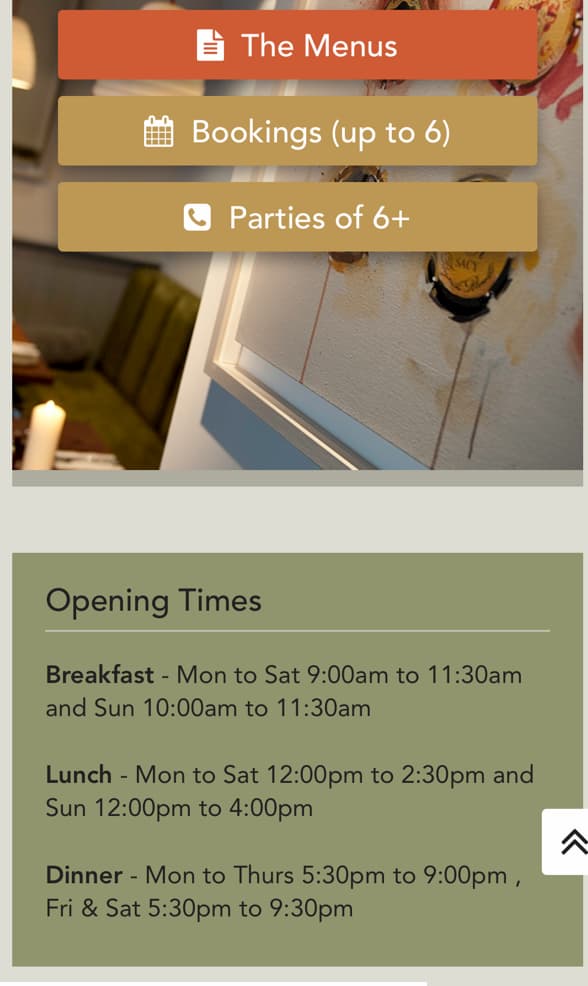 Reviews
According to Brightlocal Local Consumer Review Survey 2017, restaurant reviews were searched for by 60% of respondents, more than any other business type.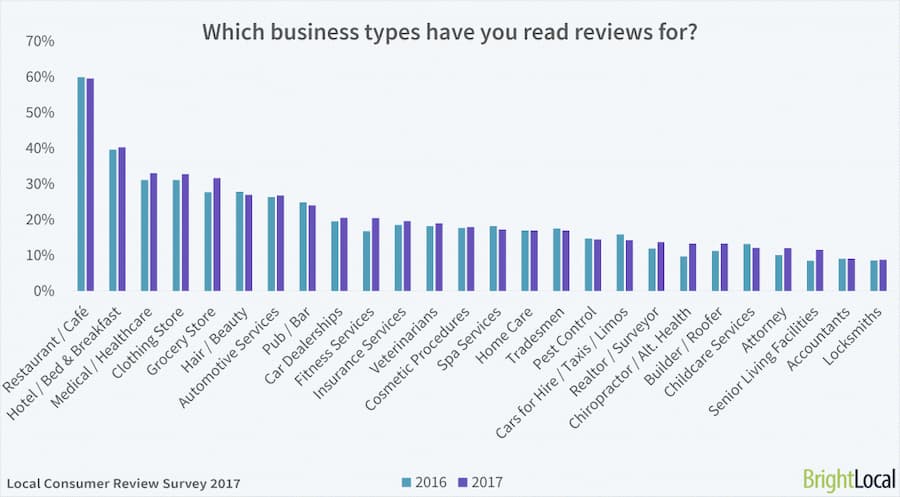 This suggests that, just as when people buy online, reviews are a key part of the decision to visit a restaurant.
This raises the question of how restaurants use reviews. I couldn't find any examples of restaurants using customer reviews as ecommerce sites do, just a few which show testimonials and mention awards and favourable press reviews.
It might be a good thing for restaurants to do, as reviews are great social proof. At the least, restaurants could display review scores from other sources.
This means that consumer research around reviews takes place away from the site, most notably on Tripadvisor and Google listings.
For Tripadvisor, much is out of the restaurant's control.
It's a good idea to claim the listing so that you can ensure the basic details (opening hours, descriptions etc) are correct, and that you can add some good imagery to showcase the restaurant. 
In addition, it can be a good idea to engage with customer reviews, offering polite responses to complaints, and thanking other customers for their opinions.
Perhaps more important, given the use of mobile search when looking for restaurants, are Google My Business (GMB) listings.
These listings are prominent in search results, and many potential customers may make a snap decision based on what they see here.
It's important to monitor these listings to ensure that key information is kept up to date, and the images used reflect well on the restaurant.
Review scores affect review placement, as well as customer visits, so it's important to give the kind of service that motivates customers to leave good reviews. It also doesn't hurt to encourage customers to leave reviews.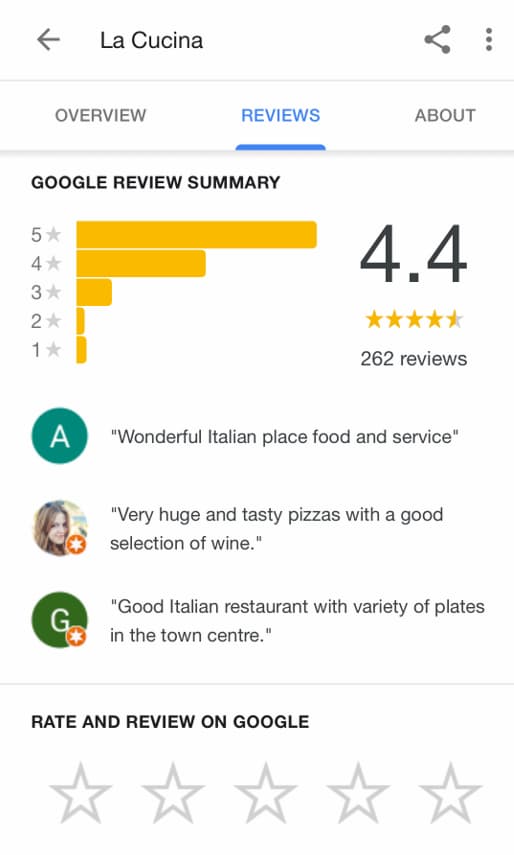 Imagery
Restaurants can sell themselves through great imagery. This can show how great the restaurant looks, or how appetising the food is.
Fine dining restaurants can show their presentation skills with high quality photography for example: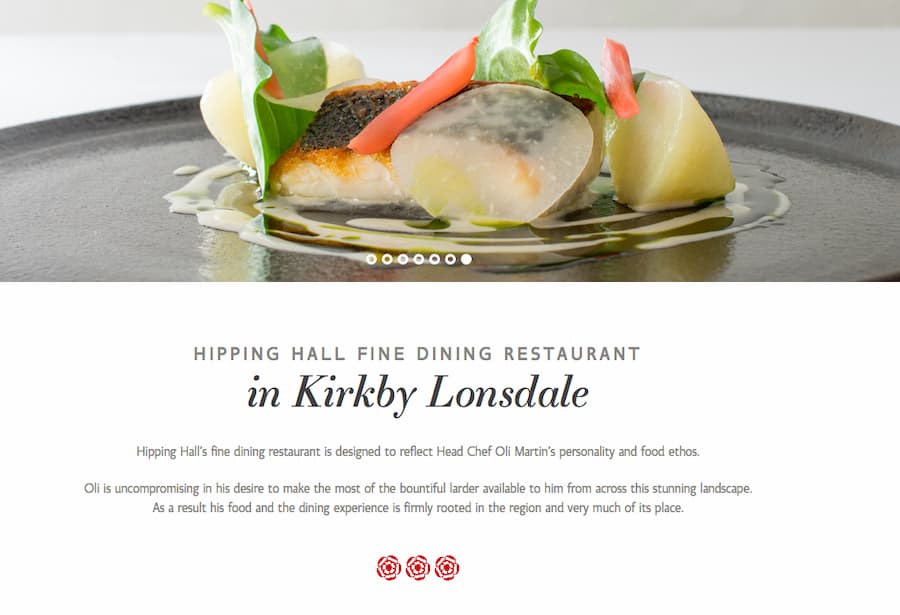 Other imagery can showcase the look and feel of the restaurant, a key factor when customers are wondering whether to visit.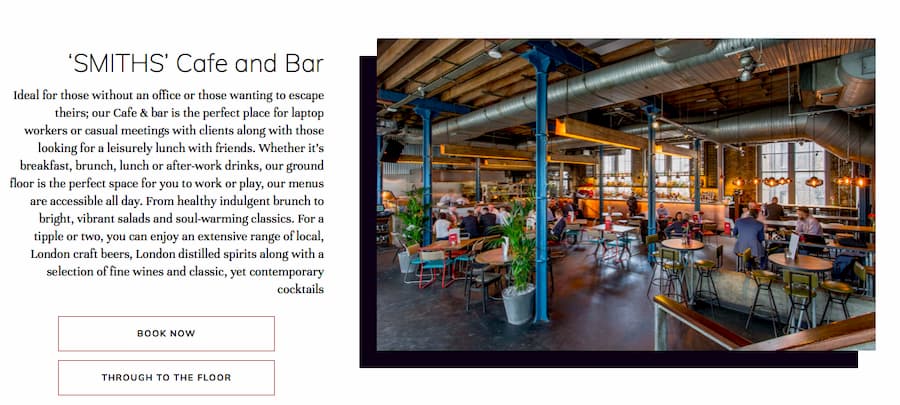 Email sign up options
Building up the email database allows restaurants to promote new events, tempt customers back for more, and reward frequent diners with special offers.
It can pay to promote email sign ups, though most restaurants don't give too much prominence to this, mainly adding sign up requests towards the foot of the page, if at all.
Content
Content may not be the primary reason for people to visit a restaurant site, but it can be interesting for customers and can work well in terms of SEO, helping the site to rank for target keywords.
It seems that many restaurants aren't paying much attention to blogging, while others are doing it so infrequently that it probably has little effect.
For those that do, regular updates on events, new items on the menu, and recipes can be very useful content for customers.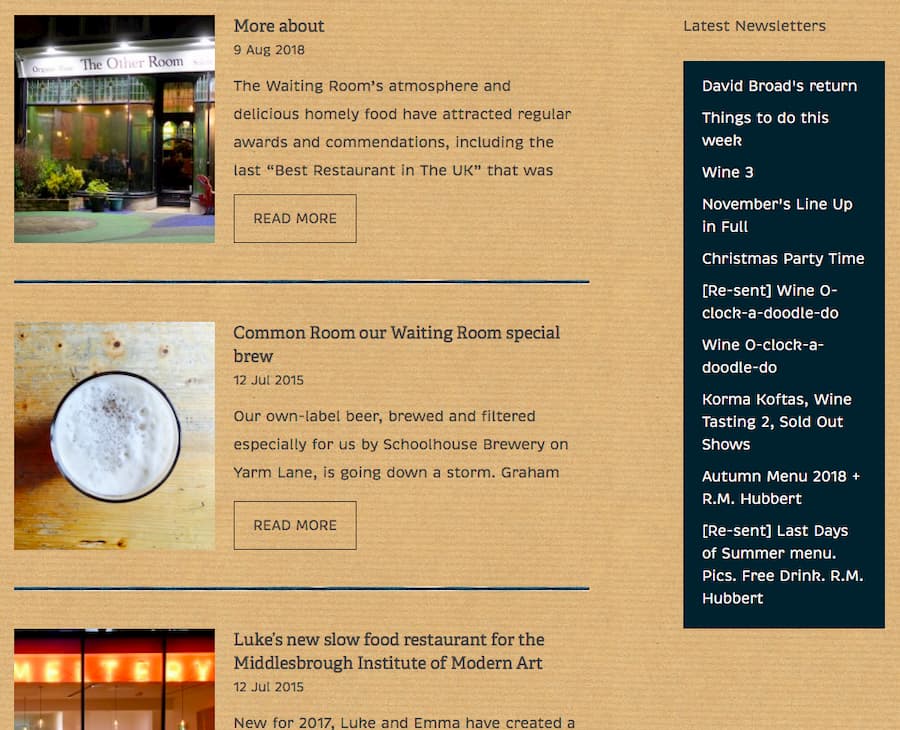 Clear booking instructions
Visitors should be in no doubt about how they can book a table, whether the restaurant accepts phone bookings only, or has a booking form on site.
For example, the Botanist restaurant has a clear link to book on its mobile site, as well as a clear contact number which mobile users can click to call straight away.
Adding directions via the Google Maps links is another good idea, which helps mobile users to find the restaurant easily.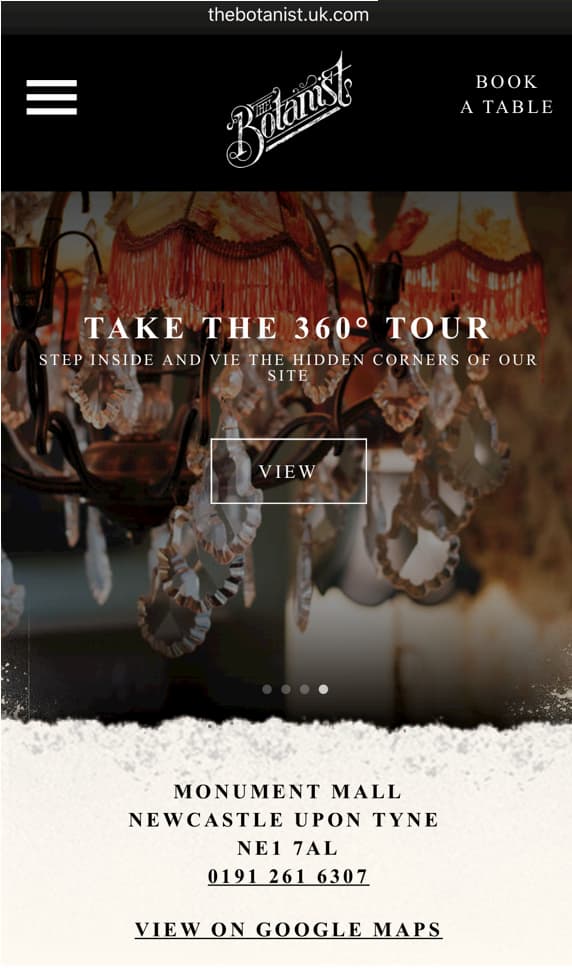 Restaurant sites use a number of different booking methods. Some simply have an email address for customers to request a booking through.
This is better than nothing, but it's not very immediate and depends on how often restaurants are checking emails and responding.
A more common method is to take a booking directly online. This can be done via the site's own booking form:
Other sites use third party booking apps, such as OpenTable. There is a fee to pay per booking, but it does mean much of the work is done for the restaurant.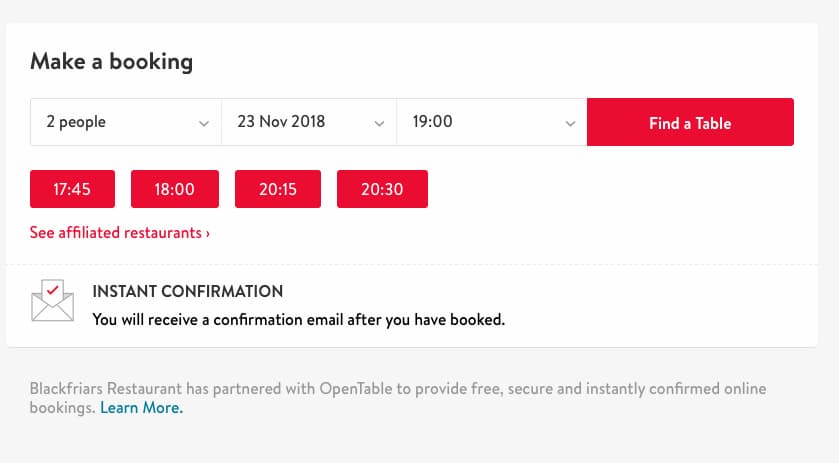 There are some added advantages with tools like this. For example, it sometimes will check for double bookings so users can't book two tables the same night, to minimise no-shows.
In summary
Of the features I've looked at here, I think the ability to view menus, images, check opening times and find contact details for booking options easily are the absolute essentials.
For different kinds of sites, I'd also list reviews among these essentials, but the fact that Tripadvisor reviews, and those found in Google listings dominate makes this less vital.
The rest are all features or information that can add more appeal to the website, and help to sell the restaurant to visitors. For example, relevant content can help a lot, but it's not something customers are immediately looking for. If you'd like some more inspiration, you can check out four great examples of restaurant websites here.