It's an online giant, a place where more than half of all online product searches begin, but Amazon can still provide some valuable lessons for smaller retailers.
These are examples of tactics Amazon uses which can be applied by any retailer, regardless of size and budget…
1. Delivery matters
Delivery is key to Amazon's offering, and it has consistently been among the best online delivery offerings.
In the early days it was able to offer faster delivery than competitors, and now it can even do same day delivery in some areas.
Shoppers expect plenty of choice around delivery, and are now even more demanding than ever. Delivery is a key part of the proposition for online shoppers, and customers are looking for a mixture of speed, convenience and low costs.
Amazon is able to offer same day delivery, though this is limited to certain areas. However, the next day delivery option is very persuasive and this is something other retailers can match with the right courier.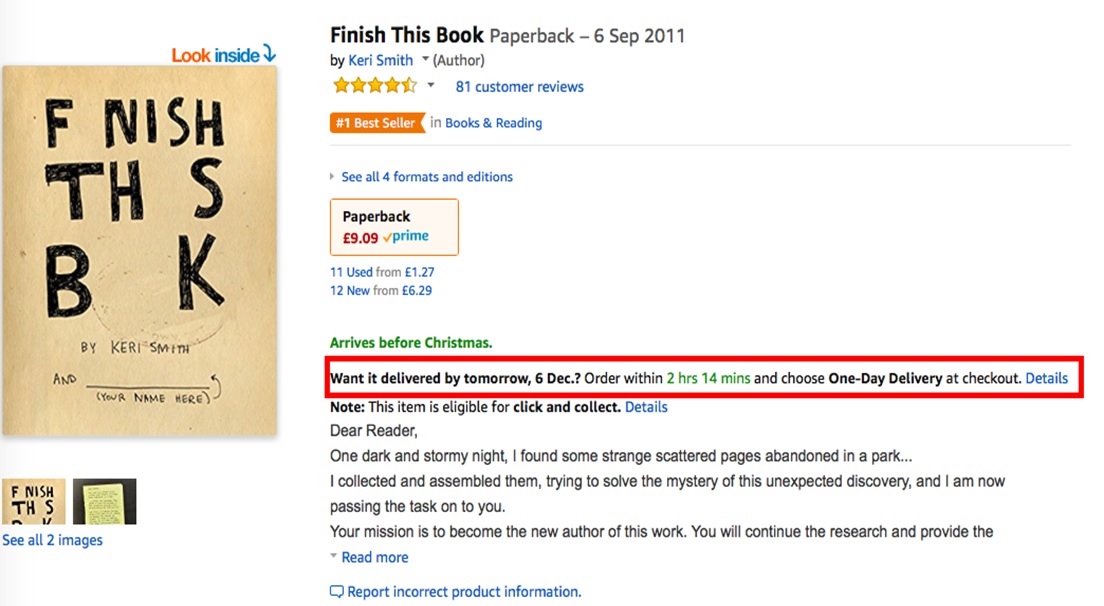 Price is another consideration for shoppers. Of course, Amazon has Prime and so next day delivery works out as very cost effective for regular shoppers (it also comes bundled up with video and music).
A subscription delivery is not an option for most retailers, but the point is that customers want value for money, and so delivery pricing needs to be competitive.
Costs have to be considered, but options such as free delivery if customers spend more than a certain amount are a way to appeal to shoppers while encouraging them to spend a bit more.
Finally, delivery performance is vitally important, and this is an area where Amazon excels. Even if a customer has found the item they want on your site and bought without any hassle, delivery problems can still sour a positive experience.
Delivery is normally in the hands of couriers, and it's important to choose a reliable courier and to keep an eye on their performance. It's also important to communicate with customers clearly, and set expectations accordingly.
2. Good customer service
Amazon realised the importance of customer service from an early stage, and is generally very effective at solving customers' issues.
Good customer service means more satisfied customers who may become brand advocates, while the reverse means negative reviews and word of mouth from dissatisfied shoppers.
The bottom line is that customers want their questions answered and problems fixed quickly and painlessly. It should be easy to make contact, and staff should have the authority to deal with any issues.
More fundamentally, Amazon puts the customer at the centre of its strategy, knowing that customer satisfaction is behind its success.
Indeed, CEO Jeff Bezos allows customers to email him directly, and forwards complaints and concerns to the relevant person, accompanied by a simple '?'. I imagine these issues are sorted out pretty quickly after that…
3. The importance of mobile
A greater proportion of traffic to retailers now comes from mobile devices, and the challenge is to improve the mobile experience and convert more of these shoppers.
Amazon saw the potential of mobile very early, bringing out movie versions of its site, as well as apps for various smartphones. Of course, Amazon had the resources to do this, but retailers can learn from the way Amazon's site works on mobile.
4. Product page information
Amazon's product pages are big. There's a lot on there to digest, but this does mean there's a lot of detail. The pages are designed to answer the majority of questions customers might have about a product.
For example, this product page for a TV contains all the technical specifications a customer could need, a comparison table showing how it measures up against similar products, videos and more.
The lesson here is that customers need plenty of information when they're thinking about buying products, so make sure your product pages answer potential customer questions.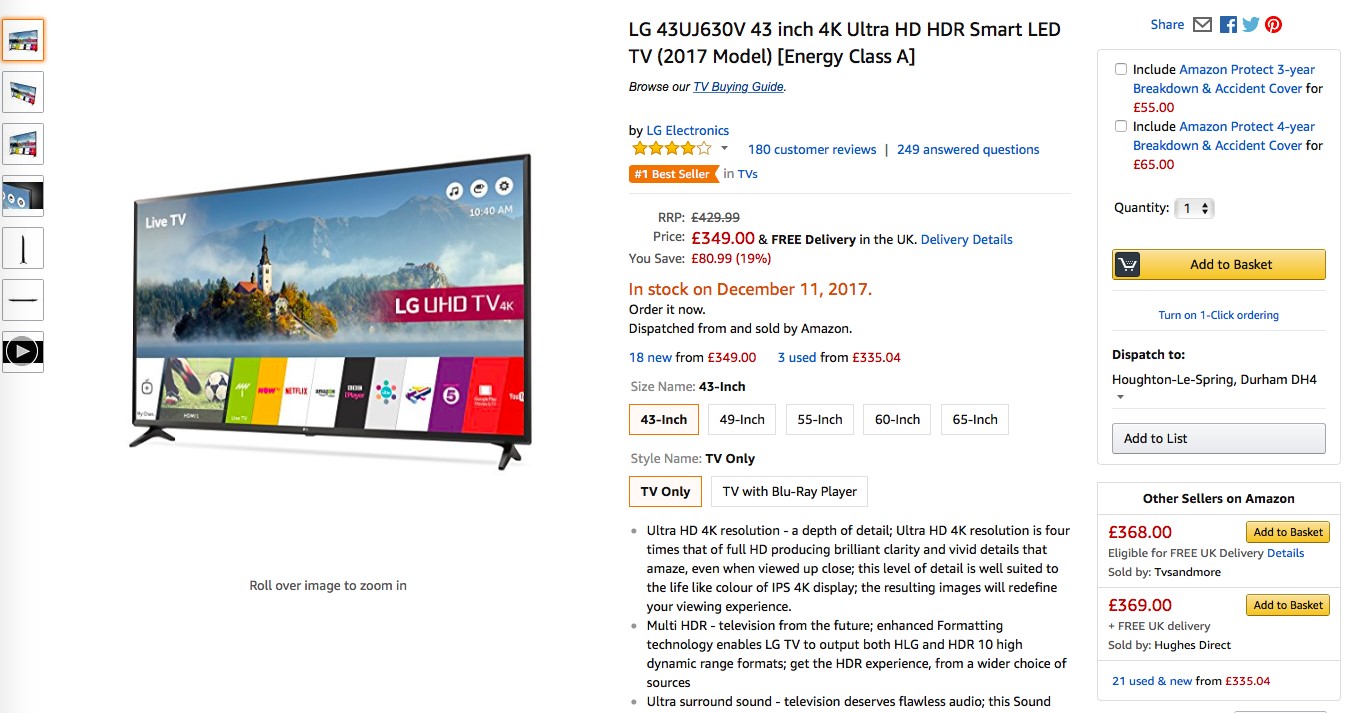 5. Use of reviews and social proof
Amazon is synonymous with customer reviews, and these reviews have played a big part in its growth. They're now very important for any online retailer, as customers have grown accustomed to consulting reviews as part of the buying process.
Indeed, according to MarketingProfs, 63% of consumers are more likely to purchase from a site which contains ratings and reviews.
Reviews reassure customers that the products they're considering are reliable, that they fulfill their stated purpose, and that other customers have been happy with them.
Reviews can also help answer questions about the suitability of products for them. For example, some people might want a digital camera that's easy to use for an amateur photographer, and reviews can answer questions like this.
It's not just the use of reviews that businesses can learn from, it's the way Amazon displays and uses reviews.
The average review score is shown at the top of the page near the product title, along with the number of reviews left. This allows customers to make a quick judgement about the review – for example 4.5 stars from 50+ reviews indicates a well-liked product.
Amazon organises the reviews further down the page too, asking users to rate helpful reviews, and showing the most useful positive and negative reviews more prominently. This helps customers make sense of reviews when there are lots of them.
6. Learning from customer behaviour
Amazon has a lot of data on customer behaviour, from the items they buy to their browsing patterns on site. It has this data from millions of customers around the world.
From a merchandising perspective, it can identify product trends and promote and order new stock accordingly, but the most visible way it uses data is in its recommendations.
Knowing a customer's browse and purchase history enables Amazon to make relevant product recommendations for each individual customer.
These are shown on site, as below, and the same data can also be used for email content, reminding customers of items they have recently viewed, or products related to those they have recently purchased.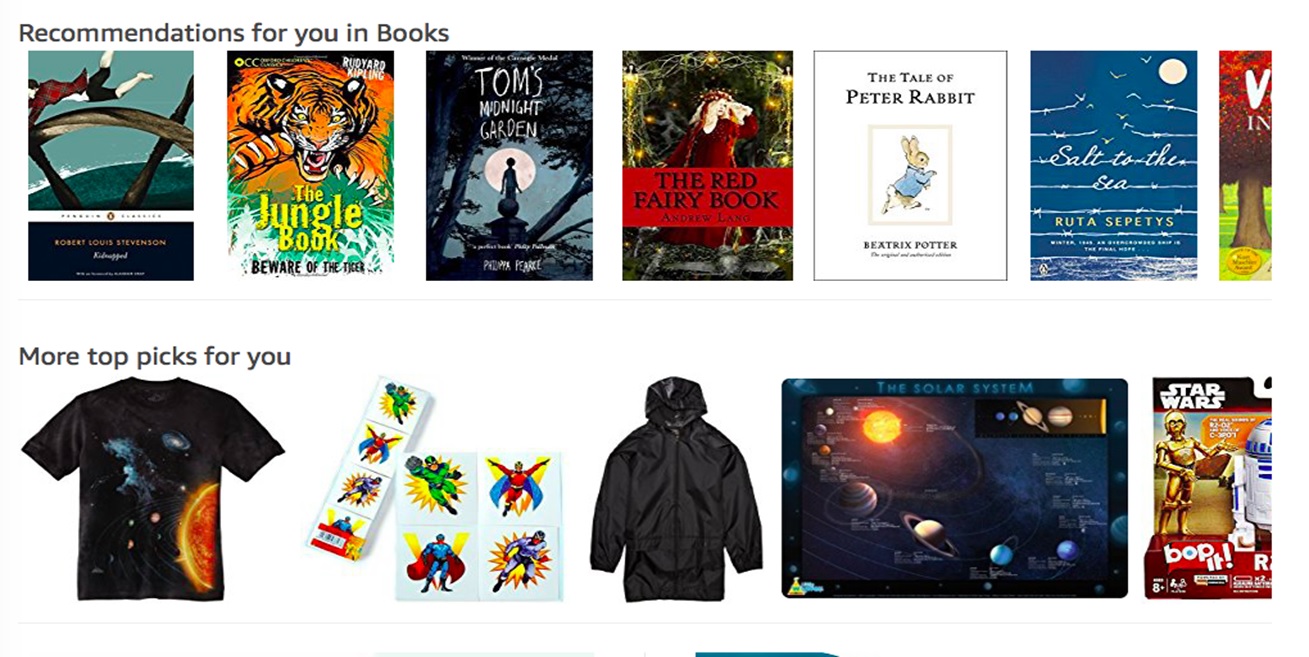 It also uses more general data for its 'customers who bought this also bought' recommendations, which shows items that complement the purchase they're currently making. All of this is about relevance for shoppers, making it more likely they'll find products they're interested in.
Very few retailers have anything like the volume of customer data that Amazon can draw upon, but they can still use the data they have to improve their experience and produce more relevant marketing.
If you know customers buy a particular brand or type of product you sell, you can use these in emails, or recommend them on-site. Likewise, emails sent when customers abandon a purchase can show products relevant to their purchase history.
7. Pricing strategies
Amazon is widely perceived to be a destination for bargains, and this has helped to make it a destination for price-conscious shoppers. It is also, much to the frustration of high street retailers and online competitors, a key destination for price comparison.
However, much of this perception around pricing doesn't stand up to closer scrutiny. A recent study found that Amazon was no more competitive on pricing than several of its competitors.
Instead, Amazon identifies some of the more popular products on its websites and ensures its prices are competitive on these items. This helps to feed the perception of competitive pricing without having to discount too heavily.
This is a lesson for other retailers. Discounting can become a trap if customers begin to expect discounts. It harms profit margins and makes customers less likely to buy at 'full price'.
Instead, selective and smart pricing can help to bring customers to your site without having to compete too heavily across the board.
8. Price anchoring
There's often a lot of psychology at play in retail, and Amazon uses some common techniques to drive sales.
One of these is price anchoring, which uses the way customers perceive pricing and value.
People tend to work from the first piece of information when making a decision, often the first price shown. This is the anchor.
So, for example, if a customer sees a TV at a higher price first, this makes subsequent prices seem better value, even if they themselves are relatively expensive.
A common way to do this is to use the manufacturer's recommended price (RRP) as the anchor. It's often a more expensive price than most retailers will charge, but it still has its uses.
Here, this TV has been reduced from the £700 RRP, which looks like a great deal for the customer. In fact, it can be found cheaper elsewhere, but the anchoring effect makes £618 seem more persuasive.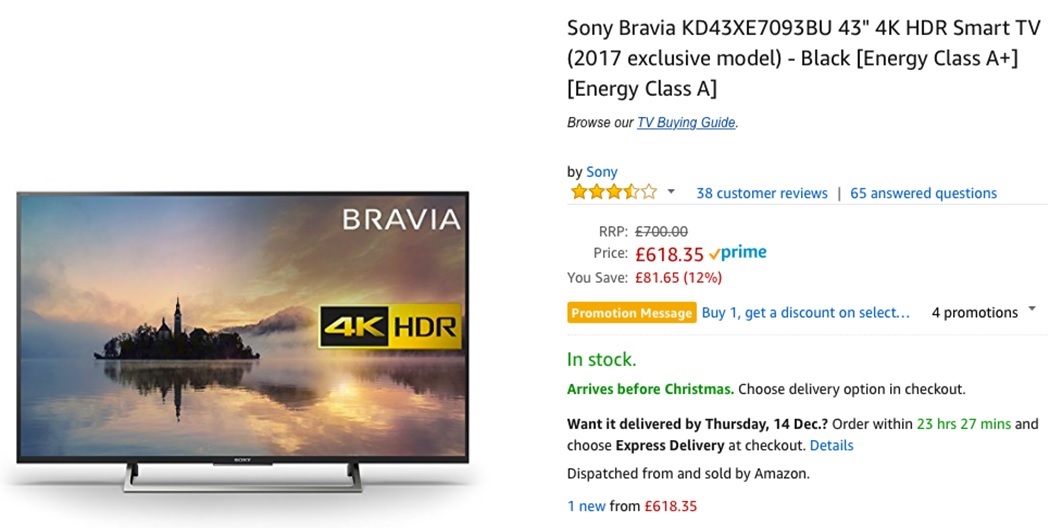 Any retailer can use price anchoring to the same effect. It may be by comparing the price to the RRP, or by presenting it alongside more expensive options.
For example, Virgin Media presents a range of packages at different price points, with a very expensive VIP bundle making the other options seem better value.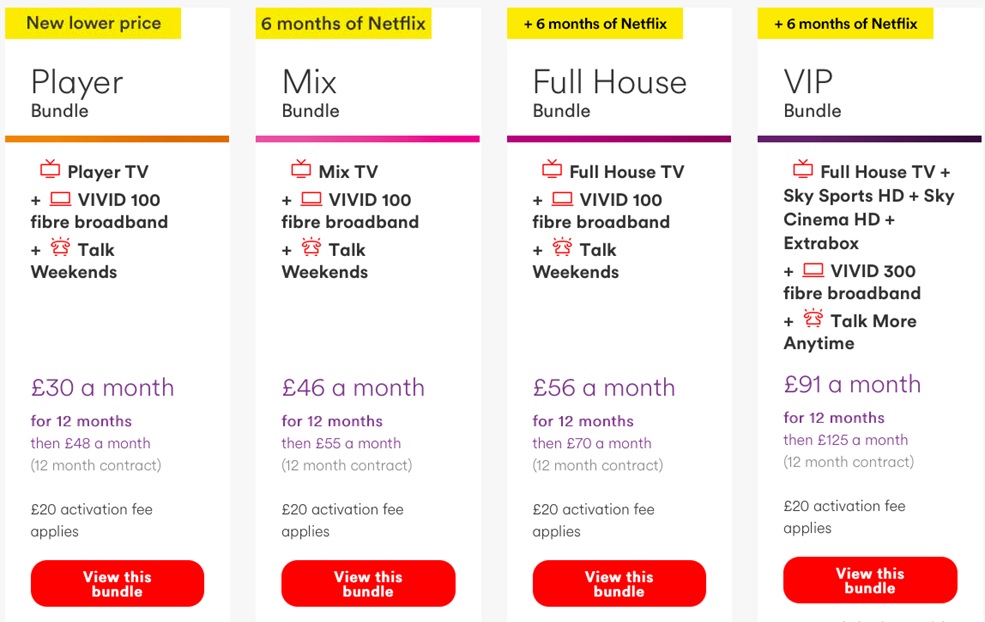 9. Scarcity and urgency
Scarcity is one of psychologist Robert Cialdini's Six Principles of Influence which looks at six triggers which affect human behaviour in general, and work in a retail context.
Scarcity works around people's fear of missing out, and desire for what may be unavailable or hard to get.
Amazon uses stock level information for this. It's useful information for the customer (you need to buy this soon if you really want it) and it works on the scarcity principle (it's rare and therefore more desirable).
It's a principle any retailer can apply. Indeed, some retailers build their business models around this. Take Palace Skateboards for example. It releases limited amounts of its clothing at a time and sells out of stock regularly. This means people need to act fast if they want to buy.
Any retailer can use scarcity, but it's important that the information around this, such as stock level data, is trustworthy, or else it loses its power.
In Summary
Now that Amazon has reached such a dominant position, it's understandable that it looks hard to emulate for any normal retailer.
However, it reached his position by applying practices that any retailer can learn from. At the heart of this is a focus on the customer, and Amazon's customer service and delivery offerings are a big part of this.
It also uses what it knows about customers to improve the service for them, and persuading them to buy more often at the same time. This applies to relevant recommendations for products and the way it uses reviews to help customers make purchase decisions.
Any retailer, large or small, can learn from these essential lessons and apply them to their own websites. It's not about massive budgets, but learning how Amazon serves its customers.