Given the emphasis that is placed on online marketing in today's ever-more connected modern world, enhancing the real-life in-store shopping experience is something that gets a lot less airtime today than it did in the past.
However, today's consumers also expect much more from their shopping experiences in order to incentivise real-world shopping trips. Enhancing the experience and keeping footfall and sales ticking over is a never-ending challenge for stores, in order to compete with both online alternatives and other physical retail stores too.
Enter the concept of retailtainment – catalysing the in-store shopper experience in an immersive and often interactive fusion of retail and entertainment, to support sales, boost brand perception, enhance personalisation and build customer loyalty.
Retailtainment is something that many of us associate with slick, large international brands like Disney and Lego, but retailtainment isn't just for big brands – or for kids.
By gaining a basic understanding of the principles of retailtainment and its value, businesses of all types and sizes can enhance the shopper experience and benefit from all of the advantages that this can bring.
In this article, I'll explain why today's shoppers expect more from their in-store shopping experience, how retailtainment can be used to support both offline and online marketing and sales, and how SMEs can use these insights to make their own real-world stores more interactive and engaging for shoppers.
What is retailtainment?
Let's start with a clearer outline of what retailtainment is, and what it actually entails.
Retailtainment is sometimes referred to as inspirational retailing. The term itself was first coined by professor and sociologist George Ritzer in his 1999 book "Enchanting a Disenchanted World: Revolutionising the Means of Consumption," in which he described it as:
The use of ambience, emotion, sound and activity to get customers interested in the merchandise and in a mood to buy.
However, retailtainment really began to gain traction during the financial crisis of 2007-2008, when many high street stores began to struggle and began seeking new approaches to bring in customers and generate sales in order to survive.
Retailtainment combines marketing and retail into an immersive experience that provides value and engagement for the shopper, creating a more positive impression of the experience and the brand and incentivising both on-the-spot sales, and future brand loyalty.
How retailtainment is applied in practice can be highly variable, but always supports these same core principles. It may be as simple as holding product demonstrations and inviting shoppers to join in and get hands-on with things, or as complex as catalysing the whole theme of a store and its environment to provide an experience more akin to visiting an entertainment venue or festival than that of going shopping.
Special events, displays, presentations and marketing campaigns to support them may all fall under the heading of retailtainment, with the goal of leaving the shopper with the takeaway of having a good time, learning something, or making memories, and any potential sale achieved on the day itself coming as a secondary consideration to the longer term value.
Pop-up stores, promotions and events may fall under the heading of retailtainment too.
By creating a buzz and producing a memorable experience for shoppers and visitors, stores of all types can use retailtainment to grow their customer base and increase sales.
Retailtainment is about making soft sales; not being pushy about securing one-off sales on the day itself. The hard sell approach is contradictory to the principles of retailtainment, and done well, retailtainment does the selling for you, leaving the consumer to make their own purchasing decision and so, being more likely to leave them feeling good about it too. You can find some great examples from Storefront Magazine here.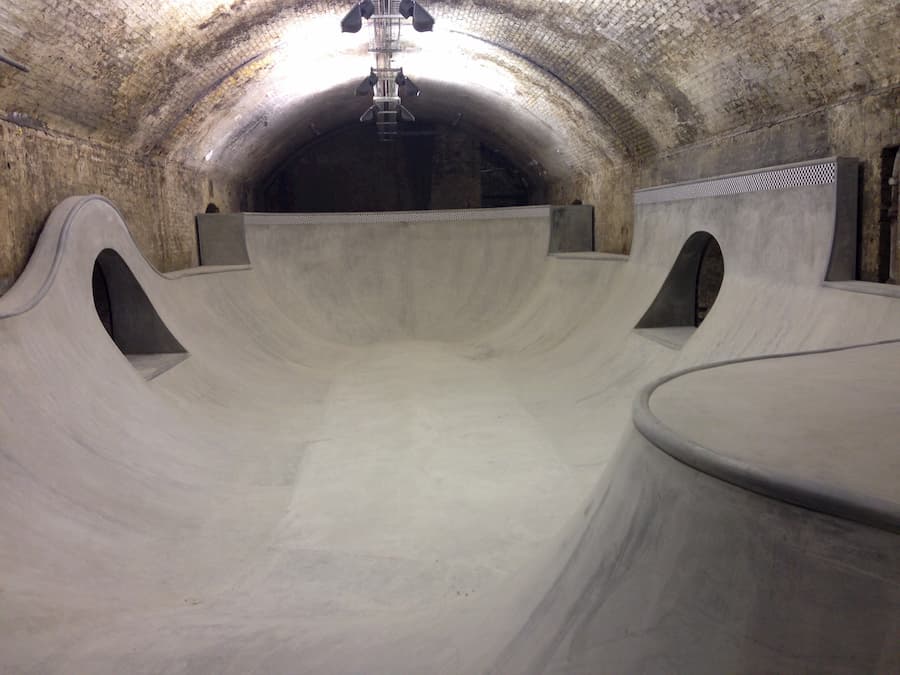 House of Vans' Skate Park is one example. (Image Source: houseofvanslondon.com) 
Why today's shoppers expect more of their in-store experiences
Today's consumers are more demanding than they've been at any point in the past, and the reasons for this are numerous.
First of all the internet and alternative option of shopping online has been perhaps the greatest challenge posed to real-world retail units since the outset, and the convenience of finding what you're looking for, shopping at a time to suit you, and not having to go out to browse or collect an order all factor in.
Additionally, the internet has also made it much easier to find the things we want to buy, identify viable sellers, read reviews and compare alternatives, which means that both real-world and online brands often need to be able to compete not only on a local level, but also on a national or even international level too.
More competition for customers means more choice for those customers, and so each seller serving a specific niche has to work harder to gain their own section of the market share.
Our expectations of customer service and the quality of the shopping experience itself are also higher today than historically, as brands begin to appreciate the value of personalisation and building long-term relationships with buyers and so, up their games in order to remain competitive.
Going out to the shops to buy the thing we need used to be a common and largely unavoidable practice that most of us undertook weekly if not more frequently, often involving several journeys to different stores or shopping centres and taking up a lot of time. Today, however, there is little that cannot be found and bought online more easily and often, at a lower cost – from a full week of grocery shopping to that rare, hard-to-find car part.
This means that consumers don't need to plan a trip out to buy the things that they need, and so they need a good reason to choose to do so rather than buying online. For some types of goods and services, buying from a real-world unit makes more sense to many; you can see and touch the goods on offer, try them on or see how they work, and assess their quality and suitability.
However, even this is no longer a given, and personal products like clothing that can be hard to get a proper feel for online can all still be ordered remotely, further incentivised by statutory and brand-specific returns and exchange policies for online sales.
Most customers that also shop online (which is most customers full stop) need a good reason to actively choose to visit a store that they wouldn't otherwise be passing. In order to provide this reason, stores need to offer something that online shopping cannot provide – such as the chance to try on or test out goods, gather information that cannot be transmitted through a monitor to prompt a buying decision (like the smell of a perfume), or the value of the experience itself, and how it makes the shopper feel.
Many larger brands and particularly those whose products are of a type that one wants to examine and try out prior to a purchase have already got their in-store retailtainment down to a fine art, such as Lush Cosmetics and the Apple Store.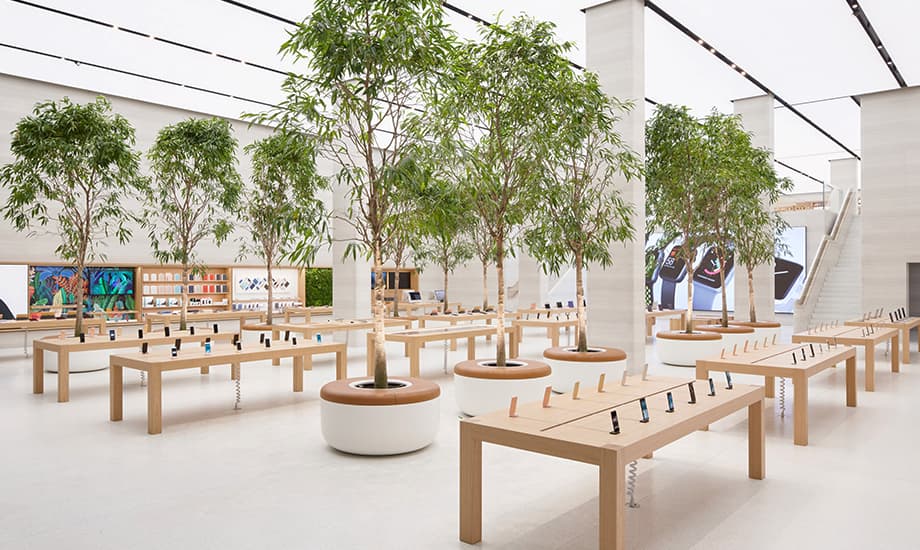 (Image source: Aqueduct.co.uk)
Both of these brands sell products that many people are reluctant to order for the first time online – because you can't get a feel for the products until you try and use them. By producing a retailtainment environment in-store, brands like these not only help to keep up footfall and boost on-the-day sales, but they also help to support online sales too.
Somebody who visits the Apple Store to compare tablets and try out a few different options may well return home without buying anything in order to consider their choices and do some more research. But that in-store experience supports and enables the eventual sale because the customer has already found out the things that they need to in order to make a choice by visiting the store in question.
Additionally, if the in-store environment is set up for retailtainment, it also provides an opportunity for the brand to plant the seed of other ideas in the prospect's mind, show them products they might not have been actively looking for, and incentivise return visits and future purchases too.
However, to get customers through the door in the first place and incentivise sales when they get there (or later on) businesses need to find ways to bring in foot traffic, keep customers in the store for longer, engage their interest in what is on sale, and incentivise a purchasing decision, and this is where retailtainment comes into its own.
Using retailtainment to generate a sense of wonder, joy and positivity in shoppers produces a feel-good effect that prompts people to open their wallets to buy, and to spread the word about the store and experience itself too.
Connecting retailtainment to your online collateral
Retailtainment can help real-world stores to compete with online competitors, but it also has immense value for supporting your own online sales too.
As mentioned in the example I provided above, a shopper at the Apple Store may have visited the store to look for something specific and compare their options, but they might not make a purchase immediately – which is where your online store comes in, as an always open retail platform waiting to make sales whenever your shopper is ready to go ahead.
Some brands are even moving their focus away from using their real-world storefronts to make direct sales and operate profitably in their own right, instead using them as a platform to demonstrate their goods, invest shoppers in buying, and plant the seeds of interest in other lines that they might not have heard of or considered before they entered the store.
This means that whilst retailtainment can of course increase sales in the store itself, it may hold even greater value for your wider brand, and ultimately feed into supporting and increasing online sales in a way that would not have been achievable without that offline support.
In order to make retailtainment work to support online sales, the two need to work symbiotically together and enhance each other's presence. Within an online storefront, this might include prompts or mentions of in-store experiences and events, and suggestions on product pages of the nearest retail unit where the goods in question can be examined and tried out.
In your retail unit itself, details of your online store should be prominent, easy to find, and incorporated into your marketing collateral in the store and on or around the products you sell there.
Incorporating interactive connectivity in-store via the internet of things, app functionality and other forms of tech is also important for brands that really want to get their retailtainment on point, and this can help to support later progression of the customer journey through your sales funnel from an instore visit to an eventual online sale.
What SMEs can learn from retailtainment
Bringing shoppers through the door, keeping them in-store, getting the product lines you want to promote in front of them and creating a positive environment to enhance sales can all be achieved with retailtainment, as can enhancing long-term brand perception and supporting online sales.
In order to determine how retailtainment can provide value for your business and how best to action it will depend to a large part on the niche that you serve, the types of goods you sell, and the type of prospects that you can attract, both from off the street and by channelling them to your store via your website.
First of all, think about how retailtainment can add value for your prospects. What can you provide for them in-store that they can't get online, or how can you make a store visit more attractive to a prospect than an online purchase?
This may be self-evident for many businesses. For instance, if you sell cakes and baked goods, allowing customers to come in and sample your offerings, see how they are made and perhaps have a go at decorating a cake will all provide a great shopper experience and prompt sales that would be much harder to achieve online.
Additionally, if you get your shoppers involved in the store itself and allow them to get hands-on about things, they are also likely to take some snapshots and share them with their friends and family online, further helping you to spread the word – particularly if the name of your store, website URL or other branding is prominent in the shots too.
Also, think about what your prospects want and need – are they looking for things that will make shopping easier and faster, do they want to be able to get really familiar with goods before they buy, do they want to know what's new, or compare products side by side? If your retailtainment is set up to support this, your shopper's journey will be simple, pain-free, and more rewarding for them.
Retailtainment obviously needs to be scalable for SMEs who don't have the same type of resources and funds at their disposal as bigger brands and so, that cannot refit an entire store or spend large sums of money on tech and installations to support the endeavour.
But retailtainment is about the experience rather than the gadgets, and as long as you can provide the experience your shoppers are looking for, how you do this is up to you.
Displays and workstations that are set up to allow shoppers to handle and try goods and consider sampling things they might not have gone looking for on their own are within the reach of most businesses, and any shortfall in resources can be mitigated by ensuring that the team within the store are proactive, engaging, and work to get visitors involved.
Events aimed at children are often particularly successful, even for brands and goods that are not specifically designed for kids. Providing interest and value for younger people not only helps to make their parents' shopping experiences easier and more pleasant and so, memorable for all of the right reasons, but it can also serve as the origins of a lifetime of brand loyalty from young people who have a great time at your store too!
Setting up tie-ins to seasonal or pop culture events is a great way to support retailtainment and provide a theme for the shopper experience, and something that can be applied to most types of businesses and product lines too.
Summary
Retailtainment done right provides an immersive experience that shoppers remember long after they've left the store, with or without a purchase. Building on these foundations by keeping your brand in the prospects' minds after their visit with supporting online collateral helps to ensure that these shoppers continue through your sales funnel to an eventual purchase, and return to you for subsequent future purchases too.