You're fresh out of a job interview and you think it went well. There were no awkward silences; you were confident and held eye contact, and you reeled off your expertise as if you were born for the job. But, it's not over yet. Before you draw a line under it and wait for a response, it's time you sent a strong follow-up email to help seal the deal.
Why a follow-up email counts
As we all know, today's job market is incredibly competitive and to be granted an interview is a success in itself. But the chances are you're pitting against tens of other candidates, so you really need to stand out in the crowd.
It's common courtesy to send a thank you note for the time taken to meet you and, in your email, you can take the opportunity to confirm why you're perfect for the job. This will give your potential employers an impression of good manners, keenness and professionalism.
The fact is, employers are actually more likely to hire you if they receive a thank you message, with over 80% of employers saying that it helps them make their decision. Yet only around 27% of job hunters do so. A simple thank you note is, therefore, a no-brainer.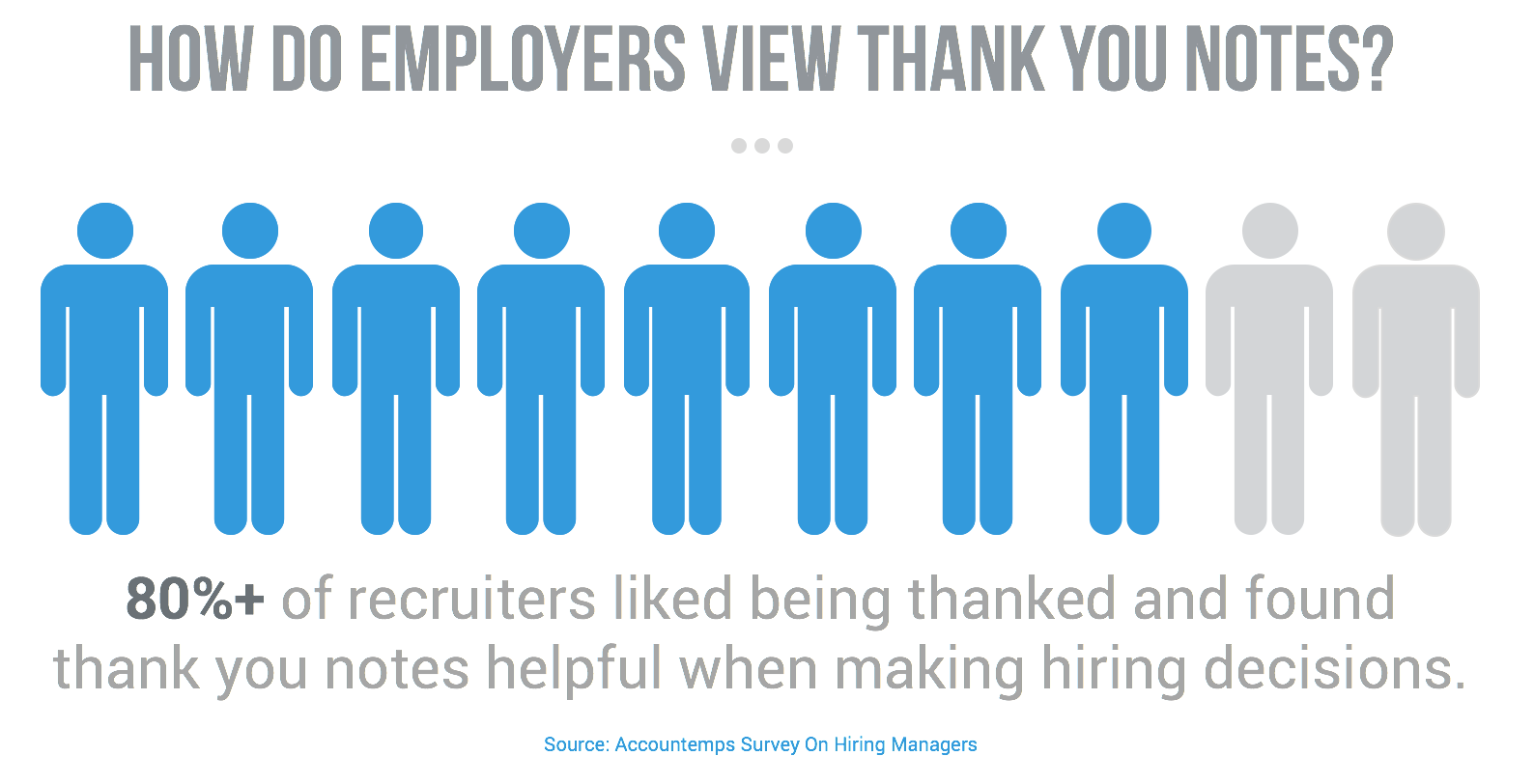 How to send a killer thank you email
Address the email appropriately
This depends on the business you've interviewed with – some companies expect a higher level of formality than others. However, as you've already met them, your best bet is to be more informal than your initial cover letter.
You should know the name of the person leading the interview process, so a simple "Dear (first name)," should suffice. Signing off is the same. Drop the formal "yours sincerely" and go for a friendly "kind regards" or "best wishes".
Start in the interview itself
Use your interview to get to know your potential employers, starting prior to the interview when you're waiting to go in. Use this time as an opportunity to chat with your interviewer(s) if it's appropriate. Likewise, once the interview is over, there's usually time to talk informally and get to know your potential employers off the record.
For example, if the interview is on a Monday or Tuesday, ask about how their weekend went, or if it's a Wednesday to Friday, ask about their weekend plans. Then, if anything interesting comes out of your chit chat, refer to it in the follow-up email. Don't make it too forced, however. Your aim is to be personable, not creepy!
Thank them for their time
It sounds obvious, but many people overlook this. It's a thank you email after all, so don't forget to use the words "thank you". The interview panel has taken time out of their schedules to meet you and hear what you have to say so it's good conduct to acknowledge that. Good old-fashioned manners still go a long way to making a positive impression.
Highlight why you're best placed for the job
It's your opportunity here to emphasise the reasons you'd be great for the job. During your interview you should have gone into depth, using examples to demonstrate your skills and experience. Now you can reinforce this by summing them up succinctly in your thank you note, committing them to email for reference.
Be authentic
Your thank you note should remind your interview panel of your personal as well as professional attributes. A good tactic is to pick out a specific element of your interview that'll pique their memory and bring you to mind. If, for example, you discussed a particular issue in your interview, then now's your chance to share a relevant piece of content. Stay away from generic phrases but instead use this email to let your personality show.
Clear up misunderstandings
If your interview didn't go 100% to plan, then a thank you email is your chance to address any concerns. Whilst you shouldn't dwell on the negative aspects of your interview, you can use your email to fill in the gaps you left, or clear up misunderstandings that arose in the interview room.
Link to further information about yourself
Your thank you email is a great opportunity to highlight further information about you and your experience. If you have a website then include a link, and the same goes for an online CV. It just gives employers the chance to easily find out more about you whilst at the same time demonstrate some key digital skills. You can find out more about creating a personal brand online here.   
What to avoid
Bad timing
Getting the timing right for sending your thank you email is more important than you'd think. Send it too soon and it seems like you have a pre-written note waiting to be fired off; too late and you risk them forgetting who you are. Your best bet is to send it within 24 hours – perhaps the morning after your interview. Also, don't send the email in the middle of the night; stick to working hours.
Generic phrases
Making broad statements in your thank you email is a cardinal sin. A bland response that could have been written by anyone will give the employer little or no impression of who you are, let alone why they should take a chance on you.
Rambling
Your thank you letter should be concise – the recipient shouldn't need to scroll down to read it – so now's not the time to show off your garrulous prose.
Highlighting the negatives
The last thing you want to do in your thank you letter is to come across as pessimistic. If you said something you regret in your interview then rather than draw attention to it, use your follow-up email to turn that around. Say what you meant to say while you were under the spotlight or, if you just can't find the right words, leave it well alone.
Using bad grammar/spelling
Your cover letter and interview probably made reference to your excellent written English and attention to detail so don't let yourself down now. Your thank you email should be perfect from a grammar and spelling point of view, so make sure you proof-read it at least once before sending. To be doubly sure, get a friend to cast an eye over it too.
Sending the same email to everyone
If you've decided to thank each person on the interview panel then make sure you take the time to tailor each one personally. A generic email will be obvious to the recipient and you'll come across as lazy.
Example thank you email
Dear Michelle,
Thank you for taking the time to speak with me about the position of Marketing Manager at (company name). It was great to meet you and get the chance to find out more about the role.
I particularly enjoyed discussing your need for someone who can develop an integrated marketing strategy and I've been giving it a lot of thought since we met. Over the last few years, I've spent a lot of time working with clients to build up multi-channel strategies. It's been a challenge at times, but one which has provided me with a great deal of learning.
I've found that in the long run, bringing together all elements of both online and traditional marketing, with all their different streams, helps a company to target its marketing in a more focused way, and provide a better return on investment.
Following our meeting, I feel confident that my experience in marketing and my willingness to shake up strategies will enable me to fulfil the role requirements but also support the long-term vision of the company.
I very much look forward to hearing from you and, in the meantime, here's my online CV should you need to peruse it again.
Thanks again,
Jemma
Why it works:
It thanks the interviewer for the opportunity in the first sentence
It's relaxed and personable in tone
It highlights specific parts of the interview, i.e. their need for a strategist
It expands on this discussion to confirm the candidate's knowledge and expertise
It wraps up by highlighting how the candidate would fit into the company's long-term vision
It links to further information, should the interviewer want to check up on the candidate's experience
In summary
As we've discussed, your interview doesn't end when you leave the room. Far from it. A huge part of a company's decision-making process depends on softer signals of rapport, good manners, and professionalism. A large part of this can be exhibited in a follow-up thank you email.
Your thank you message is your chance to stand out amongst the other candidates, reemphasise what you'd bring to the role and the company's vision, and rectify any issues that you feel need addressing. 
A well-written, timely and personable message from you to each of the panel is an excellent way to build on the impression you already made in the interview room and demonstrate that you are the best person for the job.