The end of last week saw the second one-day search marketing conference of the year, the renowned Brighton SEO. Presentations and talks spanning across keyword research, content, video and even chatbots took place on Friday 15th September.
Here we've pulled together the top things we heard at the conference, the things that made us feel motivated, the things which we all need to look out for in the future and the things that were just plain interesting!
"Mobile, if you're not there you're already behind the curve"
Duane Forrester, VP of Industry Insights at Yext, highlighted just how important being mobile-friendly is, not just for SEO but for user engagement. The statistics he shared say it all: apps now consume 50% of our time on devices (so must be factored in your SEO) and over 50% of all web traffic is via mobile now. Another great takeaway from Duane's presentation? Make sure your website is secure, as HTTPS is becoming expected and will soon be the norm.
"Don't feed your customers a false path of promises"
Amy Harrison spoke of the customer disconnect, the breakdown in communication between consumer and business which happens when you focus on what you want your customers to do but forget why customers want to do it. A top tip? Go through your business' marketing process and ask yourself whether your promises satisfy customers.
Invest time writing content around your customers and build a story which connects and includes the symptom, problem and risk your customers are experiencing, the workaround (why it's a terrible idea not to be using your business) and the inspirational possibilities that come out of becoming your customer.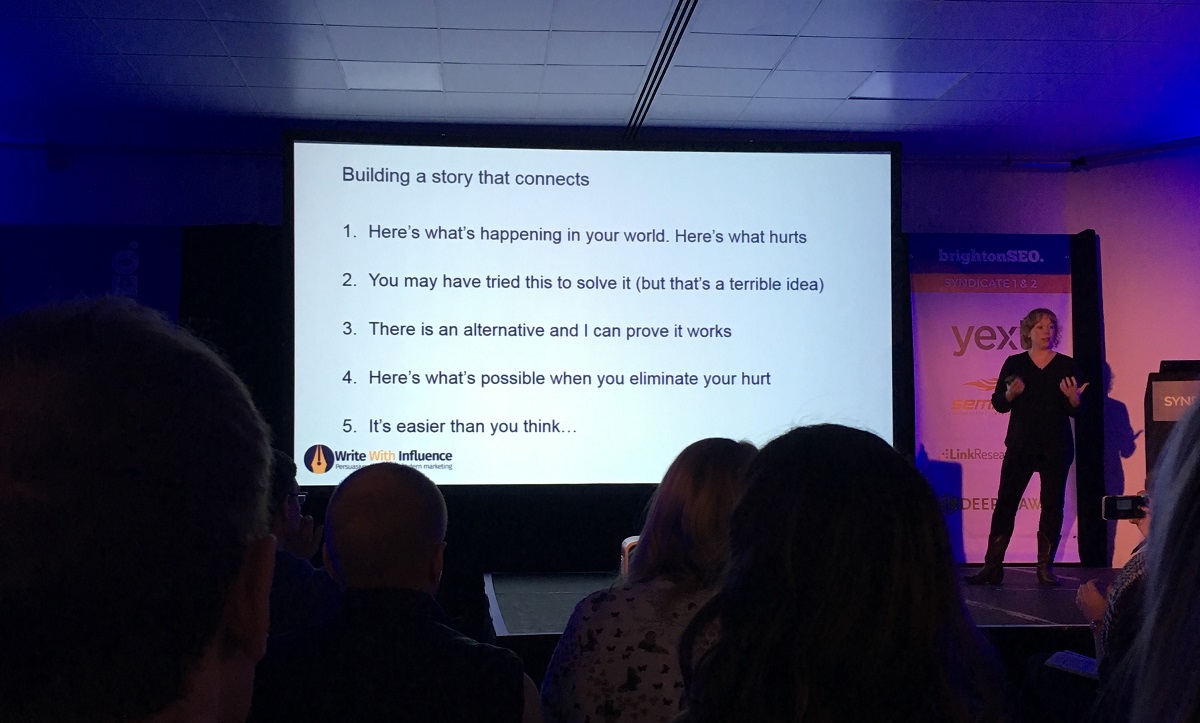 "Only three clear points needed in your online PR"
Sophie Everett, Head of PR at Prodo Digital, shared her insights into how to package and pitch a story to journalists. The main takeaway, three clear points in a press release is key to getting coverage and journalist attention. And, while video content can help you get coverage, always check the publication first to see if they actually have the capabilities to use videos and GIFS and be conscious of file sizes.
"There's a critical need for speed – the reasons are really scary!"
Aleyda Solis, International SEO Consultant, reiterated the importance of mobile speed. Users expect e-commerce webpages to load in just 2 seconds, and as the internet continues to evolve this time expectation can only be reduced. This acts as a reminder to all of us that the majority of users will bounce if a mobile website takes longer than a couple of seconds to load, so must be considered throughout website design and development.
"Path to finding valuable data isn't the straightest"
The Outreach afternoon talk kicked off with Marcelle Antunes who shared top tips to creating great campaigns worthy of BBC coverage. Along with the insight above, Marcelle reminded us of the importance of sparking an emotional response, spending time finding credible sources, delving deeper with research to secure coverage, getting experts on board and something we may all be guilty of forgetting: the internet isn't the only source of information!
"Visualise new keywords to gain additional insights from your organic search"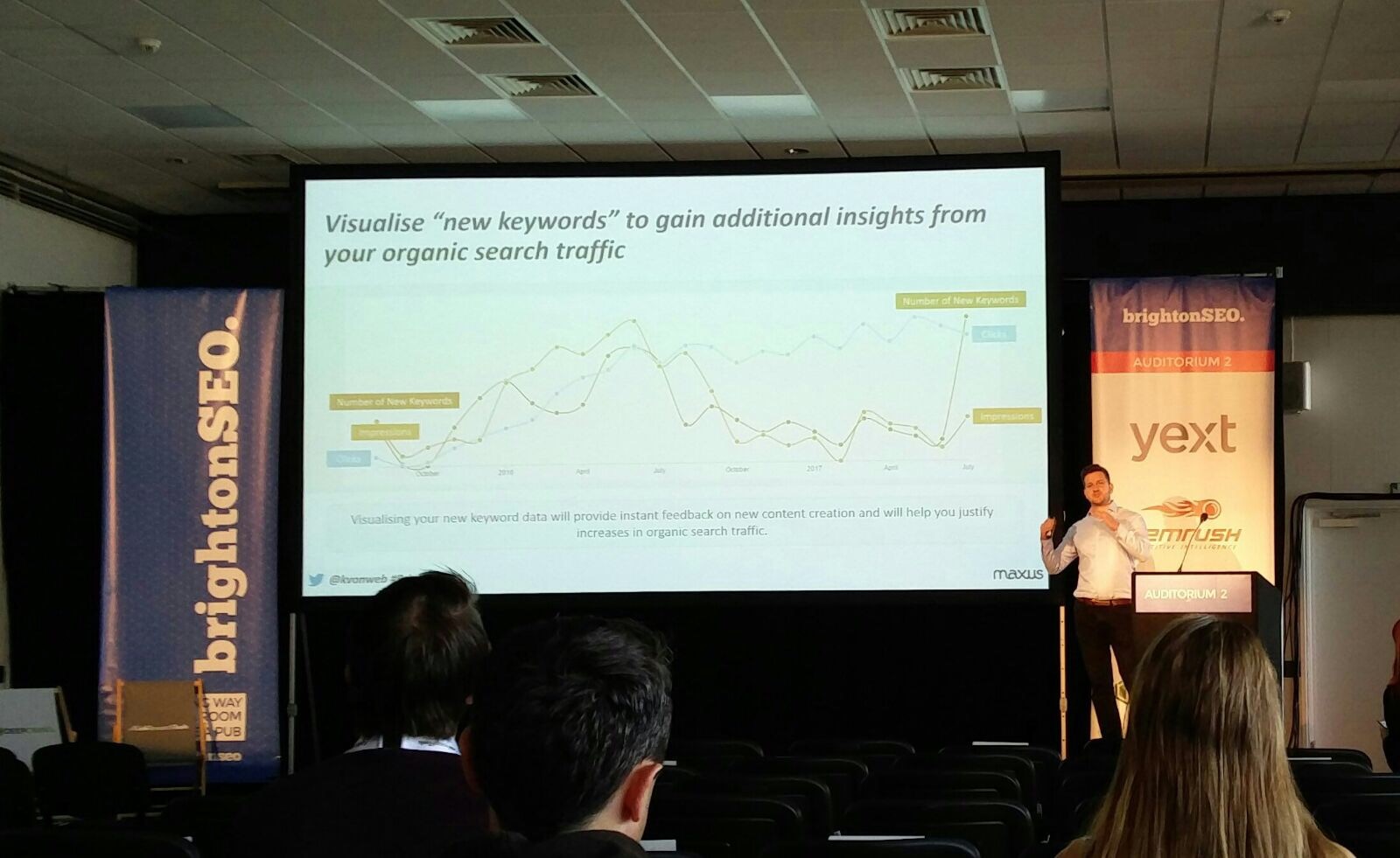 Head of Organic & Content Performance at Maxus, Kostas Voudouris, highlighted the importance of identifying keywords that you rank for past the first page of Google. This will help you to understand which keywords Google sees as relevant to your website and will give you insights into the topics that you can cover to improve those rankings.
"Your mum is a ranking factor"
Jo Turnbull and Daniel Furch's presentation highlighted how we need to remember content isn't one size fits all anymore and that it needs to be tailored to different audiences – everybody's mum is a ranking factor as they're all users! Think about the intent (transactional, informational etc.), what those users want (amount of internal links, social media etc.), and what stage they are in your funnel.
"There's no miracle pill for link building, it takes hard work and dedication"
Greg Gifford, Director of Search and Social at DealerOn, spoke of his righteous tips for building totally excellent local links as according to the 2017 local search ranking factors, inbound links are the most important ranking signal.
Five ways you can get local links include:
1. Pay for sponsorship
2. Donate time or volunteer
3. Get involved in the local community
4. Share truly useful information
5. Be creative to get random mentions
"Chatbots will power 85% of all customer service interactions by 2020"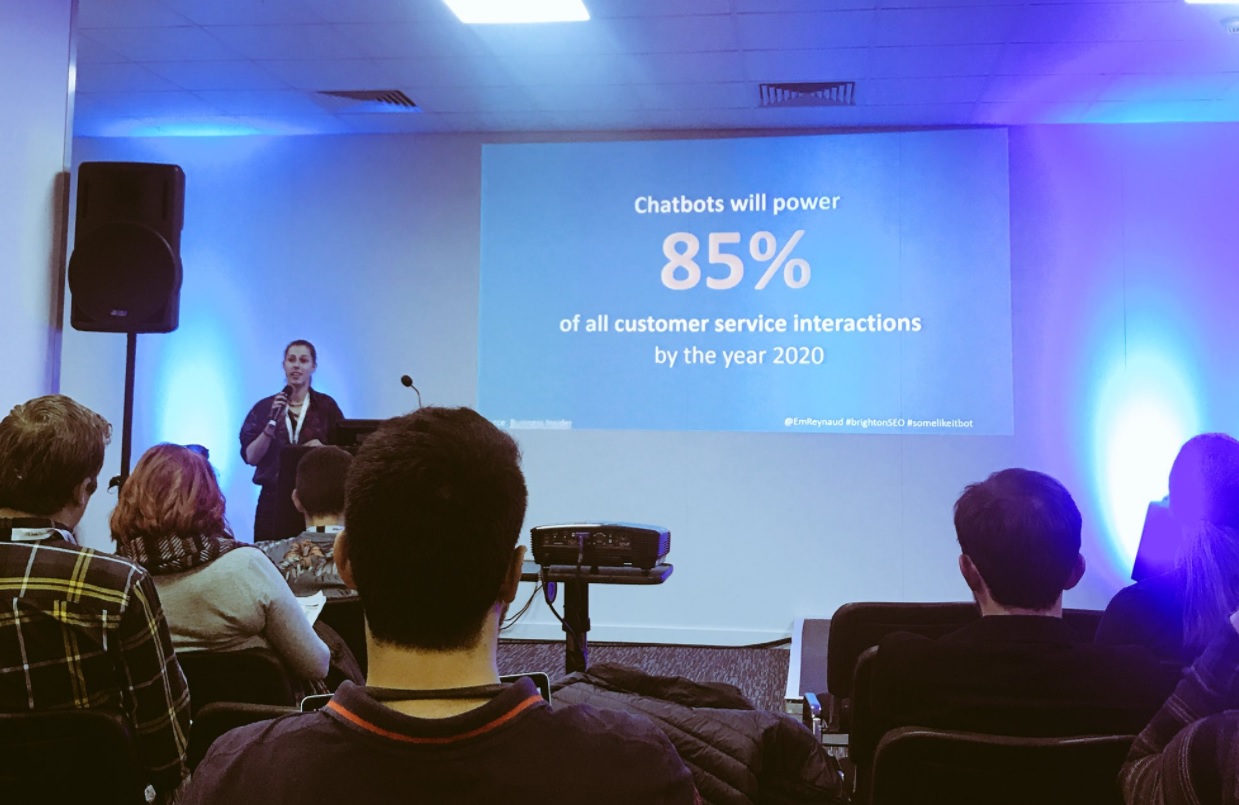 Emilie Reynaud's interesting talk highlighted something we need to keep an eye on: chatbots. They are becoming so popular, they'll power 85% of all customer service interactions by the year 2020, but Emilie highlighted that they won't take over all your customer service interactions and to avoid setting this expectation.
It's also vital to keep humans at hand and make sure you're clear when customers are speaking to a 'virtual assistant' (there's no point lying, it will soon become obvious anyway!).
"DON'T send the same press release to everyone"
Hana Bednarova shared some great insights into how to encourage journalists and websites who share your pieces to include links back to you.
Giving them something extra (such as a report or infographic) but linking to the full data on your own website was a great tip shared, alongside providing photography, tailoring content to the publishers' style, spending time building relationships with them and writing with their readers in mind.