When WhatsApp launched its Business app in early 2018, it was only available on Android. At last, in April this year it was rolled out onto iPhone, and is available in most countries worldwide.
With 1.5 billion users who send an average of 55 billion messages a day, the potential audience for small businesses is enormous. But is it right for yours? I'll show you how it works and how it might support your company's sales and marketing efforts. I'll also explore the most recent features and show you how and why you would benefit from signing up.  
WhatsApp Business in a nutshell
WhatsApp Business is available on desktop, Android and iOS. It's mainly targeted to small and medium-sized businesses, although larger companies such as KLM have used some of its elements to great advantage, offering access to real-time flight information and documentation via the app. 
WhatsApp Business lets businesses set up their profiles with an image, description, location, URL and contact details. The primary goal is to enable companies to keep in touch with their customers and answer questions and queries in real-time.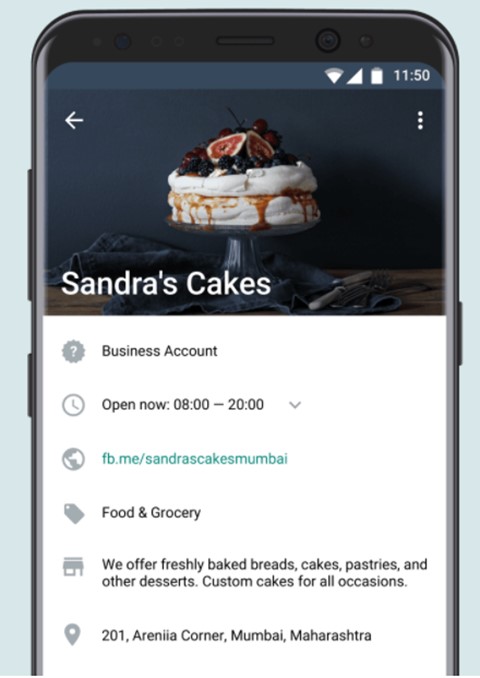 The highlights
You can sign up using a landline
You have a few registration options. You can sign up using a mobile number, but this will mean that you cannot run a separate personal WhatsApp account linked with this same number. You can, however, migrate all your personal chats over to your new business account.
You can also sign up using your business landline, which means you can keep your existing personal WhatsApp account, and run a WhatsApp Business account on the same device. 
It's available for desktop with WhatsApp Web
Currently WhatsApp is a free app available for download on Google Play and iTunes. But once you've signed up, you don't need to be tied to a smartphone to be able to message contacts. You can set up the desktop "WhatsApp Web" application and access your account via your internet browser.   
It has efficient messaging tools and automated features
WhatsApp Business also allows you to automate "greeting messages" and "away messages" as well as "quick replies" to frequently asked questions. Quick replies allow you to create shortcuts for frequently used messages.
For example, if someone has completed an order, you can create a /thankyou shortcut that, when sent, will read "Thank you for your order. We hope to see you again soon!"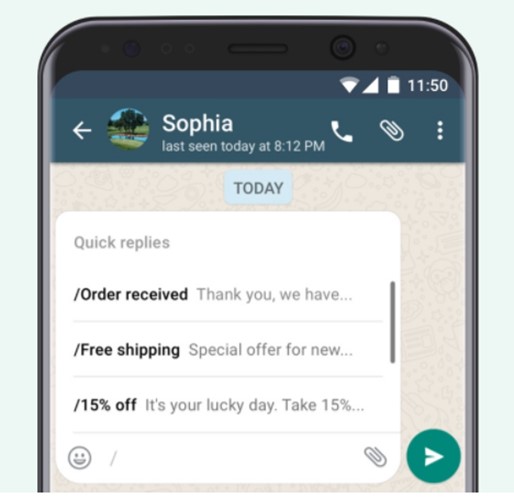 Although these are pretty rudimentary so far, you can track the number of messages sent, delivered, and read. And knowing Facebook's reputation for analytics, it's likely this will develop in time.
Your business account is marked out from consumer profiles
When you set up your account, your profile will be labelled as a business profile, which is marked out with a grey question mark.
Once your account is confirmed (your WhatsApp phone number matches that of your business) then you get a grey tick.
Businesses that are then verified by WhatsApp get a green tick label, marking them out as an authentic brand.
WhatsApp Business allows you to send a message to all contacts using the "broadcast" function. Useful if you have an important update or news item you'd like to share with all your customers.
It also allows you to segment your contacts using "Labels". Labels allows users to name and filter their chats so that they can find them quickly.
The default labels pertain to the e-commerce process: "Prospect", "New Order", "Pending Payment", "Paid" and "Order Complete". However, you can customise your own labels, say for example by "regular customers", "promo customers", or "customer support".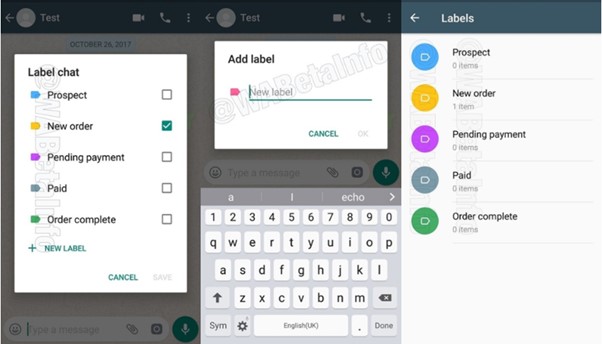 WhatsApp Business is opt-in only
In the interests of preventing spam activity (and in line with GDPR regulations), users must opt-in to receive communications from a WhatsApp Business account. This means businesses need to use WhatsApp Business as part of a targeted opt-in strategy and not just to go on a mass cold-calling campaign.
Currently no paid-for features, but these will follow
Whilst there are currently no signs of any paid-for features, it's likely that Facebook will be working on these as we speak, just as we have seen with Facebook and Instagram.
Why use WhatsApp Business
1. It's where your customers are
With 1.5 billion users, 1 billion of whom are active daily, it's more than likely your audience will be using WhatsApp on a regular basis.
In the UK in particular, WhatsApp is the leading app people use for messaging: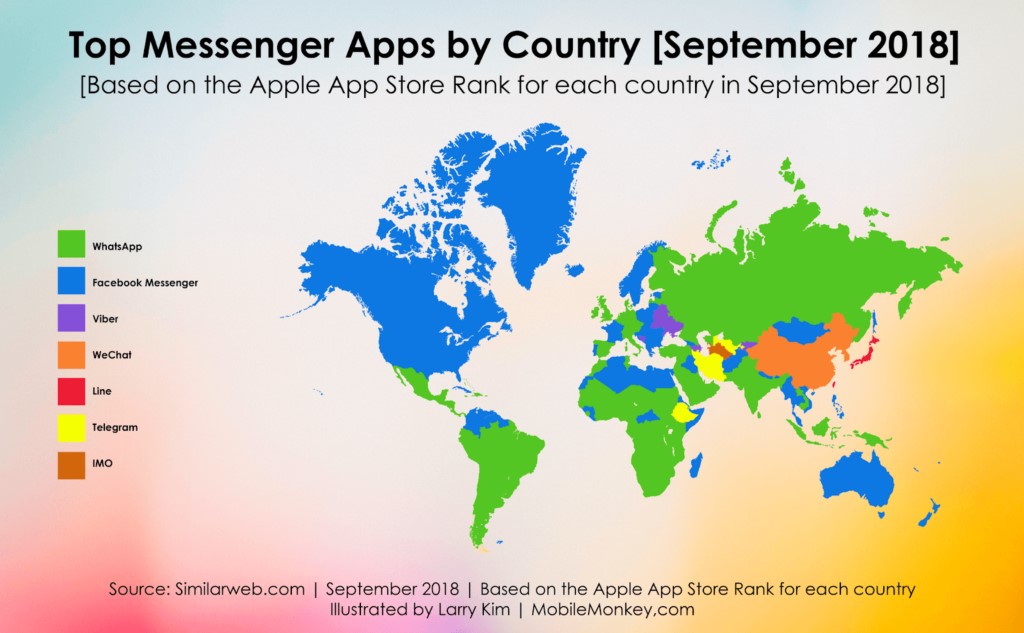 2. It's free
For now at least, WhatsApp Business is available at no cost. It's likely to remain free while Facebook add paid-for advertising features.
3. It has huge potential for your business
As a customer service channel, it will allow you to engage with customers on a channel they're already using.
It's also great for digital communications, allowing you both to reach up to 256 people at a time or on a 1:1 basis, depending on the nature of the message.
As a marketing channel, it can be used to send paid notifications or to directly message consumer leads.
I'll explore in more detail how to get the most of WhatsApp Business for your company a little later. For now, let's focus on getting set up.
WhatsApp Business vs WhatsApp Business API
Before I take you through setting up your account, let's explore the difference between WhatsApp Business and WhatsApp Business API.
WhatsApp Business exists because it makes no sense for businesses to use a private account to contact their customers (and for other customer service and marketing reasons).
First of all, the blue tick you get when you've been accredited by WhatsApp shows customers that your account is real and trustworthy.
Secondly, using a private account will mean that you'll lose out on all the features and integrations available to you in the dedicated business app.
So, I'd recommend not using your private account.
Instead, you have the option of downloading and using the WhatsApp Business app. Alternatively, you can choose to tap into the WhatsApp API to get more from the app.
The WhatsApp API lets brands tap into the WhatsApp code and customise their Business account with features and integrations to fit their needs.
You can get in touch with WhatsApp to ask for access to the code if you're tech-savvy enough to customise your app yourself.
However, only 90 companies have thus far managed to gain access to the code, so there's no guarantee you'll be granted access.
A third option open to you is to go via a third party company like Falcon.io, who are a certified WhatsApp Business Solution Provider (BSP), to help you to manage, filter and label your WhatsApp Business account.
My advice is simply to start with the WhatsApp Business app. It's likely this will provide you with everything you need to support your customer service and marketing needs for now. You can always look at tapping into the WhatsApp API at a later date as you need more from your WhatsApp activity.
Setting up and using your WhatsApp Business
Download and set up your profile
First, you need to download the WhatsApp Business app either from Google Play for Android, or iTunes Store for iPhones.
When you tap into the app then, assuming you already have a private WhatsApp app on your device, you'll be asked if you want to use your existing number for your WhatsApp Business account. If so, then click Use 07xxxxxxxxx. If you don't then click Use a different number.
Unfortunately, you can't have both a WhatsApp (personal) account and a WhatsApp Business account associated with the same number. If you choose to transfer your conversations over from your personal account to your new Business account then you won't be able to switch back again.
Once you've entered your business number, you'll be sent a verification code.
Now, set up your business name and fill out your profile by tapping on More Options > Settings > Business settings > Profile. Be careful to get your business name right. Once you've completed the setup, you can't go back to change your name.
When you've completed your name, logo, phone, email address and status message, you've finished your setup. 
Your settings
1. Your profile
Other things to note in your profile is the location map and opening hours. These can help to advertise your physical address to connect up your on and offline spaces.
2. Two-step authentication
It's strongly recommended that you set up two-step authentication, meaning you'll need a pin as well as your username and password to access the app. To set this up, go to Account Settings > Two-step authentication > Enable. 
3. Customise chat settings
Within the Account settings you can customise your wallpaper and other chat settings.
4. Notifications
Within Account settings you'll be able to customise your notification tone and vibration mode so that, for example, you can distinguish between personal and business messages.
Using Quick Replies
Quick replies are the pre-written shortcuts to help you answer common questions quickly.
Each quick reply needs to start with an "l" so that when you want to reply to a customer, you can simply start typing "l" and your list of quick replies will show up.
To set up your Quick Replies, open the WhatsApp Business app. Then go to Settings > Business setting > Messaging tools > Quick replies > +
How WhatsApp Business can support your sales and marketing:
Direct Marketing
With WhatsApp having long overtaken traditional SMS in terms of messages delivered, there's no doubting its potential for direct marketing. Just like WhatsApp itself, the Business app lets you send audio, image or video files, so you really can get creative as to how you harness it to promote your business.
Given that you need your followers to have opted-in to receive messages from you, you're already at low risk of being a nuisance, but you must still beware of being too spammy. Ideally, you would use it to connect with existing loyal customers rather than to reach a new audience. 
As an example, Colgate used WhatsApp to boost their contact list, inviting their customers to send a selfie to a number printed on the toothpaste packaging. The prize was a chance to be styled by the brand ambassador's stylist.
Real-time, efficient customer service
When used as part of a sales strategy, WhatsApp Business can be a valuable tool for nurturing your customers. More accessible than email, but less intrusive than a phone call, a quick text to your customers to confirm their purchase, or an automated reply to a common query, is an obvious way to use the app.
You can also use WhatsApp Business for more generalised customer communications, such as sending updates on offers, sales and news, or even asking for feedback.
Customer support
If in need of assistance, customers would do almost anything to avoid phoning a helpdesk. With WhatsApp as an option, they can send you a quick message and you can reply with advice and support. You could even include video tutorials or audio messages to help them further with their issue.
WhatsApp Business also allows you a more informal tone in your customer communications, which in itself helps to nurture your relationships.
The downside of using WhatsApp Business for customer support is that only one person can do it at a time (as only one phone number is associated with one business account).
Try this:
Advertise on your other social platforms, website and emails, the times you'll be available for customer support on WhatsApp (set an "Away" message when you're not available). Encourage your customers to use WhatsApp to reach you during these hours by letting them know they'll get real-time support.
Internal communications
The great thing about WhatsApp Business as a tool, is that almost everybody knows how to use it. Bringing in a new comms tool means training staff on how to use it, but that's not usually necessary with WhatsApp.
Using WhatsApp for internal comms allows your team to send instant messages to each other either individually or in group chat, which bypasses the increasingly clunky process of email. 
What's more, because people are usually tapped into WhatsApp anyway, there's no need to keep checking in on emails. The downside: business communications go home with you if you don't have a separate mobile device for personal use.
Connecting with audiences via Stories
Over the last couple of years we've seen a proliferation – across all social media – of "live" marketing. From Facebook Live through to Instagram Stories, brands are increasingly using real-time storytelling to connect with their audience, build their brand and, ultimately, increase their revenue online.
Whilst WhatsApp Stories isn't quite as well-used as Insta Stories, it's the fastest growing, and most used format out of the top four social platforms.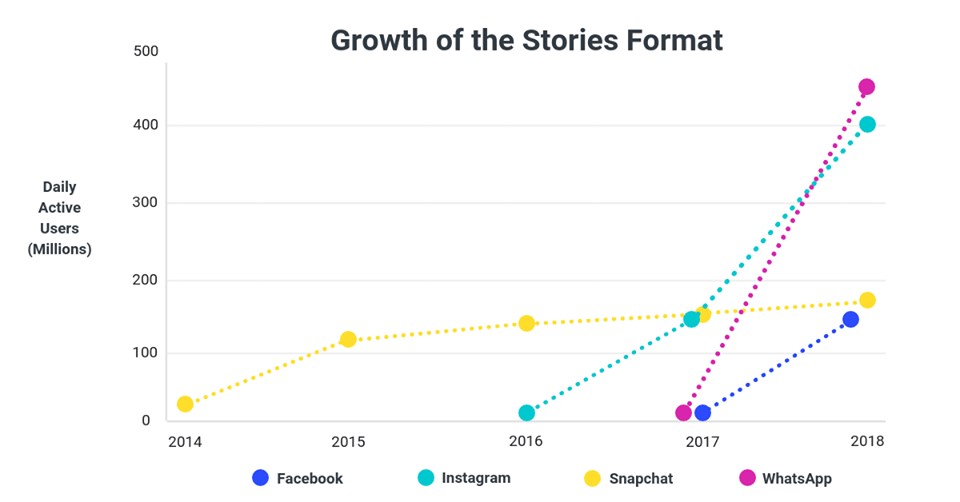 To use WhatsApp's stories function, navigate to your Status. Click on the + sign on your profile picture. Now either take a photo or video or choose from your camera roll. Now, when your customers see you in their contact list, they'll be able to click on your profile to see your latest updates.
WhatsApp has only recently confirmed that they're rolling out Ads in status updates in 2020, but until then, you can do what other brands are doing, and use your status and stories to reveal a new product or range, post a promotional image or video, or just create a message that will draw attention to your brand.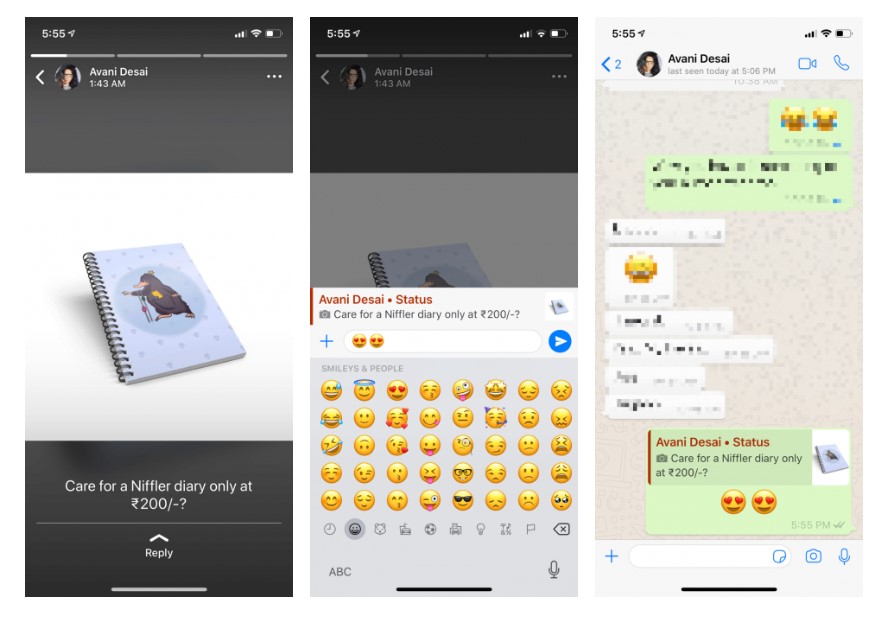 The verdict:
The positives:
WhatsApp Business is completely free, easy to set up, and user-friendly. Its basic analytics are simple but useful for small businesses to track and tweak their WhatsApp campaigns.
Given the massive and highly engaged 1.5 billion user-base, the potential reach for businesses is vast. If used intelligently, WhatsApp Business could tap into this audience both to expand its own user base, but also to nurture its own customers into being loyal fans.
What's more, because users have opted into receiving messages from you, the likelihood of them engaging with your updates is improved.
It also allows companies to set a more informal tone in their communications, and tap into the real-time, fast-paced nature of consumer habits, with a quick text message purchase confirmation or an informal response to a query. This, of course, has already been done before with traditional SMS, but WhatsApp Business gives your business extra legitimacy with a branded profile.
WhatsApp Business also allows companies the flexibility to be able to send blanket messages to all users via "Broadcast" or segment their user base using "Labels".
The drawbacks:
The main negative is that the sign-up process is a bit clunky, only allowing one WhatsApp Business account per device. As such only one person can access the account at any given time, making 24/7 availability a challenge. 
You also need your phone to be connected to the internet in order to use the desktop app "WhatsApp Web".
WhatsApp payments are yet to come, but until they are here, the use of the app as a sales tool is rather limited.
The opportunities:
WhatsApp Business in its current state is as a standalone manual tool, but hopefully in time we will see integrations with CRM systems, marketing automation tools and chatbots so that 24-hour tailored marketing is made possible.
One gets the feeling WhatsApp Business has more to come, from a payments facility, to integrations, to being available on iOS. But, knowing Facebook and their ability to move ahead of the curve, there'll be more to come in the coming months.
In summary
With its large global and actively engaged user-base, WhatsApp has big potential for businesses looking to broaden their audience, grow their customer base and increase their bottom line.
And since owners, Facebook, launched WhatsApp Business last year, the sales and marketing potential is already being realised by many businesses.
I've looked at how it can be harnessed both for direct marketing and advertising, customer service and nurturing, as well as internal business-as-usual communications. 
And while the app is a bit cumbersome, only allowing one account per phone number, it does have potential to be an integral part of any business' lead generation, customer service, and sales/marketing toolkit. As long as Facebook rolls out more sophisticated integrations, and the WhatsApp user base remains so high, WhatsApp Business could become a mainstay of business to consumer communication.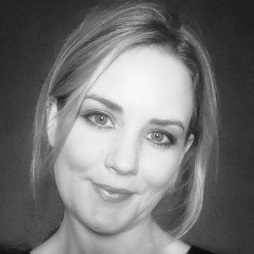 Charlotte Jenkins is an Oxford-based content marketer. She has several years' experience in content writing, editing and digital marketing, helping clients communicate their businesses online.
Read full profile