In the early years of e-commerce, card payments were the default choice for the majority of customers, but now card payments are set to be overtaken by other methods. Today's online shopper has a more varied choice of payment options, from well-established alternatives like PayPal, to digital wallets and various flexible payment options.
This presents a challenge for retailers, as they look to keep up with customer preferences – which payment methods should they offer, and how much choice is necessary?
When looking at which payment options to offer for online shoppers, retailers need to balance the aim of providing choice for customers with the time and resources required to offer different payment methods. Choice is very important here, as customer preferences over payments are varied, and retailers need to try and appeal to the broadest range of customers they can.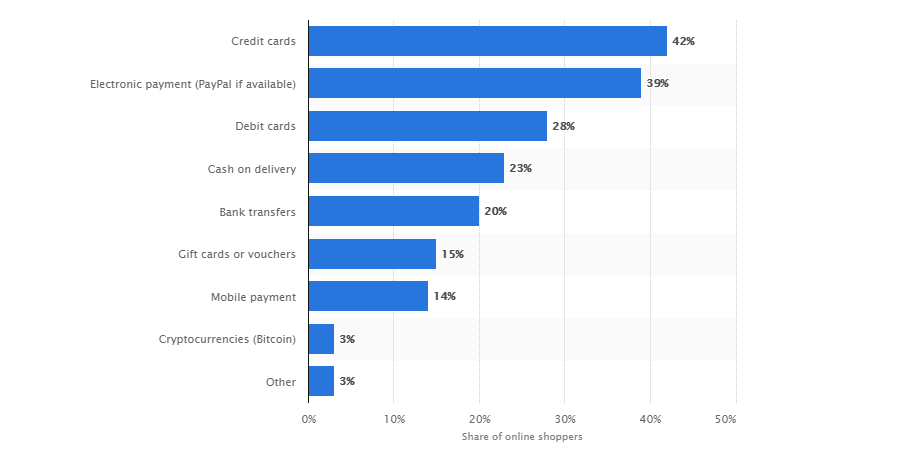 A survey from Statista shows the varied preferences of online shoppers around payments. Card payments are the most popular method as you'd expect, but electronic payment methods like PayPal are catching up quickly.
Worldpay's data suggests that card payments will decline over the next few years, while digital wallets and other 'alternative' methods will continue to grow.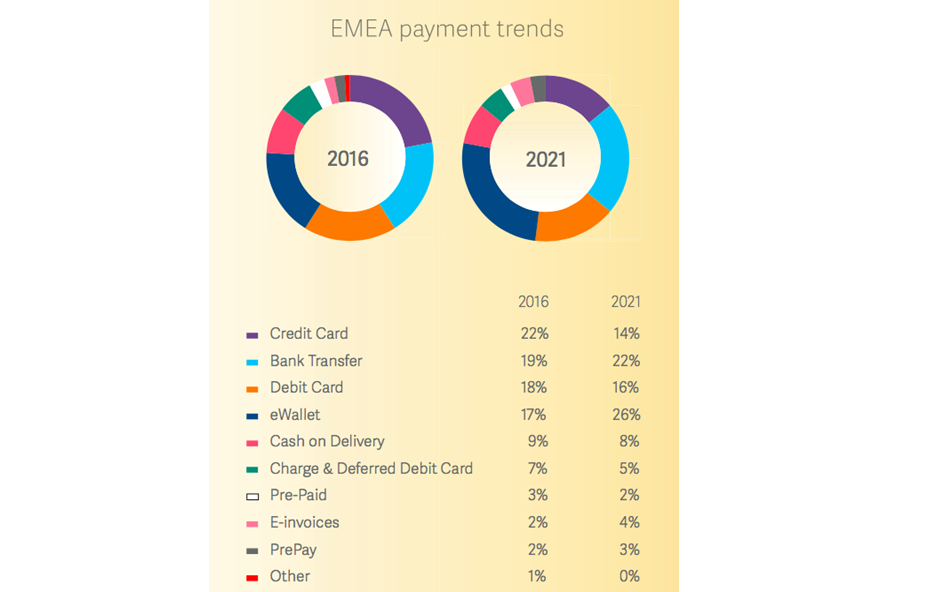 This is something retailers will need to adapt to, as offering only card payments will no longer be enough to appeal to the majority of online shoppers. However, many retailers are still offering no more than standard card payments. In a report which looked at the top 250 online retailers in the UK, Visualsoft found that 19% offered no alternative payment options. These retailers are potentially missing out on sales from customers who would prefer not to pay by card.
How a range of payment methods can help your business
There are some compelling reasons for thinking beyond card payments and offering a wider range of payment options for your customers.
No limits on growth
As the stats above show, significant numbers of online shoppers want to have a choice of payment options beyond credit and debit cards. The more choice retailers offer, the more likely it is that customers will find an option which suits them and complete a purchase.
Indeed, a lack of payment options is one of the six most common reasons for checkout abandonment, as cited by shoppers. Catering to different customer needs in this area means that businesses can grow and attract more customers by removing a potential barrier to purchase.
Smoother checkout
Alternative payment options can also mean a smoother checkout process for customers that use them. An easy checkout process means more customers are likely to convert, and will leave the site having had a better experience.
Take PayPal for example (though the process is similar for other payment options). It can considerably shorten checkout as customers can use the saved address and payment data from their PayPal account. Instead of entering address and payment details, customers only need to enter their PayPal username and password to complete payment.
A better mobile experience
Mobile remains a challenge for retailers, and the payment process is a key area when it comes to mobile commerce. The percentage of traffic to mobile retail sites is generally higher than desktop, but doesn't always convert into sales. In other words, people are happy to browse on mobile, but less likely to convert than if they were using a desktop site.
Some payment options can help here, by simplifying the payment process. It can be enough of a chore for some to enter address and payment details on desktop, but it's even harder on a smaller mobile screen where mistakes can be made. Payment options like PayPal help here, by cutting out the need to enter details, while other options can use smartphone features to their advantage and make payment very easy by using Touch or Face ID.
It can ease customer concerns about security
If customers are buying from a smaller retailer they are unfamiliar with, some may have concerns about handing over card details. However, payment options like PayPal offer protection for shoppers and remove the need for customers to provide card details direct to the retailer.
Which payment methods do you need to prioritise?
This is an important question for retailers, and the answer may well depend on customer behaviour, as well as the markets being targeted.
Payment preferences can vary by market, so you may need to adapt depending on the territories you're targeting. For example, Belgian shoppers prefer to pay by card, but the most popular payment method for Spanish shoppers is the digital wallet.
There are other considerations such as costs. Some payment options will require setup and processing fees which can impact on margins, so the final decision on payment methods may be a compromise between costs and the desire to broaden the range of options.
Many sites will simply add PayPal to the existing card payment options, which will account for the most popular customer preferences. However, it's important to consider what your customers are looking for, and new payment methods which are becoming more widely adopted.
Payment options: pros and cons
There's a broad range of payment options out there. Here's a summary of some of the most popular, and key pros and cons.
There are plenty of payment gateways which allow sites to take payment by credit or debit card but here I want to show some of the methods that can help provide greater choice and/or convenience for shoppers. This is not necessarily a comprehensive list, but should provide an idea of some of the different payment options retailers can offer.
PayPal
Currently the number one 'alternative' payment option, and one that is easy to get started with for retailers.
The pros: PayPal has more than 200m accounts, which means more of your potential customers will have saved payment details, it's a recognised and trusted brand, checkouts are optimised for mobile, and it contains built-in fraud protection.
Cons: The fees can be high for low volume (and lower margin) retailers, while its customer service has attracted some mixed reviews.
Stripe
Stripe works in a similar way to PayPal, and charges fees of between 1.4% and 2.9% per transaction.
Pros: Clear pricing and no extra fees.
Cons: Relatively high charges for debit and non-European cards.
Klarna
I've included Klarna as it offers a buy now, pay later option. Retailers using Klarna can ask for payment in full, offer payment by instalments, or deferred payments. This can help to appeal to a broader range of customers looking for more flexible options.
Pros: Customers are kept on site through the process, and the pay later options are a potential sales driver.
Cons: Transaction fees between 1.99% and 2.49%.
Amazon Pay
Amazon Pay allows your customers to pay using their existing Amazon account details. With more than 300m accounts worldwide in 2016, this method potentially appeals to a broad range of customers. This can be used either as a complete payment solution, or an addition to existing payment methods.
Pros: Amazon is a familiar and trusted brand so customers should be happy to use it, and it can speed the payment process up, especially useful for mobile shoppers.
Cons: Fees are very high, especially for low-volume retailers, at 3.4% and 20p per transaction.
Apple Pay / Google Pay
Apple Pay and Google Pay can be offered through various online payment providers, Stripe being one example. Apple Pay can boast 87m users worldwide, while the same figure for Android (Google) Pay is 24m, and the adoption of both is growing. It's perhaps more commonly used as a quick offline payment method, but retailers are starting to see the advantages of these methods for accepting online payments.
Pros: With address and payment details already saved, it can simplify checkout for mobile shoppers, reducing the payment process to a fingerprint scan.
Cons: While adoption is growing, more established alternative payment methods like PayPal have any more users
Visa Checkout / Masterpass
These two payment options are similar, and can save customer addresses and payment details to speed things up during checkout. Both are growing in popularity, and offer the same kind of convenience for shoppers. In each case, Visa and Mastercard users can sign up and create an account by entering their card and address details.
These details can then be used to pay on any site offering the option. As with PayPal, users need to simply enter their username and password to make a payment.
Pros: Simplified checkout process, and millions of potential customers have Mastercard and Visa cards.
Cons: Customers need to actively sign up to Masterpass or Visa Checkout which is a barrier to adoption.
In summary
Retailers have a lot of choices when it comes to payment methods, and it can be a challenge to pick the best options for your customer base.
Indeed, the decision could be based on your target customer. If, for example, you sell fashion to a younger audience which is more inclined to shop on their smartphones, then offering mobile shortcuts like Apple Pay may work well. Or, if you're selling relatively high-value options, then flexible payment services like Klarna may help to increase sales.
As well as providing retailers with a broader reach, alternative payments can shorten and simplify the checkout process, meaning lower abandonment rates. I think the key lesson here is that customers do increasingly demand choice on payments, and it will become necessary for retailers to offer more than credit and debit card payment.