Once considered a rookie mistake, vertical videos are becoming more popular online, and have achieved some impressive results so far.
Driven by increased mobile usage, in tandem with the massive popularity of social media, vertical videos offer a way to appeal to this mobile and social audience.
Until now, most web video has been horizontal – filmed, displayed and viewed in landscape mode. This has been the preferred way to view videos on a desktop as it makes the best use of the screen space, but mobile is changing this.
In this article, I'll look at the reasons behind the growth of vertical video, why it can work, some stats and examples, and some best practices.
We already know that video works online. It can be used to advertise and to showcase products on your own website, on social media channels, and around the web. They can be very effective too. For example, videos used on landing pages can increase conversions by 80%.
Vertical video is about making video more effective by tailoring it to the user's preferences. People like to view videos on mobile, so why not make it easier for them? This is behind the growth of vertical video – people are essentially lazy and want to view videos without making any extra effort.
Holding a smartphone vertically is the natural way (people hold it this way 98% of the time) to hold it, so people like to view videos in the same way, without moving their phone sideways. It's also the most natural way to shoot video.
Why use vertical video?
Here are a few compelling reasons for considering vertical video in your marketing.
1 The growth of mobile
Mobile usage has grown to the point where most companies are thinking 'mobile first' in their online strategies, making sure that their websites and products work primarily for mobile users before considering desktop.
Mobile is now the most popular device for web users. Currently, 52% of global web traffic comes from mobile devices. With younger age groups the biggest mobile users, this is a trend which is set to continue.
For many brands and advertisers, mobile is now key to reaching their target audience. If vertical video works for mobile users, then more and more advertisers will follow this trend.
2 Social audiences are mainly mobile
Social media is predominantly mobile. This stat from 2016 puts social media usage as almost 80% mobile.
The major social platforms know this, and their sites are optimised for the mobile user, including the way videos are displayed.
For example, Facebook, Instagram, Twitter, Snapchat and YouTube removed black bars on vertical videos in 2017, to provide mobile users with a better experience.
3 The stats speak volumes
Wibbitz has some compelling stats on vertical video:
Vertical videos attract almost four times more engagement than square videos on Facebook, and 2.5 times more on Twitter.
According to an internal test carried out by Facebook, vertical video ads, in particular, were the most memorable to consumers, with a three to nine-point increase in ad recall.
MediaBrix found that vertical videos had a 90% higher completion rate than horizontal videos.
Ooyala's research from Q4 2017 shows that mobile video plays now make up3% of all video plays, up from 54.3% in Q4 2016.
4 It fits with user habits
Simple really. People hold their phones vertically so many will prefer to watch videos in the same way.
According to MediaBrixx data, almost 70% of users don't rotate their phone when viewing a horizontal ad, and of those only 14% watched the whole ad. In contrast, video ads presented in vertical view were completed 90% of the time.
5 It allows for experimentation
Vertical video is a relatively new format, and the rules and best practices are not set in stone, which means it's an opportunity to be creative and take a few risks.
Advertisers can use different filming techniques like split screen stacking to make the most of the vertical space.
6 It makes the best use of a mobile screen
This point is well made by inmobi – horizontal videos only use 25% of the phone's screen. Unless users rotate (and we already know that many don't) then 75% is wasted.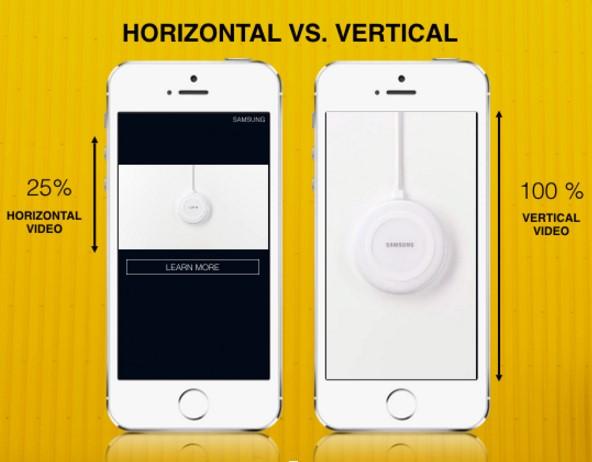 When and where to use vertical videos
The when and where can depend on the audience you're targeting, and the social platform where your target market is likely to be. However, the way different platforms display vertical videos has to be considered.
Social sites are the most obvious place for vertical video, as they are all optimised for the format, displaying videos with no black bars.
The choice is then about which social sites best suit your target audience, and your video budget.
It may take a while for most publishers to add vertical video inventory, but companies such as News UK are now adopting vertical video ads, while Netflix is now using it for TV and movie trailers in its mobile apps.
There's also an opportunity for e-commerce sites to use vertical video to showcase products for mobile visitors.
Product page videos are a great way to boost conversions and it makes sense to show them in a format that best suits mobile users. 
Examples and best practices
 With vertical video more likely to be watched by users, some brands have been quick to see the potential of this relatively new format, and have been using vertical video ads on social platforms like Instagram and Snapchat.
Audi
Audi ran a series of vertical video ads around the brand's involvement in the Le Mans motor race, which had a 36% completion rate, 80% higher than average.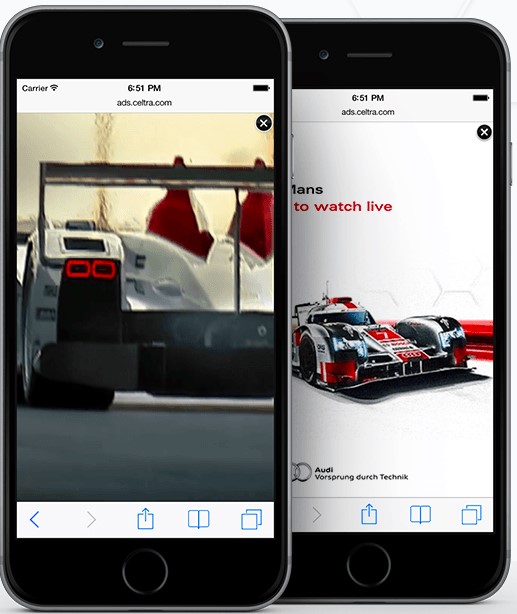 Mercedes Benz
Mercedes Benz had a successful campaign using vertical video on Instagram. The ad reached 2.6m people on Instagram, and had impressive ad recall rates.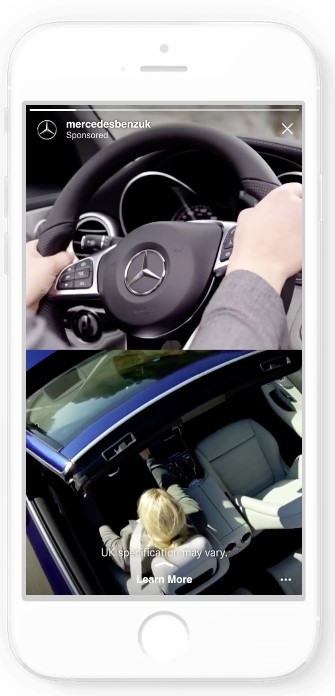 Brands are still experimenting with vertical video, and best practices are of course subject to change. However, here are some useful tips to follow when creating and placing vertical video.
Bottega Veneta
The fashion brand has some great examples of vertical video techniques like split screening on its Instagram page.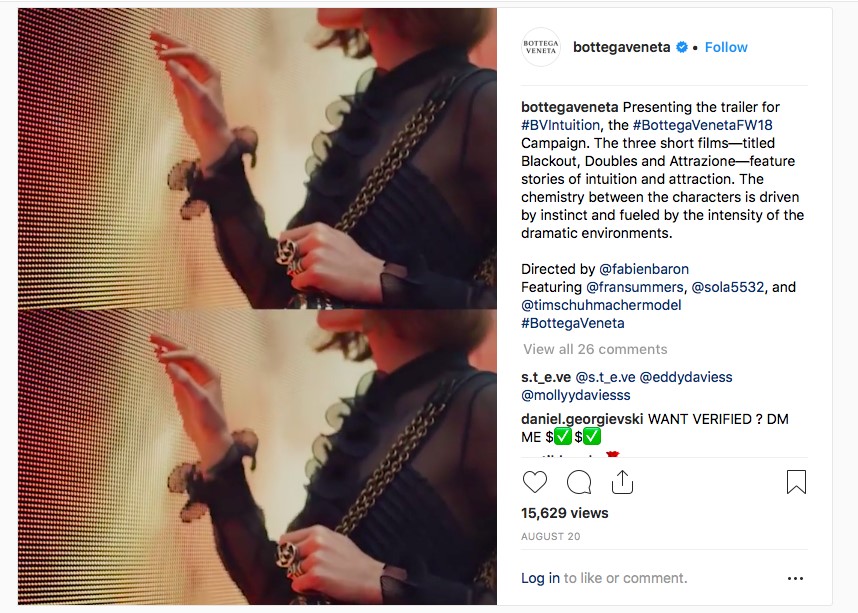 Tailor video to the platform
Different platforms display video in different ways, and this needs to be considered. User tolerance of video length can vary. For example, Facebook users spent more time on the platform than Instagram users, so longer content may work better.
Also, users may be happy to spend time with media content like movie trailers or music, but may be less willing to spend as much time viewing ads.
Create dedicated vertical videos
Simply repurposing old videos filmed in 4:3 format will not necessarily achieve the best results. What viewers will see is a poorer version of the original video.
Instead, think about the format and create new content which makes the best use of the advantages and limitations of vertical video.
For the best results, vertical videos should be filmed vertically (9:16) from the start.
Keep content short
Vertical video content shouldn't be any longer than it needs to be to get your message across. Test video length to see how the duration impacts key metrics like ad completion rates and recall. 
Split your screen
Vertical content is well suited to split screen techniques, as used in the Mercedes Benz ad. It looks good and sets vertical video apart from other formats.
As Instagram explains:
"By dividing up the space, you're able to create new perspectives for your viewers to engage with, while guiding their attention to the most important parts of your video".
Use text overlays
Much mobile video is watched while muted. Indeed, Digiday reports that 85% of Facebook video is viewed without sound.
Adding text overlays helps you to get your message across however people choose to view your videos.
Think beyond social media
The current popularity and success of vertical video has a lot to do with social media, but it doesn't necessarily have to be limited to social platforms.
We know that vertical video appeals to mobile users, so it could be used to improve the mobile experience on e-commerce sites. Vertical video could be used on mobile-specific landing pages, in emails opened on mobile, and product pages.
Indeed, some retailers like ASOS have used vertical video for some time. The vertical format works well with shots of clothing being modelled, and suits the company's younger, mobile audience.
As retailers look to optimise for mobile, vertical formats could be one way to ensure that product videos are viewed more often.
Keep videos clear and concise
Make sure you get your point across in the time you have. Time may be limited and some viewers won't complete the ad, so make sure key messages and calls to action are visible from the beginning.
In Summary
While vertical video may seem counter-intuitive, given that a horizontal view gives a better perspective, but it actually makes a lot of sense.
This is because vertical video works on the platform of choice for many web users (mobile, often viewing social media) and requires the least amount of effort.
It's this that makes sense from a UX perspective, and underlines the points made by Steve Krug in Don't Make Me Think.  Web users don't want to be made to work too hard – if something isn't easy to use, many simply won't bother.
This, along with the popularity of mobile and social explains why vertical video can work well. Given some of the compelling stats on performance, vertical video is certainly one to try in your video marketing strategy.