Site search, implemented well, is a way to improve the process of finding products for users.
It offers a shortcut for those customers who arrive at your site with a clear idea of what they want, while offering another channel for product discovery other than site navigation.
Some stats suggest that users of site search are more likely to convert. Indeed, this study found that site search users converted at 4.63%, compared to the average of 2.77%.
This rings true, as people who arrive and use site search are often signalling a clear intent to purchase – they have an idea of what they want and will buy it if the site stocks it, and if other factors such as price and delivery all suit the shopper.
In this post, I'll look at why site search is valuable for retailers, the features customers are looking for from site search, and how to monitor and improve performance.
Why site search matters
There are some sound reasons why site search is important for retailers, yet it does seem to be an afterthought at times on some sites. Some sites don't even bother with site search, or it can be so poor that it is barely worth using.
For this reason, it can be hard to gauge the number of people that use site search on average, as usage can depend on how easy it is to find and use, and how reliable results are.
For this reason, the percentage of site searches will vary between sites. It is likely that those with a heavy reliance on search and large product ranges like Amazon will have large numbers of searchers.
While you could say that site search matters more for some types of businesses (travel being an obvious example) it can help most sites if implemented well.
The main benefit is that it helps users find products more quickly (especially those searching for specific items) and anything which speeds up the buying process and reduces friction for users helps to drive more sales.
Site search can also help retailers to highlight certain products. Indeed, the searches can be a cue to recommend related items. By typing, or even beginning to type in a search query, the user is telling the site which products or categories they are interested in, allowing sites to show relevant recommendations.
It also helps to improve the overall user experience, providing people with choices of how to navigate the site, depending on their needs. It allows sites to cater for browsers as well as those with clear ideas about what they are looking for.
How to improve and optimise site search
Simply having site search is one thing, but if it doesn't work well, or is hard for users to find, then it won't be helping users as it should.
It's important to think about what users need from site search, and the features that will help them to find the products they are looking for.
Placement and appearance of site search box
The first thing to think about is where to place the box, and how visible you want it to be.
Sites tend to place search boxes at the top of the page, and make it visible here wherever people are on the site, though it's considered good practice to remove it during checkout to avoid distracting customers.
How visible sites choose to make the site search can depend on the site's goals, and the type of business.
For example, fashion retailers often have less visible search boxes. Here, Topshop's is easily missed against a white background. This may be because the retailer wants people to browse rather than search, or has decided that site search is less important.

By contrast, the search box on eBay is large and easy to spot. With millions of products available, site search can be the only way to find some of them.
Search box size and visibility may also determine how many visitors use it. If it's visible, more people are likely to take advantage of it. 

Key search box features
One simple feature is the text which is often used in search boxes. This isn't always vital, as people will know what the box does, but it can be a useful prompt.
Here, AO.com uses this text to tell people what they can search for, which includes advice – something people wouldn't necessarily expect.

Another key feature is auto-complete. This suggests results as users type, helping both to speed up the process, and to avoid spelling errors and typos.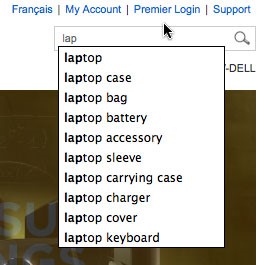 Using images of products along with auto complete can also help. It can be a useful visual cue which helps users find what they want.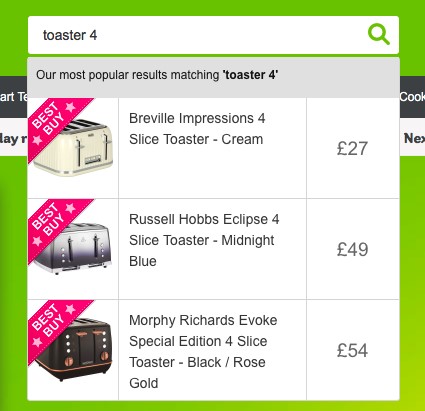 Auto complete offers merchandising opportunities for retailers, as they can use suggestions to promote particular products, perhaps best sellers or higher margin purchases within these suggestions.
Relevance and accuracy of results
Users will expect to see site search results quickly, and they need to be relevant to the search term entered.
If results are inaccurate, then users will quickly lose confidence in site search.
Show non-product results
Most people will be searching for products, but some visitors will use site search to find other information, such as returns policies or contact numbers.
Presenting this information in search results can speed up the process for users.
Presentation of results
The presentation of results is very important. Shoppers will make fast decisions based on what they see here, so it's important to display results in a way that helps customers to decide between products.
First of all, it helps to give customers viewing options. Here, AO allows people to view results as a list or grid, to change the number of results per page, and to display in the order they prefer, perhaps showing the cheapest first for example.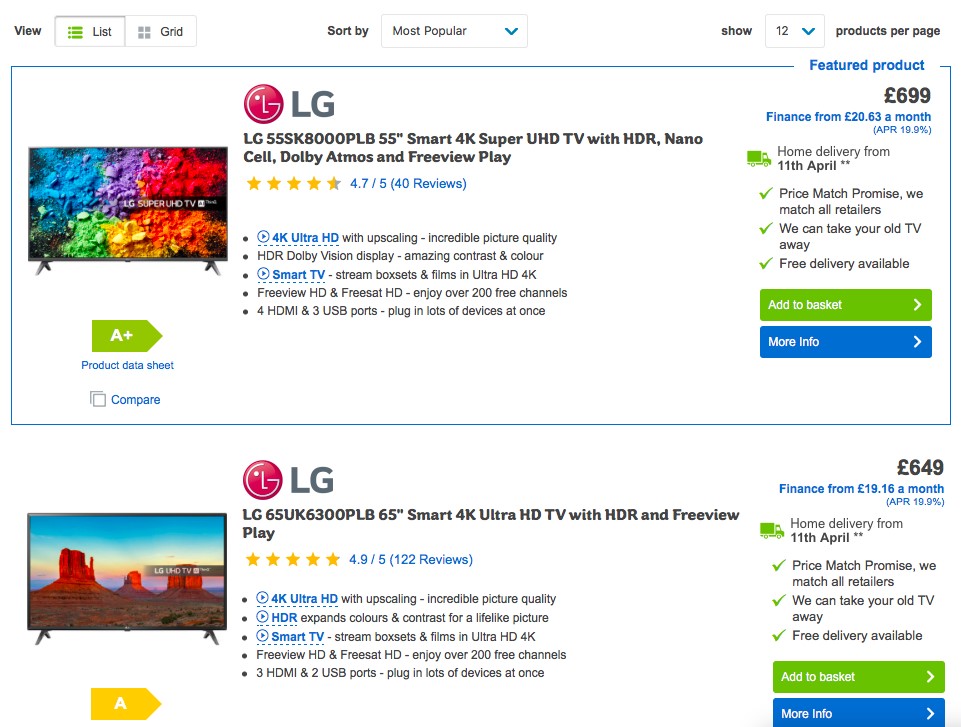 Results are also a chance to convey product information in a way that customers can quickly digest. Here, key features of TVs are shown as bullet points, an average review score gives a quick indication of how satisfied customers have been, while key selling points like free delivery offers and removal of old TVs are shown.
Images in search results are also useful. For some retailers (fashion, jewellery, etc.) they'll matter more, and it can help to show alternate views on mouseover, as Dune does here, to show products on their own and on models.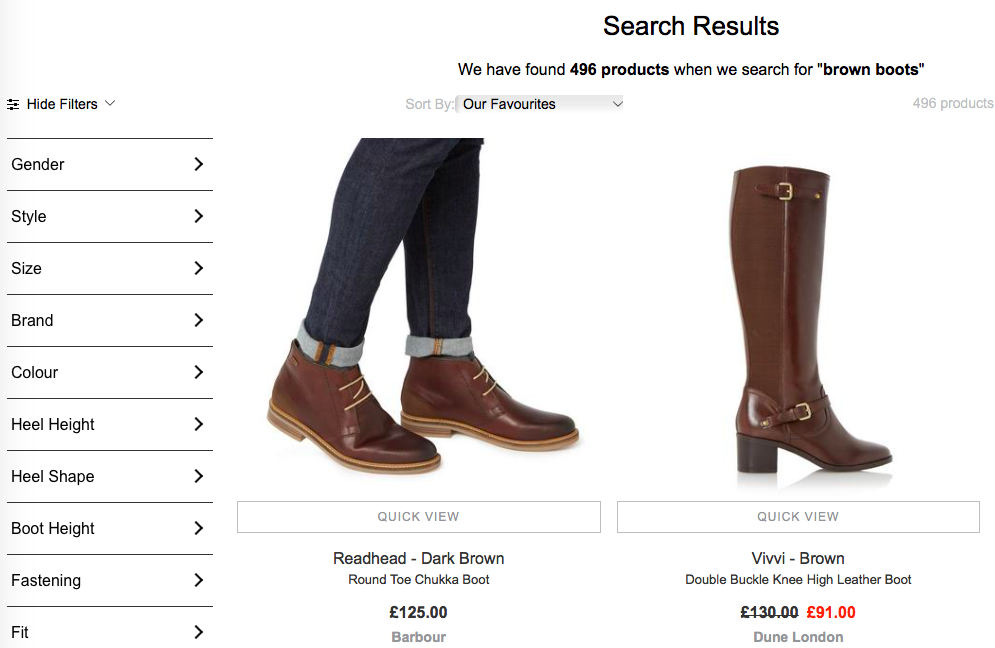 Allow users to narrow down product selection
Giving users the tools to narrow down and make sense of site search results is essential.
Some searches may return large numbers of results, perhaps too many to go through manually, so users need help in the form of filters.
So, using the Dune example again, filters like size, gender, price range and brand can help reduce the 496 results first shown to a more manageable 18.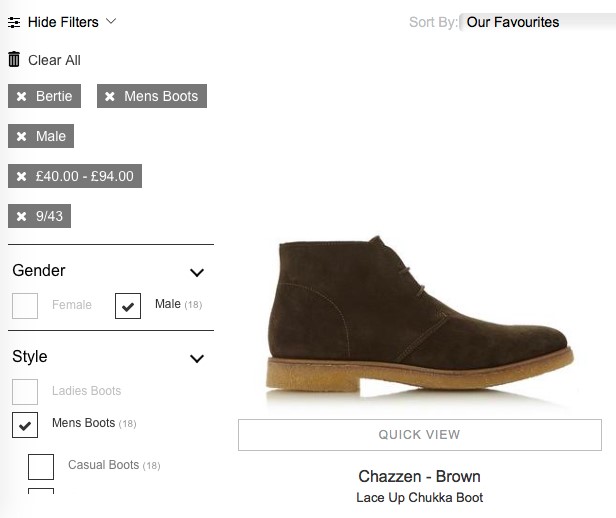 The filtering options needed will vary according to the type of site and products sold, but the key is to provide enough filters for customers to narrow down large numbers of results.
Another useful feature is to show the number of products matching each filter option so they can narrow their selection without too few results, or none at all.
Monitoring site search performance
Site search usage can be monitored via Google Analytics (Google has a quick setup guide here), and it can yield some useful data.
How people are using site search
First of all, analytics can tell you about how many users are searching on your site, and how frequently they are doing so.
It can also tell you if people are happy with the search results served up on your site. The % Search Exits metric shows the number of people who left the site rather than clicking on any search results.
The higher the percentage here, the less useful users are finding your search results. It's a useful stat to monitor to identify possible problems.
You can also see how site search is contributing to revenue. Google Analytics can show the conversion rate from site search (which you can compare with overall rate) and the value of sales generated from site search.
Site search terms
The search terms used can also tell you a lot. They can tell you about product popularity for one thing, which can inform placement of products around the site, and in related searches.
They can also tell you about products you should think about stocking, if people are searching for items you don't currently sell.
The keywords that people use to search within your website can help to inform content strategy and search marketing efforts, as the way people search and describe products on your site are likely to be the same terms they use on search engines.
It's valuable data which can give you a real insight into user behaviour, and helps you to learn more about your customers.
In summary
Whatever the business size, site search can offer an effective means for customers to find what they are looking for more quickly.
It caters to the site visitors that prefer to search rather than browse, it offers opportunities for sites to promote key products, as well as to gain some useful insights into customer behaviour.
The key is to ensure that site search works as it should, and actively helps users to find what they're looking for.
To do this, retailers looking for a site search provider (there are plenty of options here), or optimising their own search function, need to be aware of best practices, and to monitor site search usage to ensure that it works as it should.