With two billion users consuming one billion hours of content every single day, YouTube is comfortably the most popular video platform in the world. It's therefore unsurprising that so many businesses are choosing to reach out to their customers via the site.
While uploading videos is a great way to reach huge audiences, without YouTube Analytics, it's unlikely that you'll ever really know what's truly working for you. In this guide, I discuss what YouTube Analytics is and how to access it as well as share useful metrics and lots of helpful resources to get you started on your journey to video success.
What is YouTube Analytics?
Just like you would use a tool like Google Analytics to track what's going on with your website, YouTube Analytics allows you to keep an eye on how your videos are performing.
You can measure everything from how many subscribers you have, how many people have viewed your content and how much watch time you're receiving to impressions, traffic sources, top videos, audience demographics and much more.
How to find YouTube Analytics
To access YouTube Analytics, simply head to your account and log in. Once you've done this, click on your icon at the top right-hand side of the page. When the drop-down menu appears, click on YouTube Studio. This will take you to your channel dashboard where you can upload videos and get a brief summary of how your content has been performing.
To access more in-depth information, click on Analytics on the menu on the left side of the page. Here you will be able to see all the metrics available as well as search by date so you can compare your performance to this time last month for example.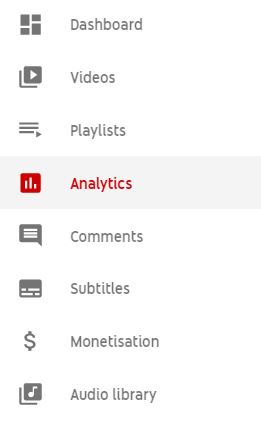 Now you know how to find YouTube Analytics, let's look at some of the most useful metrics for small businesses.
Which YouTube Analytics metrics should I be tracking?
When you log in to your dashboard, you'll see there's a lot of information available. How do you know what's important and what you should be measuring?
Below I reveal some of the top metrics small businesses should be keeping an eye on so they can determine the type of content that really resonates with their audience.
1. Watch time
The higher your watch time, the more likely YouTube is to promote your channel through search and recommended videos.
Watch time reports compile data from your channel and breaks it down by:
Time: how many hours your videos have been viewed
Traffic source: so you can determine which traffic sources generate the highest watch times
Geography: which countries are viewing your content for the longest
Age and gender
Date: do higher watch times coincide with promotions you're running? Is your business seasonal? Do your videos get more views on certain days of the week?
Device type: do people spend longer watching videos when they're on their mobile phone for example?
It's important to note that a YouTube video earns one view when it's watched for 30 seconds or longer.
As well as looking at watch time, it's also good to look at average view duration. YouTube will take your watch time for each individual video and divide it by the number of views it has had to calculate this figure.
If your videos have a high average view duration, YouTube's algorithm will bump your video higher in the search pages which means your content is more likely to appear in Suggested and Recommended video lists.
2. Impressions click-through rate
YouTube Analytics counts the number of times your video thumbnails were shown to viewers as an impression. It can then use this data to calculate an impressions click-through rate. This measures how many of your impressions turned into video views.
This tells you whether or not your content is grabbing people's attention. If you have a low impressions click-through rate, this tells you that people either aren't noticing your videos, or they're seeing them but there's something missing.
What's a good click-through rate?
YouTube's official Help Centre says that half of all channels and videos on the site have an impressions click-through rate ranging between 2% and 10%. As discussed in this blog on vidiq.com, there are a lot of factors to consider when looking at CTR however.
The most effective method of tracking is to compare the stats from within your own channel. Impressions click-through rate can help you with future content for a number of reasons. You can compare all your videos and their impressions click-through rate to help you determine:
Which thumbnails generate the highest click-throughs so you know what to use for future content
The videos which get high click-throughs so you know the type of content people like to see
If there's a monthly or daily pattern when it comes to clicks. This can help you to determine the best time of day or best day of the week to post
3. Audience demographics
A critical aspect of YouTube Analytics is your audience. These are the very people who are clicking, watching, subscribing, liking, sharing and commenting on your videos so the more you know about them, the better. 
Head to YouTube Analytics, click on the audience tab at the top of your dashboard and you will be presented with a selection of helpful statistics:
Unique viewers: estimated number of people who have watched your videos within your specified time range
Average views per viewer: are people coming back to your video or channel and watching your content again and again?
Subscribers: I'll talk about this in more detail later
When your viewers are on YouTube: this can help you to build a community and establish when your audience is online so you know the best time to post
Age, gender and location: who's watching and engaging with your videos? Is this your intended target audience?
Other people's videos that your audience has watched recently: this gives you a great insight into the type of content your audience enjoys seeing
4. Subscribers
Subscribers are your most loyal fans. These are the people who love your content so much, they want to receive notifications when you've posted a new video and for these videos to feature on their home page.
YouTube's subscribers report will show you which videos, locations and time periods gain and/or lose subscribers. Armed with this data, you'll be able to prioritise your subscribers' needs and create content they love. Not only does this keep your fans happy, it will give your page the boost it needs because your watch time and search rankings will improve.
Click on the subscribers tab on your main dashboard and then 'see more.' At the bottom of the page you will be able to view your subscribers by video.
YouTube will tell you the change in total subscribers by subtracting subscribers lost from subscribers gained. If a particular video gained a lot of subscribers, you'll know it was a hit. If you lost a lot of followers however, you'll know to avoid this type of content in future.
5. Traffic sources
Knowing where viewers are finding your content enables you to understand which traffic sources are beneficial to you and which need some work.
If your website is generating very little traffic to your YouTube channel for example, you may need to spend more time thinking about how you're promoting your videos via this medium.
As well as determining where your traffic is coming from, you will also be able to see:
Number of views
Watch time
Average view duration
Impressions
Impressions click-through rate
This is helpful to see which sources lead to the highest click-throughs and watch time and is especially important if you're paying to promote your content to help determine whether or not you're getting a good ROI.
6. Playback location
This tool is quite well hidden in YouTube Analytics so you may not even know it exists. Head to your dashboard and click on one of the three main options (views, watch time or subscribers.) Click on 'see more' and it will take you to a more detailed page. Under the 'more' option, you will see playback location.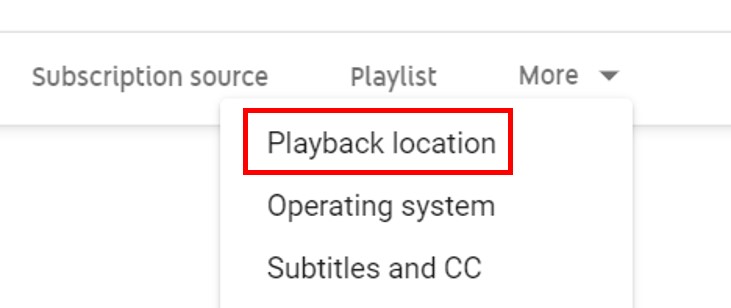 When you click on this, you will be able to gather more information about where your videos are being viewed.
This can help you predict how your audience is discovering your content. Are they searching and finding it through YouTube for example? Or perhaps through a Google search or via your website or social media pages?
The playback locations page shows your total views based on where your videos are being played. This is broken down by YouTube Channel, YouTube Watch, embedded videos and mobile devices. By knowing which locations are yielding the best results, you know where you need to focus your efforts.
Now you know how to find YouTube Analytics and which metrics you should be tracking, you're probably raring to go. Below are some great resources which will help take your video content to the next level:
YouTube Creator Academy – this free course will tell you absolutely everything you need to know about YouTube Analytics and how to get the most out of it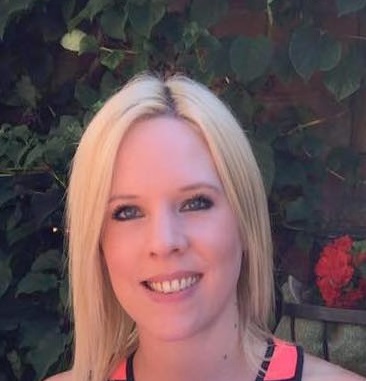 After completing her degree in Journalism, Monique began her career at a digital marketing agency. It was here she discovered a passion for online marketing with a particular focus on content creation for the web. Six years ago Monique set up her own copywriting business, Copyworks Group, which specialises in creating content for websites, blogs, newsletters and social media pages.
Read full profile