With 2 billion monthly logged in users, YouTube is a massive potential marketing channel for any brand.
The sheer amount of content posted onto YouTube – something like 500 hours of video are uploaded every minute – may seem overwhelming.
However, YouTube SEO strategy for SMEs isn't about attracting millions of views, it's about finding the right audience, the one that's likely to be interested in your content and products.
In this article, I'll look at how to optimise YouTube videos for SEO, so that audiences on YouTube and elsewhere are more likely to discover and view your content.
Like SEO for Google or other search engines, it's about understanding the factors that help your content to rank, creating content that's interesting and/or useful for users, and putting in the effort to give it the best chance of ranking.
Why SMEs should think about SEO for YouTube 
Simply creating and uploading videos to YouTube is fine if you just want a place to host your content, share it on social and embed videos into your site, but you can do much more than that.
By paying some attention to optimisation and adding a little extra effort in creating descriptions based on keywords, you can help your videos to find the audience you're targeting.
It can be the difference between a video that simply vanishes after a handful of views, and one that attracts views (and hopefully leads) over a longer period of time.
The potential size of the audience, and the fact that people from all age groups regularly use YouTube should be enough to justify spending some time on optimisation.
More than 50% of all age groups are YouTube users. It's the most used social platform for all UK age groups under 64, and the second most popular for the rest (after Facebook).
Essentially, whatever your target audience is, some of them are likely to be on YouTube, watching and looking for more video content. If video forms part of your marketing strategy, you can't afford to ignore it.
YouTube's search algorithm 
YouTube's search algorithm is extremely influential in driving customer viewing habits. Indeed, according to YouTube itself, 70% of time on YouTube is spent watching content recommended by the algorithm.
It's therefore important to understand how it works, and how your content can be tailored towards it.
There isn't space here to list every factor used in YouTube's algorithm, but it can help to understand what YouTube is looking for, and how it measures user behaviour.
The following are the types of behaviour YouTube looks at:
What people watch or don't watch, a mixture of clicks and plays
How long people spend watching your video
The rate of view growth of new videos
How often videos are uploaded to channels
How new/recent videos are
The time people spend on channels/videos
Likes, dislikes and shares
Essentially, YouTube wants to keep people on the site, so it's all about recommending relevant videos and those which have engaged other users.
User behaviour, and the metrics which reflect interest and engagement, can be very powerful.
Tips for improving YouTube video rankings
You may have video content on YouTube already, or videos ready to upload. If not, it's useful to think about the types of video that work on YouTube, and also those that appeal to your target customers.
Polly Kay has a useful guide to some of the most popular types of YouTube videos for SMEs, from helpful 'how-to' videos to unboxing and brand storytelling videos.
Once you have videos to promote, it's important to think about some key ranking factors for YouTube.
1. Research your target keywords 
It's important to do some basic keyword research on YouTube to complement any research you may already have done for general SEO.
Using the target keyword list you have already, you can select those that are most likely to be effective on YouTube.
There are some useful third-party keyword research tools, though they can be limited unless you're prepared to pay for key features and premium options.
A simple alternative is to use YouTube's own Search Suggest feature. The results you see will suggest keywords relating to the term you type in, reflecting how YouTube users search.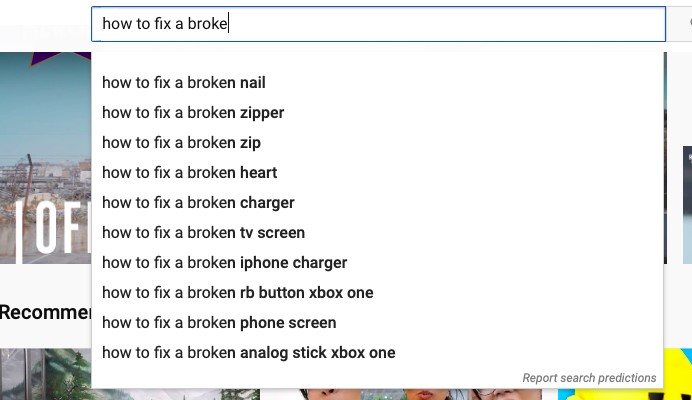 It also pays to look at popular videos in the area/industry your business is in to see the keywords and phrases they're targeting.
It may seem natural to target popular keywords with the biggest potential audience, but this is a strategy that may just see your video way down the list of search results, as more established YouTube channels can dominate popular results.
Instead, a better strategy is to look for the niches where you have a better chance of standing out, then you can begin to build an audience and reputation from this point.
This may mean search terms that generate fewer results, or longer search terms where your video can satisfy the search query more effectively than videos that target the big keywords.
For example, if your business sells DIY products, then a general phrase like 'DIY tips' would be a challenge to rank for. However, longer tail keywords such as 'how to replace a door lock' would be easier to target with the right content.
Another piece of keyword research you could do is to search Google for your possible keywords to see if Google shows video results for the phrase (drawn from YouTube of course).
Google shows video results for a range of searches, and 'how-to' searches, reviews of products and video guides are likely to feature videos.
If you optimise for a YouTube keyword that also produces video results on Google, then your video has the potential to reach an even larger audience.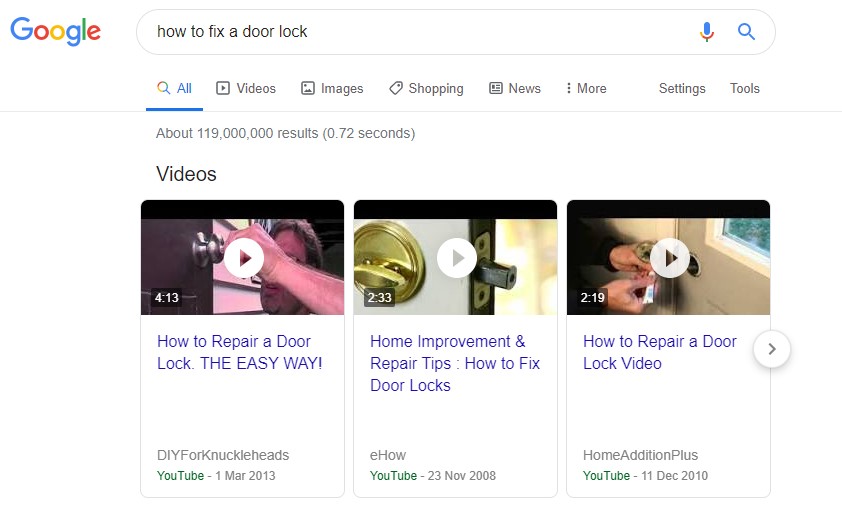 2. Choose your video titles carefully 
You have a maximum of 100 characters to play with, but longer titles may be truncated in search results so it's a good idea to keep titles within around the 60 character mark.
Video titles are a good place to include target keywords so use them well and place key phrases towards the front of the title (as long as you can make the title read in a natural way).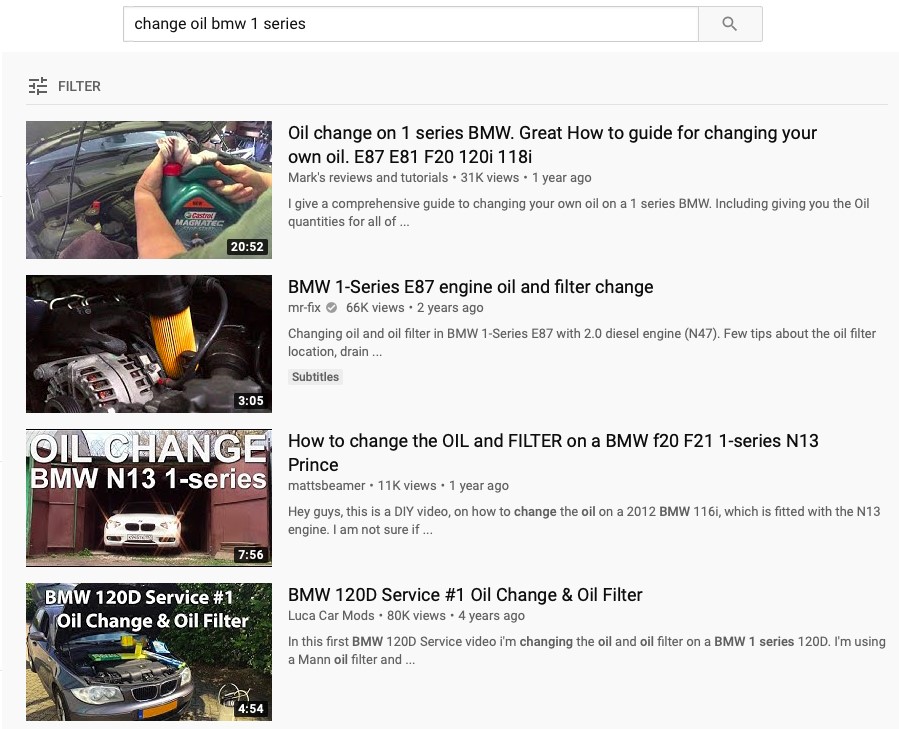 As with a good headline or email subject line, video titles need to be descriptive and compelling. Just as important, the video should also deliver on the headline.
If it delivers on the headline and matches the user's search, people are more likely to click, view and share it, all helping to improve your rankings.
3. Optimise video thumbnail images 
Thumbnail images for videos help ranking indirectly by attracting more clicks on your videos from searchers.
The choice of image can help your video to stand out on the result pages. This may be by choosing a colourful image, or one that catches the eye.
It's also a good idea to use the thumbnail to reinforce the relevance of your video to your target keywords.
In the example above, showing the video title in the thumbnail helps catch the eye when users scan results. In addition, the image used (of the car searched for) tells people this video will help with their search query. 
While we're on the topic of uploading videos, it's important you rename your video file to include your target keyword before uploading, as this will help optimise your file for search.
4. Use video descriptions to target keywords and attract clicks 
You have 1,000 words to play with here, but it's important to note that only the first two or three lines of text (roughly 100 characters) will be immediately visible to people when they land on your video, so these have to work well.
Therefore, the first few sentences need to contain the most important information, keywords and target links (back to your site or target landing page).
The rest of the description can be used to include further mention of keywords, and some compelling copy to encourage people to view the video.
It's commonly recommended to use at least 250 words on the description. As people are here to watch rather than read it isn't always necessary to use the full 1,000 words.
It can be useful to look at successful videos, in your target categories and elsewhere, to see how video descriptions are used.
This video from Wickes is the top result on YouTube (and Google) for 'how to lay decking'.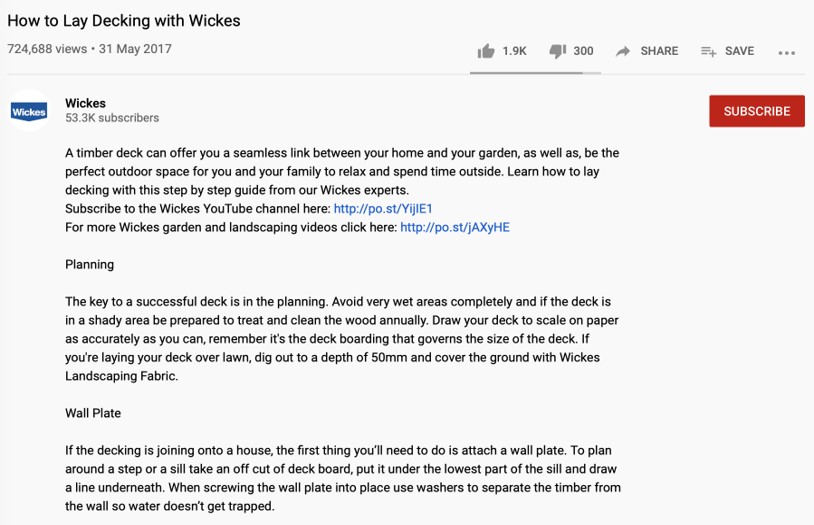 The initial paragraph introduces the video and uses the target keyword. It also outlines what viewers can expect from the video (a step by step guide) and uses the space to promote its channel and related videos.
5. Choose relevant video categories
Once uploaded, videos can be categorised under 'advanced settings.' Adding categories allows you to group your video with similar content so that it ends up in different playlists and potentially gets greater exposure.
6. Use tags to target keywords 
When you upload a video to YouTube you can tag it with relevant keywords. It's a good idea to look at the most popular/top tags on YouTube for your topics and learn from them.
Tags help YouTube to associate your video with similar videos, which can broaden your content's reach. Choose your tags wisely though, as irrelevant tags won't help you.
Instead, aim for a mix of common and long-tail keywords which relate to your video.
7. Add subtitles, captions and transcripts to improve accessibility 
Adding subtitles, captions and transcripts helps to make videos accessible to a wider audience, and also helps them to be indexed by the search engines.
In addition, subtitles can help to give your video more exposure and they are more likely to keep viewers engaged when they don't have audio or don't want to/can't use it. 
In this video, Wickes provides subtitles in multiple languages which not only allows it to appeal to different countries, but also allows people to view without sound on.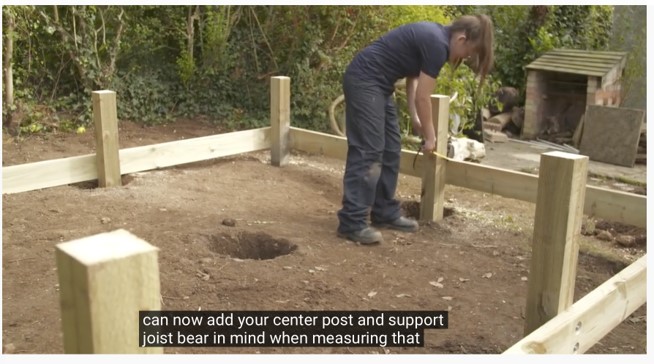 Another simple tip is to say your keyword within your video. YouTube now automatically transcribes your videos and does it quite accurately.
If you say the keyword, YouTube will pick this up and will be more likely to understand that your video is centered around that term.
As with using keywords in titles, or in other forms of content, it needs to be done naturally to avoid deterring viewers.
Depending on the term, this may be easy to do, but for keywords which are harder to work into a sentence, then mentioning it during a video intro is a good idea.
8. Upload HD videos to improve engagement 
Put simply, people will be more likely to watch your video if it's shot in better quality, thus helping to increase engagement metrics and ultimately rankings.
Strong production values can also help to increase trust in your YouTube channel and brand. Just as a professionally designed and usable website helps to increase brand trust (and conversions).
This doesn't mean that all videos have to be mini-movies. For example, how-to guides filmed on mobile phones can still be very useful. However, picture and sound quality should be very good, and this is what HD suggests to the user.
9. Think about how long videos need to be
There's no definitive video length for YouTube videos. Like a good blog post, it should be long enough to address the topic properly but not so long that the viewer becomes bored and switches off.
For example, if your video shows how to change the oil on a car, it should be as long as it takes to achieve that task and explain it clearly. If it's simpler, then brevity is recommended.
This is something you can monitor in your own video stats. If you see that people are skipping or only viewing to a certain point, then you can adjust the length. It's also a good idea to look at similar videos for the keywords you're targeting. This will give you a good idea of what's working for your competitors.
10. Use cards and end screens to promote other content 
YouTube cards can be used to add notifications to videos for a number of reasons, such as promoting your other content on YouTube, adding polls, or adding links to direct viewers to your site, perhaps to the product referred to in the video.
They indirectly help ranking by encouraging more engagement around your content and can also help to increase referrals to your pages from videos.
End screens are shown at the end of videos and contain similar information. They can be used to promote landing pages, other video channels, or ideas for which videos to view next. In addition, they help to add a professional look and feel to your video.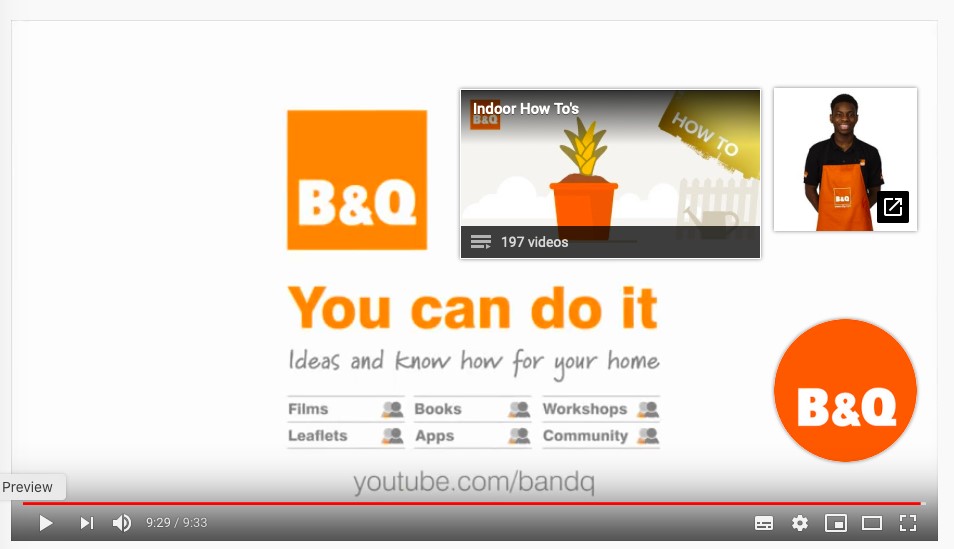 11. Encourage likes, comments and subscribes
Likes and comments indicate engagement with your videos and can help YouTube to decide which are more popular. Encouraging comments, answering questions and joining in discussions can help to encourage more engagement.
Building up your subscriber numbers sends another key signal to YouTube which can positively impact rankings. The quality of your content will help of course, but it also pays to encourage people to subscribe – ask them at the end of your video or add a call to action to subscribe on your cards and end screens.
12. Look to create engaging content
This may be easier said than done, but it is important to create videos that genuinely address user problems and are created to last.
Rather than creating video content to satisfy keyword goals, it's important to think about the viewer and take time to get the script, visuals and other elements right.
It's like creating long-lasting evergreen blog content rather than quick posts. It takes more time and effort but will reward you over time.
Videos which users find useful will gather more likes, comments and subscribes, and will become more visible over time. With a lot of competition on YouTube, you need to work hard not only to optimise videos but to create quality content that attracts your target audience.
13. Use analytics to improve your videos 
YouTube Analytics and other third-party programmes can help you to understand and improve your videos.
Metrics such as traffic sources and impressions can help you to understand where views are coming from, while engagement metrics like watch time and average view duration help you to see how compelling your videos are.
For example, watch time is the total amount of minutes viewers have spent watching your videos. This is a useful metric as YouTube will improve rankings for videos and channels with higher watch times. It's a sign that users enjoy and find your videos engaging and that they'll be useful for others.
Analytics can also help to improve YouTube visibility. There are several YouTube SEO tools that can analyse your video content, help you with keyword research and carry out comparisons with your competitors.
Promoting your YouTube videos
Having spent the time and effort to create quality, useful content on YouTube, and optimising it for success on the platform, it's also important to promote your video wherever else you can.
Here are some ideas to get you started:
Social media:
If you already have an audience on social media, use these channels to promote your video content. This can drive more views, comments and subscriptions, all of which help your rankings on YouTube.
Also, video content can work very well on social channels. If the ultimate aim of video creation is to drive sales and leads, then this can be achieved on Twitter or Facebook as well as YouTube. The key is to pick suitable videos, editing and choosing lengths that suit the platform you're targeting.
Newsletters:
As well as promoting your products, events and any other content, showing videos in your emails can add extra interest to your newsletter, and help you to drive video views from a user base that is already engaged, having signed up for your emails.
On-site:
Videos can be added to blog posts to add interest and, for e-commerce sites, the right kind of video can be very useful to potential customers. For example, DIY site Home Depot uses video around the site and on its product pages to provide inspiration or to help shoppers solve their DIY problems.
How to monitor rankings on YouTube
Once you've made the effort to optimise your video content for a YouTube audience, it's a good idea to keep an eye on progress and see what has and hasn't worked.
There are some rank checking tools, such as YTRank and TubeBuddy, but there's a lot you can check without such tools.
YouTube Analytics allows you to track some top-level metrics – video views, subscriber numbers, key engagement metrics like how much of videos people view, and traffic sources.
These numbers can help to provide some useful information on how successful you are at generating views and engagement, all of which will, of course, benefit rankings.
YouTube can also be linked to your Google Analytics account, allowing you to see how much traffic your videos send to your landing pages, and how you acquire video views, which will provide some useful insight.
If you have a relatively small number of videos, there's a lot you can track manually, undertaking optimisation and viewing rank progress over time.
In summary
If video is part of your marketing strategy, then YouTube is impossible to ignore. It's simply the biggest video platform there is, used by potential customers of all ages and interests.
Optimising YouTube video for SEO is a relatively simple process, and it's well worth the time and effort spent to ensure that your videos have the best possible chance to find their target audience and generate leads and sales for your website.
It's important to remember that, though YouTube SEO is worth the effort, your video content needs to be as good as it can be. They can be as optimised as possible, but if they don't engage an audience, provide useful help, or entertain them, then they simply won't fly.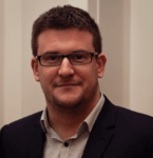 Graham Charlton is Editor in Chief at behavioural marketing company SaleCycle. He has previously worked for Econsultancy and Search Engine Watch, and has written several best practice guides on e-commerce and digital marketing. Follow him on Twitter
Read full profile