In March the UK, along with the rest of the world, was plunged into the unknown when the Coronavirus pandemic forced the nation into lockdown.
With it came the rise of the key worker, working from home, redundancies and the furlough scheme. But with these changes also came a rise in independent businesses and many people starting their own side hustle.
What is a side hustle?
The Cambridge Dictionary describes it as: a piece of work or a job that you get paid for doing in addition to your main job.
Here at The UK Domain we have developed a report on the rise of the side hustle, analysing its spike by looking at a rise in registered .UK web domains and revealing the best cities to start a side hustle of your own.
These are the top UK cities to start a side hustle
To discover the UK's top cities to start a side hustle, we created our Side Hustles Index, which analysed every city in the UK based on the following factors:
Population

Cost of living

Broadband speed

Life satisfaction

Disposable income

Average time working

Average time commuting

Number of .UK domains registered from March to July
Explore the top cities to start a side hustle below: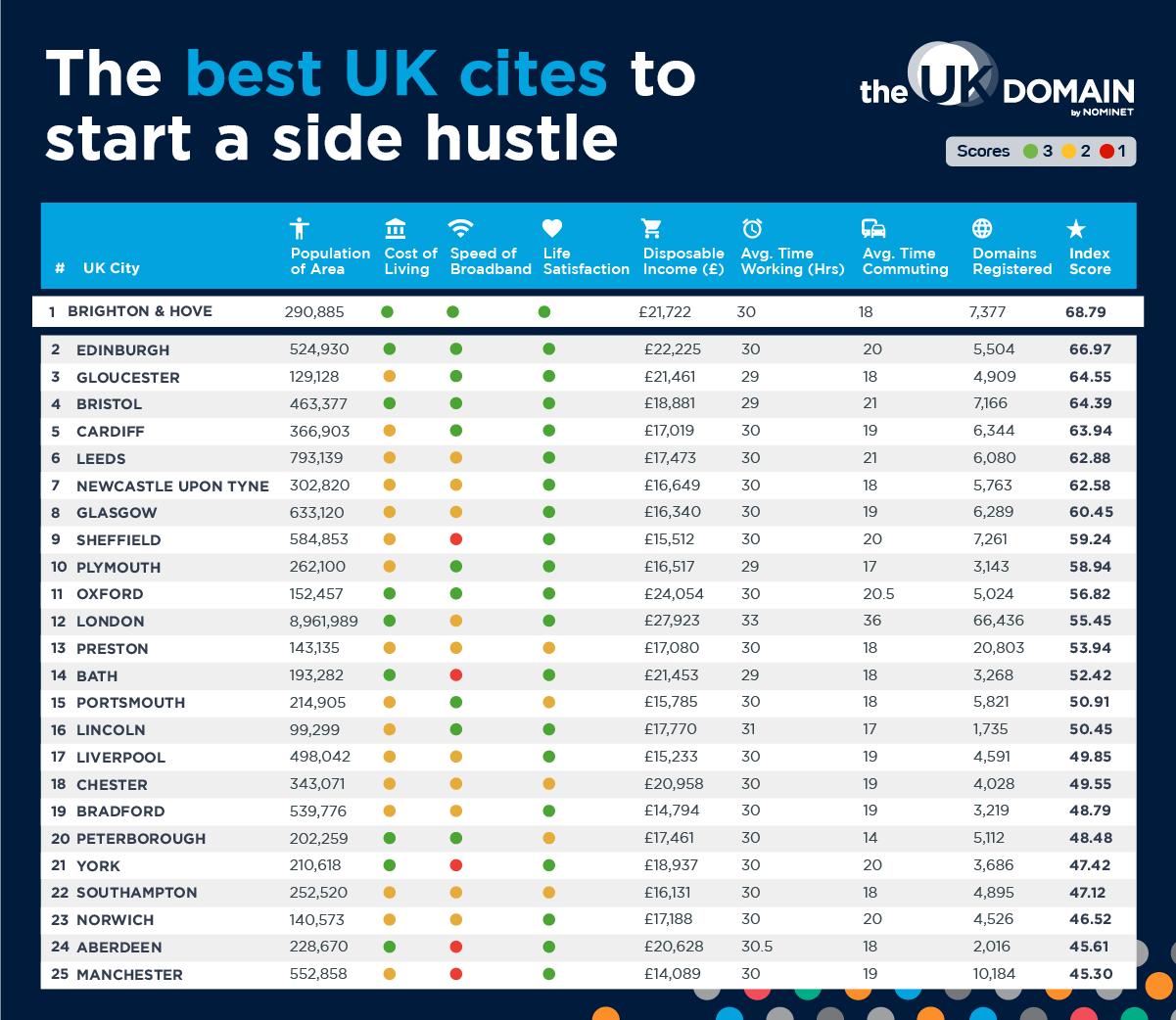 Brighton is the best city to start a side business
Vibrant and creative, Brighton is the perfect place for new start-ups and it shows as it's the top of our Side Hustles Index. Known for the mass of independent stores, it also boasts an abundance of cafes that line the four shopping streets of its North Laine district.
It scored highly on all of our index ranking factors, with life satisfaction scale, broadband speeds, disposable income and average working hours all providing the perfect conditions to start your own side hustle.
From March until July, when lockdown was in full swing, 7,377 new domains were registered in Brighton, showing the extent of residents kicking off a new business venture.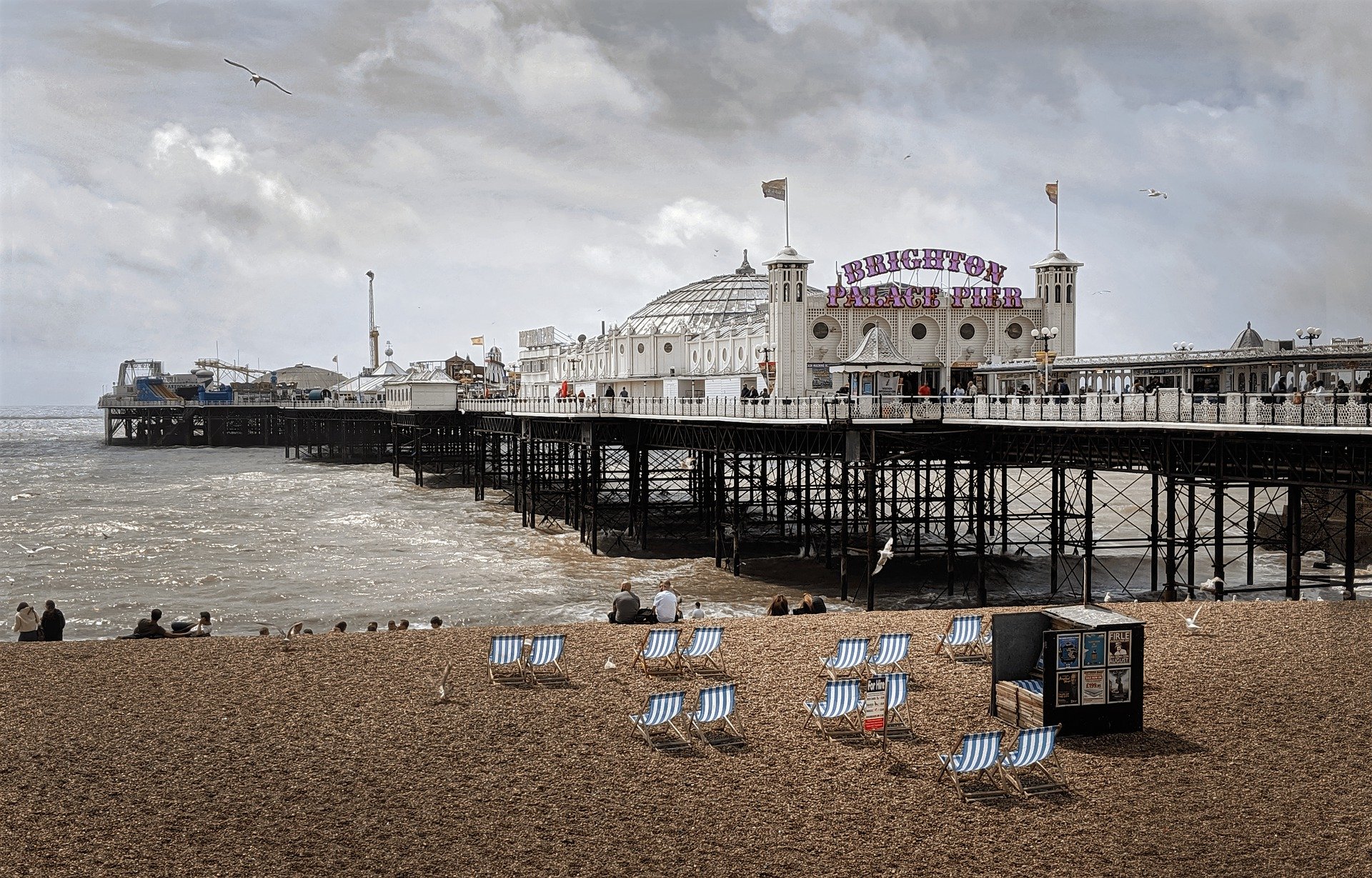 Coming in second was Edinburgh, with residents of the Scottish capital scoring high in life satisfaction and amount of disposable income. But it's cost of living, broadband speeds and commuting hours that means Brighton beats it to the top spot. Despite this, 5,504 domains were still registered from March to July.
Thanks to low working hours giving people more time to work towards their passions and the high disposable income of its residents, Gloucester also scores highly on our Side Hustles Index. Known as the cathedral city of the Cotswolds, Gloucester takes the third spot in the UK's best cities to start a side hustle, with 4,909 new domains being registered during lockdown.
London side hustles thrive during lockdown
As many people found themselves out of work or on furlough when lockdown hit in March, it's no surprise that the amount of .UK website domains being registered for new businesses skyrocketed. London saw the biggest increase, with 66,436 domains registered from March through to July.
Of the different areas in London, South West London registered the most domains at 10,493, closely followed by North London with 10,309 new domains and East London with 10,275.
These are the cities in the UK that saw the biggest growth in newly registered domains during lockdown: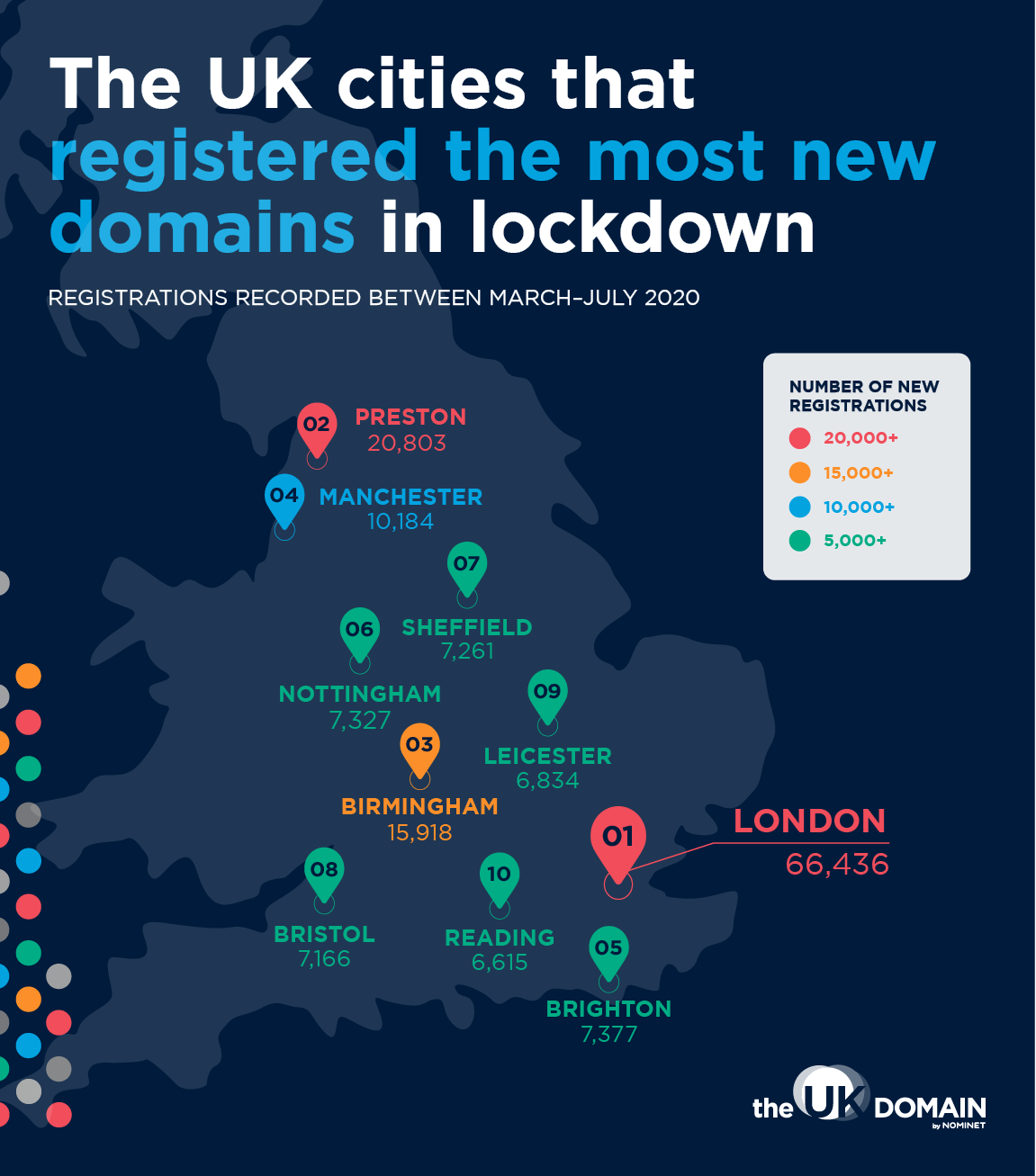 Although it may not be an obvious choice for business start ups, like Leeds or Manchester, side hustles also boomed in Preston. The Lancashire city had 20,803 newly registered domains throughout lockdown, with new entrepreneurs taking advantage of the business-friendly city and its Lancashire character.
Which industries could adapt the most? Food and drink lead the way
When lockdown started, consumer habits shifted massively. Shops, bars and restaurants closed and UK residents had to adapt the way they led their lives. This left an opening for entrepreneurs to fill a gap that the UK needed, but more interestingly established businesses had to adapt to bringing their businesses online which some could do easier than others.
Using data from The UK Domain on the number of new .UK domains registered during lockdown, we have analysed which industries managed to adapt the most.
This revealed that on average between March and June, there was a 22% increase in food and drink domains being registered, compared to the months prior to lockdown showing that while eateries were closed to the public, these businesses could still offer their services to a new, online clientele.
Exercise businesses also increased by 23% reacting to the appetite of people looking to stay fit while they couldn't leave their homes. This growth indicates that people were investing in home workout gear and those whose businesses relied on gyms such as personal trainers had to move online. From Joe Wicks live PE classes that took the nation by storm to Adriene's home yoga videos, the exercise industry thrived.
The top 5 industries that adapted in lockdown:
Despite those increases, construction and automotive were just some of the industries that declined, struggling to adapt as easily as other industries to the new normal.
Taxi services in particular saw a huge decrease of 38%, one of the businesses that couldn't pivot their models to satisfy a nation locked indoors. Although the taxi industry experienced one of the largest hits, once lockdown eased they were considered the preferred and safest option by many when compared with public transport, meaning that they rebounded faster than other transport services.
Interestingly, the interiors and decoration industry declined by 14% during the lockdown period. The data shows that gardening increased in this time by 10% possibly hinting at people's desire to get outdoors and make the most of these areas rather than revamping the inside of their homes.
The top 5 industries that decreased in demand: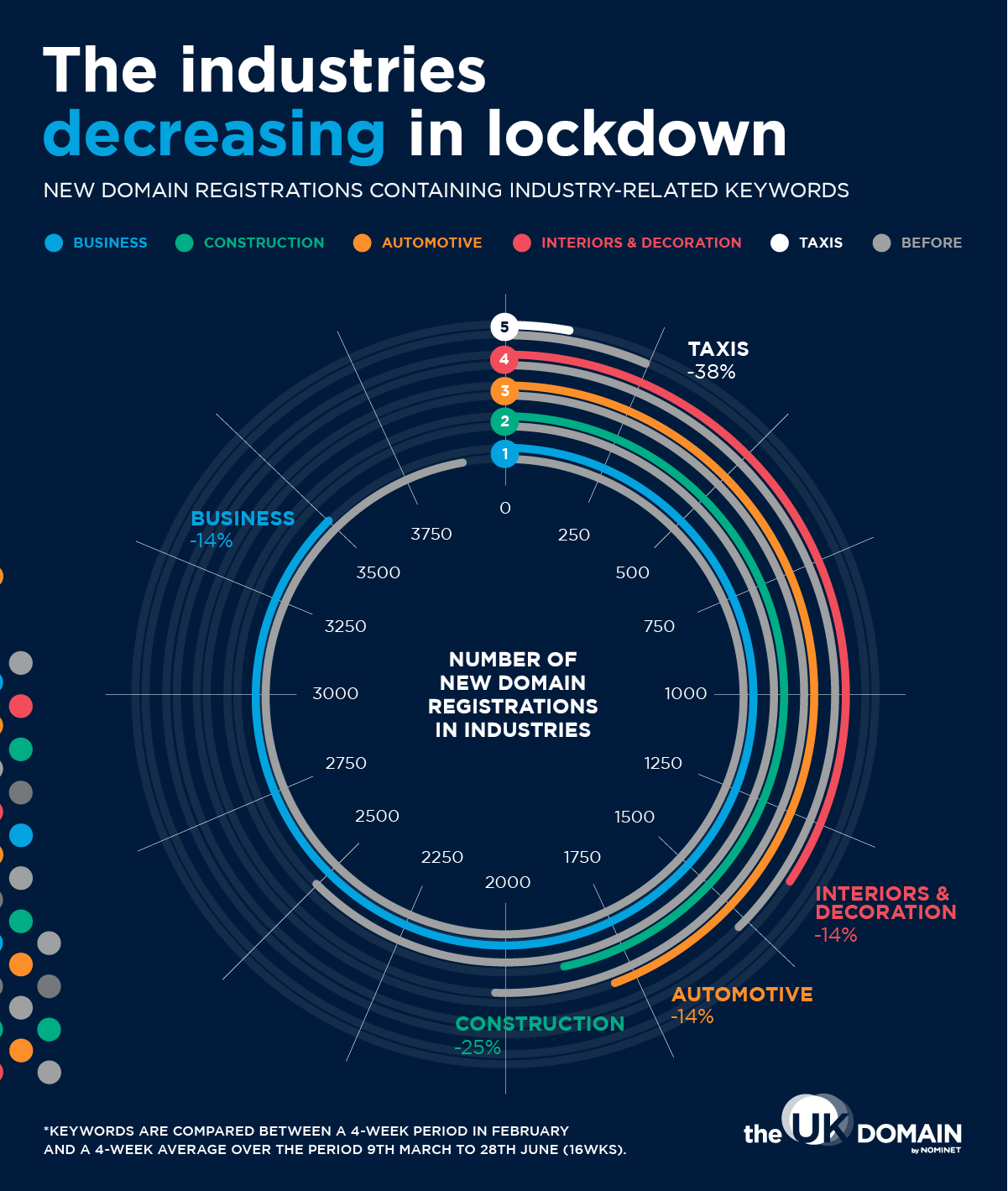 Looking to start your own side hustle?
Now you know where the best place is to start your own business, and exactly which industries have been thriving, you can build your side hustle with confidence.
With more and more businesses and side hustles choosing the digital route, it's never been more important to ensure that your company has an online presence.
Find out if your future business has an available domain now.

Methodology
We ranked all 69 cities in the UK to see where the best place is to start a side hustle, using the below factors and ranking method.
| | |
| --- | --- |
| INDEX SCORING | |
| Factor | Weight out of 100 |
| Population | 15 |
| Cost of Living | 10 |
| Broadband Speed | 10 |
| Life Satisfaction | 10 |
| Disposable Income | 20 |
| Average Time Working | 15 |
| Average Time Commuting | 10 |
| Number of .UK Domains Registered | 10 |
| Total | 100 |
The cities were then put in order based on a total score made up of their results for every metric. If a city didn't contain all datasets it was omitted from the list.