It's all about location, location, location.
Yes, it might be a cliché, but if you're looking to launch a new business, choosing the right location can have a huge effect on your company's future success, whether you're looking to attract customer footfall or have a cheaper, out-of-town base.
But if you position your business wisely, you might also be able to take advantage of gaining thousands of pounds worth of local funding – and that's what really savvy business owners are doing. A careful choice of postcode could mean the difference between securing a local authority grant to boost your business – or nothing at all.
Take time to find out what's on offer where you are
Local authorities have a vested interest in businesses succeeding, so if you're just starting out, it's worth taking the time to carefully research what your council might be able to offer you.
Unfortunately, there's no one-size-fits-all approach to what local authorities are able to offer, and even crossing the border from one borough to the next could vastly change the type of funding your business could apply for, as well as the amount.
You might find that a local borough 30 miles away offers you the green incentive you need to reduce your business's carbon emissions, whilst a different city council might offer you a grant to relocate or occupy an empty shop.
It's a bit of a minefield, but there are opportunities out there if you take the time to look, for that reason, here at The UK Domain we sent out Freedom of Information Requests to 36 Metropolitan Districts, as well as all of London's boroughs, to find out which areas are offering the best opportunities for grants. The results showed a huge variation of opportunity across the UK.
Funding opportunities are not equal
Of the 33 UK Metropolitan Districts that responded to our request, just over half (54%) offer some sort of funding opportunities to startups or small businesses – and some have given out a lot in the past years!
Take Yorkshire for example, where councils have supported businesses to the tune of millions of pounds in recent years and where some of the best opportunities can still be found. Bradford City Council has awarded over £11.75m in capital grants and rate rebates to businesses since 2012.
In South Yorkshire, Doncaster Borough Council has dished out over £1.8m of grants since 2014 to help with external improvements of premises and Wakefield City Council is able to award similar individual grants of up to £10,000 for companies to occupy vacant units. This sort of funding can really help small businesses to get a leg up, particularly if you're just starting out.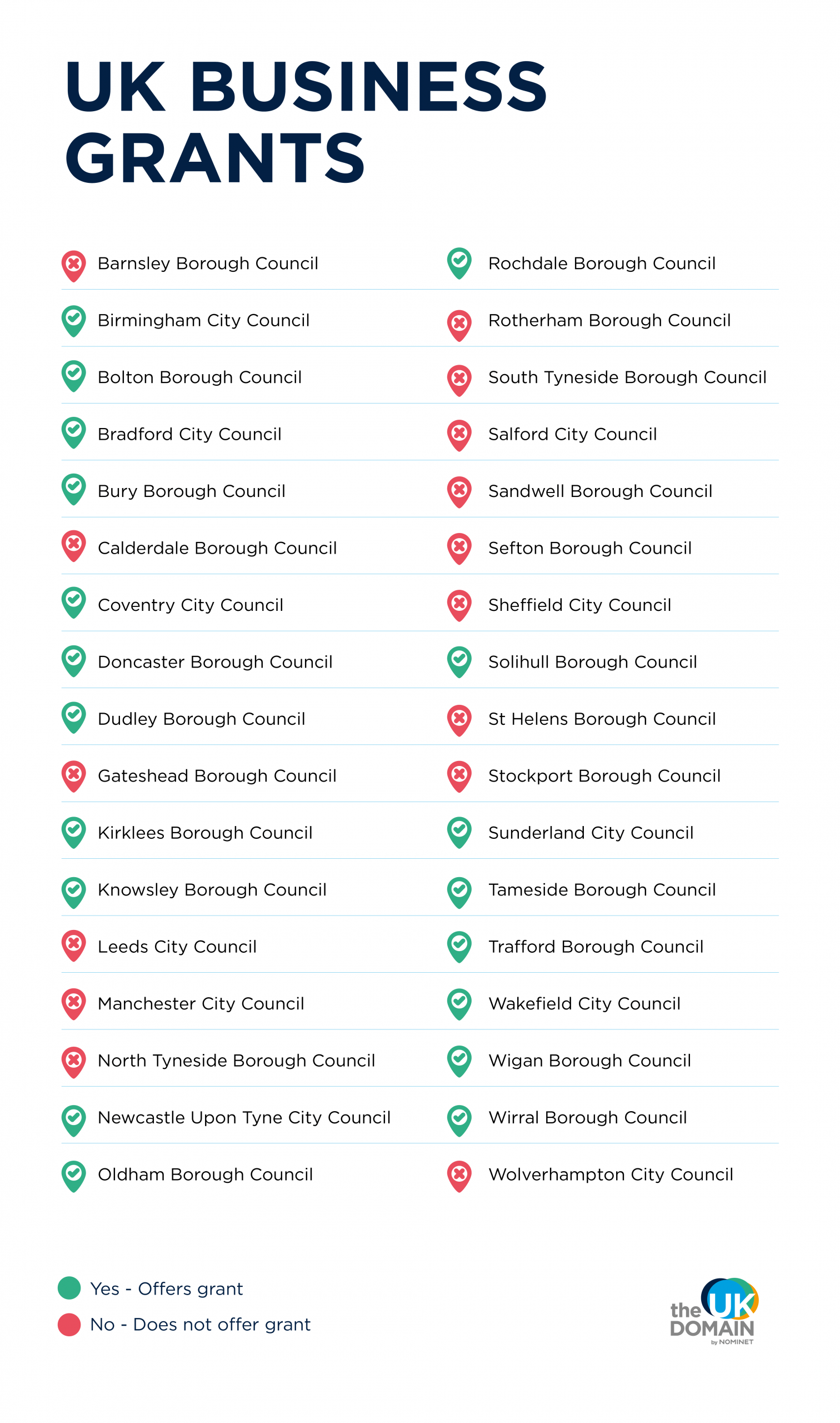 But not all borough councils in the region are the same. For example, neither Barnsley Borough Council nor Calderdale Borough Council has funding available for small businesses starting out from their central council pots, but that doesn't mean that if you're setting up in that area, you're not able to apply for anything. Some councils in the UK are often covered by larger investment schemes across a broader area.
This is true of two of Yorkshire's biggest cities – Leeds and Sheffield – which both have a City Region Business Investment Fund available to small businesses, instead of funding grants directly from their own City Council coffers.
It's similar across the North West. Councils in Bolton, Bury, Wigan, Wirral, Oldham, Rochdale, Tameside, Trafford and Knowsley all offer startup or small business grants for all sorts of purposes, whereas Manchester City Council does not. However, businesses within this area are able to approach the Greater Manchester Combined Authority for grants instead.
It's a similar situation in the Liverpool area: the Liverpool City Region Combined Authority covers Knowsley, Sefton, St Helens and Wirral, as well as Liverpool itself..
London – just over 1 in 5 boroughs offer startup funding
The disparity in availability of small business grants is no more evident than when looking at the capital. Despite being one of the world's leading financial centres, of the 30 London boroughs who replied to our Freedom of Information requests, only seven (23%) offer grants or rebates to small businesses.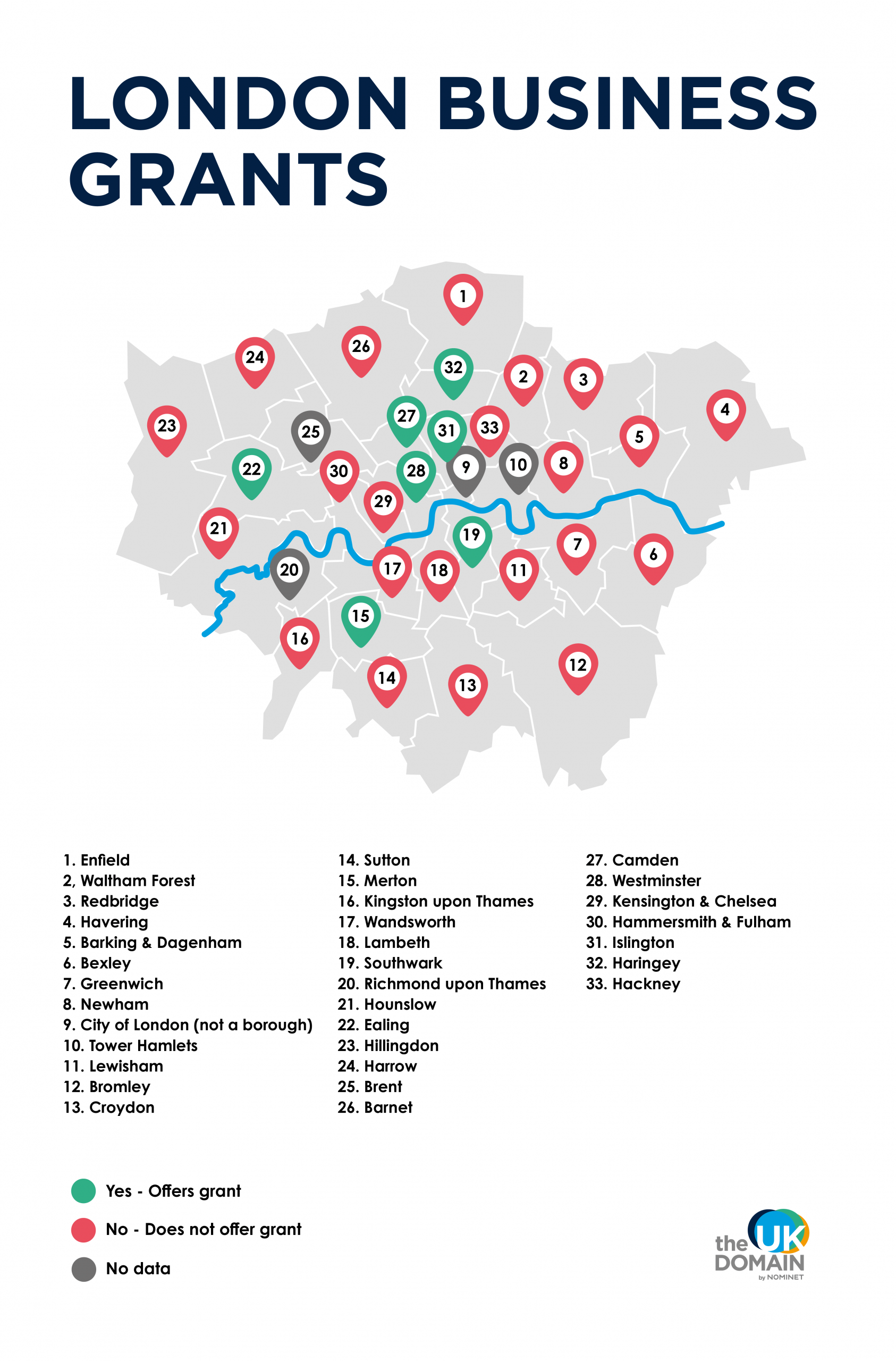 In North London, Camden Borough Council and Islington Borough Council offer grants to help businesses reduce emissions.
Ealing and Haringey councils offer grants for external regeneration.
In central London, Southwark council offers early stage grants to entrepreneurs, whilst Westminster offers funding towards broadband connection.
Merton council offers local businesses discount rates.
If you're thinking of setting up in London, take some time to find out if your local authority is running any schemes that might benefit your business.
What could I get a grant for?
Different councils and boroughs have different priorities, so grants are often given out to help meet a local authority's core aims.
Our research showed that one key theme for funding across many councils and boroughs is to award grants for the improvement of towns and cities. This can include helping to improve the exterior aspects of shops and units, encouraging businesses into empty shops, or offering incentives for businesses to relocate to new towns. Many councils are also able to support businesses to take on employees, especially when it comes to the creation of apprenticeships or jobs for young people.
One such example is Sunderland City Council, which has awarded almost £5m worth of grants to businesses over the last five years for everything from premises and equipment, to marketing and business development – and even a grant of up to £250,000 for businesses that relocate to the city.
And if you're keen to improve your business's green credentials, then you may be in luck – lots of local authorities are helping out startups and small businesses to reduce their carbon emissions or invest in green energy. Coventry City Council, for example has given out almost £6m of grants since 2016 to help companies with growth and expansion, reducing carbon emissions and developing innovative services and technologies.
Get support
It's clear that there's a lot of funding to be found out there, but navigating the different opportunities and weighing up your options can be rather complex, so if your business or startup is looking to secure a local authority grant, it's essential that you get the right support.
The UK Domain has a wealth of free, clear and trusted resources to help you make the most out of every opportunity for your business.
Disclaimer
The UK Domain sent Freedom of Information requests to 36 Metropolitan Districts and 32 London Boroughs in October 2019 to find what business grants are available for UK start-ups and small businesses.