Go Cotswolds (www.gocotswolds.co.uk) provides day tours of the Cotswolds from Stratford-upon-Avon and Moreton-in-Marsh, as well as charter tours and private hire on request.
The company is owned and operated by Tom Benjamin and his wife Lisa – it is their business and lifestyle. The business fits in around their passion for travel and family. It has come a long way since its very first tour in 2014, which had only one passenger!
Now in its eighth year of operation, the company had over 700 passengers on its scheduled small group Cotswolds in a Day tour in the first six months of 2019 alone. In total, Tom has met people from 69 countries around the world, and from 43 US states! Go Cotswolds also runs private tours for groups of up to 16 in and around the Cotswolds and Shakespeare's England. Having listened to customer feedback, the scheduled Cotswolds in a Day tour – which operates 5 days a week – now includes a visit to the picturesque village of Bibury.
It has been a great year for the business, receiving their third TripAdvisor Traveller's Choice Award in a row, receiving a Silver award for International Tourism at the West Midlands Tourism Awards, and being voted Best Tour Company in the Cotswolds for six years running.
Tom describes how much of 2019-2020 was "spent training guides so we could turn on more tours and deal with the increased capacity." Tom continues: "this allowed me to focus more on the business. We worked really hard to be in a position where we had tours every day and we weren't having to tell people that we couldn't accommodate them".
Operating through COVID-19
The coronavirus pandemic and lockdowns impacted Go Cotswolds, with the business having to put tours on hold. According to Tom: "We bought our second touring vehicle nine days before lockdown and much of March through to June was spent applying for grants, refunding customers – and parenting."
He continues: "In August, we managed to have three good months of business with COVID secure tours. When we went into lockdown again in November, we used this time to focus on the business, getting a marketing strategy in place and investing in a new more structured and organised transport management system. It gave us a chance to step back and see what's important to use."
Both Tom and Lisa are excited to be operating again and meeting customers on their COVID secure tours. Tom says: "This is now the exciting part. This time next year, we're really hopeful we can welcome back international customers. We also hope local tourists will see we're a viable option and that you really don't have to go far to enjoy the outdoors and what the areas on your doorstep have to offer."
A love for travel
Tom set up the business with no background in the travel industry, just bags of personal experience and a passion for travel. This, coupled with a love for his home, on the edge of the Cotswolds.
According to Tom: "I'm a local so my knowledge of the area ensures visitors get to experience the best parts from a local's perspective. This means that we not only visit the places you see pictured in the guidebooks but also those hidden, off-the-beaten-track places you'd only know about if you lived here yourself."
Tom and Lisa's passion for travel and love of their local area helps them to offer fun, memorable experiences for visitors. Running their own business comes with both its challenges and benefits, however, as Tom mentions: "our work/life balance can be tricky to manage as we don't always know how the working week is going to be."
Tom continues: "However, running our own business means we are able to work when we're more efficient and productive. We aim to strike the balance between building a sustainable business and ensuring we can make the most of life now."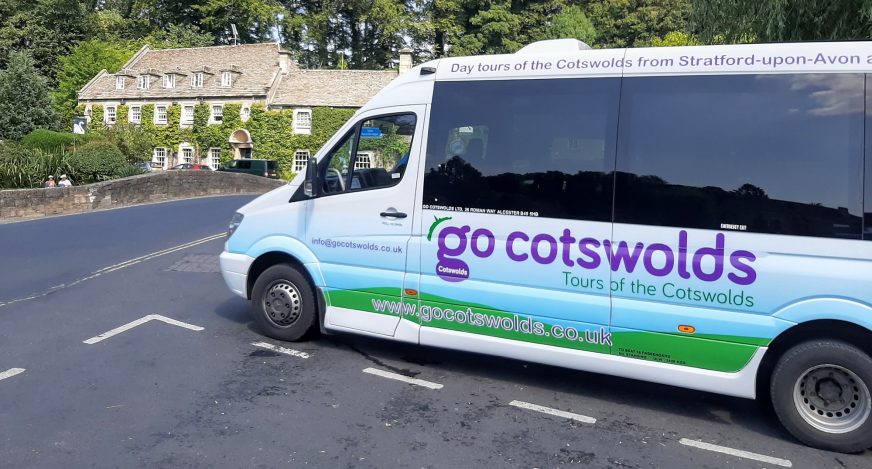 A crucial website presence
The business has grown organically, mainly from the excellent reviews on TripAdvisor and through word of mouth. Tom and Lisa are working on refining their marketing strategy to reach new customers through various digital channels. Alongside all this activity, it is absolutely crucial that the company website is visible and works well as it is how passengers book onto tours and where payments are processed.
Before the official company website was set up, Tom started blogging to generate interest and some demand for the first tours. The first website was then built from scratch by Tom, with help from Lisa, and it did the job. It was built up over time and enabled bookings and payments to be made.
However, the site was a bit clunky to use and update, so Tom decided to talk to a web design company who were able to make the website look more professional and work more efficiently. Tom can now easily update the site himself and even verify bookings quickly and easily when out and about on tours. The site is clean, works well on all types of devices and is secure. Tom mentions: "the website is really easy to use and we can verify people's bookings in an instant." He continues: "with any e-commerce site, you need the least barriers possible".
Tom and Lisa spent much of 2020 planning their marketing strategy due to coronavirus lockdowns pausing tours. This included revising their budgets, deciding when to place adverts, utilising digital marketing and analytics and also using it as a good opportunity to refresh their website including producing some new guide maps.
Important online search and social media
Search engine optimisation (SEO) is really important for Go Cotswolds and the content on the site has been written with keywords in mind. Tom says he chose a .co.uk address because Go Cotswolds is a British company and he wants it to be clearly seen as that. He believes it is important to be visible on the internet domain from the country you are based in because it helps to build trust.
Social media and the website have been even more important over the past year to remain in touch with customers and keep them up to date. Tom mentions: "Because of coronavirus, a lot of people are often wondering whether a business has closed or has reopened. It's vital to tell people when you're going to be open and how you're going to operate and social media and our website have been the best channels for this. They are both so easy to update and are free."
"I think it's really important that customers can see we are active and current through social media updates," says Tom. "It goes some way to help build trust that this is a reliable business. It adds to the authenticity of Go Cotswolds, with images showing real people enjoying the places we visit."
It reflects badly on your business if you haven't taken the trouble to update your website or social media accounts
Enhancing the business' online presence continues to be a focus for Go Cotswolds, alongside running new tours and providing an excellent experience for visitors. Tom and Lisa have started utilising Google My Business to help the website's search rankings and making TripAdvisor continue to work for them by allowing bookings through the site and encouraging customers to leave reviews.
Tom also mentions some exciting plans for social media: "We're starting to explore TikTok and YouTube but understandably there's a balance between acknowledging the values and knowing the limitations."
He continues: "We're looking to use video on the website and are exploring opportunities for using the medium to showcase the hidden parts of the Cotswolds. We hope to use video to give a fuller understanding of what the tours include".
With lots of exciting plans in the pipeline, Tom summarises: "We are at a point where we're well established, the website works well and looks good. TripAdvisor also has a huge impact on the business. Many people use it to research their often once in a lifetime trip to the UK, and then visit our site. I couldn't operate without our website which provides a professional web presence that represents the quality of what we do."