Welcome to our Marketing Toolkit for our Samaritans campaign. Here you will find guidelines for using The UK Domain brand and access to a range of our brand assets and campaign specific marketing tools. 
As a profit with a purpose company, Nominet aims to improve the lives of one million young people a year by investing in tech-for-good initiatives.
Between the 9th December 2019 and 17th January 2020, Nominet will donate £1 for every new, paid for domain registration across the whole .UK domain family.

The funds raised will be donated to Samaritans, the charity that provides free emotional support to anyone who is going through a difficult time – by phone, text, email or face to face in one of their 201 branches across the UK and Ireland. The charity relies on 20,000 volunteers and donations to run their 24-hour helpline, which is available 365 days a year.
The rapid evolution of our digital lives means the charity needs to adapt its services to ensure anyone can access and use them in whatever way works best for them. As one of Samaritans' Digital Transformation Partners, we are already assisting in developing a Self-Help tool through our Public Benefit funding that will provide young people with free access to evidence-based techniques. We would like to take our support further and help them to develop a vital online chat service from its current pilot stage to launch.
The online chat pilots that happened earlier in 2019 demonstrated clear evidence of the need for this service, with Samaritans receiving many first-time contacts from young people in states of severe distress. 
The aim is to make the online environment safer for young people by making the service available to everyone for free – 24 hours a day and 365 days a year. Support from Nominet will provide a crucial contribution to take online chat from pilot so that it forms an integrated part of Samaritans' services in 2020-2021.
Please help us by using the assets in this toolkit to promote this to your audience.
Together we really can change lives.
.UK brand guidelines and logos
Download our UK Domain brand guidelines, or our core brand assets.
Promotion specific assets
Below is a range of promotion specific assets for you to help support us in promoting the campaign.
Digital assets (includes images for your website):
Download our range of digital assets below. Please contact us if additional assets would be suitable to support you for the campaign and we can work with you to create these.
The below is an example of a digital asset suitable for website use:

Social assets:
Download our range of paid and organic social assets. 
Paid assets
Facebook:
Twitter:
Organic assets
Facebook:
Twitter:
Email template:
Download an email template below which you can send to existing customers: 
The email template has been provided in both JPG and PSD formats. Please email us if you would like it in another format. Please contact us if you need help customising your email template. 
The below is an example of how the email template can be used: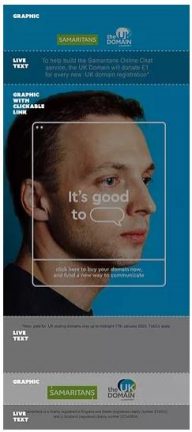 Sales team support tools
Office collateral 
Below you can download artwork for posters which can be used in your offices to promote the benefits of the campaign to your teams. These have been designed so that they can be printed locally on office printers, however, contact us if you would like us to support you in the printing of these.
The below is an example poster that can be used: