2020 has dramatically altered our lifestyles in every way imaginable, and we've spent more time in the comfort of our own homes than ever before. Not only have our lifestyles become more reliant on the internet, but the amount we use it, and what we use it for, has also changed.
We've created the 2020 Website Traffic Report looking at the top 100 websites in the UK in 2020, and how our behaviours have changed in such an unusual year. Some businesses have found ways to increase their traffic hugely over the past year, while others have struggled.
This brand new report has found that:
Google keeps hold of top spot with it's .com domain gaining more popularity
Amazon.co.uk grew 40% in traffic in 2020 alone compared to the previous year
The BBC.co.uk website overtook Facebook.co.uk and grew 10% in traffic
Travel and transport websites dropped as much as 21% compared to the previous year
Traffic to the NHS website more than doubled in two years.
Find out more below.
Most popular websites since the internet began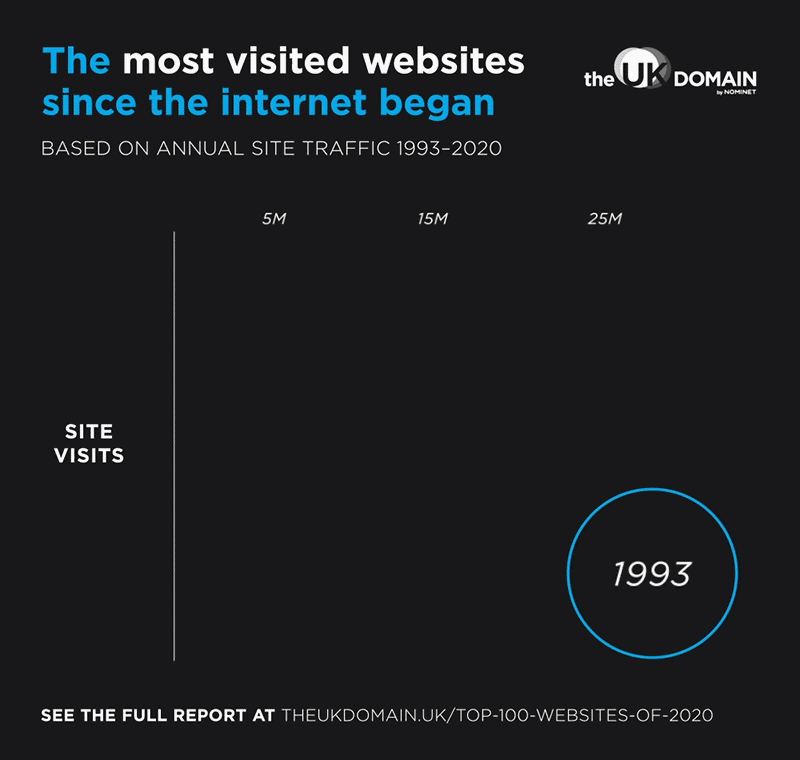 Before delving into the top websites of 2020, it's useful to look at the most popular websites since the internet began. We identified the most popular websites throughout the history of the internet, dating back to 1996, all the way through to 2020, where dial-up is now just a distant memory.
As the internet continues to evolve and become more saturated, we wanted to research how the web has adapted in response to our developing lifestyles. But not only that, how the world around us has developed too, with more online businesses booming under lockdown and organisations digitalising in order to keep up with the pace.
We can see that through the late 90s that search engines such as Yahoo and AOL were predominant throughout the internet, only to be overtaken by the more familiar Google in 2006. From the early noughties we can see an increase in newly launched e-commerce websites, as online shopping soared and for many became the new norm for spending. In 2020 alone, e-commerce accounted for 19.8 billion visits to the top 100 websites.
The UK's most popular websites of 2020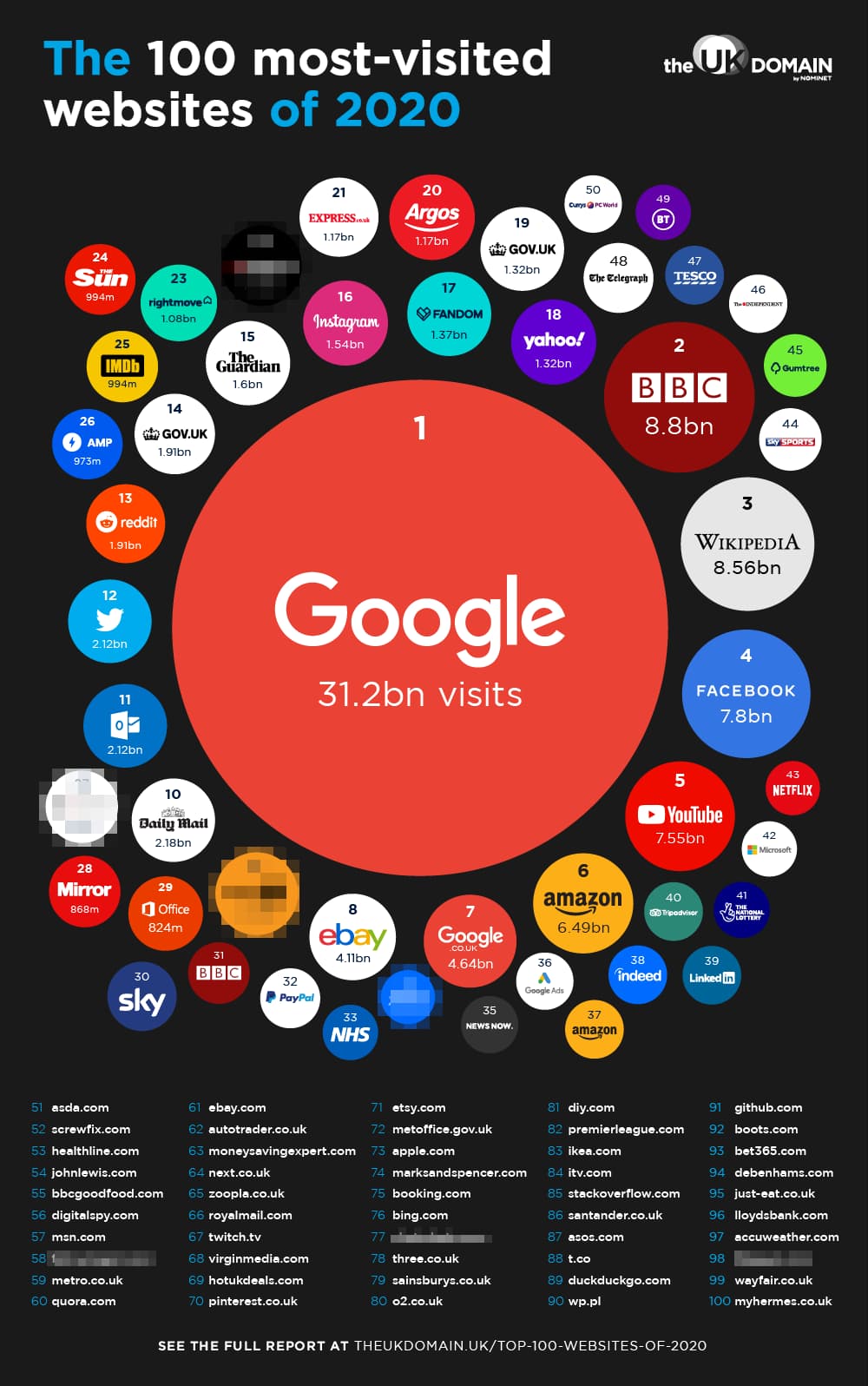 In 2020 we saw a lot of changes to our internet habits. Spending more time indoors meant spending more time online, and with that in 2020 46.6million people used the internet daily in Britain, a rise of 1.5million in the previous year.
We saw a mixture of different types of websites in the UK top 100 for 2020, a combination of search engines, news websites, social media, and e-commerce. Some of these website genres have seen unparalleled traffic increases of up to 44% in 2020, while others have fallen out of the top 100 for the first time in years. Below we look into these changes and why they have happened.
Google continues to dominate in 2020
As the first point of contact for most of our online enquiries to the point where Google as a verb was added to the Oxford English Dictionary in 2006, it's no surprise that Google.com is at the top of the list.
Our research shows that Google.com raked in an impressive 31billion total traffic in the UK alone, compared to 2018 when it only managed a mere 8billion. In comparison, in 2018 Google.co.uk's total traffic was nearly double at 16billion, now in 2020 with just 4.6billion in traffic.
So what created this switch in popularity between the two domains? It could be that Google recognised the increase in more global internet usage and demands for international products and services, and therefore started directing queries to the international Google.com domain.
Or it could be that when people want to go to the website they often begin typing the name into the address bar which usually autocompleted with the Google.com domain rather than its specific country equivalent.
BBC overtakes Facebook
Possibly one of the most surprising changes to online behaviour in 2020 was the BBC overtaking Facebook in total traffic, as it grew by 10% compared with the previous year.
It can be assumed that the impact of fake news has damaged Facebook's reputation, driving the demand for more reliable news as the pandemic played out, which has caused their development for the BBC.
More broadly speaking, social media accounted for less traffic in 2020 than it did in 2019 in the top 100. Although this may seem surprising due to the escalation of spare time recently, this does not account for using social media apps.
In recent years they have boomed in popularity, and consequently could explain the decline in website traffic to such websites.
e-Commerce and news websites appeared most in the top 100
Hinting towards our increased shopping habits in 2020, e-commerce websites have appeared most in the top 100 than any other type of website. Websites such as Amazon, eBay and Argos all witnessed dramatic traffic increases in 2020, accounting for 14% of total UK traffic in the top 100.
Amazon in particular jumped 40% compared with the previous year increasing in traffic by almost 13billion.
Alongside this, online news outlets such as dailymail.co.uk and BBC.co.uk have provided a remarkable 14% of total UK traffic in the top 100 this year.
It seems there has been an increased demand for up to date and reliable news in 2020, as new laws and legislations have been regularly introduced in the UK to combat the pandemic which means people have had to keep on top of frequent changes to their daily lives.
Search engines have experienced the highest percentage of traffic in 2020
On a larger scale, search engines have seen an impressive increase in movement, accounting for a massive 27% of total UK traffic to the top 100 in 2020. This includes websites such as Bing.com, Google.com, Yahoo.com and Duckduckgo.com, the latter of which appeared in the top 100 for the first time.
As Duckduckgo.com claims to offer privacy protection when online searching, and as people become more aware of their online digital footprint and how large companies are tracking more of their behaviour, this could explain the increase in their UK traffic.
Internet behaviours have changed significantly in 2020
Digging deeper into the report of the top 100 websites in 2020, we can conclude how the Coronavirus pandemic has changed our behaviours online. From interior-related e-commerce websites popping up into the top 100 for the first time, and travel taking a huge hit, we look into how the pandemic has changed the way we use the internet.
How have these changing behaviours impacted website traffic?
These changes in internet behaviours have impacted on certain industries and affected their website traffic in different ways.
For example the UK Government website's traffic has increased by 414million since 2019, a result of the new government legislation in regards to the Covid pandemic and the British public's need to stay up to date. In response small businesses have also had to become more resilient during lockdown restrictions.
Another industry that has benefited from the pandemic in terms of increased website traffic is the property industry. In 2020, Rightmove had 1billion website visits, an increase of 188million since 2018. As the UK spends more time at home, the desire for a more suitable house, or needing more space to accommodate working from home may explain this development.
Many people found living in flats in the city less desirable with working from home becoming the new norm and have therefore chosen to either relocate to a home in the city with plenty of outdoor space, or leave them entirely in favour of a home in the country.
Home furnishing store Wayfair and courier MyHermes broke the top 100 first the first time
As the UK spent more time at home, this became the perfect opportunity to modernise our interiors and the demand for home improvements significantly increased online. Websites such as Wayfair.co.uk record 216million visits in 2020 alone. Similarly, competitors such as Ikea have seen increases in total UK traffic in 2020 by 32%.
These changes to consumer behaviour have meant that we have relied on courier companies to deliver said home improvements and other items we've bought online, with websites such as Myhermes.co.uk, which offer useful parcel tracking, seeing an astonishing 203million visits in 2020 alone. That's a lot of parcels.
Transport and travel websites saw the biggest decline
It can only be assumed that as we became more grounded during lockdown, so did that of transport and travel websites.
With the lack of both international and domestic travel prospects as the UK entered a nationwide lockdown, websites such as Skyscanner.net and Trainline.com fell out of the top 100. More regional specific companies such as TFL.gov.uk also suffered falling out the top 100 with less people looking to travel around the capital.
Other websites geared more towards experiences and accommodation than transport also saw severe declines with Tripadvisor.co.uk and Booking.com just managing to stay in the top 100, however both experiencing decreases in traffic of around 21%.
In comparison, in 2019 Tripadvisor.co.uk increased their annual UK traffic by 2% and Booking.com's annual traffic was up by 4% which highlights the impact the pandemic has had on the once booming travel industry.
Traffic to the NHS website has DOUBLED in the past two years
The UK has relied on the NHS website more now than ever before. As a way of gathering reliable information and support, it is no surprise that the total traffic for NHS.uk grew by 21% compared to 2019, and recorded a monumental 802million visits in 2020, which has more than doubled since 2018.
In March 2020 the government and Nominet worked together on a new initiative to ensure that certain government health websites including NHS.uk were available whether you have data allowance or not as the pandemic continued.
This zero-rating of an essential service, allowing anyone with an internet connection to use it, can also contribute to it's huge growth.
Similarly, as Covid continues to affect people across the UK, Healthline.com has grown by a massive 44% and recorded an additional 144million visits to the site in 2020. Health is definitely a topic on everyone's lips.
Excluding the sports industry, entertainment websites boomed
In 2019, Skysports.com recorded 631million visits, and was one of the leading entertainment websites in the UK. However, in 2020, as many sports events were subsequently cancelled and therefore there was now a lack of content, Skysports.com experienced a significant decrease of -10%.
On the other hand, alternative entertainment websites such as Twitch.tv, a streaming platform for online gamers, and Youtube.com, which is the only entertainment website to break into the top 10, were able to still provide user generated entertainment and accordingly saw significant increases of around 15%.
The world's top websites of 2020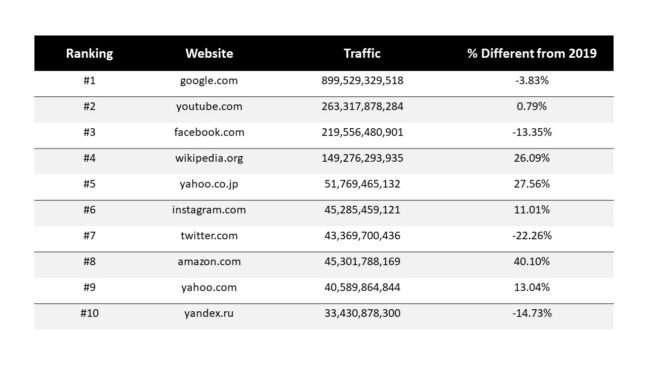 The top 100 websites globally tell a different story than the UK. Although search engines still dominate, they're much more prevalent along with their international domains and country specific search engines such as Yandex in Russia.
On an international scale, Google.com ranks as the most popular website in the world. And as the demand for online resources continues, it is predicted that Google.com will stay on top and dominate the search engine world.
Interestingly in 2020 we've seen some behaviour changes for the top 100 websites. In 2018, only 6 news websites appeared in the global top 100, however in 2020 there are now 15.
This globalisation of news media could be due to the demand for reliable information regarding international relations and trades as the world becomes more connected through the internet, as well as the pandemic affecting almost every country in the world and people are looking for more trusted news sources.
It's important for small businesses to take this behaviour shift into account and explore how to distribute a press release and utilise these news websites to help their own growth.
Could you possibly break into the top 100 one day?
If you want to start your own legacy and create a website that could one day break into the top 100, discover your future .UK domain name using our search tool.
Methodology
Using data from SemRush we found out which websites in 2018, 2019 and 2020 had the most traffic allowing us to create a definitive list of the top 100. We used historic data to make predictions to find out which websites would be the most popular in 2020 in December and adding this to the data for the full year. We then used this data to see how online behaviours have changed.
All adult websites, although undeniably popular, have been omitted from the results, due to the URL's frequently containing expletives inappropriate to publish on a website without an adult filter.